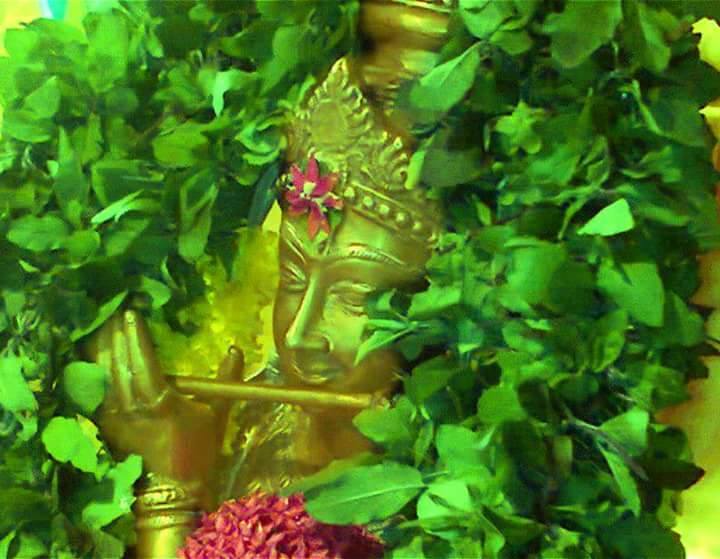 "Jagath Prabhum Deva Devam..Anantham Purushottamam..Sthuvannaama Sahasrena Purushath Satha Doththithahaa.."
A very happy and colorful Krishnashtami and Janmashtami greetings to all my beloved readers living all over the world..May Bhagwan Sri Krishna's blessing be with you and with your family forever..
While writing the thirty third part of the mystic Brahmin story yesterday,I have received a WhatsApp message from a beloved friend conveying me Krishnashtami greetings..
It was then I realized that today is Janmashtami..Then I thought of giving an invaluably priceless gift,on this auspicious day,to all my beloved readers who are regularly following my writings from almost all the corners of the world..
And among these readers,I know,there are also many who are eagerly awaiting Meera and Rohan's story ..Then I thought there can't be a better occasion than this for me to please my dear readers in the best way possible..And
So here it is..
An amazing incident from the life of Meera and Rohan..
But who are Meera and Rohan..??..
Those of you who are coming here for the first time may have this doubt in their mind.. So please Click Here and read this incredible story first and then come back quickly to this page and continue reading this part of the story..PERIOD
Many of us on many occasions have heard about the number of amazing pranks Bhagwan Sri Krishna had frequently played in the lives of His devotees..The holy Indian epic of Maha Bhagavatha is full of such pranks and illustrations..
However,what most of us do not know or know is..
"..Bhagwan Sri Krishna is the cosmic embodiment of eternal bliss and behind every prank or act of His glory there's certainly a divine purpose..Those who understand His leelas will be happy in life and those who do not shall go through pain.."..PEACE
During many of my memorable telephonic conversations with Meera,the noble devotee currently living in London,she had narrated to me many amazing experiences she and her beloved son Rohan had with Bhagwan Sri Krishna,in their  house..
She very fondly refers to Lord Krishna as "Bhagwan" and goes into emotional raptures while narrating those divine experiences..Although am going to share every experience of Meera and Rohan with all my beloved readers shortly,here's one mind blowing experience I want to share with you,right away..
Because today is KRISHNASHTAMI..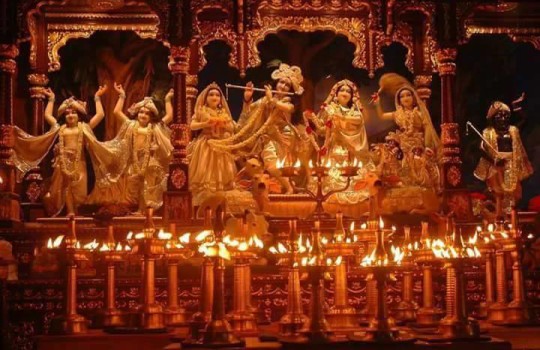 Now hold your breath and please continue reading..
Because not everyday you read such a story..
Meera's thirteen year old son,Rohan studies in a very famous school in London..This school has a big brand name in many parts of the world and is known mostly for it's extraordinary discipline and strict rules..They strictly maintain all the norms in the book and any student violating them is shown the door, immediately..
On that eventful day,sometime in 2014..
Rohan could not go to school due to some mild problem in his stomach..Meera put him on a diet for one full day..He was normal by the evening,of course after taking a little break both from his Cricket and his video games..
However,Rohan went normally to school ,the next day..It was only after going to the school that Rohan remembered he forgot to bring the 'leave letter' signed by his father..
As per the rules of the school,any student who was absent the previous day must produce a leave letter duly signed by either of the parents,the next day..The same must be placed before the teacher in the very first period of the day..
For any reason if any student fails to produce the leave letter on time,he will will be sent back home..
Unable to know what to do,Rohan started growing restless..
In the meantime,the prayer bell rang..All the students gathered in the school ground for the daily prayer and assembly…
After the assembly,all the students walked back into their respective classrooms and Rohan too silently walked into his classroom..
After a couple of minutes,the Teacher walked in..
And the first period began..
Calling one by one one by name,the Teacher started taking attendance..
Rohan was nervous..More nervous..And most nervous..Because he knows Teacher may call his name any moment and would demand the leave letter from him..
"..What o do and what to say..???.."..Rohan was in a big dilemma..
Exactly at that point,the Teacher called Rohan's name..
Rohan hurriedly stood up and said "present mam"..
Much to his surprise,the Teacher without seeking any explanation or leave letter from him,ticked his name in the attendance register and called the next student's name..A fully confused Rohan looked at the Teacher for a second and sat down in his place..
Then he started thinking.."Why did she not ask me why I was absent yesterday..Why..Did she forget..Or she too was absent yesterday.."..Rohan was in a dilemma..That period ended and the next period too had begun..Even that next Teacher didn't ask Rohan why he was absent the previous day..
"What's wrong"..Rohan's dilemma doubled..Then he realized that none of his classmates not even his bench mates too have asked him why he was absent the previous day..Rohan's dilemma tripled..
Continuing his dilemma furthermore,one more period too ended..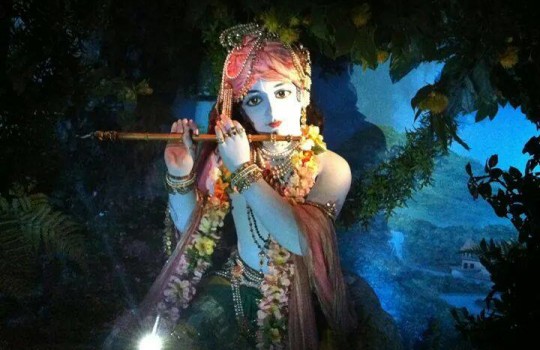 Then the recess bell rang..All the students jumped from their seats and ran out..
Rohan just could not understand what's wrong with his friends..Unable to bear with the confusion in his mind he slowly walked towards the staff room..One by one all the Teachers were just entering the staff room and started collecting Coffee from the automated Coffee machine..
Rohan paused at the entrance of the staff room and silently searched for his class Teacher..After finding her in one chair,he said"May I come in Mam.."
Nodding her head,the Teacher said "come"..
Rohan slowly walked towards her table and stood silently before her..He was unable to know where to begin the conversation..Looking at his confusion,the Teacher asked,
"..What's the matter Rohan..Do you have anything to talk to me..??.."
Slowly nodding his head Rohan said,".yes mam.."
"..What's that..??..",the Teacher asked..
"..Am sorry Maam..",Rohan said in a mild tone..
"..But what for Rohan..??.."..the Teacher asked with a little surprise in her voice..
With a little pause and with a little hesitation in his tone,Rohan replied"..I was absent yesterday Mam.. Because I had an upset stomach I could not come..But Maam..Am so sorry..I forgot to bring the leave letter today..I shall certainly bring it tomorrow..Please forgive me Mam.."
Giving Rohan the shock of his life,the Teacher said,"..But you were present yesterday Rohan..When were you absent..??.."
A fully puzzled,a fully confused and a fully shocked Rohan said,"..No Mam..I was absent yesterday..I had pain in the stomach so stayed at home..When was I present..??.."
Now,it was for the Teacher to be confused,to be puzzled and to be shocked..With all the mixed feelings in her voice,she said,
"..No Rohan..You were very much present in the classroom yesterday..You even answered a couple of questions I have posed to the class..Then why are saying you were absent..Have you gone mad..??.."
Placing his hand on his vertex,Rohan quickly replied,"..Promise Mam..I was absent yesterday..I forgot to bring the leave letter..So I have come to say sorry to you about that.."
With a little anger in her tone this time,the Teacher said,"..Rohan..You were present yesterday..That's all..Entire class knows you were present yesterday..So no more jokes..Now it's time for you to go to your class.."
Then after seeing a few classmates of Rohan passing from there,the Teacher quickly called them inside the staff room and asked,
"..Boys..Rohan says he didn't come to school yesterday..Says he was absent as he had some pain in the stomach..Was he absent or present yesterday..??.."..
With their eyes popping out,all the boys first looked at Rohan and then replied to their Teacher,"..Yes Mam..Rohan was present in the classroom yesterday..He even answered two questions you have put to the class.."
Trying to convince his friends as well as his Teacher,Rohan hurriedly said,"..No Mam..I was at home yesterday.. Didn't come to school..Why don't you trust me.."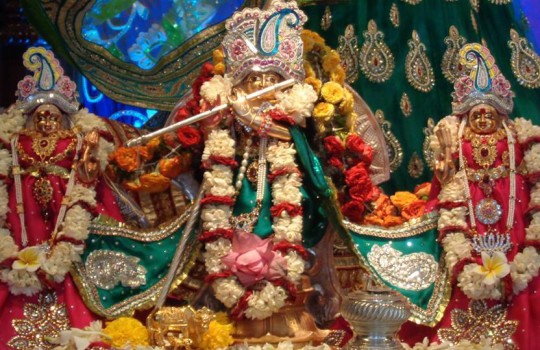 Almost shouting,the Teacher said.."..Why don't you trust us Rohan..Enough of jokes..Now go to class.."
Exactly at that time,an administrative lady staff member belonging to the school entered the staff room.. Seeing so many students in the room,she went to the Teacher and asked her what the matter is..
Talking to her in a low tone,the Teacher explained her everything about what the matter was…Rohan was silently looking at them..Turning to Rohan,with a great surprise in her face,the lady staff member asked,
"..Why are you saying you were absent yesterday Rohan..You very much came to the school..In fact you also came to my room yesterday and applied for a new identity card since you lost your old one.."
A furthermore shocked Rohan tried to give her the same explanation he earlier gave to his Teacher..In an amused voice,the staff member said,
"No Rohan..You came..And you gave me your application form for a new identity card..Of course with your signature on the form..If you want I can show you that application form which you signed in front of me yesterday..I even remember asking you to put the date under your signature..Then what's wrong with you,Rohan..Is everything fine with your health..??.."
A more confused Rohan stood staring at her without even battling his eyelids..Observing the doubts and confusion in his dace,the staff member said,
"Okay Rohan..You still don't trust me..???..Then wait..I shall bring that application form you signed in front of me yesterday and show you now.."
Saying so,that lady staff member quickly turned back and walked out of the staff room..After about three minutes,she walked back into the room with a paper in her hand..
Showing that paper to Rohan the staff member said,",,See Rohan..This was the application form for a new identity card you have submitted to me yesterday..And see..Here's your signature..And under it is the date which was yesterday..Is everything clear now,Rohan.."..
Rohan silently took the application from the staff member's hand and went through it fully..To his utter shock,he found that all the columns in the application form were filled with his hand writing..He also found that his signature there,with a date underneath it in the bottom column of the application..
"..How is it possible.."..Rohan almost fainted..
Then,while almost fainting,he realized "how it was all possible and who attended the school in his place rather in his form and filled the application form.."
Later in the evening..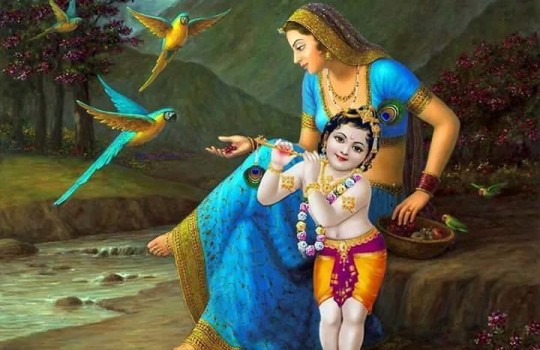 When Rohan returned home..
He was cordially greeted with a great smile by the ruler of these cosmos,
The Gods of Gods,
That "Mohana Roopa"
That "Jagadoddhaaraka",
That "Govardhana Giridhaari",
That "Gopi Jana Vallabha"
That "Yashoda Tanaya",
That "Anaatha Rakshaka",
That "Aapathbaandhava",
That "Aasritha Vatsala"
And that..
"Parama Paavana Bhagwan Sri Krishna"
Who at that time was in the form of a toddler and crawling in the air inside the house of Meera and Rohan..Watching Rohan walking into the house the holy Bhagwan smiled at him and said,
"..How was your day in the school today,Achchoo..Hahahahaaaa.."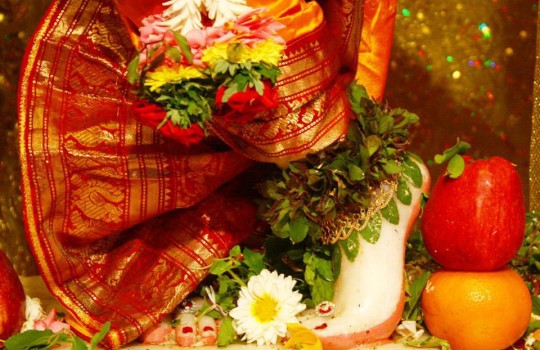 "Eswarah Paramah Krishnah..Sachchidaananda Vigrahaa..Anaathir Aadi Govinda..Sarva Kaarana Karanaaa.."
Love
Narrenaditya Komaragiri
narrenaditya@tirumalesa.com
To know more about the author please click here