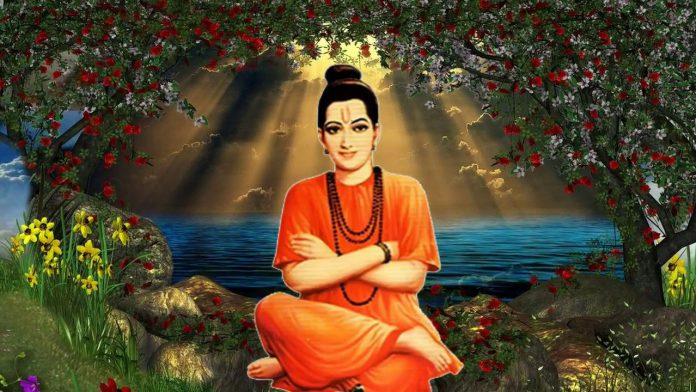 Who Is Lord Sripada Sri Vallabha..??
His Holiness Lord Sripada Sri Vallabha is the reincarnation of Lord Dattatreya and the first among the five complete Avatars of Dattatreya, the other four being Sri Nrisimha Saraswathi, Sri Manik Prabhu, Sri Swami Samarth and Sri Sai Baba of Shirdi.
Born in the year 1320 – in the house of a Telugu Brahmin family in a village called Pitapuram in Andhra Pradesh – Sri Vallabha took Sanyasa at the age of 16 and spent most of the later part of His life in Kuruvapuram until He relinquished (disappeared) His human form in 1351 and started living there, from thereupon, in an invisible Divine form.
Sripada Sri Vallabha is a Chiranjeevi and there are many devotees who even today not only claim seeing Him in Kuruvapuram but also narrate many of His spellbinding miracles. It is said,
"One visit to this one of the most sacred Temples on Earth will cure many physical and mental ailments of the devotees and also bring in a great transformation in their life. It is further believed that the powerful Moola Virat of His Holiness Lord Sripada Sri Vallabha of this Temple emanates great Divine light that not only allays all the fears in a devotee but also removes all the negative thoughts from his mind and cleanses it fully. That's not all, anyone who visits this Temple at least eleven times in their lifetime will attain what is called "Moksha" or "Salvation" or Janma Rahithyam".
Now..
Here's The Spinechilling Miraculous Incident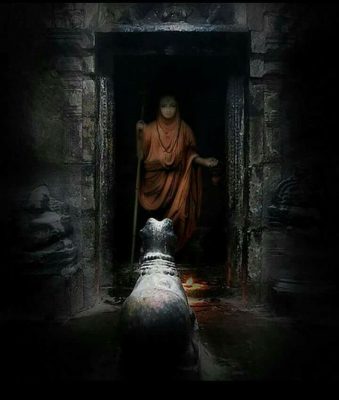 This lesser known incident occurred in the sacred Temple town of Kuruvapuram several centuries ago. Now, mark my words, "this incident, from now on, will be remembered and will be talked about as long as humanity exists on this planet".
Read on..
Several years after Sripada Sri Vallabha disappeared from Kuruvapuram in 1351..
A rich Brahmin by name Vallabhesh vowed to Sri Vallabha that he would visit Kuruvapuram and feed thousand Brahmins if he earns more profits in his business.
In course of time, by His Divine grace, Vallabhesh really earned those profits that he always desired for, in his business.
Then, to keep up his promise to Sri Vallabha, Vallabhesh decided to go to Kuruvapuram.
One fine day..
During the early morning hours..
He reached the outskirts of the sacred Temple town of Kuruvapuram..
As he was about to reach the Sripada Sri Vallabha Temple there..
A group of dacoits suddenly attacked Vallbhesh, robbed all his money and other valuables;
Ruthlessly beheaded him and killed him..
S..H..O..C..K..I..N..G
Just shocking..
………………..
As the dacoits were in merriment counting Valalbhesh's valuables..
Blood started slowly oozing out from his chopped off head and started spreading all over the holy path to the Temple.
A fully aghast,
Rising Sun on the East..
A fully shocked,
Five elemnts of Nature..
And..
A fully frozen,
Ashta Dikpalakas..
Guarding the eight corners of the world..
Kept looking at the bleeding head of Vallabhesh..
In all silence..
And in all stillness..
…………………..
As they were so looking..
Suddenly to their utter shock and also to the utter shock of the dacoits..
A fully angered Lord Sripada Sri Vallabha emerged from nowhere, with a Trident (Trishul) in His hand..
And..
Before the dacoits could even realize what was happening to them..
Went about butchering them all leaving just one dacoit alive..
That one dacoit..
Wth his whole body trembling and shivering..
Quickly fell on the holy Lotus feet of Sri Vallabha and prayed to Him for His forgiveness.
Not because that dacoit was afraid of death..
Or..
Not because he wanted to live for his family..
But..
Because..
At that Divine moment..
He saw Lord Siva in Sri Vallabha so fell on His feet fervently praying to Him for His forgiveness, saying,
"Paahimaam Paramasivaaaaa,
Paahimaam Sadaasivaa,
Paahimaam Paarvathee Vallabhaa,
Paahimaam Jagath Paalakaa,
Paahimaam Veda Roopaa,
Paahimaam Omkara Swaroopa,
Paahimaam Loka Rakshakaa,
Paahimaam Laya Kaarakaa"..
Pleased with that dacoit's abject surrender, who at that time was at His feet shivering with repentance, the ever merciful Sripada Sri Vallabha first smiled at him and blessed him; and then commanded him to pick up the beheaded head of Vallbhesh and attach it back to his dead trunk.
The fully shivering dacoit reverently did the same, as ordered by the Lord, and remained speechless seeing Vallabhesh getting up in front of his eyes as easily as waking up from any normal sleep.
Rest is history..
Because,
"That same Brahmin, Vallabhesh, with the passing of time has been credited with the honor of being the founder of the famous Hedgewar family in India".
However, what is more historical here is,
"Keshav Baliram Hedgewar, the ninth generation member of that Vallabhesh family, went on to become the founding Sarsanghachalak of the Rashtriya Swayamsevak Sangh that is more popularly known to the world today as the RSS". PERIOD
Now..
Here's The Powerful Sripada Sri Vallabaha Maha Mantra Everyone Must Chant For Protection In Every Dangerous Situation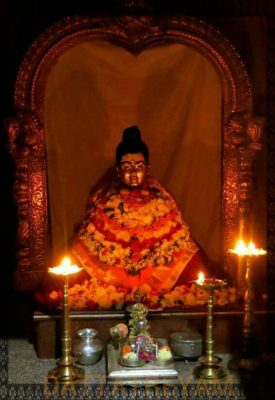 "Digmabaraa Digambaraa, Sreepaada Vallabhaa Digambaraa.. Digambaraa, Digambaraa Avadhutha Chinthana Digambaraa"
"దిగంబరా దిగంబరా, శ్రీపాద వల్లభా దిగంబరా.. దిగంబరా దిగంబరా, అవధూత చింతన దిగంబరా" (Telugu)
This is the powerful Sripada Sri Vallabha Maha Mantra and it would offer you protection whenever you are in any dangerous situation. Keep reciting it, in that situation, and Sripada Sri Vallabha would come running to you to protect you just the way He had come and protected Vallabhesh.
That's not all.. A regular recitation of this powerful Mantra enables the Chanter assess and understand any problem in his life with more precision; judge any grave situation with more perfection; and face any adverse condition with more courage.
It grants the Chanter the much needed wisdom to understand the world and people around him; and also enhances the acceptance levels in him. Keep chanting this Mantra regularly – as part of your daily Puja – and I won't be surprised if I receive a mail from you, one day, saying,
"Bhagavan Sripada Sri Vallabha Visited My House"
Stay happy n blessed forever..
Hare Srinivasa
Narrenaditya Komaragiri
narrenaditya@tirumalesa.com
To know more about the author please click here