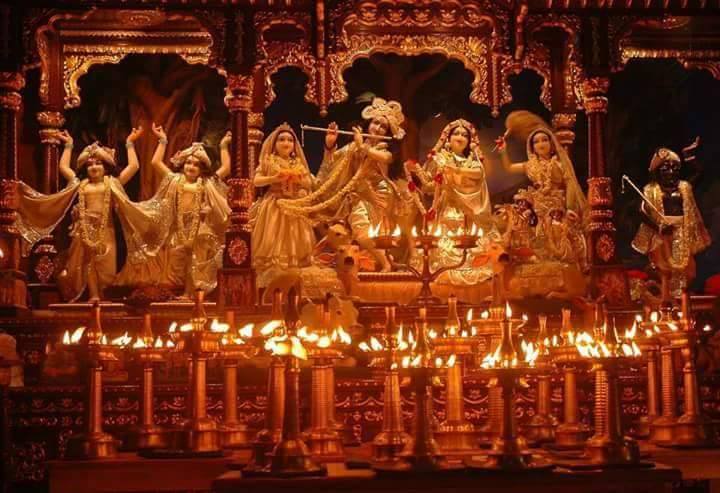 "Nothing has ever happened which has not been predestined and nothing will ever occur.." –

Marcus Tullius Cicero, a great Roman philosopher..
Please Click Here to read the Prologue to this story first.. Now please continue reading this part..
Before proceeding to know,
What that amazingly unbelievable cosmic incident is – narrated to me in my beloved father's apartments on that day by Sridhar Rao garu – all my beloved readers should first know a few important points about the following two glorious Telugu literary personalities of exemplary spiritual character, who, with their outstanding teachings and writings, have influenced the lives of many a simple soul in this vast and sin filled human world..
Firstly,let me have the honor of introducing..
Acharya Sri Ekkirala Bharadwaja,
Sri Bharadwaja is a renowned teacher of spirituality from the Bapatla town of Andhra Pradesh and is a post graduate in English…
After having an amazing spiritual experience at the Samadhi of His Holiness Sri Saibaba of Shirdi,Sri Bharadwaja had refused to join the Indian Administrative Service,although selected and had instead chosen to spend the rest of his career as a low profile lecturer of English in the Ongole town of Andhra Pradesh..
While working as a lecturer,Sri Bharadwaja had done an enormous research on the lives and teachings of many great Indian saints and philosophers and in the process had closely interacted with most of them..
Later,in an effort to spread the nobility of Sri Saibaba all over the world,Sri Bharadwaja had founded the Shirdi Sai Cultural Mission in the Vidyanagar area of Hyderabad ..Through this holy Mission, he had run a magazine called,'Saibaba', that had inspired many devotees to build temples for Baba in many parts of Andhra Pradesh..
Today,Acharya Ekkirala Bharadwaja is a renowned name, among millions of Telugu devotees of Saibaba of Shirdi,for his Telugu literary masterpiece – the "Guru Charithra"
Dr.Vedavyas, I.A.S, Ph.D, D.Litt,
Dr.Vedavyas is the elder brother of Sri Ekkirala Bharadwaja..These two illustrious brothers were born in the family of great Vedic Scholars and Yoga teachers..Dr.Vedavyas entered the world of Gayatri manthra, Yoga, Vedas and Upanishads at a very young age of 7..
In course of time,Sri Vedavyas mastered the Vedic wisdom, including the astrology, mantra sastra and yoga sastra, in addition to earning a master's degree in Zoology, at the age of 19, from the celebrated Andhra University of Vizag.. Later, working as the head of Zoology Department in the Loyola College of Vijayawada, Sri Vedavyas entered the Indian Administrative Service, in 1959..
Sri Vedavyas pursued his M.Phill in Public Administration in New Delhi and was later awarded Ph.D in Sanskrit language.. As a Yoga teacher,Sri Vyas had established two hundred Yoga centers all over the two Telugu states of Andhra Pradesh and Telangana..
Now, let us come to the main story
Before proceeding into the story, please note.. You are now going to read about the most amazing cosmic incident that has ever occurred in the spiritual history of both mankind as well as Nature… None of you may have either experienced or heard about one such incident either in your past or would you be hearing about one, in your future..
All the combined spiritual, intellectual and psychic energy of all the greatest spiritual masters, gurus and god men – who had either lived on this planet in the past or are living here in the present – put together, cannot even come a shade closer to give us again such an amazing experience you all are now going to read about..
And our beloved Sriram Sir, the one who is solely responsible for this out of the world experience, always chooses to remain incognito and brushes away all the attention, all the adulation and all the talk about it, with a gentle and sweet smile of his own, saying,"I am not a magician who does magic but a psychic surgeon trying to make people open their eyes to the magic of life".. PEACE
This great cosmic event occurred in the well learned scholarly family of these two Ekkirala brothers, in the year 1989, and in the marriage of Ekkirala Srinivas,the illustrious son of a more illustrious father, Dr. Ekkirala Vedavyas..
Since it's only once in a life, you will be blessed to read about such a rare cosmic phenomenon, please read every word in the following paragraphs,carefully..
While Sriram Sir did his post graduation in English language from the prestigious Osmania Unversity of Hyderabad, Srinivas did his post graduation in Commerce from the same university and I believe in the same year too.. Ever since,Sriram Sir and Srinivas have been true great friends..
Sriram Sir would often visit Srinivas's house,during his university days,and later it didn't take much time for the beloved brothers of the Ekkirala family to identify the glorious spiritual personality,hidden inside the young student, Sriram,who was gradually spreading all over their house and in their lives..
Much to their surprise, the young Sriram Sir would authoritatively and quite audaciously talk about the many aspects of spirituality and also about the most intricate topics of pre determinism, fate,destiny and free will, while in their presence..
Although am not quite aware today,I, however, believe that Sriram Sir had, on a few occasions, proved to the brothers that "everything in Nature is pre determined and well determined,therefore free will doesn't exist at all"..
Of course, much later, through the following amazing incident, Sriram Sir had quite emphatically proved , not only to the Ekkirala brothers, their families and friends but also to the whole world that his theory about the non existent free will is absolutely right..
Now.. Please go through.. Carefully.. Cautiously.. Word by word.. And letter by letter..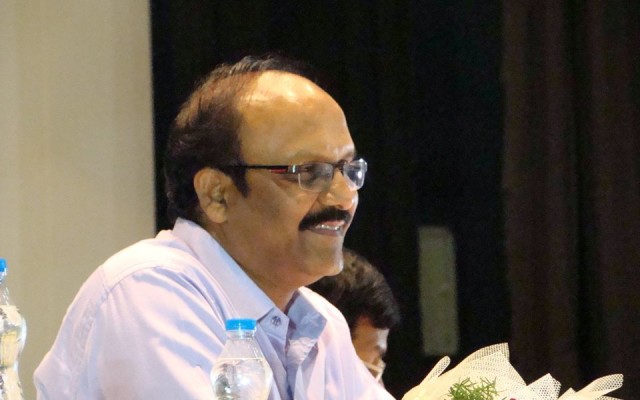 Ekkirala Srinivas got married on the 7th of May,1989..Just a week prior to that marriage, on the 1st of May,Sriram Sir came to his house,with a gift pack in his hands,and while presenting it to him,said,
"This is a very humble gift and it may not look proper to give it in the presence of a large gathering,so am giving it to you here.. However,you must open this gift pack only after your marriage is over.. ".. Srinivas gleefully accepted the gift with a gentle "thanks"..
Later,the marriage of Srinivas went off very well amidst the company of many of his friends and relatives ..After the marriage was over – as it happens in the case of every newly married couple's life – Srinivas too became very busy, for many days thereafter, with many festivities going on both in his house as well as in the house of his parents-in-law..
Enjoying those post marriage festivities, Srinivas had quite naturally forgotten about the gift pack given to him by his beloved friend, Sriram.. After a few weeks of time, Sriram Sir called his friend, on his home phone, and wished him once again on his marriage..
Later, he asked Srinivas whether he had by any chance opened the gift pack that he had given to him a week prior to his marriage.. Deeply regretting his forgetfulness,Srinivas apologetically said,"no".. Saying, "open it..Check it and then call me", Sriram Sir disconnected the call..
Smelling something metaphysical; something divine; and something extraordinary sort of a spiritual occurrence in his house,Srinivas quickly rushed into his room; opened the cupboard locker where he had carefully placed the gift box; took it out from there; and hurriedly came into the main drawing hall of his house where a few of his friends and family members were sitting…
With both his hands slightly shivering, Srinivas, slowly unwrapped the gift box and as everyone around him was closely observing him, took out a beautifully painted picture of Radha Krishna, fixed in a photo frame, from inside the box..
On finding only a painting in the box and nothing else, a slightly disappointed Srinivas had immediately called Sriram Sir and thanked him for the wedding gift.. When asked by Sir what he had seen inside the gift box, Srinivas informed him about the beautiful painting of Radha Krishna, he had found in the gift box ..
Taking Srinivas by great surprise, Sriram Sir then asked him,"Srinivas,did you look at the backside of the frame".. Saying"no..I will check immediately",Srinivas hurriedly disconnected the call and then looked at the backside of the photo frame..
There,Srinivas found a paper sticking to the back of the photo frame..A fully surprised Srinivas, carefully removed the paper and found an envelope there in the empty space.. He slowly opened it and then found a photograph inside that envelope ..
As everyone around him was keenly observing him, Srinivas then took out that photograph from inside the envelope and silently looked at it for a couple of seconds.. And then he just remained frozen looking at it..Looking at it..Looking at it..And looking at it..
And while looking so, at it,Srinivas was almost going dumb, numb and slowly into a state of deep, deeper and perhaps the deepest shock of his life.. Similar was the condition of almost everyone standing around Srinivas and watching that photograph, that time..
And in that most shocking photograph,there were a garlanded bride and bridegroom in their vermilion sprinkled finery with the bridegroom's left hand gently placed around the shoulder of the bride..
What shocked everyone there was,the bridegroom and the bride in that photograph were Srnivas and his newly wedded wife, taking part in one of the sacred procedures of the Hindu marriage system that was performed at the time of their marriage on the 7th of May, 1989..
It was just as though some photographer had deliberately shot that photograph, at the time of the couple performing the exact procedure on the marriage dais,on the day of their marriage..
The most astonishing, shocking and the flabbergasting fact here is," the photograph was there in the gift box, which Sriram Sir had presented to Srinivas a week prior to his marriage".. There was also a greeting card inside that gift box, with the signature of Sriram Sir, and also with the date of 01-05-1989 under that signature..
How is it possible..??
Would forever be the one toughest question in and by the mankind that, as far as I know, shall remain unanswered for ages to come; sages to come; lives to come; generations to come; incarnations to come; yugas to come; and yuga kalpas to come..
"Esha ha deva: pradiso anu sarva… Poorvoha jaatha sa u garbhe antha.. Sa eva jaatha; sa janishyamaana …Pratyangjanaan thishtathi sarvathomukha.."
"..This Deva is the directions and the interdirections… He is the one born before everything… He himself is the one who is born from a womb .. He himself is the one to be born… He is in all people and is having faces everywhere.."
With this unbelievably believable cosmic incident,that has never before occurred in the glorious history of mankind, Sriram Sir had quite successfully proved to the world that,
"He is timeless and belongs neither to the past nor to the present; neither to the terrestrial time nor to the cosmic time and neither to this yesterday nor to that tomorrow.. He had also profoundly proved that he's a man much beyond our time and much beyond our space..".. PERIOD
Later, when asked by some of his close friends,"we have seen you telling us in advance about the many happenings of our future but how could you take a snap of a future incident which no one in the history of predictions had so far taken.. ??.. "
With a gentle smile,Sriram Sir,a cosmic mystery who always desires to remain unanimously anonymous, gave a simple one line answer by saying,"It is a photograph taken with a cosmic camera" and left every one around him dumbstruck..
With the passing of time and also with the lengthening of shadows of their life, the two great friends of Sriram Sir and Ekkirala Srinivas went on to become Dr.Sriram and Dr.E.S.Srinivas after completing their Ph.D in their respective fields…
Currently,Dr.Srinivas is residing in the Eastern Indian city of Jamshedpur,working there as an Associate Professor of Organizational Behavior in one of the world's premier business schools,the Xavier School Of Management (XLRI).. Dr.Srinivas was earlier a faculty member too at the prestigious Indian School Of Business (ISB), Hyderabad..
After hearing
About that great event from Sridhar Rao garu, my eagerness to have the darsan of Sriram Sir grew multi fold.. However,my desire remained unfulfilled for eight months thereafter, until one day,to be precise on the 7th of October, 2000, Sridhar Rao garu called me at about 2.30 in the afternoon and said..
"Aditya..Good news..Sir is currently in Hyderabad and is coming to a place in Dilsukhnagar at 4 pm today.. One of my colleagues called me now and invited me there..If you wish you may come to that place right away.."
I jumped with joy and said,"..Yes…Yes…Yessssss..Am certainly coming sir..".. Sridhar Rao garu then gave me the address of the place where I should come in Dilsukhnagar and later disconnected the call.. My wife, Anuradha, who was quietly listening to our conversation said,"Am also coming"
Just like Rishi Kapoor and Dimple Kapadia went racing on the roads,on their motor bike,in the super hit Hindi film Bobby, me and wifey too went racing on my motor bike to the address given by Sridahar Rao garu in the Dislsukhnagar area of Hyderabad and reached the place by 3.50 pm..
That was an internet cafe to be inaugurated by Sriram Sir that evening..As I was told, that cafe belongs to one of the close followers of Sir who named the cafe on Sir's name.. Although Sir doesn't like to take part in such public activities, he however couldn't say no to his colleague when he invited him there..
There were quite a few people already waiting there in the first floor of that building..Without bothering about anything or anyone there,I just stood silently in a balcony, facing the road, and started waiting for those magical moments of the auspicious arrival of Sriram Sir into my life..
I have by then decided not to sit anywhere nor accept any refreshments until I had the darsan of Sriram Sir ..
As though time was testing me,I was made to stand like that in the balcony for forty five minutes.. And exactly in the forty sixth minute, I saw a car coming and stopping in front of that building..Watching the arrival of that car, a few people went rushing to it to receive Sir..
I then saw a slightly hefty looking gentleman getting out from the driver's seat.. And then and then and then and then and then and then, I saw a normally built bespectacled man, with a tucked in full sleeves white shirt, stepping out from the front door of the car..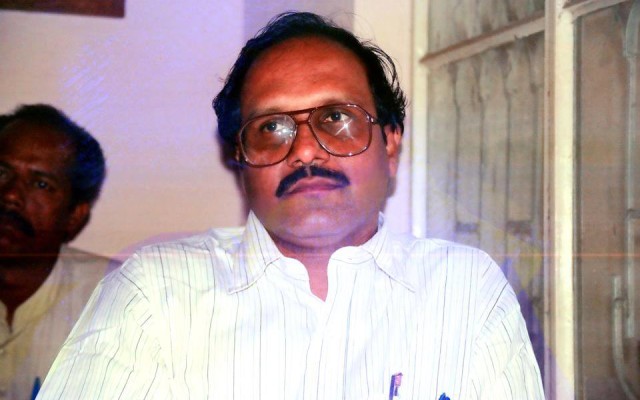 Who is that man and how to describe him.. First of all,how to believe that a simple looking man stepping out of the car in front of my eyes, is "daivam maanusha rupena".. However, I know and I know very well who he is and what he is up to..
The years of devotion injected unto my mind, my body and my soul by my beloved noble parents was confidently telling me,that moment,that,"the simple man appearing in front of me is no ordinary man as he appears,but is a man million times more powerful than what his appearance is telling me about him" ..
Still there was a great conflict in my mind, that moment, between belief and disbelief; between to be and not to be; between my inner self and my outer self; between logic and reasoning; between what I learned and what I wanted to learn; and between what am that day and what I may probably be in future..
It was a great conflict of conflicts, going on in my mind that moment, which, I know, no human mind in this world has ever conquered.. However the feeble tone of my inner voice was constantly telling me from deep within, that the simple looking bespectacled man in front of me is..
"..Raamudu raaghavudu ravi kuludithadu.. Bhumijaku pathi aina purusha nidaanamu.."
After clearly comprehending what my innocent inner voice was telling me, that moment, I just kept looking at Sriram Sir, without even battling my eyelids and without even moving an inch from where I was thus far standing.. I know he is going to talk to me and I know he is going to bless me,for sure
So,I didn't find any need to rush to him just like all others were doing there that moment.. But how do I know that he is going to talk to me and bless me.. Well.. Am still searching for the answer..
With so much going on in so little a time and in so little a mind, I could, with some great efforts that are combined with a silent prayer, become completely thoughtless in my humble mind and speechless in my tender heart and started cherishing every moment of my experience of viewing Sriram Sir, for the first time in my life, which experience, by any stretch of imagination today, is no less than divine..
In all,Sriram Sir had spent about half an hour to one hour there in the internet cafe,with his old friends and colleagues and with all others who know him..Standing at a distance,I was observing him all through the time he had spent there..
Surprisingly,in between,an elderly lady came to me,with a hot cup of tea,and said,"Babu..You came long ago and was standing here..Am feeling bad to see you standing like this..Please take this hot Tea..You will feel better.."
Wondering,"How does she know that I would die if I don't have my evening dose of Tea", I accepted the cup from her,with a "Thanks"..After about five minutes of time,I saw Sriram Sir getting up from his chair ,to leave the place..
Before I could move from the place I was standing; and before I could even reach Sriram Sir, he swiftly walked down the steps and reached the car to board it.. I went into a deep shock.. And then it happened..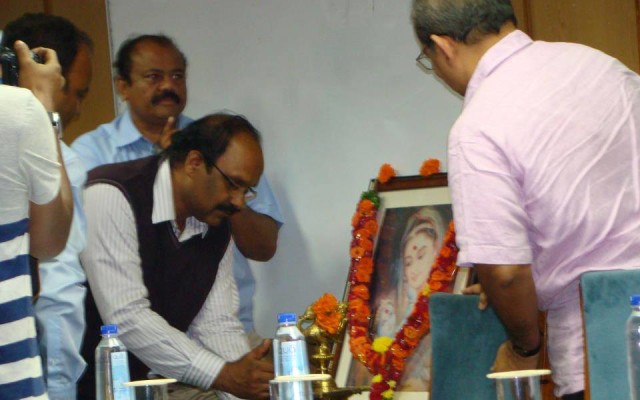 PAUSE
Please Click Here to read "An Incredible True Story Of A Miracle Man Who Is Seeing Your Tomorrow – Conclusion"
"A miracle is a spontaneous concretised expression of His love to the one who psychically needs it and karmically deserves it.. It is cosmically sanctioned at the ripe and right time.." – Sriram Sir
Love
Narrenaditya Komaragiri
narrenaditya@tirumalesa.com
To know more about the author please click here