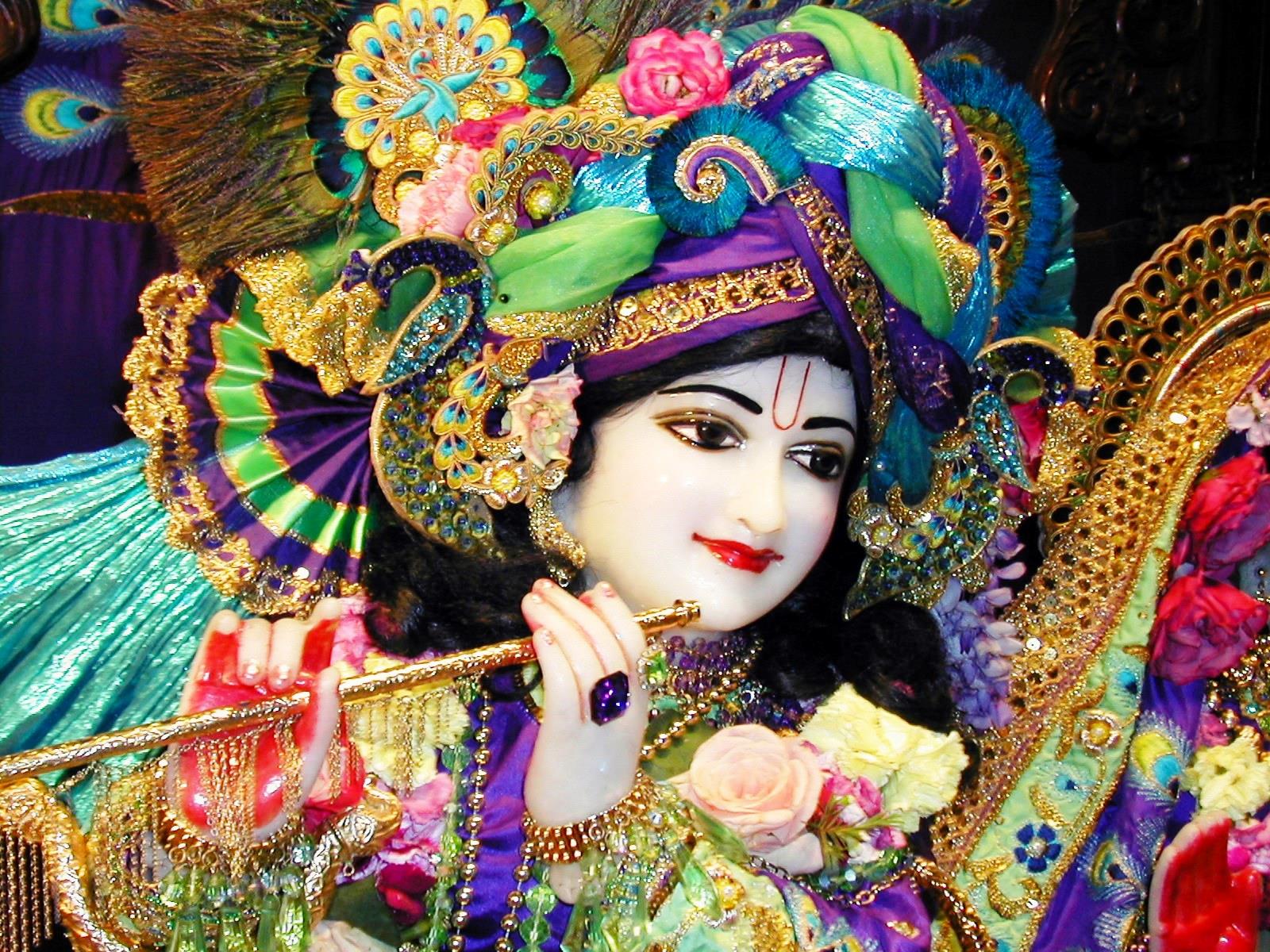 "A bird sitting on the branches of a tree, unconcerned with anything, is far superior to those who strive to be Buddhas"
With a medium sized book loosely held in his left palm and with the soft fingers of his right hand holding each page of that book for a moment and then turning it to go to the next page, my beloved 76-year old father, Sri KYL Narasimha Rao was sitting in his rocking chair, in that dining hall cum drawing room of his newly purchased apartment in Hyderabad,on that divinity filled night..
A well dressed middle aged man was sitting next to my father and was observing him going through the pages of that book.. Except the silent sound of a slowly running ceiling fan, there's no other sound in that room, that time..
Even the television that normally welcomes all visitors to that apartment with a loud news reader's voice was switched off.. The clock hanged to a wall behind the television was showing 8 pm..
That was the scene
In my beloved father's drawing room, when I entered it sometime during the month of February, 2000.. Just a few days prior to that, my parents have moved into that cozy apartment, located in the Padmarao Nagar area of Secunderabad..
Never for a moment I thought, while entering the apartment that evening, "..this is going to be one of the most memorable days of my life that is going to turn this spoiled Brahmin gradually towards spirituality and finally into a path of devotional righteousness.."
Never also that moment I thought that, "the simple looking medium sized book in my father's palms is a powerful book that is as powerful as the Bhagavad Gita; as holy as the Quran and as sacred as the Bible and it has the immaculate power to drive any poor soul from the darkness of ignorance to the light of spiritual wisdom.."
Without knowing anything, that is going to happen in the next few minutes of my life, that evening. I have quietly walked into my father's apartment, greeting him in a low tone.. With a visible joy in his face and a sparkle in the eyes hidden behind his spectacles, my father lifted his head and looked at me giving me a broad smile..
Responding to my father's lovely smile,I have then greeted that gentleman, with an equally warm smile, and then settled down in a chair that was there to the right of my father.. Introducing that gentleman to me, my father said,
"He is Sridhar Rao garu.. He stays in the flat above our flat.. He is working as a lecturer in Nizamabad polytechnic college and comes to Hyderabad once in a week to spend his time with his family here.. He had now come here to see me and greet me as we have just moved into this new place.."
Then turning to that gentleman,
My father introduced me to him, saying, "..he is my son Aditya..He is in the production of T V serials and ad films.. As part of his work he frequently goes to Bombay and if am right he is just returning now from there.."
With folded hands, I offered my pranams to Sridhar Rao garu,whom I now fondly call Sridhar uncle, and then went to him and shook my hands with him.. Saying "nice meeting you Aditya", he then turned to my father and started telling him about the preciousness of the book in his palms..
After quietly listening to Sridhar Rao garu for a couple of minutes, I was amazed with what he was telling my father about the precious book and it's author..Unable to control my curiosity, I asked him,"Sir. what is this book all about and who is it's author you are talking so great about.."
He shocked me with his reply saying, "It is written by my colleague who is working as an English lecturer in our polytechnic college in Nizamabad.. We all believe and there's also enough proof to show that He is the reincarnation of Lord Krishna"
I almost remained speechless for a few seconds and then quite impolitely asked him,"What did you say sir, reincarnation of Lord Krishna..???.. And He is working in your college as an English lecturer..?? .. How is it possible sir.. How can anyone believe this.."
With a smile he replied,"When did I ask you to believe this, Aditya.. But on a serious note I agree with you that it is unbelievable.. How can anyone believe if someone whom you are meeting for the first time in your life tells you that one of his colleagues is a divine reincarnation of Lord Krishna.. Even I didn't believe it until I met him; closely interacted with him; and experienced a few miracles with him..
However, after spending a lot of time with him in the college and also outside of my college I have come to a conclusion that he is certainly a super human being with some extraordinary miraculous powers.."
Then showing the book to me, Sridhar Rao garu said,"This is a book written by him.. It is nothing but a compendium of a few Telugu and English letters he had written to his friends and relatives during his post graduation days in the Osmania University..
Every letter in this book is worth weighing in Gold and it has changed lives of many people across our nation.. Unless gifted by God it is not possible for any human being to write such a book.. It deals with all the aspects of life and provides answers to each and every question the humanity raises today against God and Nature..
Although this book has received many compliments from many corners of India but the best compliment however came from none other than president Sankar Dayal Sarma, who after reading it said, "this is not only the best book I have read in my life but it is also a book that is as precious and as powerful as the Bhagavad Gita.. Every Indian must read it.."
Without waiting for a second,
I quickly got up from my chair; reached my father and without following any rules of courtesy either, grabbed that book from my father's hands; got back to my chair and quickly opened it and went through the first page..
"Viveka Sravanti – Letters For Seekers Of Peace By Sriram", I read out loud the name of the book and it's author as both my father and Sridhar Rao garu were looking at me with great surprise for my impolite behavior.. Not bothering much about their looks, I quickly asked Sridhar Rao garu..
"So sir..The name of the author of this book is Sriram, who you say is the reincarnation of Lord Krishna ."
"Yes..His name is Sriram but we all his followers call him Sriram Sir.. Although he's much younger to me in age and junior to me in service I still address him as Sir just because he is "Daivam maanusha rupena" ..However, he loves his privacy the most and lives in solitude as well and prefers to stay away from all the attention and publicity of the human world..
As a complete family man, he practices absolute simplicity in life.. He has a son and a daughter.. Every morning he drops his children at school and brings them home after the school hours.. He goes to the market and purchases vegetables; goes to the gas agency and gets his cylinder.. He also loves watching movies so goes to the theater; stands in the Q; purchases the tickets and watches the movie..
Everyone of us in the college,right from the peon to the principal,is ready to do whatever he wants us to do but he never allows us to offer any service to him..He believes in doing things on his own and doesn't accept anything from us..
Although we all very clearly know that he is God in human form,he refuses to accept it and calls us his friends though we take pride in calling ourselves as his followers..
However,on a few occasions he told us that," I came to this world only for a few and only those whom I want to meet shall come into my fold and those whom I do not want to meet fall into the trap of Maya and will be driven away.."
Aditya,although he can recreate everything in this Nature,he quite often tells us,"since am in a human form I must live it to perfection.."
Suppose if you go and tell him,"Sridhar garu told me you are God" he would laugh loudly and say that "he's a liar"..But he knows everything because he is present everywhere and follows everything including our conversation now.."
Sridhar garu concluded 
I was already in a deep shock..Slowly composing myself,I then asked him,"Sir,can you please help me in meeting him once.."..
He said,"Meeting him is not easy unless he comes to Hyderabad..He is a strict disciplinarian and never misses attending the college..On Sundays he spends time with family..So it is impossible to meet him in Nizamabad..
Secondly,he very rarely comes to Hyderabad but if he comes I shall certainly let you know and also take you to him..Until then just keep remembering him everyday and when he decides to give you his darsan you shall receive a call from me.."..
Saying so, Sridhar Rao garu got up from the chair and took leave from my father.. I accompanied him up to the door and as he was about to enter the elevator,I asked him,"Sir..May I read this book..I promise, I shall return it in a week.."..
With a little hesitation in his voice, he said,"Aditya..This book is so precious to me,in fact,as good as my life..This is one of the very few first edition books that are personally autographed by Sir and gifted to his friends..Am one of those lucky ones..I shall give it you but you must promise me that you shall return it to me in a week.."
I promised..He gave..I went home..Finished reading the entire book of Viveka Sravanti in about six days time and on exactly the seventh day went and knocked on the door of Sridhar Rao garu's apartment..
To know what happened later.
You must first know a few Golden quotes of Sriram Sir that will tell you why all those who know him consider him the greatest spiritual master living on this planet today..Since you are going to read more about him in future it is important for you to first understand his philosophy of life,God and Nature..
These quotes will help you, all readers, understand God in a better way and also enable you to develop a greater outlook towards life,hereafter..That is the primary motive behind my idea of sharing his whole story with the world today..Please go through..
1. My most favorite.."This scientifically harmonious solar system; the astronomically astonishing stellar system; the biologically perfect creatures living in water and on the earth; this paragon of an animal called man could not have come out of an imperfect hand..God is perfection incarnate and His creation cannot be otherwise.."
2. Everything in this world is predetermined and well determined right from the movement of a blade of the grass to the movement of the monster..
3. In search of smaller proofs, redirect your search at your self… Look at yourself in the mirror… Wonder at yourself.. Every portion in your body, only God could have made, not anyone else… Look into yourself; the magnificent thoughts in your head, the marvelous emotions and feelings in your heart, only the creator could have made..
4. Peace begins to flow from your eyes… Tears cease to flow… Be like a dry, dead leaf at the mercy of Divine wind… Divine wind is always merciful.. God is stronger than our strongest enemies.. Belief in God is the backbone of your life… God can break the back of your incurable ill-luck.
5. The universe has been consciously and carefully crafted by the creator with an eye not only on supreme perfection but also on aesthetics.. Conceived impeccably with amazing wisdom, the universe is a peculiar amalgam of apparent opposites…
6. Our body is a biological temple,where the Soul resides… It is a great gift of God… He feels happy when we carefully protect it.. When we clean our body,it is like cleaning the temple.. This biological instrument is very important to enact our role efficiently in the Divine Drama..
7. Fly on the magic carpet of God's Love… His love can neutralize the hatred of the whole world… One day or the other, every one of us should realize that his Love is enough..
8. People cannot accept realities, and they are not bothered about your intentions… That is every one's weakness… Your verbal expression is more important for them… So you have to select and use words in a way people are not displeased…
9. Develop the capacity to demonstrate your inner feelings, affection and love either through deeds, things or at least in the form of words… People cannot feel the abstract love.. They not only want to be loved but also want to be told that they are being loved…
10. A tear-drop is a transcendental bridge between the devotee and God… Smile is the most potent antibiotic for all the diseases of life.
11. Here's the final one but the most vital one that perfectly explains the concept of God.. "God guarantees safe landing, but not calm voyage…He saves us not 'from' storms but 'in' storms…"
Now you need to know the Sriram Sir I know
(The above photograph was shot in November,2003 when Sriram Sir attended the book release function of my father's book "Manu Dharma Sastram"..While Sir is in the middle of the photograph,the one sitting to his right is Sridhar Rao garu and behind him is Sahadev Komaragiri,my brother..
Sridhar Rao garu later went on to become Principal of Nizamabad polytechnic college and Sir worked under him as a Lecturer..Now both are retired from their government services..While Sir is travelling all over the world,Sridhar Rao garu is leading a contented life in the same apartments in Padmarao Nagar in Secunderabad)
In my sixteen years of association with Sir,I have not only learned many amazing lessons from him about God, Nature and spirituality but have also, to the best of my abilities, tried to understand him well, with my close observation..
In a world that is full of fake gurus,babas and god men,Sriram Sir,for some mysterious reasons,always remains to be anonymous..He also refuses to accept he is a form of God..He may not have thousands of followers but even those hundreds he has today are all well learned and noble personalities..He says I want to remain "unanimously anonymous"..
Sriram Sir always talks about unconditional surrender to God and works more on our mind and gives us the strength and courage to face any critical situation in life..He often says,"God is like your Mother and knows well what to give you and what not to give you and when to give you and when not to give you..He knows your needs more than you know about them..
So never complain against Him..All that is happening in your life is for your good…He who gave you the problem gives you the solution too and He who gave you the pain shall give you the relief too.. Fly like a bird and live life the way you want to and not the way others want to.."..BLESSING
Believe me or not..Once anyone comes to know about him is connected to him and he takes him/her into his fold and communicates with them through his thoughts..If you want to try you can try from this day and establish a communication with him,through your thoughts…Trust me,you shall certainly get some response in some way..
He will emphatically prove to you that he is reading your thoughts..Don't think it's a coincidence because according to Sriram Sir,"there's nothing like coincidence in our Nature..What you think a coincidence is actually a pat on your back by God through which He is proving to you that He is with you,,"
Believe me or not..Sriram Sir is present everywhere in this world and knows everything that we do,talk or think.. Although I have innumerable experiences to prove this right,I shall however share a couple of my own experiences for your understanding..
Here's my experience number one.. On the day of Vijaya Dasami in 2003,I along with a friend and his wife went to Lord Venkateswara's temple located in the Shamirpet area of Hyderabad..While coming out of the temple I offered some money to the beggars sitting in front of the temple gates..
Later we stepped into the car..While I sat on the front side beside my friend,who was driving the car,his wife sat all alone in the rear seats..After travelling a distance,she bluntly objected to my offering of money to the beggars..
She is a great devotee of Lord Krishna and even took ISKCON initiation..She says Krishna doesn't allow such offerings to beggars..While I strongly defended my deed with an argument in my favor,she too had strongly raised objection to it with an argument in her favor..We went on arguing all through the journey as my dear friend was enjoying everything with a smile..
The very next day,I went to meet Sriram Sir,on some work,at the Institute Of Electronics in Maredaplly, Hyderabad.. He was working there as a lecturer those days..While leaving his staff room,he stopped me and said,
"Aditya,never argue with anyone about God..Everyone has an opinion about God and everyone thinks his or her opinion is right..But who's right and who's wrong only God can tell..Remember God has not written His autobiography so how can anyone know about Him.."..Do I need to say anything more..
Here's my experience number two..Sometime during 2004,my wife and daughters were watching super hit Telugu film "Murari" on T V..That was a Sunday and we were all having lunch..
While watching the movie I said,"what a loud movie..Every scene is full of cacophony.. I hate this film.. Director Krishna Vamsee had made a lousy film..Am never going to watch his films in my life again" (sincere apologies to dear Krishna Vamsee who is my Facebook friend now)
After lunch,I was going to my Sunday Cricket..While I was about to enter my car, Sriram Sir called me on my mobile..After a couple of minutes of initial discussion,he had diverted the topic to Telugu films and directors and to my utter shock said,
"Aditya,Krishna Vamsee is a good director right..??.. I like his films and the way he shows emotions in a family..He is a very good director.."..I hurriedly said,"yes sir he is a good director..Am also his fan.."..Sir disconnected the call..Should I say more..??..
Now watch this photograph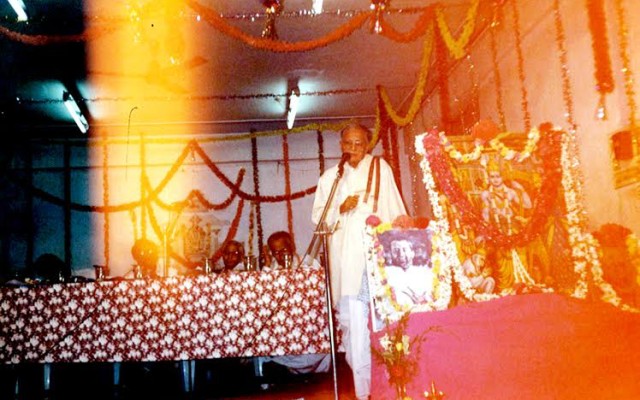 Sometime during the mid nineties there was a meeting at some place in Hyderabad..Along with Sriram Sir a few more speakers were there on the dais..While one speaker was addressing the gathering in the hall,the photographer who was covering the meeting had shot this photograph..
Later,in those days of no digital technology,when this photograph was developed in the studio lab,the photographer was shocked to see a Golden beam of light falling on Sir..He immediately checked all the photographs, he had shot that day, and had found that this light beam appeared only in this photograph and that too was falling only on Sir and not on anyone else..
Where did that light beam come from is a mystery to many of Sir's highly learned followers, even today..
A few more important points
In my "amazing experience in Tirumala temple" series, that I have posted on this site a few weeks ago, I have given a brief introduction of Sir and said that I met him for the first time on October 7th, 1999 but it was in 2000..
Secondly I wrote that Sir appeared at the same time in three marriages but it was only in two marriages.. Sridhar Rao garu corrected me on this point,today..
The book Viveka Sravanthi is not any more in circulation and in that place a fully redone book titled 'Journey Into Joy' was released by Sir in 2008.. Of course I have both the books with me.. The Viveka Sravanthi copy I have with me has an autograph of Sir on it..
Sir gave it to popular film producer GVG Raju,producer of super hit Telugu films,'Gokulam Lo Sita' and 'Toli Prema' with Pavan Kalyan..GVG in turn gave that book to me,in 2004,and had later forgotten to whom he had given it…
When we met in a meeting,he told me,"Aditya,I have given my Viveka Sravanti copy to someone, now I don't remember to whom I have given.."..I laughed and said,"wish you forget it forever"…
Please Click Here to read an interview of Sriram Sir published in the popular website, Life Positive..
Now, please Click Here to read the article,The Key to Happiness,written by Sriram Sir himself or the same website..
Now let us come back to the main story
When on the seventh day,I knocked on his apartment door and returned him his book,Sridhar Rao garu was surprised with my promptness..Then he asked me,"what was your first thought after completing the reading of this book..Be honest and tell me frankly what you felt..".
Without searching for words,I promptly replied,"..God knows whether the author of this book is a divine reincarnation of Lord Krishna or not but unless gifted with some extraordinary divine powers no human being on Earth can write a book of this spiritual magnitude that so impeccably and convincingly deals with every aspect of God and Nature..This was my thought sir,,"
"Good Aditya..You have very honestly confessed your thoughts about Sir..Now I shall tell you about a miraculous incident involving Sriram sir..At least after listening to it you shall remain convinced forever that Sriram sir is the reincarnation of Lord Krishna.."
Saying so,he went about narrating that miraculous incident to me..I almost fainted after listening to it and later I have come to an everlasting conclusion that Sriram Sir is undoubtedly the reincarnation of Lord Krishna..My desire to have his darsan grew multi fold thereafter..
PAUSE
Please Click Here to read "An Incredible True Story Of A Miracle Man Who Is Seeing Your Tomorrow – Part One"..
"Everything is an expression of God's love, understandable or ununderstandable. Let us all lose our ability to understand Him. Let us 'feel' Him, let us 'love' Him, let us 'belong' to Him. The whole universe hinges on God's love. Love is the greatest mantra" – Sriram Sir
Love
Narrenaditya Komaragiri
narrenaditya@tirumalesa.com
To know more about the author please click here