"Man's free will seems to be crippled.. The endless debate about Free Will continues.. No final crystallized conclusion has been arrived at.. Whenever I think of Free Will I am reminded of Robert Browning's famous poem. 'Andrea Sel Sarto' wherein he says,
"We are in God's hand.. How strange now, looks the life He makes us lead.. So free we seem, so fretted we are" – Bhagawan Sriram Sir
This Spine Chilling Incident
Occurred in the Maldkal Swayambhu (self manifested) Sri Lakshmi Venkateswara Temple, a few years ago..
However, before proceeding to know about this actual incident you must first know a few interesting points about this historic Temple without knowing which you wouldn't be doing justice to your reading of this story.
Maldakal, also known as 'Adi Sila Kshetram' in Telugu and Modala Kallu in Kannada which in English means, 'Primal Stone', is a pretty small village near the Gadwal town previously in Mahbub Nagar District and now a district by itself called the Jogulamaba Gadwal District in the newly formed state of Telangana.
This otherwise unknown village to the outer world is still an innocent village today with so many faces that amusingly stare at you when you go there on a visit.
There's a 400 – year old Swayambhu (self manifested) Sri Lakshmi Venkateswara Temple located in this village more popularly known as the Maldakal Timmappa Temple to the modern world.
A clear description of this historic Temple is found in the sacred Ashtadasa Puranas namely in the 'Brahmanda Purana' and the 'Skanda Purana'.. According to chapter four of the Brahmanda Purana,
"Lord Siva performed 'Tapas' (penance), heads down here at this place, to have darsan of Lord Venkateswara.. Pleased with His tapas, the holy Lord had given Him darsan which is why this place not only has Lord Siva as it's Kshetra Palaka but also earned an additional name for itself, the Gireesachalam.. A visit to this Temple would give the devotee the complete benefits of visiting all the 'Punya Kshetras" on the Earth".
Thus, according to the Brahmanda Purana, "If you visit this Temple, at least once in your lifetime, there's no need to visit any other Temple on this Earth again".. PEACE
The current Lord Timmappa Temple was built, here at this sacred place, four hundred years ago, by his Majesty Maharaja Chitrabhushana belonging to the Kingdom Of Gadwal when he found the devotees of his village financially struggling to go all the way to Tirumala to have darsan of Lord Venkateswara.
From then on, I mean from the time this Temple was built, the natives of this village never go to Tirumala to have darsan of the Lord.. They all strongly believe, "the Lord Himself had come here for us and to stay with us, so, where's the need to go to Tirumala Hills for His darsan".
All the 'Kainkaryams' to the Moola Virat of Lord Venkateswara, here in this Lord Timmappa Temple, are offered according to the 'Madhwa Sampradaya'.. However, all the Temple priests here are from a special tribe belonging to this village.
It is said, the Lord Himself had expressed His desire to have the services of only these tribal families to perform all His 'sevas' in the Temple.. As per the records available with the Temple,
"Nearly two million people from the neighboring states of Karnataka and Maharashtra visit this temple every year, mostly on the annual Timmappa Jaatara (Tirunala) – a folk festival – that is being celebrated here for several centuries on the Pournami (Full Moon) day that falls in the month of December".
Additionally, there are many other beliefs associated with this Temple, the most popular among them being, "The residents here do not construct any structure in the village that is taller than the Dhwaja Stambham (The Flagstaff) of the Timmappa Temple.. If they do so, they are afraid, the holy Lord would curse them".
I have personally visited this Temple with family and friends, in April, 2017, and I didn't find any building or structure here that is taller than the Flagstaff of the Temple.. PERIOD
How To Reach Maldakal Temple
Unless you are coming from Bangalore, the only way you can reach Maldakal is through Hyderabad.. Therefore, for the understanding of everyone I shall explain the route from Hyderabad..
Hyderabad to Maldakal  – Via Banglore Highway ( 240 KM) NH-44.
Hyderabad International Airport  – Shadnagar – Jadcherala – Kothakotta – Pebbair – Krishna River crossing – Beechupali – Take Right at SANSOOL ROAD – Gadwal – Maldakal..
Google Maps:  "Gattu Thimmappa Swamy Temple, Kurthiravalchervu, Maldakal,Gadwal, Telangana"
(After reading this article many readers, including those living in foreign countries, have mailed me asking, "how to go to Maldakal".. I have now added the above info).
Now, coming to the point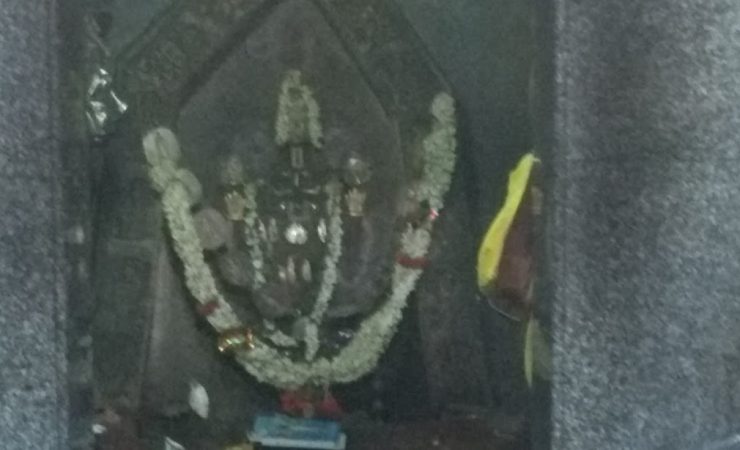 It is strongly believed by many;
Emphatically confirmed on several occasions;
Authoritatively proved by His own Divine Self;
And ideally endorsed by Lord Sri Venkateswara Himself
That,
"Bhagawan Sriram Sir – born in this Maldakal village as Sreeramulu Gajula on the 11th of May 1957, after His Mother had lost three children before His birth – is none other than the Divine Incarnation Of Lord Timmappa Himself".. Om Tath Sath
The following incident – personally narrated to me by Sri. PVRK Prasad, the most successful Executive Officer ever in the history of Tirumala Temple who had many divine miraculous experiences with Lord Venkateswara in the Tirumala Temple, a few of which I have penned in detail in my recently released 'God On Call' Book – qualitatively confirms all my above claims..
But before that, let me humbly submit that,"I had the honor of personally introducing Sri PVRK Prasad to Bhagawan Sriram Sir when they have seen and met each other for the first time in their life in my Tirumalesa – Divine Sriram Sir meeting held in Hyderabad on the 24th of December, 2016″.. BLESSED
Please Continue Reading
Recently, on Saturday, the 12th of August, 2017, both my family and Sri Prasad's family have attended Sriram Sir's daughter, Sowmya's wedding performed in Hyderabad..
Since the current JEO of TTD, Sri Srinivasa Raju – a follower of Sriram Sir from his student days – personally stood and monitored all the activities performed in the marriage, many personalities, including the renowned Dollar Seshadri, belonging to the Tirumala Temple have attended this marriage, that day.
Almost all the priests belonging to the Maldakal Temple too have attended it and if am right were also part of the large team of priests that conducted the marriage proceedings.
Seeing Sri Prasad – who is a towering personality among the TTD circles as well as among the Hindu priests fraternity and spiritual circles of India –  one after the other, many of the priests and scholars belonging to TTD have started coming and greeting him that day..
I was sitting next to Sri Prasad in the front row and was quietly observing everyone approaching him.. In the process, I have noticed a thick dark curly haired middle aged man, in a traditional attire, sitting diagonally behind us in the next row, silently observing each one of his colleagues and friends coming and meeting Sri Prasad.
Looking at this man's curious facial expressions, I could easily guess that he too was eager to meet Sri Prasad.. However, he was not getting a chance to do that since so many people were around Sri Prasad all the time.
Later, to this man's utter disappointment, we all got up from our sofas and proceeded to dinner, arranged in a beautifully decked up arena adjacent to the marriage hall.. At that time, only myself, my wife, Anuradha, Sri Prasad and his wife Smt Gopika Prasad were there at a specially arranged dining table in the VIP enclosure of the dining area.
Since we were all in a jovial and relaxing mood, we all have started discussing about the many divine aspects related to Sriram Sir.. As Sri Prasad had met Sir only on a couple of occasions before – that too in my Tirumalesa meeting and in God On Call book launch meeting – he didn't had an opportunity to know more about the divine status of Sriram Sir.
As he was curious to know "how and why so many luminaries like our honorable Governor, Chief Minister and many more popular bureaucratic and film personalities, including a large number of current IAS officers, are attending the marriage that day",
I have slowly started narrating to the septuagenarian noble couple about the many divine experiences all those luminaries had with Sriram Sir in their lifetime.
In the process, I told the noble couple how Sir had given letters to Prof. Sivarama Krishna and Director Suresh Krishna in which many future events were written exactly in the same way they have occurred later.
I further told Sri Prasad and Smt Gopika, "how Sriram Sir had simultaneously appeared in three different marriages occurred on the same day and at the same 'Muhurath' in Nizamabad, sometime during the 90s"..
Finally, I summed up the whole conversation, saying, "Sriram Sir was born in Maldakal village as the divine incarnation of Lord Timmappa".. To say the least, "both Sri Prasad and his wife were frozen and speechless for a few minutes"..
They were immensely impacted by my narration.. May be because they too follow the Madhwa Sampradaya in their house as Sri Prasad's wife, Smt Gopika Prasad is a Madhwa Brahmin and even speaks and writes in Kannada.
More importantly, they have visited the Maldakal Temple many times before but were never aware that "One day, in their lifetime, the Maldakal Timmappa Himself would visit their house and invite them personally to His daughter's marriage".
That is Bhagawan Sriram Sir and that is His His gloriously inscrutable, majestically immeasurable, authoritatively incomprehensible, aristocratically unimaginable and understandably ununderstandable Maya.. Jagath maya.. Vishnu maya.. Krishna maya.. Kalau Venkata Nayaka Maya.. Maya.. Maya.. Maaaya".
Govindaasritha Gokula Vrindaa .. Paavana Jaya Jaya Parmaanandaa.. PERIOD
After completing the dinner, we went back to the same sofa in the front row of the marriage hall.. After about a few minutes, as though ordained by Him, I have slowly got up from my place to meet a few old friends who have come to attend the marriage, that evening.
Exactly at that same time, finding the place beside Sri Prasad falling vacant, that curly haired middle aged man, who was just then coming down the dais, had slowly approached Sri Prasad; greeted him; and later humbly introduced himself as Ramesh, the head priest of the Maldakal Sri Lakshmi Venkateswara Temple.
Knowing that he is the head priest of the Maldakal Temple – about which he had just heard from me a few minutes ago – Sri Prasad had asked that man to sit beside him in the same place where I sat before.
After some initial conversation, Sri Prasad, who after listening to so many experiences from me about Sriram Sir, had out of great curiosity asked the head priest, "I heard many divine experiences about Sriram Sir.. Do you too have any such experience either with Sir or in the Temple".
In his humble reply, the head priest Sri Ramesh had honestly said, "I don't have many great experiences to share with you sir but there's certainly one unforgettable one that I can never forget in my life.. I will share it with you now"..
Here's What Sri Ramesh Had Told Sri Prasad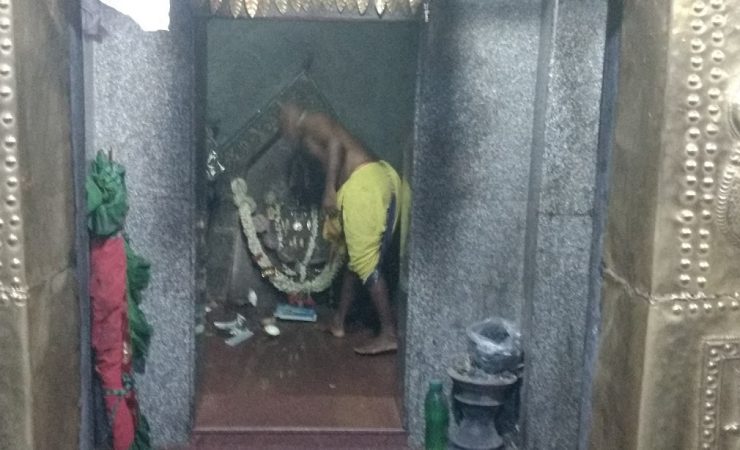 On a Friday morning, at about 4 am, the head priest was performing Abhishekam (sacred bath) to the Moola Virat, Lord Sri Timmappa in the Garbha Griha of Maldakal Temple.
At a divine moment, when he was standing close to the Moola Virat and bathing His face with sacred water, he suddenly, to his utter shock, heard a divine voice from inside the Moola Virat that said,
"Listen Ramesh.. Sreeramulu is coming here this Monday.. Receive Him with all the Temple honors and do take good care of Him".
Ramesh was shocked.. Frozen.. And speechless.. However, as fate would have it, he forgot this most vital point, he shouldn't have forgotten in his life beyond life, after only a few hours.
Surprisingly, exactly as spoken by Lord Venkateswara, Bhagawan Sriram Sir had visited the Maldakal Temple, the next Monday, along with a couple of His friends and quietly offered His prayers to the Moola Virat and silently walked away.
The head priest Ramesh was very much there in the Temple that time but was too busy engaging other devotees so could not notice the divine arrival and departure of Sriram Sir from the Temple.
And the next Friday;
Exactly at 4 am;
And exactly when Sri Ramesh was performing Abhishekam to the Moola Virat,
He heard the same Divine Voice from inside the stone idol of Lord Timmappa, that said,
"What Ramesh.. You did not even bother to look at my human form Sreeramulu when He had come here the last Monday.. Don't worry.. He is coming here again this Monday.. At least now receive Him with all the Temple honors".
This time Sri Ramesh did not forget this point.. Instead, from the very next moment, he had started eagerly waiting for the divine arrival of Bhagwan Sriram Sir, the human form of his Lord Timmappa Whom he's serving everyday for so many years..
Again the next Monday,
Bhagawan Sriram Sir had majestically entered the Temple with His retinue..
Watching Sriram Sir entering the Temple..
The fully joyous head priest Sri Ramesh went almost running to Him with all the technical paraphernalia..
Fell on His feet..
And..
Greeted Him into the Temple
With all the Temple honors..
And..
Offered Him "Mangala Aarati"..
Epilogue
After listening to this hair rising experience from the head priest of the Maldakal Temple, Sri PVRK Prasad could not hold his emotions that diffused many currents in his mind and had switched on many more new lights..
He started waiting eagerly for my comeback, to the place beside him, and shared this experience with me, the moment I sat beside him, with the same exuberance a child would share an amazing class room experience with her Dad.. HONORED
Conclusion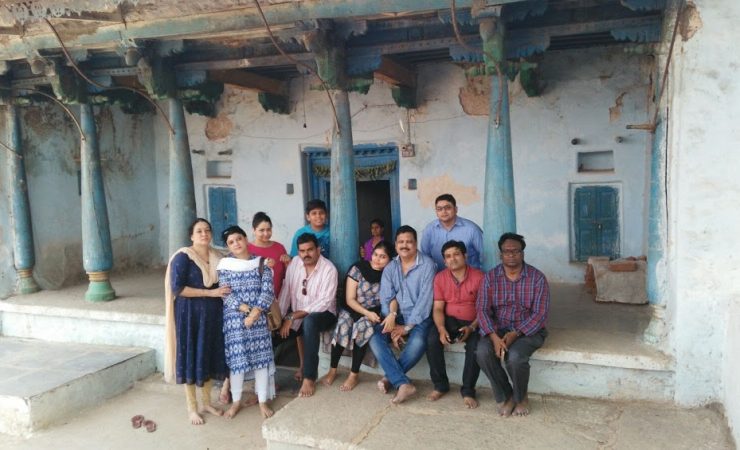 On the day I visited the Maldakal Temple, in April, 2017, I have also visited the house where Bhagawan Sriram Sir was born.. It's a simple house yet a strong one built by His grand father about sixty or seventy years ago..
Standing in the middle of the house I called Sriram Sir on His mobile and told Him where am calling from.. He smiled and said, "what is there in that house that is about to fall.. Our very own biological house doesn't stand long then how will a materialistic house would last..
But you did a good thing by visiting the Maldakal Timmappa Temple.. He's a very powerful God..
There are many references to this Temple in the Ashtadasa Puranas.. Only priests belonging to a select tribe from the village should perform His seva.. That is His order.. Anywayz all the best.. May His blessings be with you and your family forever"..
I smiled and offered my beloved Bhagawan Sriram Sir – a cosmic source of infinite divine energy – my humble Pranams and sincere thanks.. BLESSED
The Most Tragic Point
After narrating this experience to me, Sri PVRK Prasad slowly got up from his sofa and told me, "Aditya, time for me to leave" and quietly walked out of the marriage hall along with his wife Smt Gopika.
We (me and my wife) walked along with them to see them off.. At the entrance, he paused and spoke to Sri Raghu Nandan, IAS and an ardent follower of Sir, for a few minutes..
Later, after his driver had brought the car, he shook his hands with me and then with Raghu Nandan; offered a Namaste to my wife; slowly walked to his car; paused; turned back; looked at me; nodded his head; smiled; and quietly boarded the car.
Both myself and Raghu Nandan stood there, at the entrance, waving our hands at the departing legendary IAS officer – one of the most illustrious IAS officers our Mother Nation had ever seen – and quietly walked back into the hall without realizing, that moment
"it was the last time in our life we have seen Sri PVRK Prasad alive".
The very next Saturday, Sri Prasad was admitted to the CARE hospitals in Banjara Hills, Hyderabad after he had complained uneasiness in his chest.. I heard this news on Sunday morning and had immediately informed Sir.
The same evening myself, Sir, senior IAS officers, Sri PVR Reddy, Sri Girija Sankar and Sri Raghu Nandan have gone straight to CARE hospitals.. Sri Prasad was lying unconscious on a bed in the IICU ward.
Sir spoke to Smt Gopika and family for a few minutes and then without even turning His head towards Sri Prasad, slowly walked out.. We followed Him..
The next morning, I received the news,
"SRI PVRK PRASAD IS NO MORE"
"Srirama Charanau Saranam Prapathye"
Love
Narrenaditya Komaragiri
narrenaditya@tirumalesa.com
To know more about the author please click here