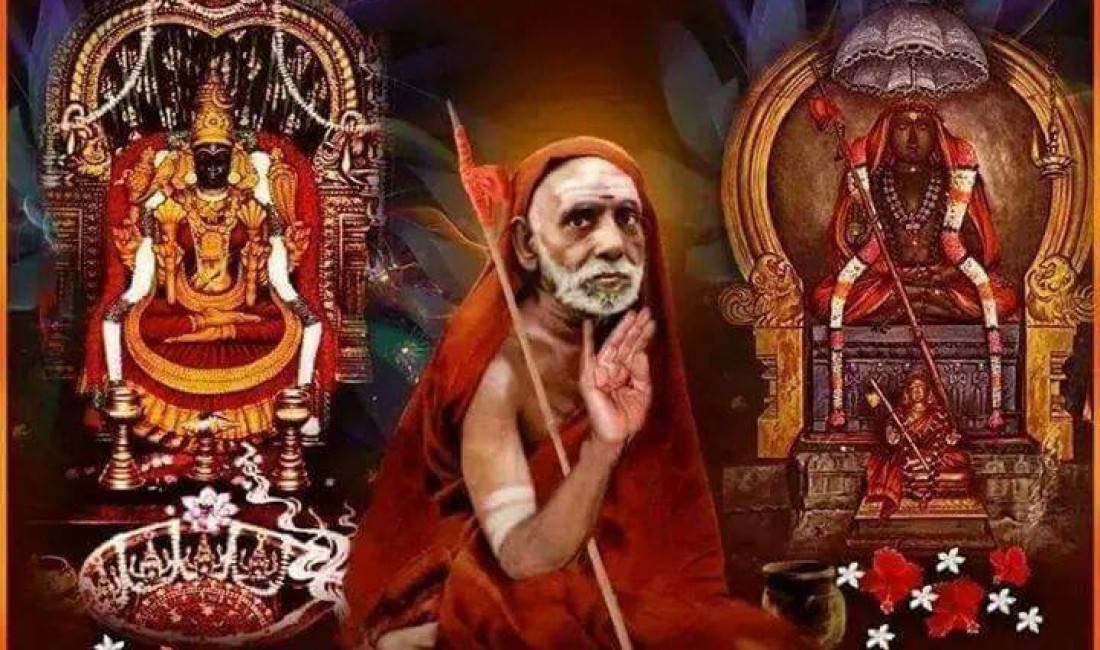 I don't know how far there's truth in Thomas Campbell's quote, "coming events cast their shadows before them", however, there's certainly some truth in my saying, "coming spiritual events, for sure, cast their shadows before them.. Some times, may be, a few years in advance too"..
My own experience, during an amazing incident, that occurred in my life some time during the month of June, 2000, when I was in the holy Kanchi Mutt, made me think so.. Otherwise I wouldn't be writing this story today and you wouldn't be reading it now..
Please go through
On that eventful day, without even knowing anything either about the Kanchi Mutt or about the Kanchi seer, His Holiness the Maha Periyava or Paramacharya of Kanchi, I landed straight in the Kanchi Mutt much against my will and also much against my liking.. However, this incident had – in the later part of my life – helped me realize,
"Nothing happens in our life without a purpose and nothing in this Nature exists without a cause.. Therefore, even that small incident in the Kanchi Mutt too has some divine purpose behind it.. Who knows..??"
But what exactly had happened in the Kanchi Mutt that day..???
On one fine morning, sometime during the month of June, 2000 (don't remember the exact date), my elder sister, Vijaya Lakshmi, had called me and said,
"Balu, (that's the pet name my family members and close childhood friends use to call me) by the grace of God my son, Raja, had got admission in the famous Kanchi engineering college run by the Kanchi Mutt..
He has to report there for admission in another four days.. Since your brother in law is not in town and is expected only after about a week, I will have to go there, along with Raja, for admission in the college.. Can you join me on our trip..???".
Before I could say anything, my sister said,
"By the way I didn't call you to request you to join me for the trip but called you only to inform you that I have already booked tickets for three of us from Hyderabad to Chennai.. We are leaving after three days and coming back in another three days thereafter".
I tried to say something but without even allowing me to say what I wanted to say, my sister continued.
"We shall first go to Chennai; from there to Kanchi; pay the fees and admit Raja in the college; settle him in the hostel; in return visit the Kanchi Mutt; and then come back to Chennai and later to Hyderabad".
Protesting my sister's decision, I requested; I begged; I grumbled; I groaned; I moaned: I screamed;
She quietly disconnected the call.
"All elder sisters are like this or only I am blessed with one like this".
I asked myself..
For me going to new places should be a fun filled affair like sipping my favorite Beer, munching some lip smacking non vegetarian snacks and of course looking at all the beautiful girls belonging to that place..
If not what use is that trip, however, important that might be for us..???.. This was also the question in my mind that moment.. However, my sister was not in any position to listen to such valid views of mine and in turn had planned to mercilessly take me to such an unsavory place like Kanchi..
I know well that "I cannot talk about all such things like Beer or anything else there in such a holy place like Kanchi and cannot even dare to do anything adventurous there except eating those age old Tamil dishes like Idly, Vada and Pongal.. Heh".
Hence, I protested and protested very hard.. However, my sister's decision, as always, prevailed over mine just because she is elder to me in the family.
Still I tried to do all that I can do to bunk the trip to Kanchi but my smarter sister, who knows me and my habits better than anyone else in this world had first booked the tickets and then informed me.. SADIST
(Please forgive me.. Although from an orthodox Telugu Brahmin family, am exposed to all such vices like Beer and non vegetarian snacks at a very early stage in my life..Thanks to my Cricket friends and college friends for that)
Left with nothing much to do and also with the fear that I may have to hear some nice words from my Mom for saying no to my sister,I have reluctantly decided to go to Kanchi,with my sister and her son..
Finally on one great morning,
Me,my sister and my nephew landed in Chennai..After having a sumptuous breakfast of Idly,Vada and rice Pongal in Chennai,we left for Kanchi which is about seventy kilometers from there..
On reaching Knachi,we were asked to first meet His Holiness Sri Vijayendra Saraswathi and inform Him about my nephew's admission in the Kanchi college and then proceed to the college..We promptly did the same and first went to see Sri Vijayendra Saraswathi..
That was the first time I have entered the holy Kanchi Mutt..After about fifteen minutes of waiting in the Mutt,we were granted private audience by His Holiness Sri Vijayendra Saraswathi..He asked my nephew a few simple questions after which we prostrated before His holy feet and took His blessings..
While leaving His chambers,I have noticed that His Holiness really has a very pleasant face,that is full of serenity,and a mesmerizing smile that will for sure haunt me for the rest of my life..Other than that, honestly,there's nothing more memorable for me to say about my first meeting with Sri Vijayendra Saraswathi..
Later,we went to Kanchi engineering college; paid the fees; successfully admitted my nephew there in the college and also in the hostel; had our lunch there and later as we were about to leave the college,my sister,much to my irritation,said.
"Balu..We don't come to Kanchi often..Having come now,let us also visit the Kamakshi temple; purchase a few silk sarees here and then go to the Kanchi Mutt again..
In the morning today,we could only have the darsan of chinna swamy Sri Vijayendra Saraswathi but we couldn't have the darsan of pedda swamy (Periyar) Sri Jayendra Saraswathi..A priest there told me that He is expected in the evening,today..
In the meantime,we shall first go to Kamakshi temple; have darsan of Amma varu (Amman); and after that finish our shopping and then go to the Kanchi mutt again for pedda swamy's darsan..Please don't say no.."
Since I know there's no point in saying "no",I have silently nodded my head and sat in the car that took us straight to the Kamakshi temple..Believe me..There in the Temple,we had an amazing darsan of the glorious looking mother,the divine mother of all mothers in this universe,the holy Kanchi Kamakshi Amman..
(In the  word Kamakshi,"Ka" stands for Goddess Saraswati,the Hindu Goddess of learning; "Ma" stands for Goddess Maha Lakshmi,the Hindu Goddess of Wealth and "Akshi" stands for the human eye which means Goddess Kamakshi in Kanchipuram is one unified form of all the three Hindu Goddesses)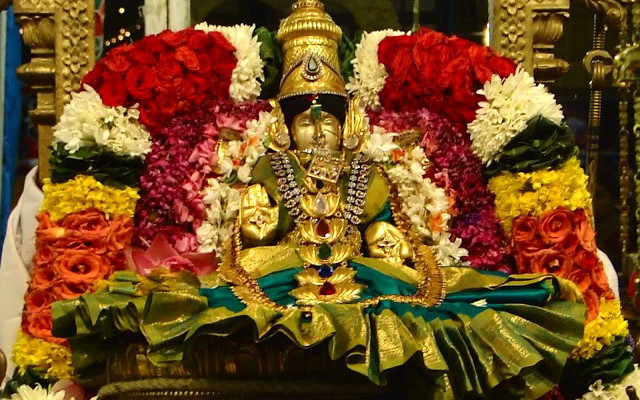 After that wonderful darsan
Of the holy Goddess Kamakshi,I some how felt great serenity in every corner of my ever restless mind..I have also noticed a great peace filled silence in my mind.. "..May be due to the powerful divine energies of the centuries old temple." I told myself..
Later,we quickly finished my sister's silk saree shopping,in the narrow streets of Kanchi,and headed straight to the sacred Kanchi Mutt..
This poor unholy soul,at that moment,wasn't aware that in about a few minutes from there on he would be experiencing a more serene and a more peace filled bliss in the powerful Kanchi Mutt than what he had earlier experienced in the Kamakshi temple..
Unmindful of everything that was going to happen in the next few minutes of my life that day,I have quietly walked into the Kanchi Mutt and closed my eyes and stood with folded hands before Lord Sri Chandra Mouleeswara Swamy..
And then offered Him my salutations reciting the following stanzas from Lingashtakam,which I have learned in my childhood from my maternal uncle,who  for a long time had offered his services to holy Lord Sri Venkateswara,as the honorable Aasthana Vidwan of Tirumala Tirupathi Devasthanams (TTD)..
"Brahma murari surarchitha lingam.. Nirmala baasitha sobhitha lingam.. Janmaja dukha vinasaka lingam.. Tath pranamaami sada siva lingam ..
Devamuni pravararchitha lingam.. Kaamadahana karuṇakara lingam.. Raavaṇa darpa vinaasaka lingam.. Tath praṇamaami sadasiva lingam..
Sarva sugandha sulepitha lingam.. Budhdhi vivardhana karana lingam.. Siddha surasura vandhitha lingam.. Tath pranamami sada siva lingam .."
I have never been a big devotee nor striving to be one in future but was,however,born to noble parents who were great devotees and who in turn have injected into my mind,right from my childhood,a great belief in God and also in His existence all around this world..That noble upbringing of my parents taught me many slokas and sthothras..PEACE
After completing my prayer,I have turned around and found that the Mutt Elephant was roaming freely all around the sanctum area..Looking at it,I purchased a few Bananas and offered them to the Elephant ..Pleased with my devotion,that innocent representative of the Kanchi Mutt blessed me by placing it's trunk on my head..
Exactly at that moment I heard a huge roar of "Hara Hara Sankara..Jaya Jaya Sankara.. Hara Hara Sankara.. Jaya Jaya Sankara.." chanting all around me,in the Mutt..
It was then I noticed that there's a large crowd of devotees gathered all over the Mutt,eagerly waiting for the arrival of some important personality..Every inch of space that was there in that front area of the Mutt was occupied by devotees most of whom,I believed,were from Tamil Nadu..
Unable to bear with my curiosity,I asked an elderly man standing beside me,"What is happening here and whom all you are waiting for"..At that time he was also chanting that Sankara manthra..
As though he can never forgive me in his life for posing such a stupid question to him,that elderly man looked at me with irritation first and then in the same irritating tone,replied,"Periyava is arriving in a few minutes.." and signaled to me to shut my mouth..
I kept quiet but started observing everyone around me with the same curiosity..Then I noticed that there were many new persons in the Mutt,just like me,and they too have similar doubts in their minds as I have but the only difference was,they were not making any noise like me but were expressing them through great confusion in their faces..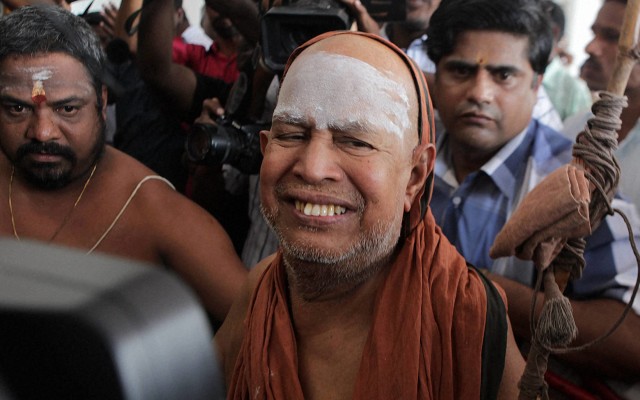 After about five minutes of waiting,someone from the entrance shouted in Tamil,"Periyava is arriving in a few minutes"..Within a few seconds,everyone lined up in rows on both the sides of the long pathway that was leading into the Mutt..
On my sister's insistence,I too went and stood beside the same elderly man in the third row,that is just confined to the Mutt wall..The chanting of "Hara Hara Sankara" reached to it's peak as I was silently observing everyone around me..
While some were wearing shirts and some were not but all in all it was a great atmosphere there in the Kanchi Mutt that moment..After a couple of more minutes of waiting,the convoy carrying His Holiness Sri Jayendra Saraswathi had arrived at the main entrance..
At that time,I was standing in a corner of the wall that is to the left side of the main entrance and in close proximity to the principal deity of Sri Chandra Mouleeswara Swamy..That means someone entering the Mutt shall find me to their left,after walking a few yards into it..
After getting down from the Mutt vehicle,Sri Jayendra Saraswathi slowly started walking into the Mutt.. While a few devotees standing in the front rows had bent on their knees and were prostrating before His holy feet,many like me stood silently in the rows and were offering their pranams to Him..
With a gentle smile,His Holiness was walking with a raised right hand that was gesturing blessings to the devotees..Many priests were following Him from behind..I was observing Him with great eagerness but with more calmness without any feeling of devotion towards Him in my mind..
Casually observing every one there,His Holiness was slowly walking into the Mutt..As I was observing Him,He was reaching the place in front of me and in about a few paces would have entered the large open area of the Mutt..But quite surprisingly,He paused in front of our rows..
There were three rows in all there and I was in the third row with my back touching the Mutt wall behind me..That means two more persons were standing exactly in front of me and I will hardly be visible to any one passing from there..
Surprising every one there,His Holiness paused in front of us and looking at us asked in a typical Telugu diction,"Yaa voori nundi vochchinaaru" (Where did you come from)..I thought He was asking someone in the front rows whom He must be familiar with..
Therefore,I just kept looking at Him without even battling my eye lids..Observing the confusion in my face,He repeated the question..That time,the elderly man standing beside me hurriedly whispered in my right ear,"He is asking you"..
My whole body jerked as though a bomb shell was dropped on my head and I hurriedly replied to His Holiness in a low tone,"Swamy..I came from Hyderabad'..Observing my nervousness this time,He waved His right hand at me and asked me to come closer to Him..
As two persons standing in front of me moving aside and paving me the way,I have almost jumped and reached His Holiness..Then He again asked me in my Mother's language,Telugu.."Hyderabad nundi vochchinaara..Yami sestoo vuntaaru akkada.."(You came from Hyderabad..What do you do there)
"Swamy,I make T V serials and ad films",I replied in the same low tone..With a broad smile,He said, "Atlaanaa..Baaga chesukondi"..(I see..Do well)..Then,He asked me,"meeku Paramacharya telusunaa" (Do you know Paramacharya)..
I said,"Sorry Swamy..I do not know"..With the same broad smile,He said,"time vochchinapudu annee telustaayi lendi" (when the time comes you shall know everything)..Then turning to a priest behind Him, He said something and later turning to me said,
"Eeyana meeko pustakamistaadu..andulo vunna vidhaana devuniki pooja cheyandi..anthaa baaguntundi ..(He will give you a book..Hereafter,offer your prayers to God as per the instructions given in that book.. Everything will be fine)
After saying so,He raised His right hand and from a distance blessed me..Later,He slowly turned away from me and walked into the Mutt..
The shocked elderly man standing beside was the first one to compliment me..He said,"Young man..I don't know who you are but for sure you are blessed for life..When there are so many devotees here He talked only to you..See how lucky you are.."..I gave him a blank look and then a flat smile..
Then many came to me and more or less spoke the same words..I was in a dazed state that moment so just went about saying thanks to everyone..It was then that I noticed my sister standing at a distance looking at me..She was almost in tears that moment..
She quickly came to me and said,"Did you see Balu..You refused to come here but see what happened now..This has to happen in your life so He called you here..Am so happy for you.."..Which sister in this world wouldn't be happy if something amazing like that happens to her brother in front of her eyes..
After about a few minutes,the priest.whom His Holiness had ordered to give me a book,approached us with a booklet in his hand and gave it to me..
It was a Telugu booklet with Sri Jayendra Saraswathi's photograph on it's cover page..There were many slokas on various Hindu Gods and Goddess inside the book meant for daily recitation during pooja..It was while receiving the book I asked that priest
"Who is Paramacharya"..With a graceful smile,that priest showed me a portrait that was there on a wall there and said,"He is Paramacharya"..
Then I said,"but He is Chandrasekhara Saraswathi"..With the same smile still dancing on his lips,that scholarly Kanchi Mutt priest said,"True..But He is more popularly known as Kanchi Paramacharya and Tamil devotees here address Him as "Maha Periyava"..As His Holiness pronounced,you will come to know more about Him when the time comes.."
Finally,I have placed before him the biggest doubt that was banging my head ever since His Holiness Sri Jayendra Saraswathi spoke to me and blessed me..
I said,"many who see me for the first time think that am a North Indian and try to speak with me either in Hindi or English..But am surprised that someone directly spoke with me in Telugu,today..How does He know my mother tongue is Telugu.."
With the same smile,the priest shocked me by saying,"He knows everything..That's why He was chosen by the Sankaraavataara Paramacharya as His immediate successor to this Kanchi Kama Koti Peetham, one of the world's most sacred religious institutions; that's why so many aristocratic personalities of this Tamil Nadu state standing in front of you here have become His devotees; and that's why I too have become His priest.."
Conclusion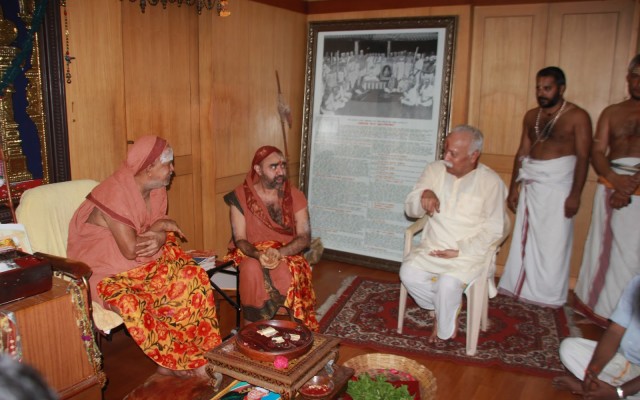 After reaching Hyderabad,I have immediately started offering my prayers as per the instructions given in the book by His Holiness Sri Jayendra Saraswathi..Although,I had that book with me for a long time,I have unfortunately lost it due to the changing of my house in Hyderabad..
Later,to be very honest,I have completely forgotten that Kanchi Mutt incident and moved ahead in my life..However,in 2012,as though the golden words of holy Seers wouldn't go futile,I have chosen to write a story "An incident that earned M.Subbulakshmi the Bharath Ratna" which was mostly about the role played by the Kanchi Paramacharya in helping the music queen come out of a grave financial crisis in the last phase of her life..
This same story was posted again on this site with a new title,"A divine drama on the Tirumala hills that rescued M.S.Subbulkashmi".. It was while writing this story that a great eagerness started growing in my mind to know more about the Kanchi Paramacharya.. But I couldn't move an inch forward mostly due to my laziness and more so due to lack of time..
Some how for some strange reasons I was growing restless,for the last one year,and desperately started searching for info on Paramacharya..Unfortunately,I didn't find any interesting info except a little here and there..
But recently I found an amazing source that offered me a sea of unknown miracles of Paramacharya waiting to be revealed to the world through me..I think it only happened with the divine blessings of His Holiness the Paramacharya Himself otherwise I wouldn't have found that source at all..
After going through that mind boggling content provided by that source,I remembered the prophecy of Sri Jayendra Saraswathi that said "when the time comes you shall know everything"..
I think that precious time has now come for me to share everything that I know about His Holiness the Paramacharya of Kanchi with the world..So began with this article..Please stay tuned for a few amazing stories in future..
"Hara hara Sankara..Jaya jaya Sankara..Hara hara Sankara paalayamaam"
Love
Narrenaditya Komaragiri
narrenaditya@tirumalesa.com
To know more about the author please click here