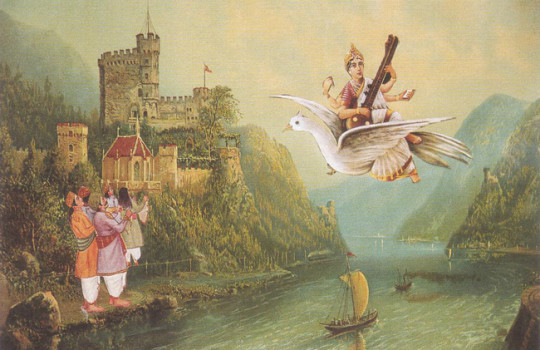 Please Click Here to read the previous parts of this story..Now continue reading this part..
Continuing his conversation further..
This is what the Rithvik Brahmin Dattatreya Sarma,from the Kanchi Peetham,told the mystic Brahmin Nemani Subbarao..
"..With the enormous powers He attained from the recitation of the Gayathri manthra,His Holiness Sri Vidyaranya Swamy later became a great preacher of the Advaitha Philosphy and based on that preaching He had presented to our world two precious creative masterpieces called the 'Parasara Madhaviya' and the 'Sarva Darsana Sangraha..
In the recent history too,there are many eminent personalities who did more than two Punascharanas of the Gayathri manthra in their life and attained salvation..The notable among them are Raja Ram Mohan Roy,Maharshi Devendra Nath Tagore,Pandit Madan Mohan Malaviya and Ravindranath Tagore..
(Readers may be aware that Pandit Madan Mohan Malaviya was awarded India's highest civilian award – the Bharath Ratna – by the government of India in December,2014)
Greatly influenced or inspired by the power of the Gayathri manthra,while Ram Mohan Roy and Devendra Nath Tagore founded the Brahmo Samaj; Pandit Madan Mohan Malaviya,along with Annie Beasant,had founded Asia's largest residential university – the Benares Hindu University..
Of course everyone knows what Gurudev Ravindra Nath Tagore had achieved in his life..However,it's my personal belief that both his 'Geethanjali' and also the great Nobel Prize had come to him only after Gurudev completed the first two punascharanas of the Gayathri manthra ..
It's also my understanding Subbarao garu,that not everyone can recite the Gayathri Manthra the exact way it's meant to be recited..And it is also for this reason,I believe,the holy Sage Viswamitra,the Drashta of Gayathri Manthra,had laid down many tough conditions for it's chanters..
According to Sage Viswamitra,the powerful Gayathri Manthra allows only those who deserve to recite it, recite it otherwise not..Since a regular chanting of Gayathri manthra grants enormous divine powers to it's chanters,it doesn't allow any undeserving person recite it and attain those powers..
Now that you have completed two vital Pinascharanas of the Gayathri manthra in the past and about to complete the third one here in Basara,I can guess how many difficulties you too must have had while reciting this great Manthra..
Since you have come this far in your recitation,I believe the holy Goddess Gaythri is immensely pleased with your efforts otherwise it wouldn't have been possible for you to reach this crucial stage in your life ..Am I right Subbarao garu.."
With a little smile Subbarao replied,"..You are definitely right Sarma garu..To the best of my abilities I have been reciting the Gayathri manthra with all the spiritual discipline required..Hence I too believe I wouldn't have come this far in my recitation without Her blessings.."
The Rithvik Brahmin too smiled and said,"Of course"..
Then Subbarao said,"There's a doubt that's haunting me since morning Sarma garu..I hope you will be able to clear it.."
"Will certainly try to but what's that doubt Subbarao garu" asked the Rithvik Brahmin
With a little hesitation and a little more curiosity in his voice Subbarao said,"..After I had the darsan of His Holiness Sri Sankara Vijayendra Saraswathi this morning,I had an amazing experience..While coming out of the Temple,I just wanted to have one more look at His Holiness's glory filled face..So I turned back.."
"And exactly at that time I noticed that His Holiness too was constantly looking at me observing me as I was leaving the Temple..And after seeing me turning back and looking at Him,he just smiled at me and I noticed a great mesmerizing power in that smile.."
"But right at that moment Sarma garu,I also felt great a shivering all over my body..That was a sort of an indescribable vibration..Since then am curious to know why was that His Holiness was looking at me so constantly..I was puzzled ..I didn't understand"
With a broad smile this time,the Rithvik Brahmin said,"..the power of the eye of a true saint is thousand times more than the power of the eye of a normal human being..A true saint's eyes can very clearly see the movements of the spiritual personalities hovering around in the air and their vision can also capture many ultra moments of spiritual powers commanding the time space of Nature."
"You may already be knowing about His powers Subbarao garu but still let me tell you,.His Holiness Sri Sankara Vijayendra Saraswathi was a born prodigy and acquired a great knowledge of the holy Vedas at a very young age in His life..
And by the age of fourteen,He was a Trikala Gnani and was nominated by His Holiness Sri Jayendra Saraswathi as His successor to the sacred Kanchi Kamakothi Peetham..
His Holiness Sri Vijayendra Saraswathi has enormous divine powers and I have personally had a few experiences when I was in His holy presence..And with what you say now,I believe His Holiness had envisioned the holy Goddess Gayathri in you.
It means,He was actually seeing Goddess Gayathri in you and not you..By smiling at you He was smiling at Goddess Gaythri and was offering His salutations to Her through those smiles..
And that also means Subbarao garu,there's Goddess Gayathri appearing in your face which ordinary persons like me may not be able to see but noble souls like His Holiness would certainly see..Otherwise there's no need for His Holiness to look at you for such a longer period of time..Now..It's an honor to meet you today Subbarao garu…."
Subbarao was wowed with the explanation of the Rithvik Brahmin..He couldn't believe that a great noble personality like His Holiness Sri Sankara Vijayendra Saeaswathi,who is revered by many Hindu devotees of Sankara all over the world,had envisioned Goddess Gayathri in his (Subbarao's) face..
Later,Subbarao wholeheartedly thanked the Rithvik Brahmin saying,"Sarma garu..I firmly believe holy Goddess Gnana Saraswathi Devi had sent you today to help me understand a few points about the sacred Gayathri manthra and also to clear my doubt that was haunting me since morning.."
Honoring his words,the Rithvik Brahmin said"..May be Subbarao garu..Who knows..And if I have to look at our meeting from my point of view,then may be I will have to say that Goddess Gayathri wanted you to help me draw inspiration from your experiences to recite the Gayathri manthra from now on..Am personally going through many problems in my life and was praying intensely for God's guidance and help..
I now believe that the holy Goddess had replied to my prayers by showing you to me..Honestly,Subbarao garu,although I perform 'Sandhya Vandanam' and recite the Gayathri manthra a few times in a day,am however not finding time to recite the manthra for a specific number of times,everyday..
Now,I shall immediately start reciting the Gayathri manthra at least a thousand times each day for the rest of my life.. Thanks for your help Subbarao garu.."..
On the morning of 3rd May,2002..
Since Subbarao was aware that it was on that auspicious day the Maha Kumbabhishekam to Basara Gnana Saraswathi Devi temple would be performed at Basara,he very early started his daily recitation of the Gayathri manthra,that day..
However,he was not sure at what time the Kumbhabhishekam actually begins,so he decided to perform his daily meditation up to 11 a m and then go to the Temple to witness the Kumbhabhishekam..With that program in mind,he was meditating at the normal pace he would meditate everyday..
Suddenly he felt a jerk in his whole body..Then he heard some voice whispering in his ears saying,"Get up..Get ready and go out..Go to the temple.."..Without pausing his meditation Subbarao clearly heard that voice but ignored it and continued his meditation..
After a few seconds,Subbarao had one more jerk in his body slightly severe than the earlier one.. He also heard the same unknown voice whispering in his ears again..It said,"..Get up immediately.. Get ready and move out..Go to Temple.."
Subbarao,with years of experience in meditating the Gayathri manthra,had in course of time acquired enormous powers that help him go deep into a state of trance during which state he will not be able to hear or notice anything happening around him..
It's a sort of a deep transcendental mediation state which only a few blissful souls like Subbarao can experience..At that time too he was in one such state which was why he couldn't notice the slight jerk in his body and also could not pay much attention to the voice whispering in his ears..
And then the third time,not only the jerk in the body of Subbarao was severe but the voice too was much louder and clearer..The voice said.."You can perform the meditation any time later..Now get up..Move immediately and go to the Temple.."
That really disturbed Subbarao from paying any more attention to his meditation.. Not only he opened his eyes quickly but also got up in a whiff as though some external force had forcibly lifted him from the floor..
He immediately alerted his wife Venkata Lakshmi and in just two minutes of time they were at the main entrance of their cottages..Exactly at that time,a mini van,belonging to the Kanchi Mutt,that had come to cottages to pick up a few personnel of the Mutt,was about to leave after all the personnel have boarded that van..
It was terribly and unbearably hot outside,that time..Seeing Subbarao and Venkata Lakshmi coming to the gate,the driver of the van who already started moving the van ahead,halted it for a second and asked Subbarao,"..Sir..We are going to Arya Vysya Bhavan..Our Swamijis are staying there..Wanna come..??
Without uttering a word Subbarao and Venkata Lakshmi boarded the bus..Later,the bus slowly reached the Arya Vysya Bhavan in Basara where the Acharyas of Kanchi were staying..
Subbarao found a heavy rush of devotees in and around the Arya Vysya Bhavan..Carefully crossing each devotee Subbarao and Venkata Lakshmi slowly went inside the main building and reached the central hall where the sacred Kanchi Peetham was traditionally placed in the north eastern corner of the hall..
Now..
Am too small a devotee to give a clear description of the sacred Kanchi Peetham,however,to the best of my abilities I shall still certainly try,with my understanding of the Peetham,to tell you that
"Kanchi Peetham is like a permanent pooja mandir of the Kanchi Peethadhipathis who offer their daily pooja to the small silver deities of Lord Chandra Mouleeswara Swamy and Goddess Kamakshi seated in a silver swing tastefully placed inside the Peetham.."
I believe,the sacred silver deities in this Kanchi Peetham were placed by His Holiness Jagadguru Sri Adi Sankaracharya after invoking divine powers into these deities by using the same divine powers he had acquired through His penance…
Since these holy deities are being offered prayers everyday by the Peethadhipathis of Kanchi Mutt,for over several hundreds of years now,they must have certainly acquired many great powers and according to one strong belief of the devotees of Kanchi,Lord Siva and Goddess Parvathi are actually residing in that Peetham in the form of those deities..
It is for this reason alone,millions of Hindu devotees from all over the world and more particularly those belonging to Tamil Nadu state strongly believe that at least a one time darsan of the Kanchi Peetham in life would grant Moksha (Salvation) to them..
It is further believed by many devotees that Lord Siva and Goddess Parvathi go around the skies of the Kanchi town during the nights enjoying everything that's happening there in Kanchi..Therefore those who visit Kanchi feel greatly energized as they find a lot of positive vibrations all over their mind,body and soul for a long time after they return from Kanchi..
Just like it is the honest belief of every devotee of Kanchi Mutt to have the darsan of the holy deities of Lord Chandra Mouleeswara Swamy and Goddess Kamakshi residing in that Kanchi Peetham,it is also the desire of Subbarao and Venkata Lakshmi to have the darsan of that holy Kanchi Peetham..PERIOD
As a tradition..
Right from the days of His Holiness Jagadguru Sri Adi Sankaracharya to the current days of His Holiness Sri Jayendra Saraswathi,the holy Peethadhipathis of the Kanchi Mutt carry along with them the Kanchi Peetham,wherever they go..
Similarly,it was brought to Basara too to view which a number of devotees have come to Arya Vysya Bhavan,that day..Subbarao and Venkata Lakshmi could finally reach the arena where the sacred Kanchi Peetham was placed..
The whole arena was covered with an artificially erected private chamber with many large silk curtains preventing easy access to devotees to that place where the Swamijis sit and perform their daily pooja to the Kanchi Peetham..
At that time too,the entire arena was completely closed from the outside as His Holiness Sri Sankara Vijayendra Saraswathi was performing His daily pooja to the holy deities in the Kanchi Peetham..
Subbarao and Venkata Lakshmi were eagerly waiting for the main curtain to be removed so that they can view the Kanchi Peetham..There were a lot of devotees in the hall that time..The entire Kanchi Mutt staff was monitoring the situation there..
After a few more minutes of eager waiting,the main curtain giving access to the Kanchi Peetham was raised..
Firstly,the ever smiling Sri Sankara Vijayendra Saraswathi stepped out..He then Smiled at everyone there and smiled specially at Subbarao..Later sprinkling the holy water in His hands on everyone around,He hurriedly walked out..
As Subbarao and Venkata Lakshmi were,at that time,paying their entire attention to His Holiness,they could not view the Kanchi Peetham that many around them could very clearly see,at least for a few seconds,when the curtain was raised..
Unfortunately for Subbarao,as soon as His Holiness came out of that private chamber where the Kanchi Peetham was placed,the main curtain was pulled down again preventing the noble couple of Subbarao and Venkata Lakshmi from having the darsan of the Kanchi Peetham..Subbarao knows well that the curtain will never be raised again..
Subbarao was aghast..Went into a deep shock..
"How come we missed the darsan of the Kanchi Peetham today..How come we have not paid our entire attention to it..What force prevented us from viewing the Peetham today..If not now then when again..
I know we will not get this opportunity again in our life..The Swamijis are going back in the night today.. And we cannot on our own,at least in the near future,afford to go to Kanchi to have the darsan of the Peetham..Then why and then how to see the Kanchi Peetham in life..
What is my mistake..Why is that they have pulled down the curtain so early without allowing so many of us have the drasan of the peetham..Whom to ask..Who will help me..All the staff here are speaking only in Tamil and looks like no one knows Telugu or English..Even otherwise why would they listen to me and why would they raise the curtain again only for us to have the darsan of the Kanchi Peethan..
Thinking so,Subbarao started frantically looking around for help..He just wanted someone to come forward and remove the curtain again,at least for a few seconds,to help them both have the darsan of the Kanchi Peetham..
But shocking him furthermore a staff member of the Kanchi Mutt came forward and started locking the door of that private chamber..A couple of staff members then started driving away all the devotees from the waiting hall as both their Swamijis had left that place for the day..
To say the least,Subbarao was standing speechless with desperation..With frustration..With dejection.. With rejection..With restlessness..And with extreme shock..
And..Then it happened..
WARNING : All rights whatsoever concerned with this story belong solely and wholly to Narrenaditya Komaragiri – as it's writer and creator – and anyone violating the same,by trying to copy a part or full portion of this story for any other website,Facebook page, novel or  book,T V Serial, feature film or for some other commercial purposes,is liable to be prosecuted under criminal laws of Indian judiciary..
Please Click Here to read the thirteenth part of this story
Love and regards
Narrenaditya Komaragiri
To know more about the author please click here