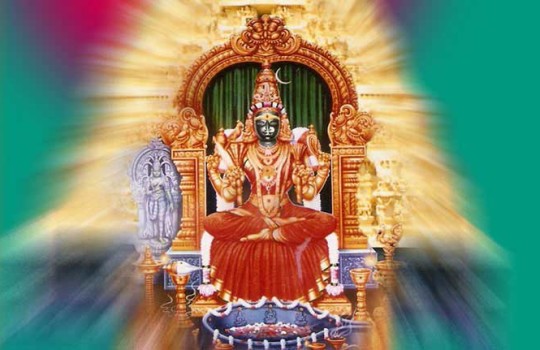 Please Click Here to read the previous parts of this story..Now continue reading this part
Like a mother explains her beloved son..
Why she's so harsh with him sometimes,the holy Mother Goddess Saraswathi too was explaining the mystic Brahmin Subbarao in Basara why She had asked him to go to Basara during such harsh weather conditions of summer..
After telling him about the first three vital reasons,She then came to the fourth and the most important one explaining which,the holy Goddess said..
Finally Subbarao,there's one important reason for which I wanted you to come to Basara..It's the last and the most important of all reasons which I want you to know now..Am sure you are aware that after every Punascharana of a particular manthra a chanter,as part of the tradition,needs to perform 'SANTHI " (Appeasement) to that manthra and offer food to a few living beings ..
(Purascharana means any devotee who decides to meditate a particular manthra, meditating it according to the number of beejaksharas present in it…Each beejakshara in a manthra should follow a count of one hundred thousand times..If there are five beejaksharas in a manthra,then the devotee should meditate it for five hundred thousand times..Eg : The Panchakshari Manthra..
Since there are twenty four beejaakasharas in the all powerful Gayathri manthra,a chanter would need to recite it twenty four hundred thousand times or twenty four lakh times to complete one Punascharana.. My beloved reader..Hope you got my point..Just in case you haven't yet,please click here and read the most vital part of this story that explains you everything in detail about the Punascharana process..).. Period
Dear Subbarao..
After you started the recitation of the Gayathri Manthra and during the first Punascharana,am aware, you offered Sugar to Ants everyday..Then,after completing that Punascharana you have performed "Sri Anjaneya Kalyanam " and offered food to about ninety people.."
During the second Punascharana too you have offered Sugar to many Ants and after it's completion you have performed your daughter Aparna's marriage..As part of that marriage you have offered food to hundreds of people..
Until this far you have performed Santhi to Gayatri Manthra the way it's meant to be performed..But after starting the third Punascharana you have changed your house and moved into a new house..Here in this new house,although you wanted to offer Sugar everyday you didn't find Ants to take your offering .. Right..??..
Subbarao,now you are about to complete your third Punascharana..It means the time has now come for you to perform Santhi to Gayathri manthra and offer food to a few people..So I thought there can't be a better place for you than Basara wherein free food is offered to hundreds of people every day..
As you are about to complete your third Punascharanam now,I want you to offer food to a few devotees here in Basara..Not that you will not find so many people in Visakhapatnam but it would be an expensive affair for you to plan any such event there..Therefore I planned it for you here..
Now..Finally,Subbarao..Here's the last and the most important reason more important than all the four reasons I have so far mentioned..It is also for this vital reason I wanted you to go to Basara..
In about a few days from now..
My ardent disciples and the Acharyas of the sacred Kanchi Kamakothi Peetham,Jayendra Saraswathi and Sankara Vijayendra Saraswathi are coming to Basara to perform a Maha Yagnam here and later Maha Kumbhabhishekam to my temple..
I want you to witness them performing the Maha Kumbhabhishekam which would be a rare occurrence for you to witness in your life..You wouldn't be getting such an opportunity again in your life if you don't come to Basara now..Am I right Subbarao..
Lastly and more importantly,Subbarao,these Acharyas will be coming here carrying along with them the holy Kanchi Peetham ..I want you to have the darsan of Lord Chandra Mouleeswara Swamy and Goddess Kamakshi and have their blessings too as you would be reciting Muka Pancha Sathi written in praise of Goddess Kamakshi,here in Basara..
It is after keeping so many things in view that I have asked you to go to Basara,Subbarao..Of course it's a hot summer season right now,I know,but to accomplish a few great tasks in life you need to overlook a few small difficulties that come your way..
Saying so,the enchanting golden divine voice disappeared..
Subbarao was amazed..He didn't know how to thank the holy Goddess for scheming so many important events in his life..He also didn't understand what is that he did in his life to deserve all such attention from the holy Goddess..Unable to find answers to many such intricate questions,Subbarao just remained in that shocked state for a few more minutes..
Later in the evening,a much delighted and a much more confident Subbarao,along with his wife Venkata Lakshmi,visited the Basara temple and heartfully conveyed his thanks to Goddess Gnana Saraswathi Devi for showering all Her special blessings on him..
After a few days..
The sweltering month of May had arrived,making life all the more miserable and all the more unlivable for Subbarao and Venkata Lakshmi in the temple town of Basara..
However,the news about the proposed visit of the Acharyas of Kanchi Kamakoti Peetham,His Holiness Sri Jayendra Saraswathi and Sri Sankara Vijayendra Saraswathi to Basara reached Subbarao like a cool gentle breeze from river Godavari..And understandably so Subbarao was a happy man
Finally,in the early morning hours of 1,May,2002,a convoy carrying both the holy Acharyas of the Kanchi Mutt and the sacred Kanchi Peetham arrived in Basara..Since that was a program organized by the then Andhra Pradesh state government,a lot of publicity was done,much in advance,in the entire state to alert devotees about the holy event of Maha Yagnam and Maha Kumbhabhishekam..
Devotees in large numbers from all over the state had thronged the Temple town of Basara to witness those two rare events..
On the morning of 2,May,2002..
Subbarao finished his meditation of the Gayathri Manthra and later in the afternoon,after finishing the daily reading of Muka Pancha Sati,went to the Basara Temple..The area around the temple was being colorfully decorated by the temple authorities and the devotees were already waiting in long ques to enter the Temple..
In spite of such heavy rush in the Temple,Subbarao and Venkata Lakshmi,with the help of an employee in the temple administration,could finally enter the Temple premises..And there in the temple,Subbarao, from a distance,noticed His Holiness Sri Sankara Vijayendra Saraswathi giving audience to a few of His devotees..
Subbarao and Venkata Lakshmi slowly entered the Que going to His Holiness..Quietly waiting for their turn,they moved forward along with the Que..All through their waiting in the Que,they observed many devotees seeking blessings from His Holiness..After a few more minutes of standing in the Que,Subbarao and Venkata Lakshmi could finally reach Sri Vijayendra Saraswathi..
Subbarao immediately prostrated before the holy feet of His Holiness..Looking at the noble couple,His Holiness smiled gently and blessed them by placing both His hands on Subbarao's head and later by offering the sacred Kumkum (Vermilion) of Goddess Kamakshi to Venkata Lakshmi..
Subbarao was eager to discuss a few things about the Gayathri manthra with His Holiness but due to too much of rush around Him,His security personnel moved him away..A disappointed Subbarao walked out of the temple albeit with some uneasiness in his mind..
But he couldn't forget the smile He found in the face of Sri Vijayendra Saraswathi when he (Subbarao) turned back to have one final look at Him while coming out of the temple..Subbarao was surprised when he turned back and found His Holiness looking only at him while he was coming out of the temple..
"..Why is that His Holiness was looking at me with so much of curiosity in His face and why is that He didn't stop His security guards when they are moving me away from His presence.."an amused Subbarao thought for a while..
Eventually,what amused Subbarao more at that moment was not the smile but the curiosity in the face of His Holiness Sri Vijayendra Saraswathi,that moment..Subbarao couldn't find any answers to all those questions but surprisingly the reply came to him from a Vedic Scholar whom he met a few hours later.. PERIOD
Along with the Acharyas of the Kanchi Mutt,about hundred Rithviks (Brahmins or the officiating acharyas who perform holy religious activities on behalf of their spiritual master) too have come to Basara to perform the Maha Yagnam..
Traditionally,wherever the Acharyas of the Kanchi Mutt go,the Mutt makes enough arrangements for preparing food to all the members of that group..The Acharyas,the Rithviks and all the members of the Mutt,accompanying the Acharyas,shall not eat food cooked by anyone else other than their own authorized Kanchi Mutt kitchen staff who strictly follow all the sacred rituals while preparing the food..
Similarly,in Basara too the Kanchi Mutt had made all the arrangements for the accommodation of the two Acharyas as well as to all the members of their group..While accommodation to the  Acharyas was arranged in the Arya Vysya bhavan in Basara,for all the other Rithviks it was arranged in the same cottages wherein Subbarao and Venkat Lakshmi were staying..
The entire cottage premises was occupied by the Kanchi Mutt group and suddenly a lot of heavy buzzing activity began in the whole premises with the arrival of that group..Except the couple of Subbarao and Venkata Lakshmi there's no one else,from outside the Kanchi group,staying in those cottages,that time..
After having noticed their presence in those cottages and after knowing a bit about the purpose of their stay there,an official of the Kanchi Mutt personally came to their room and invited them to join them for dinner that night..
Feeling extremely honored and also considering that an invitation from Goddess Kamakshi Devi Herself, the much delighted noble couple of Subbarao and Venkata Lakshmi joined the Kanchi group for dinner that evening..
( Telling me about that dinner experience,Sri Subbarao said "having a traditional dinner in the presence of such illustrious personalities was an amazingly unforgettable lifetime experience for both of us.." )
After thanking the authorities there..
Subbarao and Venkata Lakshmi slowly came out of the dining hall,conversing with each other..Listening to them conversing in Telugu language an elderly 65 – year old Rithvik brahmin belonging to the Kanchi Mutt group came to them..
Introducing himself he said,"Namaskaram..My name is Dattatreya Sarma..Am from Rajahmundry..I accompany the Kanchi Swamijies wherever they go..I along with my disciples take part in the Maha Yagnam procedure.."
"..Am the only Telugu speaking person in the entire Kanchi Mutt troupe now..They all speak Tamil..I heard you both conversing in Telugu so thought I should introduce myself to you..Where are you from and what are you doing here.."
Awestruck by the glow in the face of that Brahmin,Subbarao with folded hands said,"..My name is Nemani Subbarao and she is my wife Venkata Lakshmi..Am a tuition master from Visakhapatnam and I have come to Basara to meditate Gayathri manthra here in the lap of Goddess Gnana Saraswathi Devi..I have already completed two punascharanas and will now be completing the third one here.."
Surprised with what Subbarao said,that Rithvik Brahmin said,"..You have completed two punascharanas of Gayathri Manthra and are now completing the third one here..??..Oh,that's really great..Only blessed souls like you will have a chance to accomplish such amazing tasks.."
Thanking him,Subbarao said,"It's entirely due to Her blessings or else who am I..In the morning I had the darsan of Sri Vijayendra Saraswathi..At that time I wanted to ask His Holiness a question that was lingering in my my mind for several years..But there was heavy rush there so couldn't ask.."
Feeling sorry for Subbarao,the Rithvik Brahmin said,"Normally,the security staff,unless permitted by the Swamijis,will not allow anyone to stay for long in front of them..They do so just to avoid inconvenience to the other devotees waiting in the Que..It is only for that reason anyone trying to stay there for a longer duration will be forcibly moved out by the security staff..The Swamijis literally have no control over such things."
In response,Subbarao Said,"I certainly understand those security measures,therefore,didn't feel much bad when I too was moved away by the security staff today..But I was disappointed because I could not discuss with Swamiji about the doubt I had in my mind..",
With a little curiosity in his voice..
The Rithvik Brahmin asked,"What is that doubt..Is that anything related to the Gayathri manthra…If so let me know if I can be of any help to you..I too have a little knowledge about it"..
Subbarao said,"..My aim is to mediate the Gayathri manthra as many times as possible in my life..Am just curious to know if there's anyone who meditated it for a record number of times in their life."
Smiling gently,the Rithvik Brahmin said,"..You have the blessings of Gnana Saraswathi Devi and that is clearly visible in your face..As far as I know there's no powerful manthra than the Gayathri Manthra and there's no powerful weapon than that in this world.."
"..I don't want to tell you how many times to chant it but keep meditating the Gayathri Manthra as many times as possible in your life..And over a period of time,according to my knowledge,this manthra offers enormous powers to it's chanter who braves all the hardships in his life to meditate it relentlessly..You shall come to know more about it's powers as you cross further Punascharana stages.."
"And now coming to your point..I know there are many chanters who meditated the Gayathri manthra for millions of times in their life..However,there's none who can surpass His Holiness Parama Pujya Vidyaranya Swamy,the twelfth Jagadguru of the Sringeri Sarada Peetham.."
"..In His lifetime,His Holiness Vidyaranya meditated the Gayathri manthra for twenty four crore times (two hundred and forty million times),a rare feat which is humanly not possible for anyone else to either achieve or surpass.."
"In that process,His Holiness could accumulate many divine powers and using them,he could guide,King Hari Hara Raya and Bukka Raya,the founders of the Vijayanagara empire through many difficulties they had during their rule.."
"It would not be an irony now if I say that Sri Vidyaranya Swamy after reciting the Gayathri manthra for so many number of times in His life had certainly attained Godly status in his own lifetime.."
WARNING : All rights whatsoever concerned with this story belong solely and wholly to Narrenaditya Komaragiri – as it's writer and creator – and anyone violating the same,by trying to copy a part or full portion of this story for any other website,Facebook page, novel or  book,T V Serial, feature film or for some other commercial purposes,is liable to be prosecuted under criminal laws of Indian judiciary..
Please Click Here to read the Shocking True Story Of A Mystic Brahmin Who Converses With Goddess Gayathri – Part Twelve
Love and regards
Narrenaditya Komaragiri
To know more about the author please click here