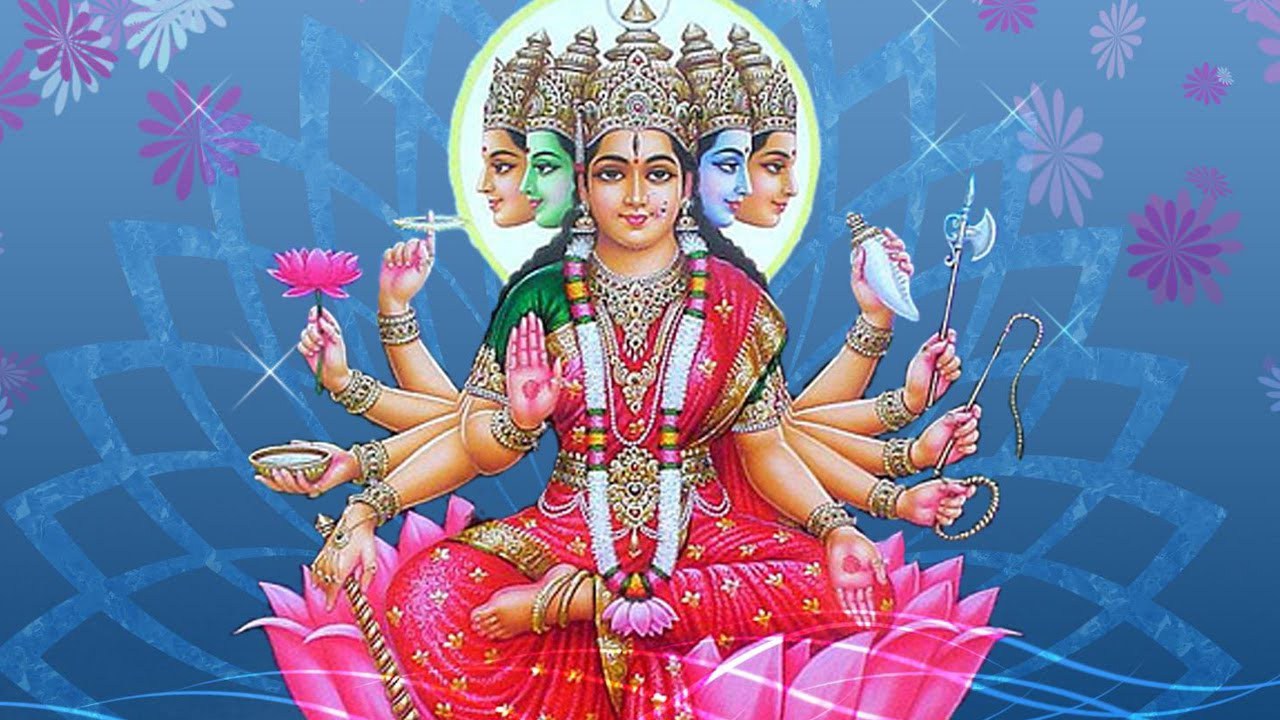 Please Click Here to read the Conclusion of this story
Beloved readers..
Never in my dreams I thought nor would you have thought that we will all together be taking such a long spiritual journey,with each other,for one long year..However,it happened and happened like a dream,for all of us,much without our knowledge and much without our notice…I still wonder how it all happened..
May be because,as I often keep quoting in my writings at many places on this site, "..there's certainly a purpose behind every act of God and there's definitely one behind this life changing story as well..".. PEACE
Having concluded this path breaking story,am now forced to agree with the illustrious Sri PVRK Prasad, the first man to introduce the mystic Brahmin Sri Subbarao to the world and the only man who had very confidently thought that am capable of writing this story in English..
In fact he had shown great confidence in my capabilities than I have myself shown..Honestly if he hadn't forced me to write this story I wouldn't have even dared to attempt writing it..SIMPLE
Now,this is where I agree with Sri Prasad..
Many times,he would call me and say,"Aditya..How are you writing so well..I think you are going into a divine trance and writing this story..Otherwise it won't be possible for any writer to write it the way you are writing it..You are doing great justice to this story..May be that is the reason Goddess Gayathri had chosen you for this task..God bless.. "
What can I say except "I humbly agree with you sir..Otherwise who am I and what am I in this vast world to write such a story of great divinity and immense spirituality..Thanks for the offer sir and thanks also for your belief in my writing capabilities..Am now feeling fully accomplished, humbled and blessed.."
Just like Paulo Coelho quoted in his masterpiece,the Alchemist,"And when you want something,all the universe conspires in helping you to achieve it",similarly all the cosmic forces,I believe,have conspired against me to make me write this story which I had ruthlessly refused to write in the beginning..
(Sharukh Khan very smartly used this Paulo Coelho's quote in his super hit film 'Om Shanti Om' wherein he says,"..kehte hai agar kisi cheez ko dil se chaaho toh poori kaynath tumhein usse milane ki koshish mein lag jaati hai..".. Please Click Here to read my own story of pain that tells you about my association with Sharukh Khan)..PERIOD
But how and where did this life changing story begin at all..??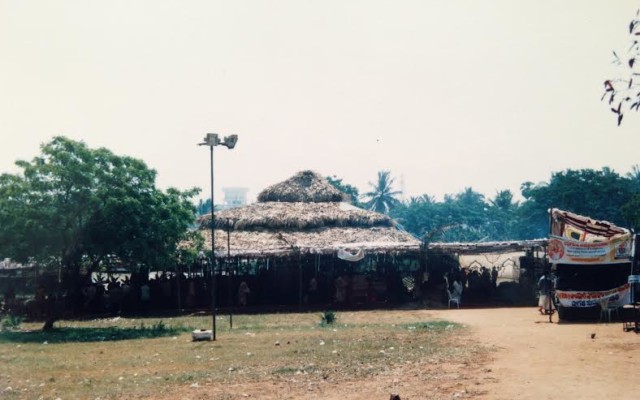 On one fine morning,sometime during the last week of February,2014,I was preparing a presentation,for a client,on my desktop..It was an urgent work and I was really working hard to finish it on time..While I was seriously working on that,the power went off suddenly and after about five minutes even my backup refused to cooperate..
I had to shut down my system..I immediately called the maintenance,in my gated community,and was shocked to hear from them that, "sir..there's a power breakdown in our sub station and we are trying to restore it at least by evening.."..It was about 12.30 pm that time..
In an utter frustration,I got up from my chair and kicking the floor started walking with impatience from one room to the other..Like that I walked for almost five minutes..During those moments of frustration,I desperately wanted something to forcefully divert my mind's attention from those irksome thoughts..
As I was so walking,I found the 21st February dated Swathi Telugu magazine kept on our bedroom TV.. My wife is a big fan of this popular weekly and follows it regularly..I casually picked it up,as I was also a big fan of this magazine once,and relaxed in a sofa..
I have casually started browsing through it's pages and suddenly stopped on it's eighth page..There,I saw an article,written by Sri Prasad,the title of which was,"Namma sakhyamaaa..???…Nammithe manchide" (Telugu)
As am a big fan of Sri Prasad,I have immediately started reading that article and completed the reading in about fifteen minutes time,which was a much longer time considering the speed with which I read Telugu articles and stories..
I was spellbound and went into a deep shock after reading that article..I just couldn't believe what I have read and kept questioning myself "how such miraculous things are possible in today's sinful world" for a long time..In fact I was in a dazed state but in an indescribably ecstatic state,for many hours..
I had by then completely forgot about my work,my presentation and my deadlines..Unable to know what to do,I made my wife forcibly sit in front of me and narrated the whole content of that article to her which was about the mystic Brahmin Sri Nemani Subbarao and his Sarvathomukha Gayathri Maha Yagam..
For a very longtime,thereafter in the day,I just couldn't come out of the great impact that amazing article had created on my mind..Gradually and gradually indeed,the small curious writer inside me started throwing interest to write that story..PAUSE..
Here I need to tell you all an important point that finally led to the birth of this great mystic Brahmin story..
During those days I used to randomly write stories on my blog Amazing True Life Stories..So the writer in me,that moment,felt eager to write this story too in English and post it on that blog..But the skeptical me asked the writer in me to just shut up and said,
"నోరు మూసుకోరా బాబూ..నీ కంత సీన్ లెదులే ..అదేదో ఒక మహానుభావుడి గురించి ఇంకో మహానుభావుడు రాసిన కథ..అది రాయాలంటే ముందు మనకో అర్హత ఏడవాలి..యజ్ఞోపవీతం కూడా సరిగ్గా వేసుకోని మనం గాయత్రి మంత్రం కూడా సరిగ్గా పలకటం రాని  మనం ఏకంగా కోటి గాయత్రి చేసిన గొప్ప వ్యక్తి గురించి రాసేయటమే..ఆశకు కూడా హద్దు ఉండాలి రా నాయనా..ఒక్క సరైన లక్షణం కూడా లేని మనం బ్రాహ్మల్లోనే చెడ పుట్టాం..మూసుకొని పని చూసుకుందాం.."
(..It was an article written by a great man about another great man..You do not even wear an Yagnopa veetham properly and do not even know how to recite the Gayathri manthra..And you want to write the story of a man who did 'Koti Gayathri'..???…You don't deserve it dude so you better don't desire for it..)
But the cosmic forces thought the other way..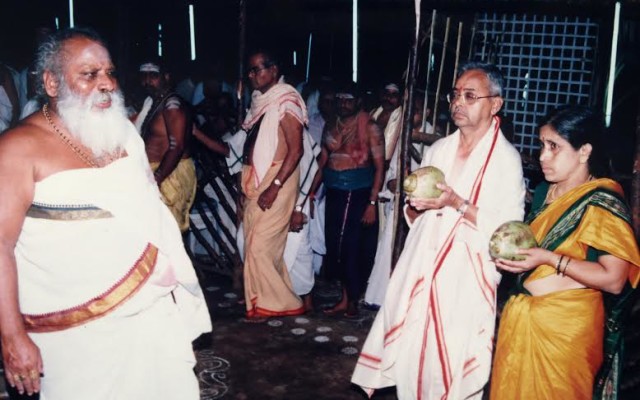 As a result I have received an email from Sri Prasad on the 25th of March,2014..This was what Sri Prasad had written in that mail..
"Dear Aditya,my name is pvrk prasad..I have seen that you posted two Telugu articles of mine in English, reg MS Subbalakshmi Garu and another about varuna Japam on your blog amazing true life stories.. thanks..I enjoyed reading my own stories through your pen…God bless you…
I am forwarding my article published in Swathi weekly ( 21st Feb 2014 issue) in Telugu..Small changes have been made(actually deletions of few lines to shorten the story)…Separately I shall forward my full story also…I thought you may be interested…I am in Chicago with my children..You may reach me on my sons cell no.———-Regards…Prasad Pvrk.."
An unbelievable miracle indeed..Since you can imagine my state of mind,after reading that mail,I do not waste time writing about it here.. I have immediately mailed to Sri Prasad expressing him my willingness to write the story in English although I know it wouldn't be easy for me to do that..
However,I haven't commenced writing and whenever Sri Prasad would ask me about it's progress,I used to give him vague excuses and fake stories that I have already started writing the story and would send it to him shortly..
I was just not sure where to begin and how to begin the story at all..I know unless I give the same out of the world inexplicable feeling to the readers,I had after reading it in Telugu,I shouldn't be writing it in the first case..
About four to five months have passed that way..
One fine day,Sri Prasad called me and asked me if it would be convenient for me to meet him in the next couple of days..I said "certainly sir" and visited his house on a Sunday along with my friend Ravi..On the way I have kept ready a few lies which I thought I should use in my defense in front of  Sri Prasad about the story..
After the initial discussions,Sri Prasad asked me about how much progress I have made in writing the story..I have very shamelessly started telling him all the lies,which I have kept in my defense.one after the other..I have finally concluded my fake story saying,"..another week sir..I shall send you the draft.."
Then he gave me the biggest shock of my life saying,"Aditya..It is Goddess Gayathri's decision to publish this story in English..After I had written the story in Swathi,She told Sri Subbarao "the time has come for the world to know not only about your whole story but also about the power of the Gayathri manthra.."
Aditya..Unless written in English this story cannot reach the global readers is what She must have felt.. When Subbarao told me about writing this story in English I have sincerely made attempts on the web but there was hardly any response..Finally it is Her decision that you should write this story..I wanted to tell you this today so I called you.."
I was shocked..I was frozen..I was speechless..I was numb..I didn't know how to react..Literally breaking down into tears I had bent down on my knees and touched the feet of Sri Prasad..Then I told him,
"Sir..Am so sorry..I haven't so far began writing the story but will now do..Will stop doing everything else in my life and do..When She Herself is observing me and assigning me this divine task why should I worry and what should I worry about..
Please give me sometime sir..I need to be very serious and start writing the story with more focus and more attention..But sir..I have a request..If I have to,as a writer,take it to the global level then I need to take some liberties with the story just to make my narration interesting..Otherwise the readers may feel bored and may not read the story at all.."
Sr Prasad said fine and asked me to go ahead and take whatever liberties I want to as long as that doesn't disturb the main real story..I said 'sure sir"..Later,we took leave from him and started walking out of his drawing room..
Sri Prasad was accompanying us to the main entrance of his house to see us off..Standing at the door,he give me another shock..In a choked voice,he said..
"Aditya..One last thing to share with you…On Amma's instructions I have done everything for the Maha Yagam..I have mobilized people and mobilized money but quite strangely I could not attend the Yagam.. Until a day before the Yagam,I was all ready to go to Vizag..
But suddenly in the last moment some disturbance occurred and that prevented me from going to Vizag..
After writing and publishing this story in Swathi in February,2014 I finally had two major doubts in my mind..One "why is that I could not attend the Maha Yagam after having done so much for it and why is that Goddess Gayathri prevented from attending it.."
The second major doubt was,"Between 2005 and 2014 while I have written a number of articles,stories and books then why is that I have written about this most important divine drama of my life nine years after it had occurred.. "
How to know..Then I called Sri Subbarao and placed my doubts before him..I had hesitantly asked him if he can ask Goddess Gayathri and find out the answers for these doubts..He said,"will certainly try" and disconnected the call..
After about two days he called me..I have noticed a lot of hesitation in his voice..He was trying to tell me something but was pausing after a second..Observing his embarrassment,I asked him,"..Subbarao garu.. Do not hesitate to tell me whatever you want to tell me..Please go ahead…"
Then in a hesitant tone he told me,"While in meditation today I have asked Amma about the doubts you have expressed..She said I have prevented Prasad from coming to the Maha Yagam because according to his destiny he has to suffer from the 'maha dosha' of not attending a Maha Yagam for which he had done so much..
Then regarding your second doubt as why you have written about this great sacred event nine years after it's occurrence Amma said,"Because the time has come for Prasad now to be exonerated from the 'maha dosham' with which he had suffered all these years..It can only happen if he writes this story..He wrote it and now he's  free from the dosha..This was what Amma said sir.."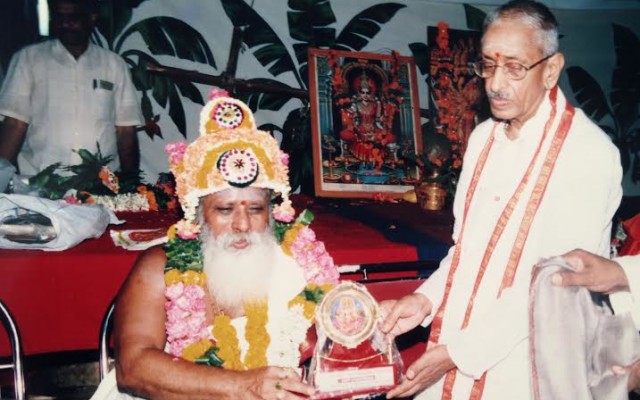 After telling me about those two amazing doubts and Goddess Gayathri's reply to them,Sri Prasad turned very emotional..Even I had tears in my eyes not with Sri Prasad's condition but with the way things move in the cosmic world..PEACE
After that,I have commenced the story and went about writing it,always feeling a divine presence around me..At some point I have realized that it is impossible to write this story in one or two parts..Then I told the same to Sri Prasad..
"Sir..We would be doing gross injustice to this divine story if we try to tell the whole drama in a single part..Therefore I have decided to present it as a serial"..After thinking for a while,Sri Prasad said."won't the readers feel bored..??.."..
Then I said,"I will try to convince the readers with my narration sir..If that is gripping then I don't think anyone would feel bored..So am going ahead sir.."..Sri Prasad said "all the best' and I had published the prologue on Friday the 14th of November,2014..
Then came a shocking call from Sri Prasad
The next day,a Saturday,I was having dinner with my family in a restaurant and was preparing to go to a movie..It was about 9 pm and suddenly there was a call on my mobile from Sri Prasad..In an excited tone he told me,
"Very good Aditya..You have made a good beginning..Just now Sri Subbarao called me..He says Amma is immensely happy with the way you have begun the story..She now wants the Basara experiences to come out ..Sri Subbarao will be mailing me his diary tomorrow and I shall forward it to you.."..
I almost fainted but didn't ..Instead our entire family went flying to the movie hall..
Next morning I didn't get any mail from Sri Prasad but received a call from an unknown number in the afternoon….I picked the call and the caller said,"..Subhodayam Aditya garu..Am your mystic Brahmin Subbarao here.."
Oh..What to say..I immediately said,"Namaskaram Maastaaru..What a pleasant surprise..??"..Then after a little discussion he said,
"Amma is immensely happy with your prologue..She suddenly spoke to me in the morning yesterday and said that Aditya had made a correct beginning to the story and stopped it at an exact point..Time has now come for the world to know about the Basara experiences..Share them with Aditya.."
But as I do not have your contact details I have mailed the PDF copy of my diary to Sri Prasad..But he says the file is not opening and gave me your number and asked me to talk to you and send the file directly to you..Am really surprised why the file didn't open in Sri Prasad's mail..Even he's surprised..
May be Amma wants only you to read the original diary..Please give me your mail id I shall mail it to you ..By the way Aditya garu..One thing I want to share with you..While returning from Basara we halted for a few days in our daughter Aparna's house in Hyderabad..
At that time I was eager to share the amazing Basara experience with our relatives there..I was about to narrate but Amaa suddenly spoke to me from behind and said,"this is not the time for you to reveal these experiences..And when that time comes I will let you know,,"
Aditya garu I didn't utter a word and waited for so many years for that time to come..Now after twelve years Amma has now told me to share them with you..You are really blessed.."..Saying so Sri Subbarao disconnected the call..
What to say..??..Nothing to say because rest everything you all my beloved readers know very well..
Some amazing occurrences,facts and happenings about the story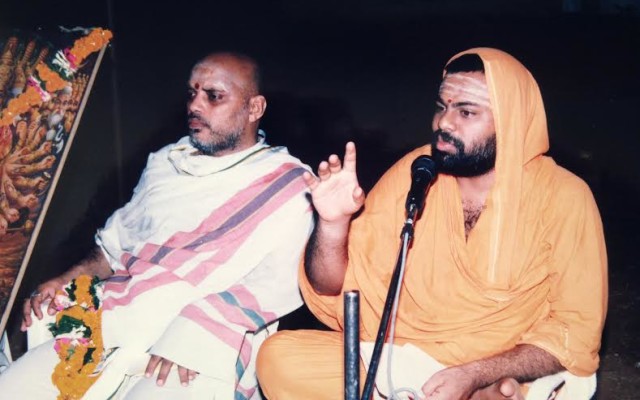 1. As I told Sri Prasad I have taken some liberties with the story just to keep the narration gripping and the story interesting..Actually the holy Goddess Gayathri addresses Sri Subbarao as "Panthulu" a Telugu pet name which means a teacher..However I changed it to Subbarao for the convenience of non Telugu readers ..
2. The conversation between Sri Subbarao and Goddess Gayathri was never for more than a minute but I have deliberately enhanced it on quite a few occasions,of course with Amma's permission,just to share a few spiritually related matters with the readers to enhance their devotion towards God..
3. For example the conversation between Sri Subbarao and Amma in Basara about the Gayathri manthra and it's powers and importance..I have used that divine conversation to tell the world about the power of Gayathri manthra..
4. For this purpose I have spent many hours and days reading the Ashta Dasa Puranas wherein there's a lot of information stored about the sacred Gayathri manthra..This information I have shared with the readers through the speech of holy Goddess Gayathri..After all I have been chosen by Her to do only this job..RIGHT
5. Sri Subbarao could not tell me about what exactly Sri Prasad,Sri Yanamandra Venugopala Sastry and he himself spoke on the dais in the Vizag Port Trust conference where in they invited many people for a fund raising program..All he told me was a few general points which would not help my cause..
6. Then I have expressed my understanding of God and my views on spirituality through the speeches of the three noble personalities..My intention of course was to give the readers an out of the world spiritual experience and take their devotion to the next level..Did I commit any mistake..???..I know not but if you think so please accept my sincere apologies..
7. Whatever the way I have so far dealt with this divine story I have dealt so with a noble intention and of course with the permission of the holy Goddess…Hope you understand and appreciate my intentions and efforts,friends..
8. After reading about the Basara experiences,many people from many countries visited Basara and are experiencing some amazing results n the lives of their children..Secondly,as most of you know,about hundred and forty odd readers from many countries have joined me when I planned a visit to Basara along with Sri Subbarao and Sri Prasad and our respective families in May, 2015..That was a memorable life time experience for all..
9. Many times while typing the story on my desktop,I suddenly used to feel some divine presence around me..Then I used to stop my typing and look around to see what it was..I have also many times raised both my hands and offered my pranams to those divine beings around me..
10. However,the most miraculous thing happened on the night of Friday the 8th of October,2015..For some personal reasons I was very upset that night and went to bed at about 11.30 pm..For a long time I couldn't sleep and was asking the Goddess many incoherent questions..The most important question among them was,
"Amma..Why are you giving me so much pain when am with all the sincerity and devotion in this world writing about you and your most ardent devotee..Am also not expecting anything in return from You nor from anyone..Am doing an honest selfless service to the reading world ..Then why are You ignoring me.. Are You thee only for Sri Subbarao and not for me.."
11. So on so forth were my disturbing thoughts going on in my mind and I have then suddenly noticed an amazing fragrance revolving all around me..That was the fragrance we normally find in Temples mostly during the Abhishekams wherein wet sandalwood paste is applied to the deities..
12. It was exactly the same wet Sandalwood fragrance that I have found revolving around me that night.. With the hair on my whole body rising,I looked around to know what it was..I found nothing except my wife sleeping beside me..
13. That was about 1 am in the dark hours of mid night..The next morning I asked my wife whether she had applied any Sandalwood paste to her face the previous night..With a weird look at me she replied saying,"I don't even remember when was the last time we purchased Sandalwood powder."
And Here Comes The Final Shock..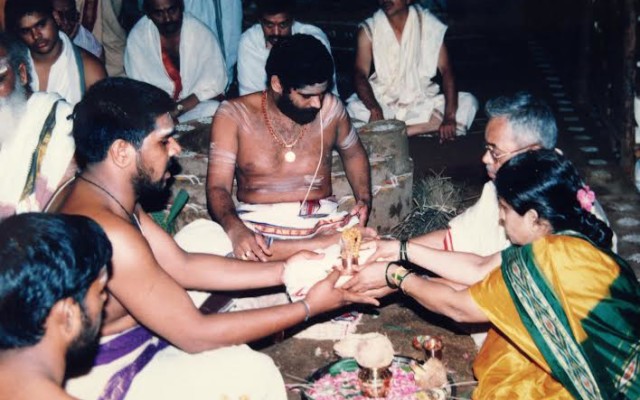 The shock of all the shocks and perhaps the biggest of all you have so far received reading this story..May be it is for this reason Amma made me use the word 'shocking' in the title of the story..Now here's what happened..
About a week ago,Sri Subbarao called me on an evening..I noticed a great restraint in his voice..He was trying to suppress his excitement..He said,
"I was enjoying my nap in the afternoon yesterday..At about 3.30 pm I have suddenly opened my eyes as I heard Amma's voice calling me..Believe me Aditya garu..For the first time in the last thirty five years Amma spoke to me for twelve long minutes..
She said that since our story is nearing completion,She wants to reveal the "Phala Suthi" of this story to it's readers..Saying so,She went about telling me the "Phala Sruthi" of this story..She finally told me that "reveal this to Aditya only after he posts the final part of this story..Until then keep it to yourself.."
After a few more minutes of conversation,Sri Subbarao disconnected the call..What to say my beloved reader except that "I was shocked"..PEACE
To those of you who do not know "Phala Sruthi" means the benefits a reader would derive from reading or reciting a divine literary work like "Sri Vishnu Sahasra Namam"..In this case the Goddess wishes to offer the same benefits to all the readers who are reading this story..
Sounds incredible but it's a fact which certainly makes me feel "blessed for many lives to come"..As far as what the Goddess had told Sri Subbarao the last part here is this epilogue after which She had asked him to share the 'Phala Sruthi' with me..
He's now going to share his writing,of what Goddess Gayathri had told him,with me tomorrow and I shall in turn share with you all the next Saturday,the 14th of November which is quite coincidentally rather miraculously the same day on which date this story took off exactly  a year ago..
WARNING : All rights whatsoever concerned with this story belong solely and wholly to Narrenaditya Komaragiri – as it's writer and creator – and anyone violating the same,by trying to copy a part or full portion of this story for any other website,Facebook page, novel or  book,T V Serial, feature film or for some other commercial purposes,is liable to be prosecuted under criminal laws of Indian judiciary..
Please Click Here to view the amazing video of the Gayathri maha Yagam,2005..
Please Click Here to read the 'Phala Sruthi' to this story
Love
Narrenaditya Komaragiri
narrenaditya@tirumalesa.com
To know more about the author please click here