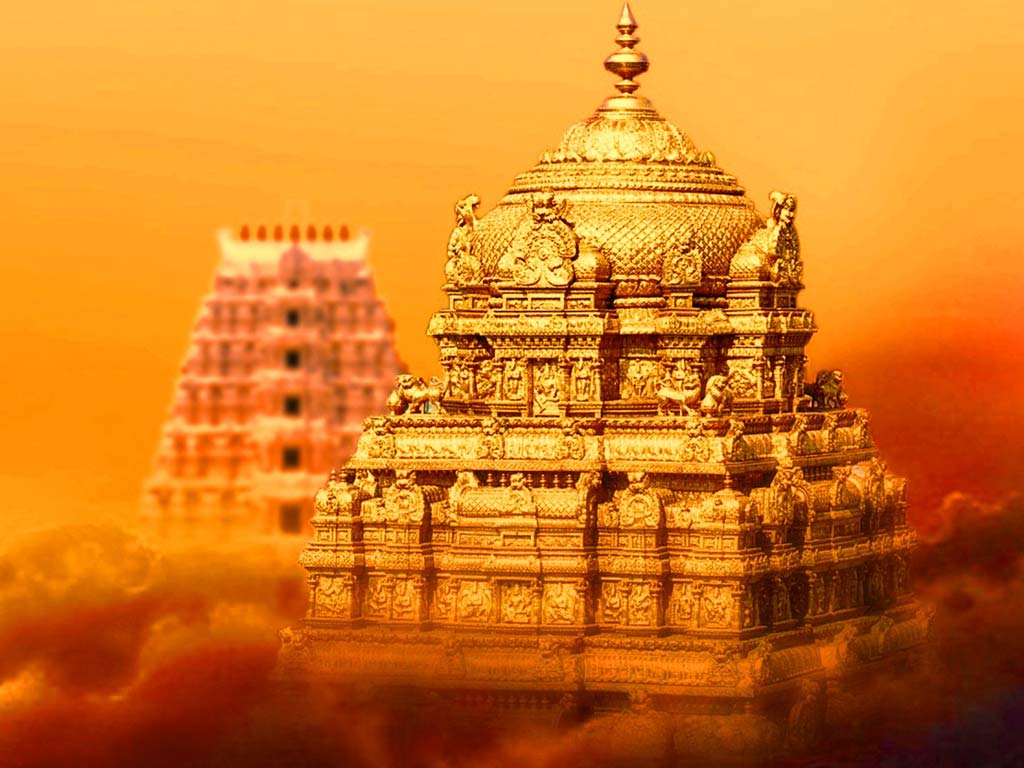 "Those who cannot reach the heights of a tree blame it's fruits and hurl stones at them.. It is Nature.. However, the tree just doesn't care; so should you" – Yours Obediently
Most of the amazing incidents that occur in our life occur much without our knowledge and much before we notice them.. However, it is only with the passing of time we realize "there was a hand of God behind all such incidents.."
It was one such amazing incident that occurred in my life, at about 8 pm on Friday the 4th of April, 2014 when I was in the midst of the presence of Lord Sri Venkateswara in His sacred Temple on the Tirumala hills, that finally made me create this tirumalesa.com website..
For all these months many readers have been asking me what that amazing incident was but I have been telling them that "I shall certainly reveal it to all when the time comes".. I believe the time has now come so decided to share this incident with the reading world..
Before knowing what that incident was, how it impacted my life to a great extent and why in the first case it occurred only in my life, my beloved friends, it is important for each one of you to know more in detail about me and my family, first..
Please go through..
I was born to a very noble parents who themselves hail from rich aristocratic and well learned scholarly families.. They were noble not only in their thoughts but were also in their words, deeds and actions. Anyone who knows them or closely followed them in their life will unconditionally agree with me today..
My beloved mother, Smt.Damayanthi Devi is the daughter of a famous barrister of Guntur, Sri Nadimpalli Dasaratha Ramiah and the niece of another renowned barrister of the British and pre independence era, Sri Nadimpalli Narasimha Rao, my eldest maternal grand father..
Sri Rao is still a very popular name among those belonging to the older generations of Guntur city.. If you are from Guntur, please ask your grand parents whether they know Sri Nadimapalli Narasimha Rao.. In fact there's still a street in the name of Sri Nadimpalli Narasimha Rao in the Arandalpet area of Guntur city, today..
My father, Sri.KYL Narasimha Rao was born in a zamindari family and is the only son to his parents.. He also has three sisters. My grand father, Sri Komaragiri Seetharamaiah was an outstanding scholarly personality and was a strict disciplinarian too. He was an able administrator and a great visionary with noble thoughts and outlook towards his society..
He was also a brave freedom fighter as well as a great patriot who donated a large silver plate full of Gold coins to Mahatma Gandhi when he visited our native village, Makkapeta, in the Krishna district of Andhra Pradesh, some time during the 1930s.
In addition to all these noble qualities, my grand father was much ahead of his times, in his thoughts and in his outlook towards his life and society. It was for this reason, he performed the marriage of his daughter, for a second time, in those days of very conservative beliefs, after coming to know that her first husband was not eligible for a marriage.
On the other hand, my paternal grand mother, Smt.Komaragiri Narasamma, although a complete illiterate was however an ardent devotee of our family deity, Sri Yogananda Lakshmi Narasimha Swamy of the famous Vedadri temple in the Krishna district of Andhra Pradesh, which is eighty kilometers away from Vijayawada..
On a miraculous day..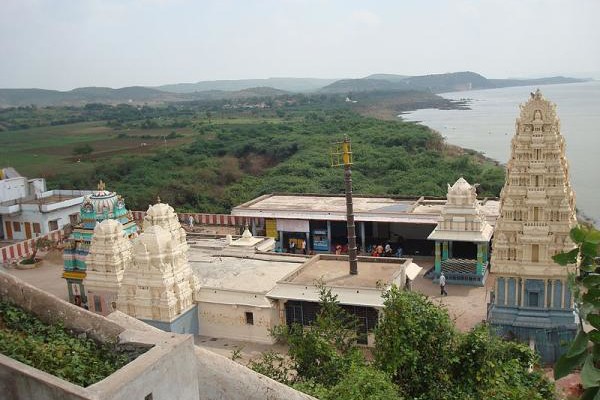 My grand mother, Smt.Narasamma, who would often visit the Vedadri temple, was sitting in the sanctum area of the Temple and was silently offering her prayers to Sri Yogananda Lakshmi Narasimha Swamy.
As though possessed by Lord Sri Narasimha Himself, a mind blowing incident occurred there, during those sacred moments, and occurred much without my grand mother's knowledge and also much without the knowledge of her own family members, temple staff and other temple priests there..
My grand mother, who was thus far offering her silent prayers to the holy Lord, suddenly started reciting intricate slokas (I think with Telugu dwitwakshara takaaraalu.. Purists of Telugu language please forgive me if am wrong in my usage) in praise of Lord Sri Narasimha Swamy, much to the surprise of all the devotees and the temple priests there.
Most of the devotees and the priests know my grand mother well and also know that she was an illiterate who cannot read or write properly.. Hence, they were shocked to see her reciting slokas just like a well versed scholar.
Unable to comprehend what is happening in front of them, they all stood there in silence, with folded hands, offering their reverential 'pranams' to her.. In that amazing fashion, my grand mother went on to recite up to hundred slokas, in praise of Lord Sri Narasimha Swamy, not only on that occasion there but also forever in her life.
Later, when my father was born in January, 1924, he was – in remembrance of the holy Lord of Vedadri temple – he was named Yogananda Lakshmi Narasimha Rao who is more popularly known in his academic circles as KYL Narasimha Rao (Komaragiri Yougananda Lakshmi Narasimha Rao)..
After he had grown up, my father had cautiously noted down, all these slokas from his mother, in a book; compiled them carefully and published them in a small book form. According to his assessment and understanding of that holy incident in the Vedadri temple, "Lord Sri Lakshmi Narasimha Swamy took His mother into His possession and through her revealed to the human world, that "Nrusimha Satakam".
All our family members and relatives have copies of this miraculous book with us today and when our Mother left for His holy abode in February, 2005, we, five of her sons, distributed hundreds of free copies of this book, in her memory, to many devotees of Lord Narasimha Swamy in the Ahobhila Mutt temple of Hyderabad.. PEACE
Having born in such an illustrious family of great noble and devotional lineage, I have more or less inherited a similar devotion, of course in limited quantities, from my parents, mostly from my mother..
I still remember, when I was a five year old child, my mother would sit every evening in the sit out area in front of our house in Khammam town and would make me sit in her lap and mellifluously recite the 'Sri Venkateswara Suprabhatam', Prapaththi, Sthothram and 'Mangala Sasanam'for me..
Later, after a lot of practice, my mother made me recite those sacred stanzas for her.. Even today, of course with a few misses here and there, I can still recite those devotionals on Lord Venkateswara with immense ease, clarity and precision..
That influence of my mother, who also would make me listen to the "Bhakthi Ranjani" program on AIR every morning, which further cultivated in me the habit of learning many intricate Vedic hymns, slokas and devotional poems, has an unalterable impact both on my mind, my writing and my life today..
Whatever slokas, hymns and sthothras am writing about, in my articles and stories on this site today, are precious gifts of life that I have received from my parents. However, there was one particular ugly incident in my childhood that forever changed the course of my life and also my outlook towards God, society and the intrinsic human values and made me all the more spiritual in my behavior and thought process in the later part of my life.
Now, here's what had happened on that bad day in my life..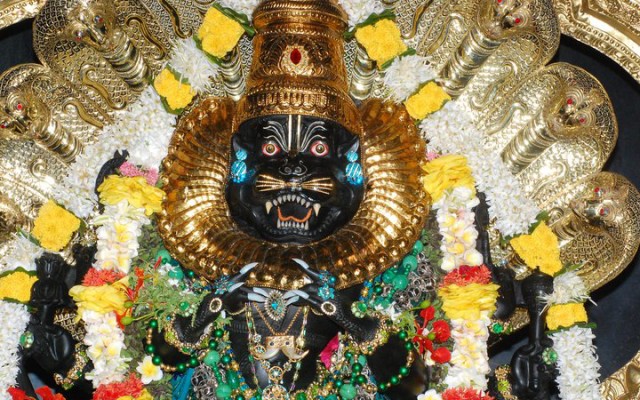 In those days, my father was working as Principal of SR&BGNR govt. degree college in Khammam.. Our house would always be full of servants and maid servants just to take care of all our daily needs as well as our household needs.
During that time, I was studying my seventh class at the St.Joseph's High School in Khammam and was a big fan of Cricket and would spend most of the time, during the evenings and on holidays, in playing Cricket with a few friends of my neighborhood..
To be honest today, all those friends were from cheap backgrounds and cultures and would influence me very badly with their dirty habits.. Since they were the only people available to me, I had no choice except playing Cricket with only them because playing the game was more important to me than with whom am playing.
Slowly, they started influencing me very badly with their habits.. One day, one of them offered me a Beedi which he had stolen from his dad's pocket.. Since I know what it was, I refused it saying, "am a Brahmin.. I should not smoke".
One of them, by name Sarma, patted hard on my back and said, "Arey.. Even am a Brahmin.. So what.. Am I not smoking.. ??.. Nothing happens raa.. Let us enjoy..". I was convinced; took the Beedi; lighted it and  placed it in style between my lips.
After some initial coughing, I started feeling like a hero and also started enjoying the further puffs.. My friends too started encouraging me with their clapping and jumping.. I was going overboard but to my misfortune I didn't notice that one of my mother's most obedient servants, Faizuddin, was watching me from a distance.
He quietly went home and sincerely reported my behaviour to my Mom. But believe me, she didn't utter a word after I returned home. Any one in her place would have blasted her son or banged him with a leather belt. But my mother did neither. She did not even made me realize that she came to know about my heroics.
She, however, asked Faizuddin to keep a watch on me everyday.. Later, I some how had a feeling inside me that someone was watching me constantly, while I was playing my Cricket, hence never touched a Beedi nor a Cigarette not only during those school days but also later in my life, again.
(I didn't know about all this until Faizuddin himself told me about the nobility of my mother when he came to Hyderabad, after almost ten years, just to see my parents because my father helped him and his family when my Dad was working as a Principal in Khammam)
After a few months, I wrote my seventh class common exams. For a week during that summer holidays season, my mother allowed me to enjoy the way I wanted to. Later, on fine morning, she came to me with a bunch of books in her hand and told me,
"Naannaa, don't waste these holidays with friends and Cricket. Friends and habits will always be there with you all through your life. But life is short and childhood is shorter. So anything that you learn as a child shall remain stored in your memory forever.
Always remember naannaa, jeevitham budbudha praayam yavvanam jharee vega thulyam. Therefore instead of spending these holidays with friends and Cricket spend them meaningfully by reading these invaluable books.
My father gave these books to me while I was coming to our house. Later I read them and benefited from them. Now, I want you to read them and as well benefit from them the same way I have benefited from them. So start your reading from today and from this moment. Before that, go, wash your hands and feet because you are commencing your reading of these holy books on the auspicious day of Ekadasi.
Hereafter, these books are going to teach you good manners, teach you how to face life and how to stay calm during problems and will also help you assess and understand all the good, bad and fake people you may come across in your life"
After telling me those life changing invaluable words, my beloved mother, with a kiss on my forehead, left the room and much later, with the same kiss on my forehead, left this world in February, 2005. PERIOD
After that, sitting in a sofa all through the day and during the most parts of night, I have completed the reading of all those books in about three months time. It is difficult to believe now if I say, "but that was one of the many biggest favors my mother had ever done to me in my life".
Those books still have a great impact on my life today and it was from these holy books that I have learned how to write, how to offer my prayers to God, how to be polite with people, how to face the struggles of life and how to remain calm even during the most severe ongoing storms in brain.
And those books were copies of Telugu "Vachana Bhaaratham" written by Sri Puripandaa Appala Swamy. What an amazing writing style and what an amazing narrative skills the distinguished author has been gifted with.
After that, I have read many good, bad and also ugly books in my life, right from Mills & Boon stories to Frederick Forsyth's "Day Of The Jackal" to Ayn Rand's "The Fountainhead" to a number of Telugu detective books and novels written by Madhu Babu, Girija Sri Bhagawan, Yendamoori Veerendranath and Malladi Venkata Krishna Murthy among others.
However, none of those books influenced me the way the eighteen parvas of that "Vachana Bharatham" have influenced me, my life and my writing. Among those parvas my favorites are "Utthara Gograhanam " and "Dakshina Gograhanam" chapters from the Virata Parva.
If you can follow Telugu, search for these books online and read them immediately and also make your children read them for sure. Later you all, any how, are going to thank me for this valuable piece of advice..
After that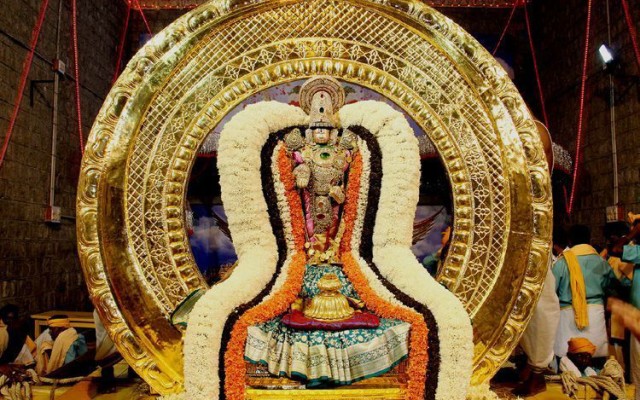 I may not have become a great yogi or a saint but had learned to remain saintly all through the life that I have so far led despite enjoying everything that it was offering me. I may also not have become a great devotee later but had learnt to be devotional in my life treading the path of righteousness.
Thanks to my beloved Father for all that.. He had not only taught me the four vital stages of devotion but had also helped me learn, "real devotion doesn't lie in going to Temples often or reciting the Sahasra Namams every day but it lies in being humble in behavior; noble in thoughts and helpful in actions and finally in being responsible towards your society..
God also wants us to follow the same. Otherwise what use is that devotion if you perform trikala sandhya everyday and recite the Gayathri manthra thousands of times but still remain ugly in your mind, in deeds and in thoughts trying to exploit innocent people with your fake smiles using them for selfish motives". PERIOD
That was what my Father told me. I still follow those Golden lines and live life for myself and according to my wish and not for others and their wish. This is exactly what am trying to tell all my beloved readers now..
"Just because am writing on spirituality doesn't mean that am a spiritual personality. I wear jeans and tees' play Cricket with childhood friends; crack all the dirty jokes and sip a Beer occasionally. Now tell me. Do these things make me a bad man.
If so will I become a Messiah of God if I say,"I do not keep quiet and go my way if I see some one dying on the road. I will not plead helplessness if someone seeks a favor from me. I go out of the way and help someone in need."
Listen to me, friends. Take my caution. Looks and attires are always deceptive. Whom you trust the most cheats you the most. Whom you love the most hurts you the most. Whom you follow the most fails you the most ..
Wearing a silk dhothi or a Saffron cloth with siva namam and Govinda namam on forehead doesn't make a man noble or spiritual. It is their noble deeds and actions and their uttama Sanskara that make a man noble. Never forget in life that one can smile and smile and smile and still be a villain. In this bloody dog eating dog world, even a Chameleon looks beautiful if you are seeing it for the first time in your life."
Now please tell me, honestly..
What is that am in turn earning by spending so many of my precious hours in writing and telling you all this stuff and these unheard stories of God. In fact am spending lakhs of rupees of my own hard earned money in maintaining and promoting this website.
Thankfully, due to the blessings of Goddess Saraswathi Devi, I write well and you are enjoying my stories and articles today. You all are also blessing me with your encouraging comments and mails.. Thanks for that..
But seriously do you know how much I can earn by writing a screenplay for a film. A minimum of twenty five lakhs depending on the size of the film. That too with a fifty percent lesser effort and fifty percent of lesser time am spending on writing here.
I do not want to sound arrogant here but for the sake of facts let me tell you a few industry standards.. Do you know how much a biographer who writes the biography or the autobiography with the name of big and famous personalities earn per one work.
Believe me.. It is anywhere between a minimum of fifty lakhs to one crore with no upper limit.That too with standards and writing much inferior to my style. Please forgive me if am sounding arrogant but I know how I write and how high people have been rating me for years.
If making money is only my intention, then I can earn any amount of money with this website that has the potential to reach one million people today and with millions more in future by writing about fake Babas, fake God men and Swamijis who are rolling in riches and roaming in Merecedes Benz cars.  All that I have to do is to inject some reality and devotion into their characterization.
You all, sorry to say, any how are believing me and my writing, so what if I add a little more drama and please you with my fake stories if that can make fake God men real God men and make me richer by a few crores.
But to be honest, will that money give me happiness or at least peace. Definitely not. When my parents punya karmas are blessing me in my life today then will my papa karmas not curse my children in their future..?? Can all that money, I have earned by fooling innocent readers like you, save my daughters from these curses..?? No..Never..
Can there be a more punishing thing for any dad like me who loves his two lovely daughters more than all the money in this world. Another question. Why is that am wasting all my precious time and energy here ,on this site, writing about God and His glory.Can't I spend this same time, using all my powerful contacts, at least in writing screenplays, biographies and high volume selling books that would earn me crores of rupees of money.
I can.. But my parents and that amazing incident in the Tirumala Temple have taught me to do all the good possible to the society and He would in turn take good care of me. With this principle in life, I have been writing with devotion in heart and nobility in mind with the sole intention of injecting faith into the minds of all those groping in the darkness of disbelief about God and drive them towards those lights of divinity on the Tirumala hills.
However, it's not my intention here to say that am the most enlightened soul on this planet but am only very humbly trying to say, "if I can with my little knowledge and writing drive a few people towards the holy Lord sitting on those sacred seven hills of the Tirumala Temple, then I can leave this human world whenever I have to leave, as a much more blessed, accomplished and satisfied man".
While this has been in general my philosophy of life and my approach towards my society, the following amazing incident that occurred on the sacred Tirumala hills, at about 8 pm on Friday the 4th of April, 2014 had completely transformed my life and shaped a new outlook in me towards my human world.. But
What exactly happened on the Tirumala hills that Friday night .. ??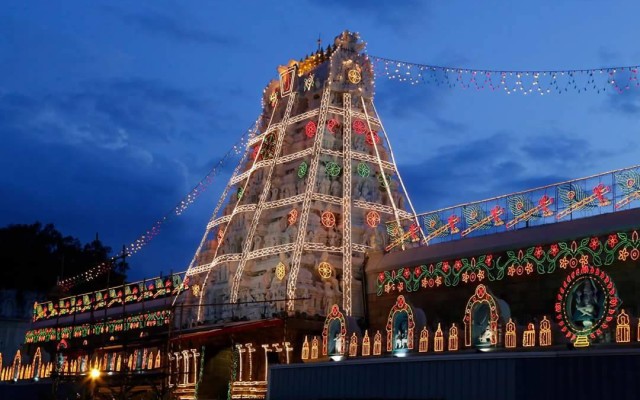 Please Click Here to read the second part of this story
"స్వామీ శ్రీ వేంకటేశ్వరా..శాంతి రూపానంత జలరాశి నీవు… నవ నవైకానంద నౌకను నెను… సంశుద్ధ మానస సరసిని నేను… ఆనందమయ రాజహంసవు నీవు…" — శ్రీ వేంకట పార్వతీశ్వర కవులు,ఏకాంత సేవ
Love
Narrenaditya Komaragiri
narrenaditya@tirumalesa.com
To know more about the author please click here