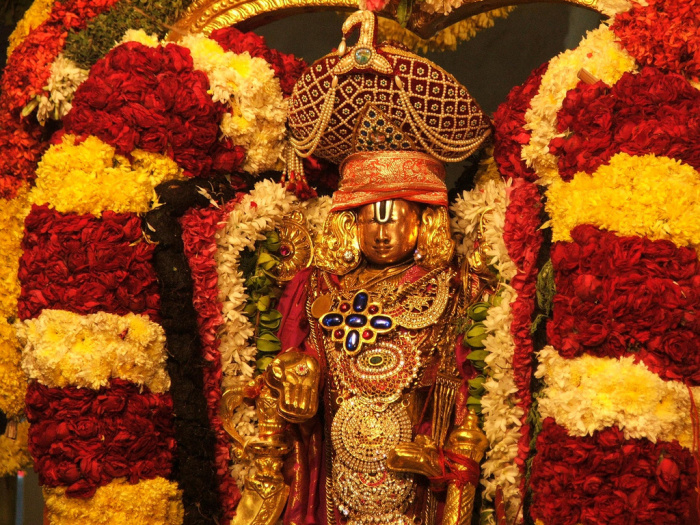 Please Click Here to read the previous parts of this story
"Krithethu naarasimha bhoo..Trethaayaam raghunandanaha..Dwaapare vaasudevascha.. Kalau venkata nayakaha"
"You were born as Sri Lakshmi Narasimha in Kritha yuga; as Raghunandana Sri Ram in Tretha yuga; as Vaasudeva Sri Krishna in Dwapara Yuga and as Sri Venkateswara in Kali yuga"..
That was what the Hindu God of creation,Lord Brahma told holy Lord Sri Venkateswara at the time of commencement of the first Brahmotsavams on the sacred Tirumala hills,several hundred years ago..
Before taking you further into the story,I have a few important points to tell you about the life that I have so far seen and understood..
We are human beings and are endowed with many intellectual faculties that constantly keep telling us "our reasoning and understanding of everything we see or come across in our day to day life,are not only right but are also impeccable"..But it is only when something,contrary to our feelings,happens,we get to know about a new theory..
As a frequent traveler (ఓ నిరంతర బాటసారి) and also as the one who had seen the extreme highs and lows of life,I have come across,met,worked and interacted with many ordinary people,who are struggling with their routine jobs; and many extraordinary personalities who are enjoying a Godly status in the society…
In my close observation of the vagaries,in the behavioral patterns of these ordinary people as well as in the extraordinary personalities,I have noticed that,
"Every human being irrespective of his or her status in their society have some rigid opinions and beliefs about God; about life; about people and about everything they are passionate about..
In defense of all such beliefs and opinions,these people build an argument,as a shield,around themselves and never come out of it and in fact try to convince us with a dogmatic statement like,"how rightful we are in our thinking and outlook towards God and society.."
What should we call such an attitude..???…It is nothing but hypocrisy but please tell me who's ready to take the title "the best hypocrite in the world "..Now,if you closely observe people around you,from this view point of mine,you would unconditionally agree with what am saying..
You shall also in turn,to your surprise,realize that all such people are just fake who would only believe in their beliefs and not in the facts you are placing before them..In fact,they know you are right but they are afraid of accepting reality just because they would love to live in a sick world of their own and not in the real world you are showing them..
However,it was only during those divine moments in the Tirumala temple that I have realized,
"At the end of all our human reasoning and understanding begins an altogether new divine argument or a new divine theory that clearly tells us we are only characters created by Him and only play and think according to His will and not our will.."
Therefore,I have to vehemently say now,"free will,as we think.doesn't exist at all and anyone saying so have not properly understood the ways and means of God"…
That divine experience was an eye opener to me and ever since I have started sympathizing with people whom I used to hate earlier in my life for such a sick attitude..
These people are not gifted with the much needed wisdom by God to view and understand life the way it is meant to be viewed therefore they need to be forgiven and forever..
With this changed outlook towards life and people around me I have started smiling wholeheartedly and also started looking at the world in a more pragmatic way..
This is also what am trying to tell the world,through my writings,and this is also what am trying to tell you now..Hereafter,let 'live,give and forgive' be the motto of your life and you shall see an eternal bliss in everything you do just like am seeing after that experience in the Tirumala Temple..
This is also one strong reason why am sharing that experience with the world now…PEACE
Now,let me continue the story from where I had left it in the last part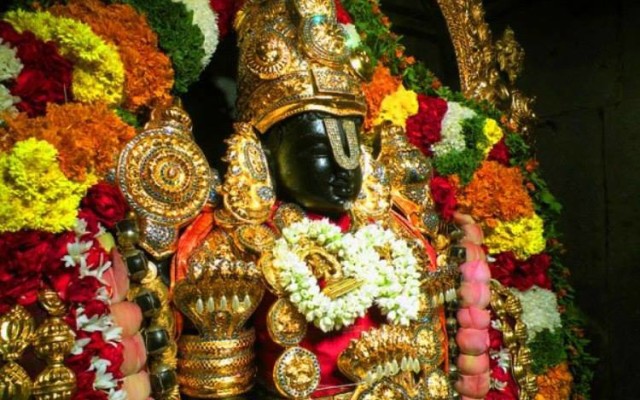 After my Mumbai friends told me,"it was only a few minutes ago that we came out of the temple",I have again heard the same mysterious temple bell sound that confirmed my doubt,"..The mystic Maha yogi had frozen the time when I was inside the Garbha Griha of the Tirumala Temple"…
My condition at that time was already not under my control and this thought had fully thrown me out of gear..It took a pretty long time for me,almost two to three hours,to come to terms with myself,my body and my soul..
During those three hours my entire body was vibrating with tremendous energy which I can't dare to call a divine energy but a sort of a great positive energy..It was as though someone had pumped into me tons of positive energy which is sufficient for me to survive not only this life but also my next life,if I have one ..PERIOD
While we were standing and chatting near the hundi chambers,the police constable,Venkata Ramana – who was assigned with the duty of taking care of all our needs on the Tirumala hills – suddenly came to us from nowhere and said,"Come sir..We shall take teertham and prasadam.."
Saying so,he cautiously guided us to a closely guarded room,wherein the Abhisheka vastram and other pooja dravyams used during Abhishekam seva to Sri Varu every Friday are stored after the seva is complete..
Telling us all to hide ourselves from the CC cameras of the temple,Ramana took us into that special room wherein there were about three or four temple priests present by the time we entered…I blindly followed everyone into the room just like a subject in a hypnotic trance follows the hypnotist..
In all,we were about ten members in the room including a few ladies..To my utter surprise one of the priests there removed a rich Silk saree from the almirah and spread it fully over my head and shoulders saying,
"This is the saree which we draped around Sri Varu after Abhishekam today..You are blessed that this same saree is on your body now..You are now free from all the sins you may have so far knowingly or unknowingly committed in your life"
Saying so and reciting Vedic hymns,the priests blessed me and after me blessed all the other members of our group..At that minute,I didn't understand,"..why is that the temple priests draped that sacred saree only around my shoulders when there were so many around me including ladies.."
It was only while the priests were offering me teertham and prasadam,I suddenly remembered what the mystic maha Yogi,while leaving me at the hundi chambers,told me.."Take 'teertham' and 'prasadam' from the temple priests and go.."..
My heart beat stopped for a moment..Then I understood that Lord Sri Venkateswara Himself blessed me through that sacred saree when He made the temple priests spread it over my shoulders..Even the sacred Teertham they offered us was the holy water used during Abhishekam seva that day..
This may be a common experience to many VIPs who visit the Tirumala temple but it was so special to me just because I experienced it after viewing the Divya Mangala Nija Deha Roopam of Sri Varu.. BLESSED
The next day(Saturday the 5th of April,2014),we finished all our official works in Tirupathi town and by the same night returned to our respective destinations..
After returning to Hyderabad,
I have spent several hours thinking about the divine experience in the Tirumala temple and also about the mystic Maha Yogi who had not only influenced my mind but had also shown me the Nija Deha Roopam of Sri Varu..I tried my best to guess or know who that Yogi was but couldn't find any clue until today..
During my search process – both online and offline – to know who that Yogi was,I have found that there's not much information available anywhere about the world's richest temple – the Tirumala temple – and the most worshiped God – Lord Sri Venkateswara..
Whatever that is available was the general info telling about the inside and outside of the Temple and it's history but there's not one powerful or motivational story that would emphatically tell about His power to the world..
I was not happy with the info as my mind was craving for more and more info about Him just because I was unable to come out of the divine trance,that experience on the Tirumala hills had pushed me into..
Although I didn't share that divine experience with anyone,not even with my wife until writing about it now,I was however locked constantly in thoughts about Lord Venkateswara and the Tirumala temple..
Finally,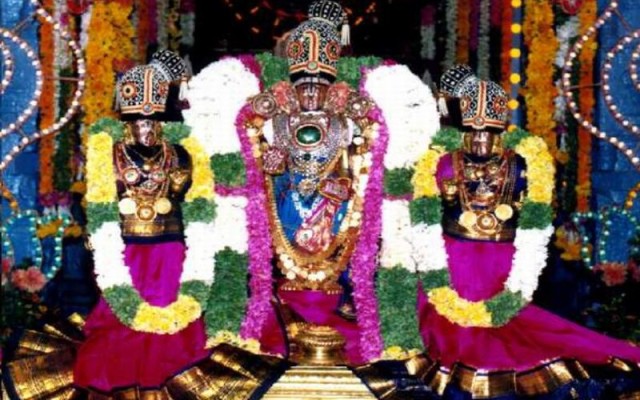 The next Friday,at about 5.30 pm,on the 11th of April,2014,while I was casually going through the posts on Facebook news feed,sitting in the office room of my house,I suddenly had a flash on my mind.. At the same time my wife entered the room with Tea..
I just shared my idea with Her..She said "fine" without asking any questions..Then,right at that moment I have created a Facebook page titled "Everything About Lord Sri Venkateswara And Holy Tirumala"..
Who gave me that thought so suddenly..I wondered..Flash came the answer.."The One who had shown you Lord Venkateswara"
Having created that page,I laughed and asked myself,"You are from the ad and entertainment world so what do you know about Lord Venkateswara except Suprabhatam and a few more slokas which mother forcibly taught you..Then what are you going to do on this page where you said "Everything".."
I was clueless..But believe me..As though He had instructed someone for this job,information started pouring in on me from all the corners..Then,I started reading every small paper written about Him and about the Temple..
Then I started posting that info on the page..I know I hardly had any followers..But without caring about who would read and who would not,I went about posting some info about Lord on the page everyday..
Slowly people started noticing my page and I too started seeing some likes and encouraging comments to my posts..Inspired by the growing encouragement,I have decided that I should write some miracle stories of Lord which would motivate people..
Although I had posted a couple of stories on the page,I thought it is not the correct way of doing things in the online world..Then I have decided to have a website of my own..Then to my surprise I found the easy to pronounce keyword 'Tirumalesa' available for registration..Immediately I have registered it..
And finally,on Friday the 3rd of October,2014 – on the auspicious day of Vijaya Dasami – I have launched this website tirumalesa.com for the reading convenience of readers all over the world..
And on 4th October,I performed "Venkateswara Vratham" in my house without knowing that it was Sri Venkateswara Jayanthi that day..
Who's doing all this..???..Who planned so many things so meticulously for me..???..I thought there's no point in trying to find answers to these questions..Ever since that divine experience in Tirumala temple, the mystic maha Yogi is reading my thoughts constantly every minute and every moment of my life..
Now,why is that I revealed this divine incident to the world only now
I was under a lot of psychological and emotional pressure ever since I took the decision of publishing the mystic Brahmin story as a book..It was a decision that I have taken much against my will and conscience ..
To be honest,I haven't thought this story as a commercial project when I sat down to write it in the mid last year..My idea was to just give my best shot to it and present a story that would impact at least a few lives on this planet..
With devotion in mind and reverence in action,I have written this story as sincerely as I would perform my daily prayer..Thankfully,due to the blessings of Goddess Saraswathi Devi,I was able to present it in a way that could convince many learned readers like you all over the world..
It was all possible purely due to Her divine grace and I felt immensely happy that all my prayers about the story have been answered.. At the time of posting this story,every week on the site,I never had any idea of publishing it as a book and make money out of it..Nevverrr…
However,a few readers started mailing me,after a few parts are posted,saying that this story should be published as a book ..I started taking it seriously and gradually started visualizing the commercial side of it which I haven't thus far seen..
But it was only after senior friend and well wisher,Dr.Andesri – a renowned Telugu poet who wrote the Telangana state anthem "Jaya jaya he Telangana jananee jaya kethanam" and who is now recommended by the state govt. for Padmasree award – told me to publish this rare story as a book,that I have taken the decision of publishing it..
Dr.Andesri,is an illiterate and cannot read and write..He is a true son of Goddess Saraswathi and poetry comes out spontaneously from his thoughts which his daughter pens down..Recognizing his talent,I believe ,Nagarjuna University awarded him a doctorate which by itself is a miracle of the holy Goddess..
I know him since 1995,although I don't remember where I met him for the first time..He suddenly calls me and would say,"..Aditya..I wrote a zabardast poem..I want you to hear it and give me your opinion.."
Both of us would then go in my car and sit in the lap of Nature in Osmania University,with Peacocks roaming around us,and discuss about his poetry..We have been doing this for many years..
If I remember right,it was on one such occasion,a couple of years ago,that he sang before me his current Telangana state anthem,"Jaya jaya he Telangana janane jaya kethanam" and sought my honest opinion.. I said,"to be brutally honest with you,this song of yours reminds me.Devulapalli Krishna Sastry's "Jaya jaya jaya priya bhaaratha janayithree divya dhaathree" both in it's content and it's meter.."
He smiled and we left it there..He's currently preparing a thousand poems Telugu book,on all the rivers in the world,for the Guinness Book Of World Records and is constantly travelling all over the world with his assistant studying each and every river in each and every country..
One day,a couple of months ago before leaving for China,Dr.Andesri called me and asked me whether it would be possible for me to spend half a day with him after two days..I said fine..We met..Drank two cups of our favorite Lemon tea near the A grounds in Osmnaia University campus and left for our place in the lap of nature..
That time,I told him about the mystic Brahmin story,after listening to which he said,"..I know you for the last twenty years..I also know how immensely talented you are and what your true capabilities are..I also know how many problems you faced in life and how much money you lost..
You are doing a wonderful job..And now you got an opportunity to recover everything you lost..Print this story as a book..You shall earn 'yasas' and 'bhogham' (fame and money)..May Goddess's blessing be with you forever.."
I felt so good and energized listening to such blessing words from the son of Goddess Saraswathi..Then I have finally taken the decision of publishing this story as a book..
After posting the 38th part,I told,about what Dr.Andesri said and about his idea of book,to Sri Subbarao ..I then started working on the book and slowly started realizing that I have a million dollar product on hand that would keep earning me crores of rupees income all through my life..
Then the ruthless corporate and ad film maker in me woke up and worked out all strategies with the best in the marketing circuit both in India and abroad..Then,I have with a little pain,removed the story from the website and invited sponsors..Thankfully many readers from all over the world have come forward to sponsor ..
The marketing team,after doing their calculations and market survey,gave me a real picture saying,"with the response it has so far received and with the powerful hard hitting narration and content it has in it and with the correct promotion and of course with the following you have in many countries,this book would sell a minimum of one million copies in about eighteen months period"
I don't need to be Harvard product to do the calculation and know how much money I would be making in the initial eighteen months..My family responsibilities,my needs,my commitments and my daughter's marriage am planning to perform next year have started replacing the ambition in me with greed..
At the same time,to my surprise,many readers from all over the world started mailing me and telling me how bad they felt after seeing the story removed from the site..
They have also explained me how much their lives are attached to the story and how often they refer to it to find solutions to their day to day problems..I was really touched and moved with their mails through which they have clearly spread their heart before me..
What to do and what not to do..To move forward or not..I went into a constant thinking mode..So many soul stirring mails on one side of my mind and my parents' words of nobility and the divine experience on Tirumala hills on the other started knocking the stuffing out of me..
Exactly during those moments of ambivalence in my life,I have received a shocking phone call at about 10 pm on the night of 16th November and a heart breaking e mail at about the same time the next day..I couldn't sleep that night..
After spending the next twenty four hours in total disarray,I did nothing except thinking about what to do about the book and what not..Money or no money..Gain or lose..Be selfish or be noble..
My problems,my needs and all my commitments were tormenting my mind,every moment,telling me to grab the the lucrative book publishing opportunity..I couldn't arrive at a proper decision..I was too stressed out..
It was about 9 in the morning the next day…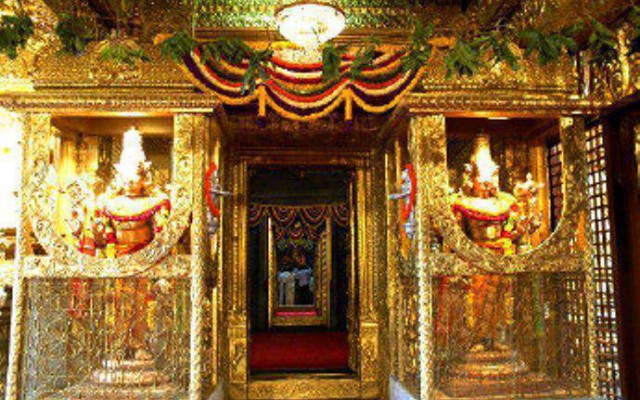 I was standing near my bedroom window and looking at the different colored cars parked in my gated community..I was constantly thinking about the book..To be or not to be..I was completely locked in my thoughts..
Then I suddenly heard the same miraculous temple bell sound that I have heard in the Tirumala temple on the evening of 4th April,2014..Then a noble thought pierced through my mind that had not only made my heart lighter but had also brought a great smile on my lips..
I immediately rushed into the kitchen and told my wife,"I have gotten an idea now and am feeling much relieved after that..He had given me this noble thought for sure..As a result of my thought we may have to forego crores of rupees income we were dreaming about earning from the mystic Brahmin book..
But no problem..We have earned loads of money and lost loads of money in our life..It is a game we often play.. No regrets..Am sure He who gave me this idea has some plans in place of this for us..Let us see..What do you say.."
She immediately said,"am okay with whatever decision you take because whatever decision you take; you take after weighing all the options..You have belief in Him ..I have belief in you..Simple.."..
That thought was certainly a divine intervention for me which had removed that momentary greed from my heart and injected back the thoughts of nobility in my mind..Remember..Am also an ordinary human being and not any noble sage to overpower the 'arishadwargas' in me..(Kama,krodha,moha,lobha,madha maatsaryalu)..
During those noble moments,I have not only decided to gift this mystic Brahmin story free of cost to the world but had also realized that the time has now come to share my divine experience on the Tirumala hills with the world..
Then I told myself,"I didn't write this story for money so I shouldn't expect money in turn from it..If I who had seen the real form of Lord Venkateswara do not have belief in Him then who else will have.. He knows my needs,He knows my plans and commitments,and He knows the nobility of my family so it is for Him now to compensate me substantially for this noble sacrifice"
Sri PVRK Prasad was shocked with my decision but praised me immensely for the sacrifice saying "You have already earned a lot of punya and would be earning much more now…God bless you and your family.."..What can I say except,"A thank you sir"
Finally,three most important points here..
To be very honest I strongly believe I heard the 'miraculous temple bell sound' while standing near the window in my bedroom..However,am not able to say as confidently as I said about hearing it on the Tirumala hills..
Because it was not as clear as I heard it on the hills..Anywayz,that at least gave me a noble thought and saved me from a big embarrassment in life..
The second most important point..I thought of spending a major amount of the earnings from the mystic brahmin book on charity..While am already doing it on a small scale now,for many years,I shall however be doing the same,on a larger scale,with a wider reach if more strength is added to my hands..
The third most important point..Publishing the mystic Brahmin story as a book was never on my agenda, however,there's certainly one great book on my mind about Lord Sri Venkateswara,the idea about which He gave me four months ago,again on a Friday evening..
While mystic Brahmin story would have been a life changing book,confined mostly to the Hindus in the world,the book am talking about on Lord Venkateswara would be a world changing book and is going to strongly impact the lives of people belonging to all religions in this world..
This most influential book is going to strongly tell everyone on this planet,irrespective of caste,creed or religion,as "Why Lord Sri Venkateswara is the richest and the powerful God in this universe and why His Tirumala temple is the most visited place of worship"..PEACE
I have personally mailed to all readers who had come forward to sponsor the mystic Brahmin book and explained them in detail about why and how I have dropped the idea of the book and also asked them whether they would be interested in coming forward,as sponsors,to my new book on Lord Venkateswara ..
Except one,almost everyone more or less said,"your website and writings have changed our lives and turned us towards God..You are important to us and not the book..We are with you in whatever you do.."
Please tell me..Which human eyes will not shed tears when so many people are showering so much love on that human being..Am also a human being,friend..
Now, this life changing book is ready.. Please Click Here to buy God On Call – a powerful book on Lord Venkateswara with 12 spellbinding stories that are based on real life miraculous incidents – written by me.. Readers all over the world are crazily buying this book.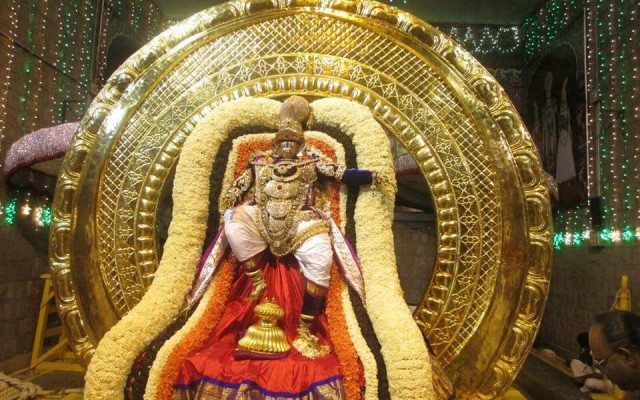 Please Click Here to read the Epilogue to this story
"..Sahasra seershaapurusho venkatesa ssirovathu..Praanesah prrananilayaha praanam rakshatumhe harihi.."
Love
Narrenaditya Komaragiri
narrenaditya@tirumalesa.com
To know more about the author please click here