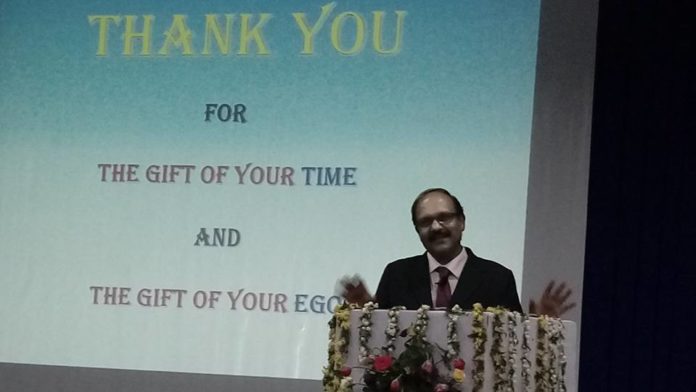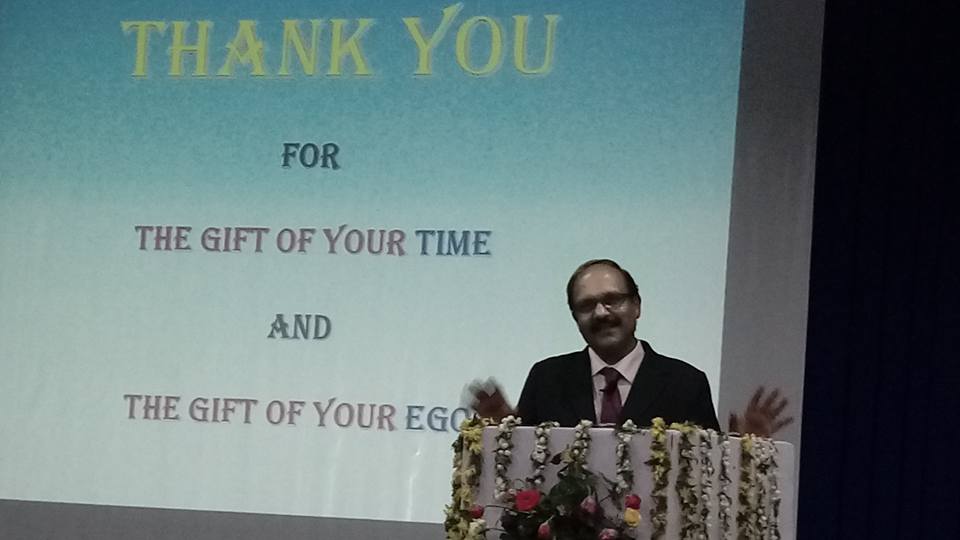 "A divine coincidence is an effort on the part of God to prevent Himself from getting misunderstood by His lesser wise and ignorant devotees" – Sriram Sir, Earth's Most Miraculous Living Divine Personality
On That Day
'Daivam Maanushaa Rupena' (God in human form), Sriram Sir, placing His right hand on the wall there in our house and wearing His shoes, told me with a gentle smile,
"Aditya, see what question that gentleman had asked you.. When he could have asked you about anything else in this world, why should he ask you only that question.. This is called a Divine Coincidence"..
Please go through..
This interesting divine coincidence occurred on the 30th of November, 2016 when Sriram Sir had visited our house in Hyderabad to attend the twelfth day ceremony of our beloved 92 – year old Dad, Sri.K.Y.L. Narasimha Rao, who passed away on the 19th of November, 2016.
Sriram Sir, as you all may be knowing, is the human form of Lord Sri Venkateswara which He had authoritatively proved through many amazing miracles in the past and through a recent spellbinding miracle that He performed during tirumalesa.com readers' meeting in Hyderabad, on the 24th of December, 2016.
On that twelfth day when Sriram Sir visited our house,
Our house was full with many dear friends and relatives.. With five brothers and four sisters, our's is a pretty large family with many extended families and many relatives families from both our Mom and Dad's sides which was why there was hardly any space in our considerably big house, that day, for anyone to even stand.
Secondly, our Dad was a retired Principal of government degree colleges and has a huge list of illustrious students all over India, today.. He's also one of the many reputed personalities in the field of higher education, so we expected many guests on that day.
As per our expectations many guest have come.. However, Sriram Sir was the biggest and also the most awaited guest for all our family members, that day.. He told me He would come at 1.30 pm..
We have made special arrangements for Sir's lunch in our dining hall.. All our family ladies were on high alert.. At about 1.10 pm, Sir called me on my mobile and said,
"Aditya, I have just reached a place in Gandhi Nagar and waiting in my Car.. This place is exactly opposite Lord Hanuman Temple here.. Can you come".
I said, "Yes Sir.. Will be there in five minutes"..
Alerting everyone at home, I quickly entered my Car and zoomed away to the place Sir had told me He's waiting.. In about five minutes time, I have reached the Hanuman Temple area and cautiously guided Sir's Car to our house.
My wife and other family members, who were already waiting at the entrance to receive Sir, have given Sir a warm welcome.. Since none of our other guests know who Sriram Sir is, they didn't bother us much with their questions.. PAUSE
One Key Point About Sir Here
Although a divine personality, Sriram Sir is a very unassuming human being.. Just like you and I wear, He too wears simple shirts and trousers.. He always comes, wherever He comes, with His shirt neatly tucked in.
A first timer seeing Sriram Sir would find it extremely difficult to believe that he's actually seeing God in human form.. That is also exactly what Sir wants.. He doesn't want anyone to believe Him.. He doesn't talk or do anything to convince the other person that He's God..
In fact, He spends more energy in hiding Himself from public attention than revealing His true divine nature to the world.. In my view, "He's God Incognito".. He carefully chooses His followers and puts many tests before accepting them into His divine fold.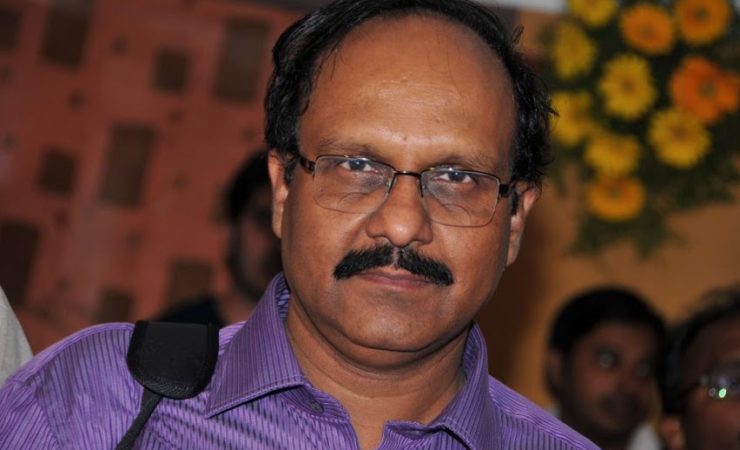 He once told me in 2003, "Aditya, I want everyone to forget me.. Silence, Solitude and Sorrow are my properties.. I don't want anyone to make me poor by stealing them from me.. Therefore, I don't prefer to meet anyone nor allow any personal meetings..".
He also mercilessly drives away unwanted people from His divine life by playing a few tricks on them..
I shall give you a funny example here.
One day, some time during the mid 90's, a business man from Hyderabad, who heard a great deal about Sir, had gone all the way to the Polytechnic college in Nizamabad – where Sir was working as an English Lecturer those days – and headed straight to the staff room where Sir was relaxing that time.
After arriving at the entrance of the staff room, this business man found Sir sitting in a chair and reading popular Telugu magazine, 'SWATHI'.. Foolishly thinking, "how can anyone who reads Swathi magazine can be a God", he just left the place without even trying to meet Sir..
Swathi magazine carries a popular column meant exclusively for married couple that deals with problems related to their conjugal life.. Just for this one reason, many Telugu families, even today, consider the otherwise great Telugu literary weekly, Swathi a porn magazine and reading it a social taboo..
That business man too thought so, after seeing Sir reading SWATHI, and just went away rather Sir had driven him away.. Poor fella.
What am trying to convey here's, "There's a powerful Maya Chakra all around Sriram Sir that always tries to drive you away from Him.. So, do not ever fall prey to it.. Have patience.. Have faith.. Once He takes you into His divine fold, He shall never leave your hand.. Never..
Just ignore everything in your life and surrender yourself completely to His divine grace.. Accept everything that comes your way – either pain or pleasure – as gifts given by Him.. Know that, He's deliberately gifting them to you for a reason and for your well being"..
I know, for many practical reasons, it's not only difficult for you to accept what am saying now but also impossible to practice.. However, remember one point.. I am not preaching you anything that am not practicing in my life.
When am deriving many benefits from such a practice; such an acceptance; and such a surrender to Sir, then why not you, my dear..??
Hope you got my point.
Now, please continue reading..
After a few minutes of discussion in the drawing room, we invited Sriram Sir into our dining hall.. After making sure that He sat comfortably in His chair, I went around and sat beside Him.
My other brothers Sahadev and Jayadev sat in the opposite chairs.. My sisters and sisters-in-law stood around us with rapt attention..My wife and others have quickly commenced serving food to Sir.
While slowly taking His food, Sir, much to my surprise, had suddenly asked me, "Aditya, I believe, you are a post graduate in English, right..??"..
I said, "Yes Sir"..
He then asked me, "Are you from the Osmania University..??.."
I said, "no Sir.. Although I initially got admission in the Osmania University, I was denied seat in the last moment due to some internal politics there and my seat was allocated to a lady recommended by a Professor.. Left with no other option, I have joined the Kakatiya University in Warangal.
Luckily I have written entrance exam for Kakatiya University too and could easily get the admission there.. However Sir, my graduation is from Osmania University.. I was a student of Nizam College".
Sir said "fine" and with a gentle smile, then asked me, "I think Prof. Lakshmana Murthy is your head of the department in Kakatiya University.. Right..??..".. Sounding a little more surprised in my voice, I said, "yes sir.. But how do you know our Professor.. Did you ever meet him"..
Sir smiled and said, "No no.. I haven't met him.. Since am also a English Lecturer, I heard his name many times in our academic circles.. Am told he's a very reputed Professor and visited many foreign countries as a visiting Professor.. Great man.."
Since the discussion was about my beloved Professor, I slightly went over joyous and told Sir, "Yes sir.. Very great man.. He would love me a lot although I was very regularly irregular to his classes.. I was also the naughtiest in the class but still he would love me.
He also has a tremendous sense of humor and would make our whole class burst into a huge laughter whenever he would describe the beautiful Belinda in Alexander Pope's 'Rape Of The Lock'".
Sir was listening to me with a gentle smile on His lips.. Observing His smile, I continued my narration, saying,
"Sir, Prof.Lakshmana Murthy once visited my brother Sahadev's house in US.. That time my brother told the Professor, Sir my brother Aditya often tells us how beautifully you would describe Belinda in Rape Of The Lock.."
Explaining so, I told Sriram Sir, "You know what Prof.Lakshmana Murthy in his reply had told my brother Sir.. That is the only class Aditya must have attended in those two years to hear about the beautiful Belinda.. Hahaha"
Sir too smiled gently along with me as also my other family members around.. We discussed a few more things about Prof.Lakshmana Murthy, as Sir was enjoying our food.. (I hope He enjoyed our food)..
After about a few more minutes of discussion, Sir finished His lunch..
After spending a little more time with us, Sir, Who had kindly come to our house despite His busy schedule, said, "Aditya, thanks to all of you for the nice lunch.. Food was very tasty and your hospitality is more lovely.. I now take leave"..
Saying so, Sir got up from His chair.. I too got up from my chair and quickly went ahead of Sir to request all the other guests in the hall to move aside and pave way for Sir.. Later guiding Sir out, I walked into the drawing room.
Sir was walking behind me and all our family members, both ladies and gents, were walking behind Sir..
Exactly at that moment,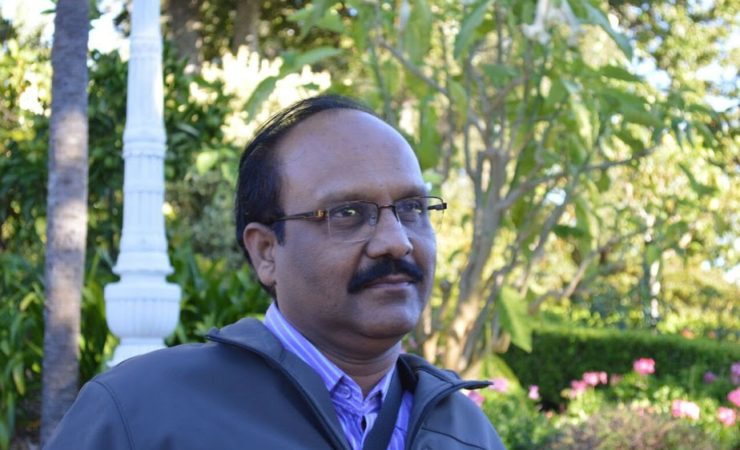 When we were were all about to cross the main entrance, we saw three septuagenarian gentlemen entering the drawing hall.
Seeing them coming inside, I, as a mark of respect for them, paused inside the entrance door to allow them inside first; seeing me pausing Sir too paused; and seeing both of us pausing, all our family members behind Sir too paused..
Those elders were my Dad's students in the 1960s and were one another's classmates.. I know two of them since my childhood but the third person is unknown to me.. Offering them my Pranams, I first welcomed them into the hall..
While two of the three elders, Sri.Anantha Krishana Rao – the former Director of State Bank Of Hyderabad – and Sri.B.V.Apparao – former Principal of many govt. degree colleges in the state – have offered me their condolences,
The third elder, Sri. Anjaneya Sastry, was looking at me with a great curiosity in his face.. From his friends' conversation, he realized that am the son of their just departed Lecturer, however, just to make sure, he asked me, "you..???"..
Observing the doubt in his friend's face, Sri. Anantha Krishna Rao quickly interrupted and introducing me to him, said, "Arey Sastry.. This boy is Aditya raa.. Our guruvu garu's third son.."
(Right from my childhood I have been a boy to them so shall remain a boy to them forever.. Glad.. Hahaha)..
With a little surprise in his eyes, that elderly man Sastry, affectionately placing his right hand over my shoulder, said something that literally shocked everyone there..
This was what he said,
"So you were the student of Prof.Lakshmana Murthy.. Your Dad would often tell me about you"..
Shocked, I quickly turned my head and looked at the divine Sriram Sir who was at that time standing just at a two feet distance behind me..
With His head slightly bent towards His right shoulder, Sriram Sir was quietly looking at my face, that moment, with a teasing smile gently dancing, not on His lips but in His divine eyes, hidden behind those spectacles.
Did I see Lord Venkateswara in those eyes during that divine moment.. May be I did.. Who knows.. ??
Wondering, "when there are a thousand things that my Dad must have told this elderly man about me, why should he remember only one point that I am a student of Prof.Lakshmana Murthy and ask me about it now", I have immediately turned to the three respected elders in front of me and said,"yes" to Sri.Sastry.
Saying so, I invited them into the drawing hall and as they were walking inside, I walked out along with Sir.. All this conversation between us took place in about a minute's time.. All that while, Sir was silently standing behind me observing our conversation.
Later, after we we went out, Sriram Sir, placing His right hand on the wall there and wearing His shoes, told me,  with a gentle smile,
"Aditya, see what question that gentleman had asked you.. Are you a student of Professor Lakshmana Murthy.. When he could have asked you about anything else in this world, why should he ask you only about your Professor about whom we too have discussed just a few minutes ago.. This is called a Divine Coincidence"..
Now, Here's The Focal Point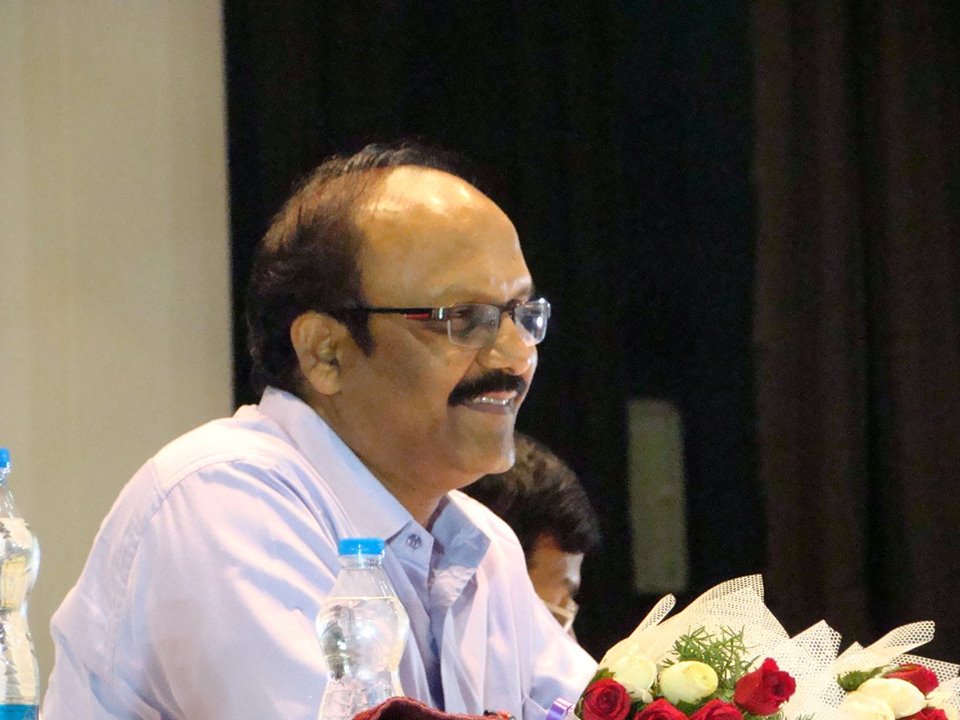 What do you understand from this coincidence.. ??.. An elderly man who came to our house had coincidentally discussed about the same Professor about whom myself and Sriram Sir too have discussed a few minutes ago..
No dude.. If that is so, what is divine in this coincidence.. Now here's the point.. Through this coincidence Sriram Sir – the human form of Lord Venkateswara – had clearly conveyed to me much in advance, that,
"Aditya, in about a few minutes time from now, an elderly gentleman is going to come to your house and he is going to ask you whether you are a student of Professor Lakshmana Murthy".. PEACE
Epilogue
My beloved Dad, Sri.K Y L Narasimha Rao was a scholar extraordinaire and an eminent writer.. Although a Gold Medalist from Andhra University in M.A (English) he exercised great command over Telugu and Sanskrit languages as well.
He would speak and write with equal ease in all these three languages.. He wrote 'Manu Dharma Sastra' in Telugu and 'Manu – The First Indian Law Maker' in English.. He would also quote hundreds of Sanskrit slokas, with ease, from many great literary works of many great masters and poets.
Whatever little am writing today is due to the tireless teaching that he had provided to me whenever he had time during his busy career.. To be honest,
"Ever since I started writing seriously in 2012, I had a displeasure in my heart that my beloved Dad, although knows that I write, had never complimented me despite knowing well that am receiving compliments from many eminent personalities, for my writing, from many corners of the world.
I also never dared to show my writing to him, for the hidden fear in me that he may find faults in my writing style.. However, I came to know that he had read a couple of stories, that I have written, particularly my popular story on the life of legendary Music Queen M.S.Subbulakshmi..
For many months, I was always eagerly waiting for that precious golden moment wherein my Dad would call me and say, "Very good Balu.. You are writing well.. Keep it up".
However, to my misfortune, that Golden moment had never arrived in my life and would never be arriving at all as my Dad had left this world on 19th, November, 2016 leaving me in a sea of melancholy and an ocean of absolute loneliness..
Fate sheer fate..
Conclusion
On that twelfth day – after lunch at about 4 pm – that elderly man Sri. Anjaneya Sastry, who asked me, "are you a student of Prof.Lakshamana Murthy", slowly came to me to say "good bye".
While leaving, he started telling me some thing and went about telling that for almost a minute.. I just stood in a frozen state listening to him.. While doing so, I just kept looking at the dot of Kum Kum (Vermilion) that was brightly shining on his forehead, that moment..
As I was listening to him, my inner voice started telling me, "tomorrow you may win all the great literary awards in this world including the Nobel prize for Literature, however, none of them would equal a bit to what this great man is now telling you".
And this was what he told me,
"బాబూ , నేను తరుచూ మీ నాన్నగారిని కలవటానికి వస్తుండే వాడిని.. ఆయన మాటల్లో తెలిసింది మీ నాన్న గారికి నువ్వంటే చాలా ఇష్టం అని  .. నీ గురించి ఎన్నో విషయాలు చెప్తూండే వారు.. ఈ మధ్యనే ఓ నెల రోజుల క్రితం చెప్పారు..
ఏవయ్యా శాస్త్రి .. ఎప్పుడు చదివాడో ఎక్కడ చదివాడో తెలీదు గాని మా ఆదిత్యకి తెలియని విషయం లేదయ్యా.. చాలా బాగా రాస్తున్నాడు.. వాడికి ఎంత మంది అభిమానులున్నారో తెలుసా.. వాడు గొప్ప డైరెక్టర్ అని తెలుసు కానీ ఇంత గొప్పగా రాస్తాడని తెలీదయ్యా.. ఖఛ్చితంగా నాకంటే గొప్ప పండితుడవుతాడయ్యా వాడు.."
"Babu, I used to come very frequently to meet your Dad.. He would share with me many good things about you.. From his words I have realized that you are the most beloved son to him.. Just a month ago he told me..
Sastry, not sure where and how he had acquired but our Aditya has knowledge of many good things in this world.. He's also writing well.. He has many followers.. I certainly know he's a good director but didn't know he's such a good writer too.. He will definitely become a bigger scholar than me"..
Saying so, Sri.Sastry left our house..
After some time..
One after the other..
All the other guests too have left our house..
Later..
I too returned to my home..
Walked into the darkness..
Quickly went into my office room..
Fallen down on my knees..
In front of my Dad's photograph..
And..
Broke down..
………………
Love
Narrenaditya Komaragiri
narrenaditya@tirumalesa.com
To know more about the author please click here