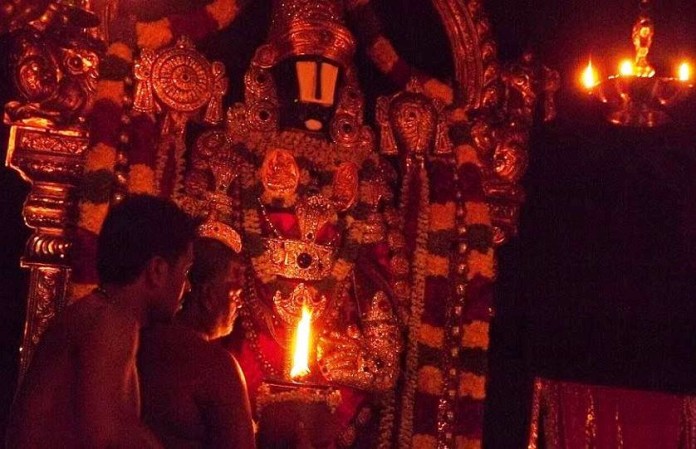 This truly shocking and the most unbelievable miracle occurred,almost three and half decades ago,in the Garbha Griha of the sacred Tirumala Temple that houses the holy Lord Sri Venkateswara,Who by all and by all means is unequivocally considered the richest Hindu God in the world..
This miracle,even today still after thirty six years of it's occurrence,is a mystery to millions of devotees all over the world and shall remain one forever to many so called atheists of our modern world..It clearly and emphatically endorses the divine existence of Lord Sri Venkateswara in the midst of us today and substantiates our faith in Him..
But Where Is Tirumala Temple And Who Is Lord Sri Venkateswara.. ?? 
Located on a hilltop,853 meters above the main sea level in the Southern part of India,Tirumala (Tiru means holy and Mala means hill) is a major pilgrimage center near the Tirupati town in the Chittoor district of Andhra Pradesh,India...
Spread over an area of 10.33 square miles,the sacred Tirumala hill shrine consists of seven hills namely Seshadri, Neeladri, Garudadri, Anjanadri, Vrishabhadri, Narayanadri and Venkatadri…It is only for this reason that this Temple is also called the Temple of Seven Hills..The main temple of Tirumala Tirupati lies on the seventh hill of Venkatadri..
This truly amazing miracle occurred, in the holy temple of Tirumala, on the mid night of 7th November, 1979..At that time, right from a street urchin to the holy Lord, the whole of Tirumala hill shrine was in a deep sleep.
All the busy streets of the temple town were wearing a vacant look..Except an occasional sound here and there,the whole of Tirumala hills were filled with a serene silence..And exactly during that dark hour and breaking all that silence,this miracle occurred and occurred quite suddenly taking the entire hill shrine of Tirumala with shock and surprise..
Thong…Thonggg…Thonggggg..
The huge Bronze bells,that were hanging in front of the principal deity of Lord Sri Venkatewsara,in the holy Bangaru Vaakili (Sanctum Sanctorum) of the Tirumala Tirupati temple,started ringing on their own – without anyone either ringing them or touching them – sending waves of heavy metal sound across the whole of the Tirumala hill shrine.
The security staff,the police,the pilgrims,the officials,the temple staff,the Archakas and the Purohits,who were shocked by the huge sound of the Bronze bells,woke up startled from their sleep and came running to the main Temple.
They all stood there,outside the temple,watching in utter shock and disbelief, unable to know  "..how the huge bronze bells – hanging in the heavily guarded and fully locked up Bangaru Vaakili (Sanctum Sanctorum) – could ring on their own,without any one touching them..??.."
Shocking them further,the bells rang in that fashion for a few more minutes and later stopped on their own..
Mysterious..Miraculous..And absolutely fantastic..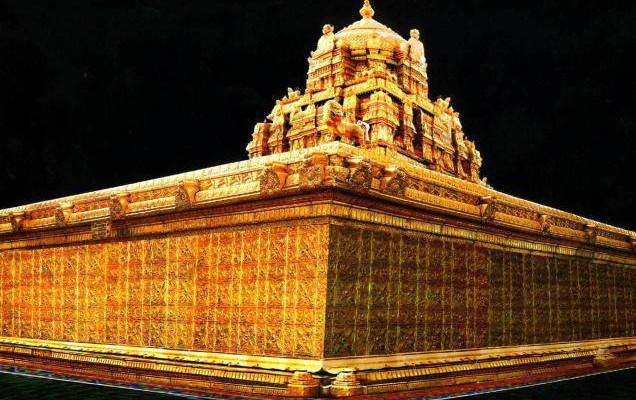 It was a dream state for all those gathered there; an unbelievably true state..The entire Temple staff,that was there that moment,knows pretty well that all the doors of the main temple,including those of the Sanctum Sanctorum,will be locked up from outside after the Ekanta Seva (Final pooja performed in the temple every night) and will only be opened,the next morning,for the Suprabhata Seva (First pooja offered to Lord Sri Venkateswara at 3 a. m everyday)…
Which means there's no way any one can enter the main Temple,until again those doors are opened the next morning by the authorized Temple staff,for the Suprabhatha seva..
Then how is that the bells rang on their own,without anyone touching them,and if that is so who is there inside the Sanctum Sanctorum except the holy Lord Sri Venkateswara Himself..??
Several questions were raised,several doubts were discussed and several more inferences were drawn, but none of those gathered there could come out with a logical explanation…
Finally,they all came to a conclusion that some pilgrim,by mistake,was locked up inside the main temple and he must have banged those Bronze bells just to draw the attention of  the temple staff.
Well…This theory seems quite logical…At least from a human point of view..But if that is the case why is that we are calling it a miracle today and where's the need for me to write about it,now,after thirty six years of it's occurrence.. ????
RIGHT..??
Then…What Happened..??? .. Why did that miracle occur.. ??.. And what was its significance…???
Here, please forgive me for the inconvenience.. When I have originally written this story in 2012, millions have read it all over the world.. However, what caused me immense pain was, many have copied it and posted it wherever they wanted to.
I have myself received this story many times through email and WhatsApp.. Even popular newspapers have copied this story and published it in their newspapers..
Deeply hurt with the unscrupulous attitude of all such thankless people, I have removed this story from this site and published it in my book, God On Call, released in Hyderabad in March, 2017.
Many readers all over the world are crazily buying this book and are immensely thanking me for presenting this powerful book to the world.. Am sure, you too will be thankful to me for this life changing book.
Now, here's the widely read God On Call book from tirumalesa.com
God On Call is a powerful book that presents twelve spellbinding true stories based on real life miraculous incidents that occurred in the lives of some extraordinary personalities like Swamy Sri Rangnathananda of Ramakrishna Mission, Music Queen Smt.M.S.Subbulakshmi and Carnatic Music Maestro, Sri.Rallapalli Ananta Krishna Sarma.
Please Click Here to buy this life changing book on our eCommerce website.. Released on 24th March, 2017, this book is going all over the world today and is also receiving amazing reviews on Amazon where it was recently listed.
You may Click Here to buy this book on Amazon and also to read the amazing reviews it is receiving from readers.
"Sarvaloka Nivaasaaya Sreenivaasaaya Mangalam"
Love
Narrenaditya Komaragiri
narrenaditya@tirumalesa.com
To know more about the author please click here