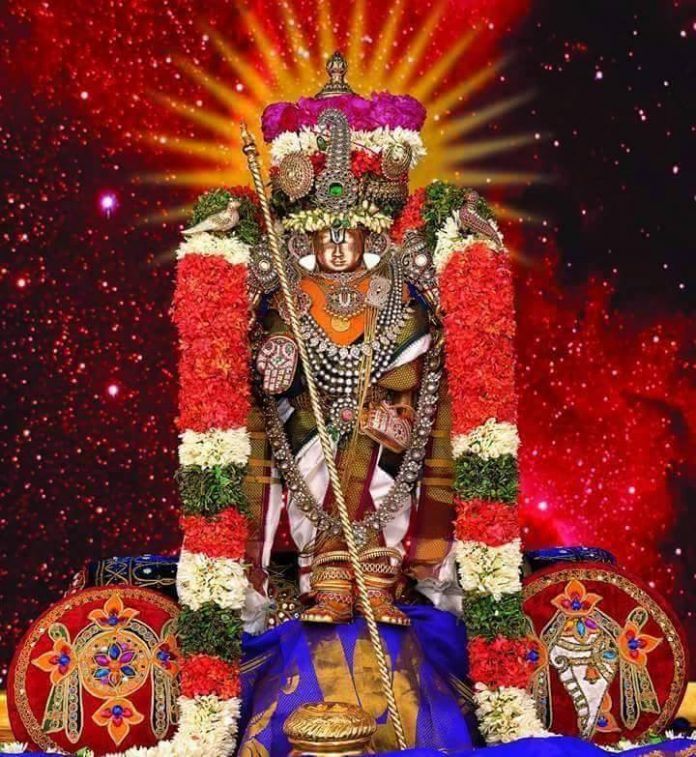 "Lokaantha rangam, laghukara mitram.. Lakshmee kalatram, lalitaabdha netram.. Sri Vishnu devam, sujanaika gamyam.. Sri Venkatesam sirasaa namami"
To prove His presence in our lives, God, occasionally though, expresses Himself in many mysterious ways and shows His existence through many inexplicable forms.. While He's pretty much understandable sometimes, He's equally ununderstandable on other times.
However, during some extraordinary circumstances or circumstances during which He would emphatically, more so authoritatively, wish to prove His existence to the world, God directly reveals His true form to His devotees and clearly tells them Who He is and what He is up to.
While there are several examples to quote from our sacred texts, there are rarely any in our modern times.
Here's one such hair rising, breath stopping and a spine chilling Divine incident wherein the Akhilanda Koti Brahmanda Nayaka Bhagawan Sri Sri Sri Venakteswara Swamy Varu had directly come, in the form of an ordinary human being, to the house of a noble lady in Bangalore, who is His ardent devotee, and told her Who He is and why did He come.
But..
Before That 
You must first know who this Bangalore lady is and what is this Divine incident all about.. The name of this noble lady is, Mrs Padma Vijaya, a Telugu speaking lady born and brought up in Bangalore.
This soft spoken gentle voiced Vijaya is an extraordinary devotee of Lord Venkateswara and attributes everything in her life to His Divine Glory.. She is an extremely great singer of devotional songs and expresses her devotion to the Holy Lord more through her singing than through her prayers.. She strongly believes, "those who sing drive away their woes".
"ఏడుకొండల వాడ, వేంకటారమణా, సద్దు సేయక నీవు నిదుర పోవయ్యా.. నా పాలి దైవమని నమ్ముకున్నానయ్యా, నా భాగ్య దేవతా నను మరువకయ్యా.. బీబీ నాంచారమ్మ పొంచి వున్నాదయ్య .. చాటు చేసుకు ఎటులో చెంత చేరెదనయ్య"
Although a bright student, Vijaya, due to peer pressure from her grand mother, was forced to marry when she was barely 16 – years of age.. However, observing the zeal in his young daughter-in-law, to study well and grow up in life, Vijaya's father-in-law had encouraged her to pursue her passion.
Inspired by that encouragement, Vijaya had successfully completed her education with a Master's in Business Management from the prestigious Indian Institute of Management (IIM), Bangalore.
On completion, she received many job offers from big corporate houses, however, Vijaya had chosen to work with international companies that were not only noble in their deeds but were also following the norms of Corporate Social Responsibility to perfection.
In that process, Vijaya had headed the Accounts Division of HIVOS (1995 – 2001), a Netherlands based donor organization; and then from 2001 to 2006 worked as Financial Administrator in PSMU, a project coordinating office of SDC (Swiss agency for Development and Cooperation), another donor organization from Bern, Switzerland.
Later, to dedicate more time to her family and children, Vijaya had left her job and stayed at home.. Her husband, Rama Rao, is a Chartered Accountant.
They have a son, Raja Sekhar, who is currently working as SDM in HCL Technologies, Bangalore and his wife is, Sunita, currently pursing her Company Secretary course.. They have a cute 3 – year old daughter, Ananya.
Vijaya also has a daughter, Sowmya, an M.Sc in Bio Chemistry with her husband Praveen being a Software Engineer with Morgan Stanley.. Earlier they were in New Jersey, USA but currently are in Bangalore.. They have a son and a daughter.
And Here Begins The Drama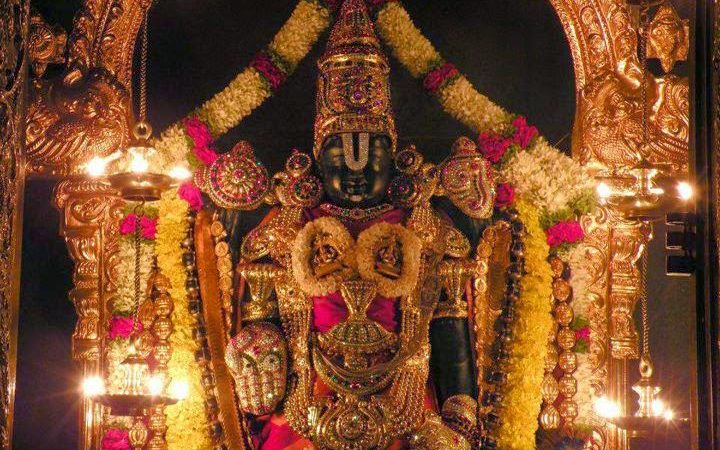 After having a daughter, Vijaya's son Raja Sekhar and his wife, Sunita, wished to have one more child.. However, that remained an unfulfilled wish for them, for almost an year, giving enough concern to the whole family.. Vijaya was the most worried among them all..
She fervently prayed to her beloved Lord Sri Venkateswara and requested Him to show her some way.. As though ordained by Him, she landed on this website, read about the life changing Sri Venkateswara Maha Mantra Puja here and immediately ordered for my 'God On Call' Book (English) for details of the Puja.
On completion of reading of this book, she had decided to perform the 21 – day Maha Mantra Puja strictly as per the details and instructions I have given in the book.. Based  on that decision and as per my instructions, she commenced the Puja on a Friday, the 20th of July, 2018..
Everyday, she would wake up at 4.30 in the morning and would commence the Puja from about 6 am after personally preparing Naivedyam for the holy Lord.. She, then, used to spend a lot of time in decorating her Lord, with a variety of flowers, before commencing the Puja.
After reverentially performing the Puja, strictly as per the instructions I have given in the God On Call Book, Vijaya would complete her Puja at about 7.30 am, everyday.. This was her routine for all the 21 days of the Puja.
Finally On The 9th Of August, 2018 – The 21st Day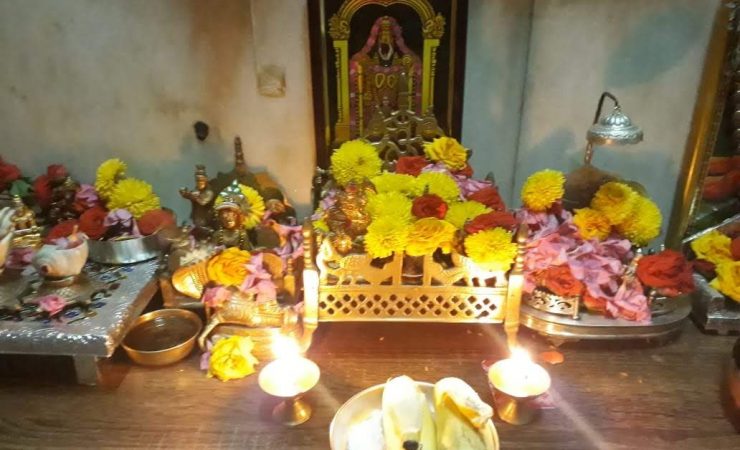 Vijaya woke up a little early, by 4 am, since she had to prepare Maha Naivedyam to her beloved Swamy Varu that day, the last day of her Sri Venkateswara Maha Mantra Puja.
Later, at about 6 am, she commenced floral decoration to Sri Varu.. Everyday, she would light two oil lamps in front of the portrait of Sri Varu, but, on the last day, she had decided to light two more lamps but with Cow Ghee as the Lord likes Cow Ghee the most.
Finally, she closed her eyes and commenced the Puja by going into a deep meditative state.. By about 7.30 am, she successfully completed the Puja, along with her Nitya Puja, and took the Prsadam.
Later, she slowly walked into the kitchen, with an amazing feeling at the back of her mind, and started preparing morning Coffee for herself and for her husband.. As she was deeply engrossed in that work, she heard someone knocking on the main gate and calling her, "Ammaa" .
Pausing the work, Vijaya slowly walked into the veranda of her independent bungalow and was amused to see an unusually tall 7 feet Man, dark in color, standing at the main gate..
He was wearing a rich Silk Dhothi and Silk shirt with a Silk Anga Vastra covering His shoulders.. He was sporting a dazzling Tiru Namam on His broad forehead.. Though dark, there was a great radiance in His face.
After pausing for a few more seconds in the veranda, looking at Him, Vijaya slowly walked up to the main gate, to go closer to Him.. As she was walking close to Him, a pungent Divine Aromatic Fragrance of Yellow Camphor, emanating from His body, started greeting her.
After she went close to Him, that tall Man had slowly bent down His body and looking into her eyes and pointing His right hand index finger towards the window of her Puja room, which was clearly visible from the main gate, told her in Kannada,
"Magu, neenu yaavudakkagi ee pooje maadideyo adu neraveruttade" (My child, your wish for which you have performed this Puja would be fulfilled)
A shocked Vijaya could not understand Who that Man was and how did He know not only about her Puja but also about the wish for which she had performed it.. Before she could even recover from that shock, He gave her a bigger shock, saying,
"Nee antisida thu ppada deepadalli innashtu thuppa haakamma " (Pour some more ghee into the ghee lamps that you have lighted today).. With her whole body literally shivering and with her eyes almost blurring, Vijaya asked Him in Kannada, "Swamy neevu yaaru" (Swamy, Who are You).
Smiling gently and taking Vijaya into a deeper state of shock, that Man said, "Naanu Govinda anta.. Tirumala inda" (My name is Govinda, am coming from Tirumala).. Quickly opening the gate, Vijaya said, "please come into my home, Swamy"..
Gently refusing her invitation, that Man smiled and said, "I don't enter anyone's home.. First go in and fill the Ghee lamps in your Puja room with Ghee.. They are exhausting"..
Saying, "please wait Swamy, don't go", Vijaya quickly ran into the house; filled the Ghee lamps with Ghee; and quickly came out running filling a plate with the Maha Naivedyam she prepared for her Swamy, that day.
Seeing Vijaya bringing Maha Naivedyam, that Man slowly took His Anga Vastra into both His hands and opened it to accept the Naivedyam from His ardent devotee.. The moment He opened, a more pungent Divine Aromatic Fragrance of Yellow Camphor filled the place.
Enjoying the fragrance..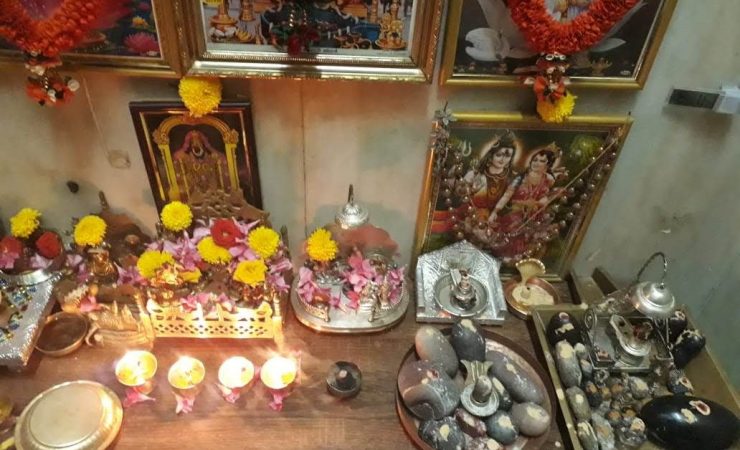 Vijaya slowly transferred the contents in her plate into the Anga Vastra of Govinda..
After doing so..
Se had slowly bent down..
Placed the plate in her hands on to the floor..
Prostrated before her Govinda's Lotus feet..
Touched them gently..
By placing both her hands on those Divine Feet..
Closed her eyes..
And while..
Touching so..
Prayed for a few seconds..
Then..
Opened her eyes..
Looked up..
And..
To her utter shock..
That MAN..
That Akhilanda Koti Brahmanda Nayaka..
That Aadi Madhyantha Rahitha..
That Ghatanaa Ghatana Samartha..
That Govinda Namdeya..
Bhagawan Sri Sri Sri Venkateswara Swamy Varu..
Disappeared..
Right in front of her eyes..
Epilogue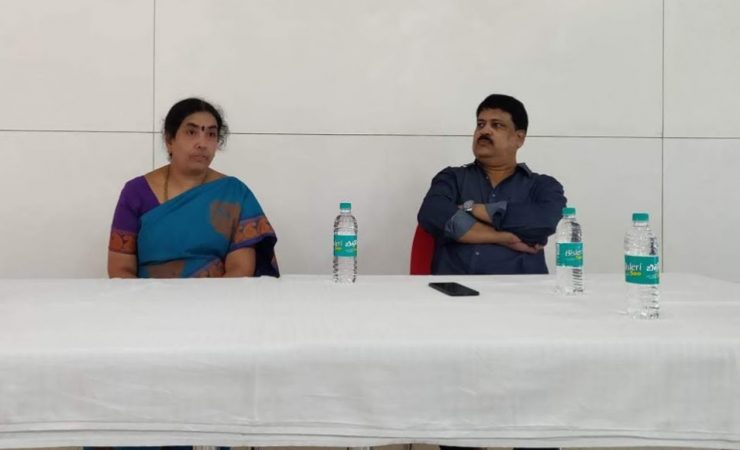 The same morning, at about 9 am, Mrs. Padma Vijaya messaged me saying, "Aditya sir, a miracle occurred in my life today morning and I want to share it with you".. As I normally get many such messages, almost many times in a week, I didn't pay much attention to her message.
However, she messaged me again.. Since I do not want to disappoint an elderly lady like her, I gave her time the same evening.. Later, in the evening, she called me at about 8 pm and narrated to me the whole spine chilling episode.. I was speechless..
After about two weeks, she messaged me again saying, "Aditya sir, just wanted to inform you that my wish is yet to be fulfilled.. However, since Govinda Himself had assured me am sure it would be fulfilled, sooner or later"..
I replied her saying, "I will be in Bangalore on September 7th.. May be by the time am in Bangalore your wish would be fulfilled".. I said that casually to her, just to make her happy, and forgot there.
Later, I landed in Bangalore on the 7th of September, 2018 along with my wife.. Had an informal meeting with readers of Bangalore on Sunday, the 9th of September.. Mrs Vijaya too had come to see me that day..
Speaking to me, she said, "Sir, as my Govinda had told me, my wish is fulfilled and was fulfilled exactly, as you said, on the 7th of September, the day you landed in Bangalore.. I took my daughter in law for a checkup that day and after the examination, the Doctor had confirmed she's is pregnant".
Gradually going into a Divine Trance..
I stopped listening to Mrs. Padma Vijaya..
As my mind had already by then started reciting my favorite stanza..
From Sri Venkateswara Suprabhatam..
"Sriman abheeshta varadaakhila loka bandho'.. Sri Srinivasa jagadeka dayaika Sindho'.. Sri devataagriha bhujaantara divya Murthey.. Sri Venkataa Chalapathey tava suprabhaatam".
Hare Srinivasa
Narrenaditya Komaragiri
narrenaditya@tirumalesa.com