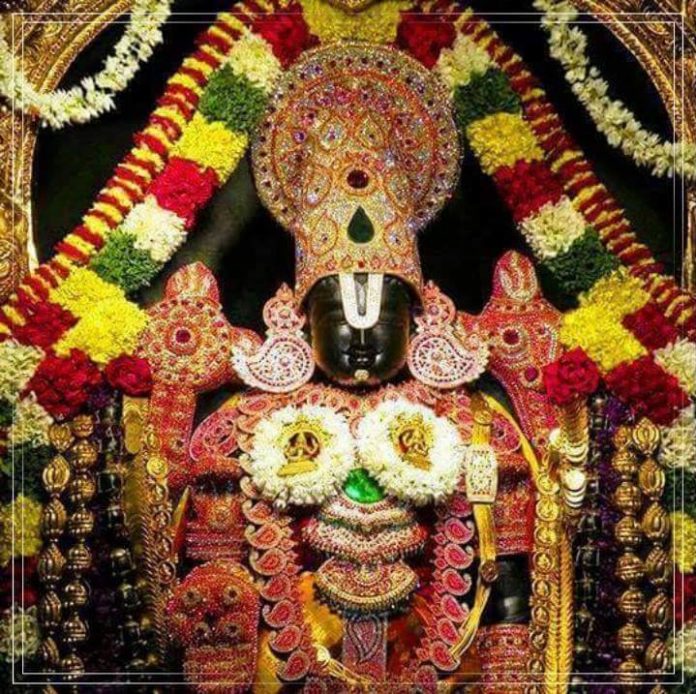 Right from the day,
I have announced the launch of God On Call Book, I have been telling the whole world that this most powerful book, on holy Lord Sri Venkateswara, shall change many lives and also transform the world in a big way.
I was so sure because every story in this book is a true story based on real life miraculous incidents – that occurred in the lives of some ordinary people and some extraordinary personalities with the divine intervention of Lord Sri Venkateswara – and is endowed with many divine powers.
Today, my claim about this divine book more so my belief in it's miraculous powers are proving correct with the amazing response this book has been receiving, since it's release, from all the corners of the world and also with the divine experiences some readers are sharing with me.
Since it is impossible to share all the experiences of readers here, am presenting some extremely shocking experiences like the one this reader from Chennai by name, Tejal Jaikumar had while reading the God On Call book.
Please Continue Reading
Tejal was born in a conservative Gujarati family that settled in Chennai, long ago..
Tejal's father passed away in the year 1996 when Tejal was just a 7 – year old child and her Mother – facing many odds of life and vagaries of the world – had, with great difficulty, brought Tejal and her other two younger sisters up in their life with utmost dedication and love.
In her upbringing, Tejal's Mother, a great devotee of Lord Balaji (that is how she calls her Lord Venkateswra) had also created an impression in the minds of her daughters that "Lord Sri Venkateswara is your Cosmic Father Who would take care of yoour lives and also offer you protection in every need".
Naturally so, Tejal too had grown up with the same devotion towards the Holy Lord, that her beloved Mother has for Him, and would visit the sacred Tirumala Temple – that is very close to Chennai – whenever possible and as frequently as possible.
In a way, for Tejal, visiting Tirumala Temple and having darsan of her Lord Balaji is like visiting her beloved Dad, staying in an outside city a little far from home, and sharing with Him her life's little things as well as all big things, which every daughter in this world would love to share with her Dad.
(My two daughters, Alekhya and Amulya, literally tie me to a chair and insist that I listen to everything they tell me.. They even tell me what brand of Nachos they have eaten outside with their friends and what are the most trending movies or serials on Amazon Prime.. They think I must listen to them.. That's all.
Vampire Diaries is both my daughters' favorite serial on Prime and they literally suck my blood if I don't properly listen to them when they are narrating me those dirty incidents from the serial.. Occasionally, they also discuss with me regarding some important issues of their life and career.. In one word, there's nothing that my daughters don't discuss with me or share with me) PERIOD
In her later part of life, Tejal had fallen in love with a Telugu speaking guy by name Jayakumar, who is also from Chennai, and had married him in the year 2011.. Her Lord Venkateswara had immediately blessed them both with a cute daughter, who is now 5 year old.
Tejal's husband, Jaya Kumar, who believes more in living on his own than working under someone else, had set up Global Optics, an optical shop in Inavaram, Selaiyur and Urapakkam areas of Chennai.. Tejal, a trained Optometrist, is assisting her husband in his business.
Wellllll..
If this all I have to say about Tejal, then there's no need for me to write so much about her and bore you all.. Then why am I writing all this and why have you come this far reading all this..
Because..
It is here at this point
The actual story of Tejal Jayakumar from Chennai had begun.. Please continue reading.
Just like you and me have, Tejal too has her own set of problems – which she discussed with me but it won't be fair if I display them here – and started searching on web for some divine intervention of Lord Venkateswra.
It was then, that she, like many among you, had read about the powerful Sri Venkateswara Maha Mantra Puja, discovered by me and presented in my God On Call Book.. Tejal had immediately placed an order for this book, on Amazon.
And Now, Here Begins The Actual Miraculous Drama
Tejal received the 'God On Call' book on Thursday, the 2nd of November, 2017.. The same evening, after returning home from the shop, Tejal had commenced reading of the divine book.
Tejal's primary intention was to read one story a day, from among the twelve stories in the book, in the morning after her daily Puja, and then go to her work.. However, on the first day, she started her reading of the book only in the evening as she had received it in the afternoon.
That evening, she read the first story, 'Divine Entrapment Of An 8 – Year Old Boy On Tirumala Hills' from the book.. Next morning, she had read the second story, 'Miraculous Interruption To Abhishekam Seva' from the book and left for her optical shop.
At about 12.30 pm..
Tejal was casually talking to a customer in the shop..
As she was so talking..
She suddenly saw an indistinct black colored form..
Appearing right before her field of vision..
Just behind that customer..
………..
Tejal's first impression was "it was an optical illusion", so, she ignored it ..
But that form had started appearing again and again and again..
In Tejal's field of vision..
……………
The more Tejal was ignoring it..
The more it started appearing..
At the same place..
And at the same distance from her..
Now..
Taking that vision for real..
Tejal had slowly guided that customer in front of her to a salesman in the shop..
And..
Then..
Started looking straight at that indistinct form appearing before her field of vision with..
Utter shock..
And with utter dismay..
……………..
After a few seconds..
That indistinct form had gradually started taking a human form..
After a little more time..
It had started taking the form of a stone deity..
Tejal, with her eyes wide open..
Was looking at all the changes..
Taking place in the Divine form appearing in front of her eyes..
……………..
After a closer observation..
Tejal had realized that the form is actually a dark deity made up of a black colored stone..
After furthermore observation,
She had,
With every follicle of hair in her body rising,
Realized that it is the stone deity of none other than her beloved..
Holy Lord..
Sri V..e..n..k..a..t..r..e..s..w..a..r..a..
……………
Almost going into an indescribable state of inexplicable frenzy and divine madness..
Tejal just kept looking at the form of that dark colored stone deity of Lord Venkateswara appearing before her field of vision..
The most striking feature in that deity, as Tejal had told me, was the dazzling Diamond studded Crown, that was adoring the Holy Lord's head..
Tejal just could not believe her eyes..
She quickly looked around to check if anyone else in her shop too was seeing that form..
All there were busy in their work..
Tejal quickly turned her head towards the holy deity, which was still there in the field of her vision, looking straight into her eyes, that moment..
Tejal just could not stand that sharpness in the divine eyes of the Holy Lord..
Her whole body, involuntarily shuddered as though ten thousand watts of live wire had hit her..
Tejal quickly closed her eyes..
She could not stand the sharpness of Lord's Divine Eyes..
After a couple of seconds,
Tejal slowly opened her eyes to know whether the deity form is still there in front of her vision..
Much to her shock, it was still there but after a few more seconds, right in front of Tejal's eyes, it had slowly started disappearing..
After a few more seconds, that Divine form had completely disappeared from Tejal's field of vision.. And after about a minute, everything had become normal in front of Tejal's eyes..
According to Tejal,"the whole divine drama had begun and ended in just about two minutes of time"..
However, Tejal could not know that moment that her Holy Lord Venkateswara had only began the drama and it's going to continue for a few more days..
Next day, a Saturday, Tejal had read the third story in God On Call Book book and had again seen the same Divine form of the same Black colored stone deity of Lord Venkateswara.
It happened again, continuously so, on Sunday, Monday, Tuesday and Wednesday after Tejal had finished reading of the fourth, fifth, sixth and seventh stories in the God On Call Book.
Finally, on Thursday, the 9th of November, 2017
Tejal had read the eighth story, in God On Call Book, titled, "Heart Breaking Devotional Story Of An Extraordinary Kannada Family"..
Reading this most heart touching story in the book, Tejal had come to page number 142 in the book where the concluding paragraphs of this story were printed.. The moment she came to this page, Tejal had received the biggest and the most shocking shock of her life after seeing an image printed in page number 143 of the book.
Tejal just couldn't believe her eyes.. Her whole body started shivering with chills as though she was standing in a freezing zone with temperature at -30 degrees centigrade.. That was an image in the book leading to the ninth story.
However, what shocked Tejal most at that moment was not the image in page number 143 but the Black colored stone deity of Lord Venkateswara with a Diamond studded Crown in that image.
It was that same Black stone Deity, with the same Diamond studded Crown, that Tejal was constantly seeing appearing in front of her eyes in her optical shop in Chennai..
With her whole body going cold, Tejal immediately called her husband Jayakumar and had shown him that image in the book.. She then told him he must read that book which he later did with reverence towards the Lord and with obedience towards his wife.. PERIOD
On that same night of 9th November, 2017, Tejal stood along with her husband Jayakumar, in front of Lord Venkateswara's portrait in their Puja room and told Him with utmost devotion,
"Swamy, thank you very much for your divine blessings.. We are really inspired by the story of Kannada family in the book who were all your devotees.. We may not be as big devotees as they are but we too like them would like to do something for you, Swamy..
You have appeared before me with that dazzling Diamond Crown and I now wish to present You the same Diamond Crown for adoring your Deity in Tirumala Temple, Swamy..
However, with our current financial status, we may not be in a position to do it immediately Swamy, but with Your blessings am sure we would be able to offer it before we leave this human world.
Please bless us Swamy and give us the strength, just the same way You had given to that Kannada Family, to fulfill my promise.. Right from tomorrow, both myself and my husband shall drop fifty rupees each, everyday, in a Hundi that we would be putting up specially in our house for this divine cause.
This humble contribution, at the rate of hundred rupees a day from both of us, may take years and decades for us to reach our goal Swamy.. But as we are young and as we are sure You shall bless us with a long and prosperous life, am confident we shall do our best and keep increasing our contribution to the Hundi as our income keeps growing..
Please bless us Swamy in fulfilling our dream and reaching our goal.. This is the least we would be doing to You for all the Divine Grace You are  showering upon our family"
Epilogue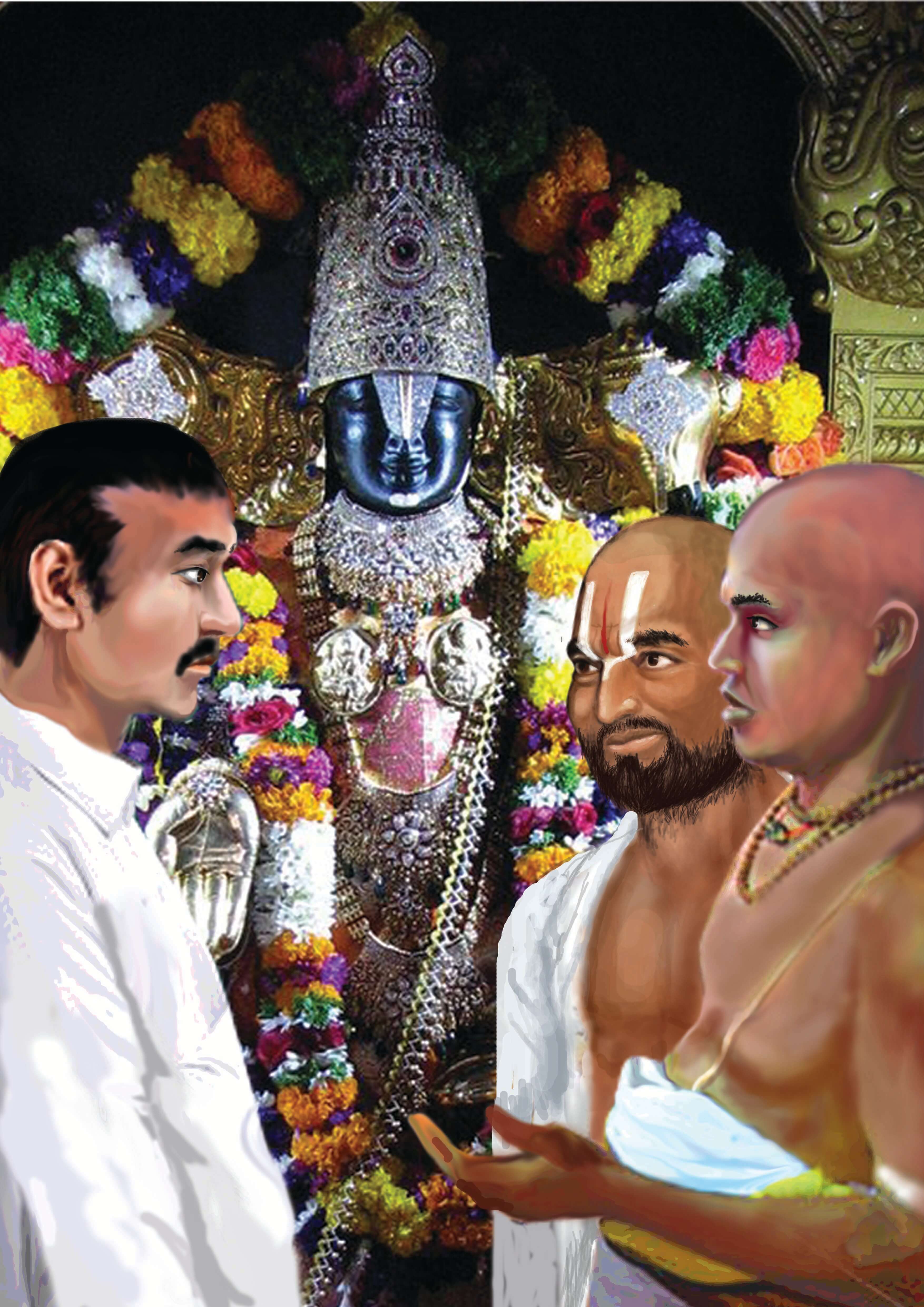 Tejal Jayakumar is my Facebook friend.. Like many readers among you do she too had sent me a friend request and I accepted it.. Then, she had sent me a personal message on Facebook, saying,
"Pranam sir. Like many other followers of your writing i am now sir. I wanted to convey strange things happening for us after reading your book GOD ON CALL. so i request you to share your number and i shall share them with you. JAI SRI KRISHNA"..
I became curious and gave Tejal my number and asked her to call me to call after four days.. She called me and explained me everything in detail.. I just couldn't believe and asked her many questions to make sure that she had really seen the divine Form of Lord Venkateswara..
Tejal explained me every detail sending me into a shock.. She then told me, "Sir, I have visited Tirumala many times in my life but never had such an experience before.. I only had it after I have started reading your God On Call book.. Thank you very much for this great divine book you have gifted to the world, Sir..
Sir, we have our own share of financial problems but after reading about that Kannada Family's story, in the book, and their devotion towards Lord Balaji, I thought we are in a much better position than them so we have decided to offer the same Diamond Crown, that appeared before me, to our Lord, Sir..
We are now confident that He's is watching us and shall protect us from all our problems .. Then what difference does it make, Sir, if it takes thirty or thirty five years for us to procure the money to gift the Diamond Crown to our Lord.. We are young and have all the confidence we can do it.
Finally Sir, I have asked my husband to perform Sri Venakteswara Maha Mantra Puja as detailed by you in the book.. He's going to commence it this Friday.. Please bless us sir"..
I said, "God bless you Tejal.. Am really touched with your story more so with your decision to gift a Diamond Crown to the Holy Lord.. Proud of you and honored to have a reader like you.. The Holy Lord expresses Himself in many ways and this is certainly one among them.. Stay blessed forever and do well in life".
I disconnected the call..
Conclusion
In addition to eleven spellbinding stories, based on real life miraculous incidents, my divine book God On Call presents the Lord Ordained New Powerful Sri Venkateswra Sri Maha Mantra Puja that is miraculously solving many human problems and transforming lives across the world.
Please Click Here to buy the God On Call Book on tirumalesa.com's official eCommerce website, Prabhoota.
Please Click Here to buy it and also read some amazing five star reviews given to the book on Amazon India.
Readers from USA, Canada and Mexico may Click Here to buy this book on Amazon North America.
Paahi Hare.. Pari Paahi Hare..
Love
Narrenaditya Komaragiri
narrenaditya@tirumalesa.com
To know more about the author please click here