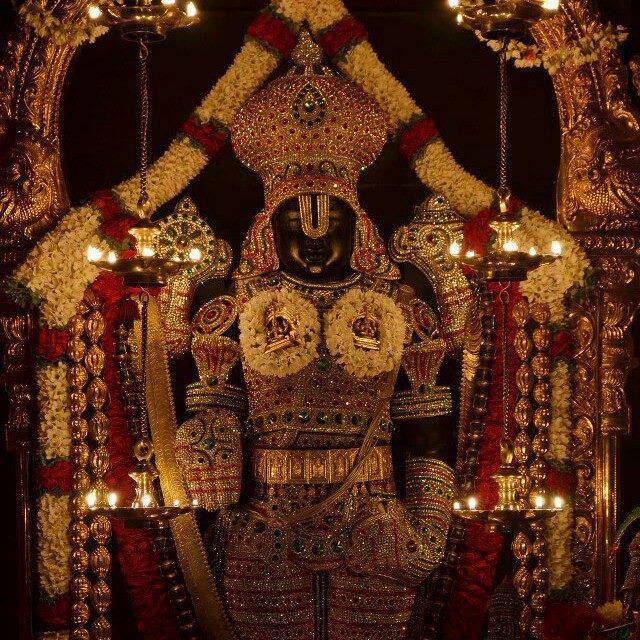 This mind boggling miraculous incident occurred in 1981 during the most auspicious times of the annual Salakatla Tirumala Brahmotsavams and on the most auspicious day of Friday and during the most auspicious moments of the Abhishekam Seva that was being performed to Lord Sri Venkateswara in the Garbha Griha of Tirumala temple that day..
But before proceeding to read about this divine incident it's important to know
What Exactly Is Abhishekam Seva That's Performed To Sri Varu (Lord Sri Venkateswara) In Tirumala Temple Every Friday..??
Abhishekham is not only the most popular seva among all the weekly Sevas performed to the moola virat Lord Sri Venkateswara in Tirumala temple but is also the most sought after Seva among His ardent devotees..
This rare seva is meant only for couples and as a 'do not disturb' rule, children below 12-years of age are strictly prohibited from taking part in this seva..
It is only during this auspicious Seva that a devotee gets a chance of his lifetime to view the real and the complete form of Lord Sri Venkateswara, which in spiritual terms is called the 'Nija Roopa Darsanam'…
Therefore, there's always a huge demand for this Seva and the tickets for the same, if you believe me, are booked as well as thirty to forty years in advance..
According to Vedic texts, anyone who views Lord Sri Venkateswara in His real form, as said above, will be emancipated from all the sins of this inhuman world and attains salvation (moksha).. PEACE
During this elaborate Seva, that is performed for about ninety minutes in the early morning hours after the Suprabhatha Seva, Thomala seva and Archana seva every Friday, the diamond crown, all the finery, all the jewelry and all the rich silk clothes worn by the holy Lord Venkateswara would be removed first, and then the process of the Sacred Bath to the Lord is begun by the designated priests of the Tirumala Temple.
During this sacred bathing process, while some priests perform the bathing to the Moola Virat, the others stand in front of Him and recite Purshasukta, Narayanasukta, Srisukta, Bhusuktha, Neelasuktha and some select Pasurams from the Divya Pradbandhams.. This entire process is called the Abhishekam Seva ..
During this seva, firstly Sri Varu is ceremoniously bathed with the holy water, that is traditionally brought by a temple priest from the Akasha Ganga teertham, and later with Civet Cat oil called the Civet Vessel, the aromatic Musk called the Musk vessel, pure milk and honey in addition to many other aromatic oils.
A huge bronze vessel, traditionally called a Gangalam, would be placed at the entrance of the Garbha Griha of the temple to facilitate the participating devotees offer milk to the holy Lord.. The temple priests in turn use this same milk for bathing Sri Varu during the Abhishekam..
After the entire Abhishekam process is complete, Sri Varu is draped with rich Silk robes called the 'Pattu Peethambarams'.. Here a few devotees are offered an opportunity to present these silk robes to the holy Lord Sri Venkateswara..
This seva is called the 'Vasthralakarana Seva' or 'Mel Saatthu Vastram' which in Tamil language means 'the cloth that adorns the exterior body'..
Although it is an an extended part of the Abhishekam seva, this 'Vasthralakarana Seva' to the holy Lord is performed as a separate seva.. Only eight tickets per week are sold to eight couples.. These couples too are selected on the basis of a lottery system.. Each Ticket for this particular seva costs about INR 12,250 and currently has a waiting list of seven years..
These selected eight couples would then be kept ready to enter the Sanctum Sanctorum of the Tirumala Temple by the end of the Abhishekam seva.. Later, at the time of entering the temple, while the husband carries the silk robes on his head, the wife carries a silver plate in her hand..
Later, this couple partakes in a small worship to the holy Lord after which the wife collects the silk robes from her husband; places them in the silver plate in her hand; and then carefully hands it over to the temple priests who in turn decorate the holy Lord with those robes.
As is customary in Tirumala temple, the Executive Officer of the Tirumala Tirupathi Devasthanams Board too attends all these sevas every Friday, along with his wife.. This is a facility the TTD board offers to all it's Executive Officers as long as they hold the designated office of the TTD board.
And Now This Is What Exactly Had Happened During That Abhishekam Seva On That Eventful Friday..
On the early hours of that Friday, during the annual Tirumala Brahmotsavams of 1981, the entire sacred Tirumala hills were alive and active with the echoing of 'Govinda' namam by hundreds of thousands of devotees who had specially come from many parts of the world to witness the Brahmotsavams.
And during those precious moments, the Abhishekam seva to Sri Varu was about to begin in the Garbha Griha of the Tirumala Temple.. The small area in front of the Garbha Griha was fully occupied by the ticket holding couples (arjitha grihasthas) who had specially come there to witness the Abhishekam seva that day.
PVRK Prasad, the Executive Officer of the TTD Board and his wife Gopika were sitting in the front row of the participants waiting to witness the Abhishekam.. Finally, the countdown for the most awaited seva had begun in the Tirumala Temple as the musicians started playing the traditional musical instruments (mangala vayidyams) to please the holy Lord..
After a few minutes, the closed door curtain of the Garbha Griha was opened and the devotees were given the opportunity of their lifetime to view the divya mangala swaroopam of the holy lord Sri Venkateswara .. Going into raptures all those devotees started chanting loudly the sacred 'Govinda Namas'.
The Abishekam Seva Was About To Begin..
There was great excitement and curiosity in each and every devotee's face there.. Silently offering prayers to their beloved Lord Sri Venkateswara, the devotees were eagerly waiting for the commencement of the most auspicious process of their lifetime they all have been so eagerly waiting for years, to witness..
But quite surprisingly, although the dotted line to commence the Abhishekam seva has arrived, the seva had not commenced yet.. The devotees may not know about the exact time of the commencement of the seva but as the Executive Officer of TTD, Prasad certainly knows.
He also knows that it is on the same dotted line that the Abbhishekam to Sri Varu was beginning to be performed for the last several centuries and there's no evidence in the records that it missed the line anytime..
Then "why today" he thought.. As he was so thinking, he suddenly found the Jeeyangar in a serious discussion with the priests inside the Garbha Griha of the temple.. Later, shocking Prasad furthermore, the door curtain of the Garbha Griha was closed again.
What Is Happening Inside And Why Is The Delay..??
Although worried, Prasad still waited for the commencement of Abhishekam for a few more minutes.. He then saw a couple of assistant priests going out, carrying two large tumblers in their hands, and quickly returning with two other different tumblers.
Smelling something wrong, Prasad then turned his head and found Seshadri, the then Peshkar of the TTD board – who is now more popularly known as dollar Seshadri – and other temple staff hurriedly and worriedly loitering around.
Unable to understand what was happening around him, Prasad called a priest and asked, "..why the delay and what's happening..".. The priest hurriedly said, "Nothing sir.. we are commencing the Abhishekam in two minutes.." and rushed inside..
"When everything is arranged and kept ready much in advance by my staff for the Abhishekam, then why is this delay today and what is that they are all waiting for" a worried Prasad looked around..
He then saw a few more large tumblers coming in and going out.. He worriedly looked around again and saw many confused TTD faces all around him..
Prasad's wife Gopika,who witnessed the Abhishekam seva many times before,along with her husband, knows well what time the seva commences in the Temple.. Therefore she too was worried a bit with that unusual and unprecedented delay..However,she remained quiet as she didn't want to bother her already worried husband..
Finally..
After a few more minutes of uncertainty and a few more minutes of silent waiting, the Abhishekam seva finally commenced, much to the delight of the devotees and much to the relief of Prasad and Gopika..
Following all the rituals in the texts and with complete spiritual discipline, the priests started performing the Abhishekam seva to Sri Varu with utmost perfection..
One after the other, the priests bathed the holy Lord with water and with all the other ingredients but when it came to using milk, they were using it in small quantities and not in large quantities that they normally use every Friday.
(Normally about 250 liters of pure Milk is used every Friday, during the Abhishekam, but surprisingly on that day only a little quantity of five liters was used..)
The devotees may not have noticed the difference but the meticulous PVRK Prasad and his wife Gopika have certainly noticed it..
"Why only a few Conches of milk is used to bath Swamy Varu today.. What happened to all the milk.. Something went wrong somewhere and these people are hiding it from me.. But what went wrong.. What is happening.. Is Sri Varu upset with anything here.. If so, why this sudden shortage of milk.. And why is that they have not reported this matter to me earlier.."
Prasad was a worried man.. A disturbed man.. And a restless man.. He was very uneasy with himself and sat through the entire sacred process with great restlessness..
Finally, after the Abhishekam seva was complete, a fully fretting and fuming Prasad hurriedly walked out of the Sanctum Sanctorum of the Tirumala temple, along with his wife Gopika, and immediately called for all the temple priests, Jeeyangar and peshkar and all the staff in-charge of the Abhishekam seva for an explanation meeting in front of the Maha Dwaram of the Tirumala Temple.
All of them came running out and stood silently in front of Prasad.. Looking seriously at them and with a great difficulty trying to remain composed, Prasad said.
"..This glorious Tirumala Temple has thousands of years of spiritual history and we all are honored to be HIS servants.. We should feel proud that we got such a noble opportunity to serve Him and His devotees in our lifetime.."
"And as far as I know, this Abhishekam seva, ever since it was introduced in 966 AD, is being performed strictly on time and strictly according to the rituals prescribed in the texts.. Then why is that it is delayed today and why is that only a little quantity of milk is used to bath Swamy Varu today.."
No one uttered a word, as Prasad continued..
"..I know we use 250 liters of milk every Friday then why so less today.. What happened to all that milk.. Which cat consumed it.. Please explain.. You all owe me an explanation.. You also need to remember that am in turn answerable to my higher authorities for this unprecedented occurrence.."
There was an absolute silence there for a few embarrassing moments.. Everyone just remained silent looking at each other's face.. Gopika too was very much disturbed and speechless.. Then breaking all the silence the Peshkar Seshadri said..
"..Sir,there's no mistake from any one of us here.. Normally our TTD dairy farm supplies the milk to our temple and also to all our canteens here.. Unfortunately,the milk that was supplied today was alright until we carried it into the Garbha Griha but surprisingly our honorable priests found it split just before the commencement of the Abhishekam..
Since it is inauspicious to use split milk for the Abhishekam of Sri Varu, we immediately rushed our temple staff to procure milk from our canteens.. That milk too, which was fine until it was brought to the Garbha Griha, is found split just before the Abhishekam.. We didn't know what to do since we didn't had any milk left with us anywhere..But.."
The Peshkar was about to say something more but a fully raged PVRK Prasad interrupted him saying, "when so much of drama is happening here in the Temple what's that our dairy farm superintendent is doing .. Is it not his duty to supply pure milk to the Temple.. It means he failed in his duties"..
Then furiously turning towards his secretary, Prasad said in an angry tone.. "Holding the superintendent of our TTD dairy farm morally responsible for this unpleasant incident today, am suspending the superintendent from all his duties with immediate effect.. Quickly prepare a note and send it to me for endorsement.."
And suddenly shocking everyone around..
Gopika, wife of PVRK Prasad, who was until then observing the whole drama with a disturbed mind broke down with unstoppable tears.. Weeping loudly she told her husband,
"We are attending the Abhishekam seva ever since you assumed the office here in 1979.. Ever since, you know well, we have been planning to contribute,on our family's behalf, five liters of milk to Swamy Varu for Abhishekam on one Friday but every time we are forgetting to do so and attending the Abhishekam for the last two years..
Both of us thought we should at any cost offer milk today and I have in fact ordered for five liters of extra milk only for this purpose and kept it ready at our home for Abhishekam but forgot again while coming in the morning today..
I was too busy with guests at home, who had come to attend the Brahmotsavams, and hurriedly came to the Temple with you in the morning.. This shortage of milk wouldn't have occurred if I had brought those five liters of milk today..
I think I have sinned in my life therefore Sri Varu is punishing me this way by making me forgetful every time we come to the temple.. Otherwise why is this happening to us so frequently..", saying so, Gopika broke down into endless tears.
Then leaving everyone around him speechless and sending them into a state of utter shock this was what the Jeeyangar had finally said,
"Amma.. Don't worry.. It's all your beloved Swamy Varu's leela.. The Peshkar was about to tell that but Sri Prasad interrupted him.. Actually when we were left with no more pure milk to offer to Swamy Varu today, we were all much worried with the unforeseen development..
We then called your assistant to find out if there's any extra milk available in your house.. He rushed to your house and asked your family members.. They then gave him the special container, in which you have stored the five liters of milk, saying "your Gopika madam kept this milk for Abhishekam today and forgot to take it with her..
Then your assistant quickly brought that milk container to us.. Since we aren't left with any other milk we have used only those five liters of milk that had come from your house in Abhishekam to Sri Varu today.."
The Jeeyangar hasn't completed what he was saying but a much delighted Gopika quickly turned towards the Golden Gopuram of the Tirumala Temple and stood silently, offering her prayers to her beloved Lord Sri Venkateswara, until the suspended dairy farm superintendent came running there..
Almost weeping he offered his apologies to Prasad and said. "..Sir am working in TTD for the last twenty five years and there was never a single remark against me.. Such kind of an error never occurred before at least not in my service.. Am unable to understand how it all happened today sir..
"Sir, as I do everyday I have supplied the same milk to the Temple and also to our canteens this morning .. When Gopika madam asked for additional five liters of milk, I have sent the same milk to your house as well.. But that milk did not split.. It means there's no mistake from my side sir.. When there's nothing from.."
Prasad didn't allow the TTD dairy farm Superintendent to say what he wanted to say, however, he quickly revoked his suspension order..
CONCLUSION
Why only the milk supplied to the Temple and the canteen was found split..??.. And why is that the five liters of milk supplied to PVRK Prasad's house didn't split..??.. Who gave the idea to the temple priests to send the assistant to Prasad's house for milk..??..
Who can provide answers to these questions..??.. Can any atheist or a Nobel Laureate have answers to these questions. .Or
" Sri Padmanabha, Purushottama, Vasudeva, Vaikunta, Madhava, Janardhana, Chakrapani"
will come and answer..??.. Who will tell us..??..  And who knows..??
Now, please Click Here to buy God On Call, a powerful book on Lord Venkateswara with 12 more such spellbinding stories and the life changing Sri Venkateswara Maha Mantra Puja. 
Love
Narrenaditya Komaragiri
narrenaditya@tirumalesa.com
To know more about the author please click here