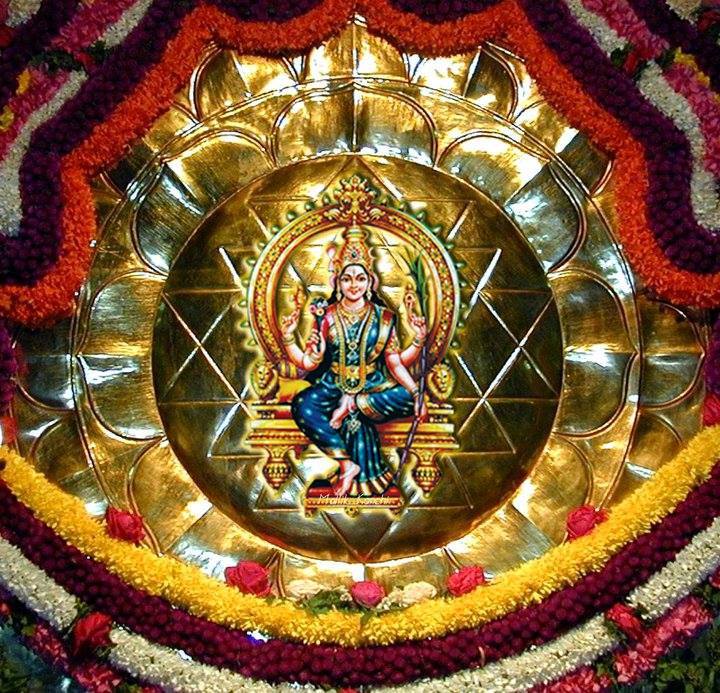 Please Click Here to read the previous part of this story..Now please continue reading this part..
As you all may be remembering..
The mystic Brahmin,Nemani Subbarao sat in meditation of Gayathri manthra,that beautiful morning,in the sacred forests of Naimisaranyam and placed the following questions,through his prayers,before the holy Goddess Gayathri..
"..Ammaa..Please tell me..Who is that person who could help me and guide me in performing the "Maha Yagnam"..Please tell me Ammaa,who is that person who would lead from the front and organize this event ..Please tell me Ammaa..Who is that person who's capable of raising money for this whole event.. ???.."
In response to the mystic Brahmin's more mystic question,this was what the Mother Goddess Gayathri told Subbarao..
"Dear Subbarao,am really happy with the way you perform your meditation; with the discipline you  lead your life; with the perfection you perform your duties; with the commitment you take up any task; and with the perseverance you pursue any matter in your life..
Therefore I know a disciplined man like you needs not only another disciplined person but also someone who has extraordinary abilities to handle any task in life and exceptional organisational skills to conduct any event he is assigned with…
And this spiritual event of Maha Yagnam,Subbarao,which I want you to conduct,is not an ordinary event ..It needs someone who is more extraordinary than the most extraordinary people in this class..And he should also be the one who should have a tremendous spiritual bent of mind with a clear perception of Vedic laws and dharma suthras..
So,there can't be a better person than P V R K Prasad in this world to guide you in all aspects related to this massive event Subbarao..He's the most ideal person with enormous 'Sankalapa Sidhdhi' as well..He is also the only one who can audaciously stand beside you and conduct this whole Maha Yagnam with ease..
Finally Subbarao..Prasad is the most capable person to raise any amount of  money needed for this very special event..Go and meet him..He shall do everything you want him to do for the successful completion of this Maha Yagnam,Subbarao.."
Saying so,the divine voice of Mother Goddess Gayathri disappeared..
For a few seconds,Subbarao remained in that dhyana mudra without opening his eyes..
He couldn't believe what he just heard from the holy Goddess..After comprehending everything that the Goddess told him,Subbarao slowly opened his eyes and looked around..
He found the entire atmosphere there very serene and completely divine..Then a gentle smile appeared on Subbarao's lips..He slowly got up from there and walked into his room..
At the time Subbarao entered the room..
His wife Venkata Lakshmi and others were busy in kitchen activities..After seeing Subbarao walking into the room,Venkata Lakshmi left the work she was thus far handling there and quickly prepared a cup of filter coffee for him and served it to him piping hot..
Later in the evening..
Subbarao,Venkata Lakshmi,Subbarao's uncle Venkateswar Rao and aunt Nirmala Devi sat in the small veranda of their room to discuss about what Goddess Gayathri had told Subbarao that morning..
Starting the conversation,Subbarao said,"As we discussed yesterday I have asked Mother today to tell me the name of the person who would lead from the front and conduct the Maha Yagnam..She said P V R K Prasad is the one to conduct this divine task to perfection.."
Everyone was listening to Subbarao without uttering a word,as Subbarao continued..
"I remember hearing about him a couple of times but do not exactly remember who he is..How to know that and how to approach him at all…More importantly,why did Mother tell only about him..I somehow don't understand..However,there must be something very special about this man..Otherwise why would Mother recommend his name.."
It was then the elderly Venkateswarao,uncle of Subbarao spoke..He said.
"Oreyi abbayi..P V R K Prasad is not an ordinary person..In fact,he is a very competent IAS officer who had held many prominent posts all over India..He was the former Executive Officer of Tirumala Tirupathi Devasthanams (TTD) board and was also the Chairman of Vizag Port Trust.. Above all he was a crucial adviser to former Indian Prime Minister P V Narasimha Rao..
It was during his tenure in P M O (Prime Minister's Office) that Prasad had advised P V Narasimha Rao to allow foreign investments and foreign companies enter Indian market..The honorable prime minister too promptly obliged..
That is how many major foreign companies are now entering India..It was entirely Prasad's vision that is changing the Indian economy today and is designing an altogether new India..
Very few know that it was Prasad who,on behalf of the prime minister Narasimha Rao,handled the sensitive issue of the holy Ayodhya temple after the demolition of Babri Masjid..It was also Prasad who effectively negotiated with many famous Muslim religious heads as well as popular Hindu sadhus and saints..
Prasad also played a major role in diffusing the communal tension those days..Just because he is such an efficient and multi faceted personality Goddess Gayathri may have chosen him for this task.."
To say the least,Subbarao was surprised to hear about P V R K Prasad's enormous competence and great credentials…He could then understand why Goddess Gayathri had only told about Prasad..
VenkataLakshmi,who was thus far following the whole conversation in complete silence,suddenly raised a quick question..She said
"Maavayya garu..According to what you said,Prasad is a big man and is certainly beyond our reach and even our imagination..Even if we some how reach him someday,why would he believe us..What if he heckles at us and say that this dhothi clad Brahmin is playing tricks to collect donation from him.."
Quickly interrupting his wife,Subbarao said..
"My Mother Goddess,who had given me the idea of this Maha Yagnam and told me the name of Prasad, knows well how to handle all such issues and take things forward..Who are we except mere puppets in Her hands..She had begun a new cosmic drama and knows well how to define the roles and duties of each character in the drama..
She also knows how to successfully run the whole drama and where to end it..Then why break our heads about things that are not in any way under our control…Let us wait and see how She unfurls each scene in this drama..
Until then let us all keep this divine secret to ourselves; finish off the rest of our duties here in this sacred Naimisaranyam; and then go back to Visakhapatnam..Whenever Mother again asks me to commence the work,related to the Maha Yagnam,I shall gladly oblige..Until then let us all relax and take life as it comes .."
After that firm statement from Subbarao,no one in the room,not even the elderly Venkateswar Rao,had uttered a word..
Later,things and duties gradually moved in the lives of Subbarao and others..
After a few more days of uneasy stay; a few more days of peaceful meditation; a few more days of a little uncertainty; and a few more days of small and frightening incidents in the glorious forests of the sacred Naimisaranyam..
Subbarao and others,on one fine morning,have happily returned to their respective cities of Hyderabad and Visakhapatnam….
Initially for about fifteen days in Visakhapatnam,
Subbarao and Venkata Lakshmi did nothing except taking rest after spending that strenuous time in the forests of Naimisaranyam..During that period of rest,all their well learned neighbors in Visakhapatnam have taken good care of them as well as their daily needs..
Later,while Subbarao slowly commenced his tuition classes,his wife Venkata Lakshmi commenced her daily chores..
For about a month life was just normal for the noble couple without anything dramatic happening..It was just like that
Until that morning..
When Subbarao sat in his daily meditation of the Gayathri manthra while a few incoherent thoughts started disturbing his mind..
"Why is that Mother is not telling me anything about the Maha Yagnam..There's not much time left now ..Where should I make a beginning and with whom should I first talk about this..How to meet P V R K Prasad..Who will take me to him..Who knows him so closely..Will that person be able to take me to Prasad.."
For a few minutes there was no response from the Mother Goddess Gayathri..Not bothering much about anything,Subbarao continued his meditation for another one hour..
Exactly when he was about to arrive at the concluding stage of meditation,Subbarao suddenly heard the divine musical voice of Goddess Mother Gayathri..
And this was what the Goddess told Subbarao..
"..Dear Subbarao..Leave everything to me..I shall guide you accordingly and keep telling you,from time to time,what to do,when to do and whom to meet..Firstly,I shall give you two competent persons from Visakhapatnam to help you in every aspect of the Maha Yagnam..
One of these two persons is your close family friend and well wisher,Ivaturi Veerabhadrarao..Go and meet him first on this coming Saturday and tell him about my plans for the Maha Yagnam..
But remember Subbarao..You should go to his house at 6.15 p m that day and tell him about this event between 6.20 p m and 7.20 p m only..Not a minute before that and not one after that..Then after a few days I shall tell you the name of the person who would be helping you in meeting P V R K Prasad.."
Saying so,the divine voice of Mother Gayathri disappeared..
Subbarao was surprised with Mother's choice..Surprised because it was Veerabhadra Rao who always stood by Subbarao whenever Subbarao needed any moral support..
It was also this same Ivaturi Veerabhadra Rao,whom Subbarao very fondly calls "Baabanna",who helped Subbarao in meeting the five Ghanapaatis who later performed Veda Swasthi in Subbarao's house after he completed the one crore time recitation of the Gayathri Manthra..
But why did Goddess Gayathri told Subbarao to discuss with his beloved friend only between 6.20 p m and 7.20 p m..Is there any divine secret behind that..??
Indeed there is one…But I shall come to that later.. PERIOD
In the meantime,as instructed by Goddess Gayathri..
Subbarao went to his friend,Ivaturi Veerabhadrarao's house the next Saturday at 6.15 p m and at exactly 6.20 p m commenced the all important discussion with him about the Maha Yagnam..
The entire discussion concluded at exactly 7.20 p m..
During that one hour of discussion,Subbarao told his beloved friend everything that Goddess Gayathri had done to him and told him during his forty days of stay in Naimisaranyam..He had also told him about the Goddess's plans to conduct the Maha Yagnam for the well being of humanity..
Finally he told his friend,"Baabannaa..You are the first person to know this divine secret..Amma told me your name a few days ago and asked me to seek your support in successfully completing this Maha Yagnam.."
Unable to believe what his friend Subbarao was saying,a fully emotional Veerabhadrarao quickly got up from his chair and strongly embraced his beloved friend..
With tears rolling down his cheeks,he told his friend,
"Dear Subbarao..I always feel honored to be your friend..Now am feeling extremely blessed that the holy Goddess Gayathri has mentioned my name in Her conversation with you and asked you to seek help from me..But who am I Subbarao,except a mere mortal..May be I have done something good in my past life or may be in this life..Otherwise why would She take my name now..
From this moment Subbarao,am going to be  with you 24×7 and do whatever you want me to do for the benefit of Maha Yagnam..Please order anything you want Subbarao..I shall take it as holy Goddess's blessings.."
Thanking his friend,an equally emotional Subbarao said,"Thanks Baabannaa..I shall certainly take your help when I need it the most..Amma asked me to wait for further instructions and I shall get back to you as and when required.. Thanks again Baabannaa.."..
PERIOD
Now,here are some surprising elements in the story that not only defy logic but also may never get any answers in future..
I have been very often telling everywhere and also to everyone possible that "Am not writing this story instead holy Goddess Herself is writing it using me as a tool..Every word and every sentence in this story is written by Her and I only feel blessed that I have been chosen by Her to present it before the world.."
"Many times I have strongly felt Her presence around me,while writing this story,and there were also many clues that emphatically establish Her aura around me..(Small example : My net connection that normally gets disconnected a million times during my operations on other days of the week never gets disconnected at least once while writing this story..)
However,here's one stronger proof that Goddess Gayathri is writing this story..
Let me remind you one paragraph from the previous part of this story..Am presenting it here again for your convenience..Please go through..
Saying so Venkata Lakshmi broke down into furthermore tears..Consoling her,Venkateswar Rao,an elderly uncle of Subbarao said,
"Ammaa Lakshmi..Please control yourself and allow Subbarao to say what he wants to say..If you don't like it,I shall on my own book return tickets for us tomorrow.."
Originally,while writing that part,I never had any idea of including this dialogue from that elderly Sri Venkateswar Rao..It was while re reading the whole episode I thought
"Normally when such heated discussions are taking place in a family,elderly people shall not keep quiet.. They would certainly interfere and say something,mostly in support of women..This happens in every house and it must have happened there as well but Sri Subbarao must have forgotten to tell me.."
Using my creative dicretion,I have then,in the last moment,added that paragraph to that part to heighten the drama in the story..
Until yesterday,I was under delusion or Maya thinking that "..I have added that paragraph to the story.."..It was so until Sri Subbarao told me what exactly had happened on the night of 11th Aug,2015..
Then we both have come to a conclusion that it was not I but Goddess Gayathri who had incorporated that paragraph into the story..That too in the last moment..
But why did She do that..???
Because the holy Mother wanted the name of one of Her beloved sons,Venkateswar Rao,who played a major role in the Maha Yagnam,to be known to the reading world at least three days before his departure from this human world..
Goddess Gayathri also wanted Sri Venakateswar Rao to know,much before his departure from this world ,that his name was prominently mentioned in this life changing story through one important dialogue..( I may have given his references on a couple of occasions in the past too but this was a very dramatic addition in the last moment which I had never imagined before)
Sri Venkateswar Rao,who is a retired State Bank manager,departed from this world on the night of 11th August,2015..Until Sri Subbarao had told me about it,I wasn't aware about his departure..
May the departed noble soul of Sri Venkateswar Rao rest in peace..
Surprisingly,there's one more thing in the story..
Sri Ivaturi Veerabhadra Rao,who's currently living in U S,had sent me a friend request on Facebook just a couple of days ago..Until morning yesterday I didn't know that am going to write about him today..
When Sri Subbarao was narrating the further story over phone yesterday,I was surprised to hear about Sri Rao's entry into the story..Sri Subbarao in turn was surprised to hear from me about the friend request his close friend had sent me only a couple of days ago..
Sri Rao may be knowing that his character would be sooner or later entering the story but am sure he too is unaware that am going to write about him in this part..PERIOD..
Now why did Goddess Gayathri ask Subbarao to discuss with his friend Veerabhadra Rao only between 6.20 p m and 7.20 p m..Because during that period Sri Rao received about ten to twenty urgent calls on his mobile..
Surprisingly,neither Subbarao nor Veerabhadra Rao heard those calls during the conversation..The phone was not in any silent mode nor was that an old phone..
Everything was perfect with it and at exactly at 7.21 p m the same phone rang again which the both friends heard and exactly at 7.30 p m Veerabhadra Rao left for Hyderabad..
But why so suddenly..??
Because one of Rao's close family relatives passed away in Hyderabad exactly at that time when he was conversing with Subbarao..When that relative's bereaved family members called Rao on his mobile,he couldn't respond..
And if only he responded he may have left immediately thus leaving the all important conversation inconclusive..Miraculously,Rao responded to those calls only at 7.21 p m after his conversation with Subbarao was complete..
Can anyone now tell me..
Why is that Rao's mobile didn't ring when everything was so perfect with it..??
Why is that I have written about Venkateswar Rao in the story only three days before his death when there were several occasions in the past where I could have written more about him..??
Why is that Veerabhadra Rao had sent me a friend request only a couple of days ago when he's closely following this story right from the beginning that too after knowing well that am writing this story..???
Rao had also send me a mail a couple of months ago telling me about his friendship with Subbarao..Then why is that he had not send me a request then and there when he's so active on Facebook..???
Finally,the most important question..
Am I really writing this story..??..
I know am not and it would be a joke if anyone believes so..
Then Who is writing this story..??
Who will answer these questions and if so when..???..
"..Sthirathaa nahi nahi re maanasa..Sthirathaa nahi nahi re..Taapatraya saagara magnaanam..Darpaa hankaara vilagnaanam..Sthirathaa nahi nahi re maanasa..Sthirathaa nahi nahi re.."
WARNING : All rights whatsoever concerned with this story belong solely and wholly to Narrenaditya Komaragiri – as it's writer and creator – and anyone violating the same,by trying to copy a part or full portion of this story for any other website,Facebook page, novel or  book,T V Serial, feature film or for some other commercial purposes,is liable to be prosecuted under criminal laws of Indian judiciary..
Please Click Here to read the "Shocking True Story Of A Mystic Brahmin Who Converses With Goddess Gayathri – Part Thirty One"
Love and regards
Narrenaditya Komaragiri
To know more about the author please click here