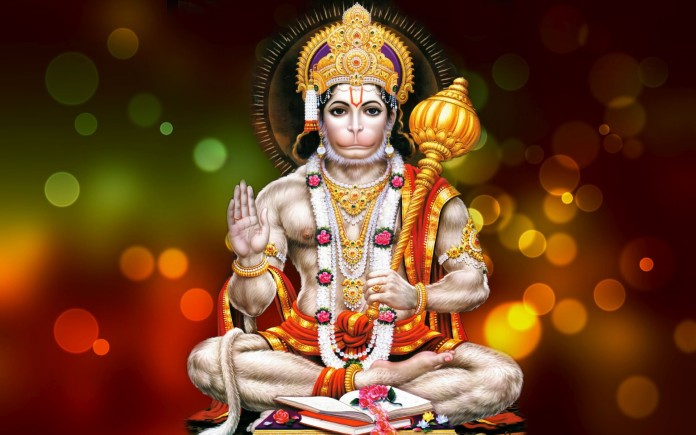 Please Click Here to read the previous parts of this story..Now please continue reading this part..
On that darkness filled night in Naimisaranyam
After Goddess Gayathri had told the mystic Brahmin Subbarao that Lord Sri Hanuman was standing tall behind the Eucalyptus trees,Subbarao,as you all must have read in the previous part,had for a long time kept looking around to find the powerful God..
Unfortunately he could not find the Lord there..
And understandably so,Subbarao was disappointed..Frustrated..And remained upset for a longtime..
"..Why is that Hanuman is not visible to me when Mother Goddess Gayathri had clearly told me that He is standing behind those Eucalyptus trees..When He is standing behind those trees then why is that am I not able to see Him..Is that due to my misfortune or is that because my eyes are too sin filled to view the most powerful God of this universe..How do I know.."
"Daasarathe..Karunaa Payonidhee..Why is this ordeal to me ..???.."
Struggling within himself,Subbarao,at that moment,was standing in the darkness filled vacant corridors of the Balaji Mandir in Naimisaranyam..He had just finished his conversation,over phone,with his close cousin Hanumanthu in Visakakhapatnam..
It was raining heavily outside in Naimisaranyam..
It was also raining heavily inside Subbarao..
Looking at the bursting thunders on the Eastern firmament,Subbarao was still thinking deep inside him and was talking to himself..
"Why is that I'm unable see Hanuman" is all that he was asking himself often that time..
Suddenly there was a huge lightning in the sky..And then a roaring thunder..And then a heavy silence..In that heavy silence,there was only a gentle sound of rainfall audible there and to Subbarao..
Suddenly,from that silence emanated a gentle smile first..Then a musical divine voice..
This was what the musical divine voice said..
"..Dear Subbarao..I told you Hanuman was standing there..In fact He's still standing there and would be standing there as long as you are in Namisaranyam..But you will not be able to see Him because He's in constant 'Dhyanam',as He always would be,chanting the holy name of His beloved Lord Sri Ram.
All these rain drops you are now seeing are nothing but the reflections of the glorious positive vibrations of the powerful name of Sri Ram,Hanuman is now chanting..Whether He is in a standing position or a sitting one,Hanuman would always be chanting His Lord Sri Ram's name which is why He doesn't like to be disturbed by anything..It is also for this reason He's not visible to you..
But so what Subbarao..Did you forget that Hanuman spoke to you when you constructed a house in Visakhapatnam..Did you forget that He became alive in the statue and His body moved for a few seconds when you sat on His shoulders to garland Him..
And still you are worried Subbarao..??..Then you need to know that even now Hanuman is watching you with His 'Divya Gnana Chakshuvu' (eye of wisdom) so you don't need to worry about not seeing Him.."
Saying so the divine voice disappeared..
Subbarao was delighted to say the least..
He went into emotional raptures recollecting that divine incident which occurred in his life,in the year 1994,in Visakhapatnam..
But what was that divine incident and why did it occur..??
As you all know,having a own house is the dream of every middle class family man and Subbarao too,just like you and me,had a desire deep inside him to have one such house..
After seeing almost every problem in life,any one would have even dreaded to see,Subbarao had finally decided in 1993 to have a house of his own in Visakhpatnam..
After running from pillar to post,for about eighteen months,to obtain a meager housing loan of INR 75,000 from the Life Insurance Corporation Of India (LIC),Subbarao had finally decided to go ahead with his construction plans after getting that loan….
Having decided so,he had on one auspicious morning laid the first foundation stone to his proposed house in Vizag..
Thereafter,Subbarao commenced the 'Sundara Kanda' parayan,at the rented house he was staying,for a successful unhindered construction of his new house..(Recitation of Sundara Kanda part from the holy epic,Ramayan)..
But what is Sundara Kanda..??
For the knowledge of those who do not know,'Sundara Kanda' (Hindi सुंदरकाण्ड),which literally means a beautiful episode,is the fifth chapter in the holy Hindu epic of 'Ramayan'..
This particular chapter,the only chapter in Ramayan that's entirely dedicated to the heroics of Lord Sri Hanuman,depicts the epic journey of Hanuman to Lanka which He had undertaken to find His Mother Goddess Sita Devi..
'Sundara Kanda' is also the only chapter in Ramayan wherein it's not Lord Sri Ram but Lord Hanuman who is portrayed as the hero by Sage Valmiki,the writer of Ramayan..Since Hanuman is fondly called 'Sundar' by His beloved mother Anjana Devi,Valmiki named this chapter 'Sundara Kanda'..
It's a sacred practice in many Indian houses,for many centuries now,to perform the 'Sundara Kanda' parayan whenever someone in the family is going through tough times..Many Hindus strongly believe that
"..The recitation of at least one page everyday from Sundara Kanda chapter of Ramayan shall remove all the obstacles in our career and would ward off all the evil forces from our lives by the time we complete it's recitation.."
I still remember a scholarly personality by name Sri. Jamadagni Sarma coming to our house everyday,in my childhood,and reciting "Sundara Kanda',on behalf of my beloved father,who at that time was going through the toughest times of his professional life..
This was in the year 1976 when my father was working as Principal of SR&BGNR govt.degree college in Khammam district of Andhra Pradesh..(I was born at this place)..
Since my father was too busy struggling to overcome the greatest crisis of his life,my mother requested the elderly Sri Sarma to perform the 'Sundara Kanda' parayan in our house,on behalf of my father..
Believe me..
According to my Mother,by the time the parayan of Sundara Kanda was complete,my father had not only come out of the gravest crisis of his life but had also led a very contented and successful life,thereafter .
As long as she was alive,my Mother would often refer to this phase in my dad's life emphatically telling us about the power and glory of the 'Sundara Kanda' parayan..
PERIOD
From the day he began his parayan of Sundara Kanda,Subbarao went about reading one page each from the holy chapter..By the time he completed the recitation or the parayan of the same,all the hurdles that were thus far blocking the construction of his house were quite miraculously eliminated..
After successfully completing the construction of his much desired own house in the China Musidiwada area of Visakhapatnam city,Subbarao was struck by one big dilemma..
"..What name should I give to my dream home..??.." was the dilemma..
Subbarao thought many names and heard a few more from his friends and relatives but nothing pleased him the most and nothing was sounding beautiful to him..
As is still his habit today,Subbarao just remained thinking about it again and again and again and again and again for many days,
Until one fine morning…
When he was deep in his meditation..
When there was a divine silence all around him..
When all the cosmic forces in Nature were curiously watching him..
When all the five elements of Nature were breathlessly staring at him..
When all the divine energies have grouped together and were hovering around him..
At that moment..
Exactly..
At that…
Divine..
Pious..
Exotic..
And..
The most auspicious moment..
A divine male voice..
Yes my friend..
You read it right..
A divine male voice…
Was heard in the pooja room of Subbarao..
My dear friend..
Do you know that..
It was that glorious voice..
That had driven away all the demons from Lanka..
It was that devotional voice..
That is relentlessly chanting His Lord Sri Ram's names every second of is life even today..
It was that majestic voice..
That is commanding all the cosmic powers of this universe..
It was that ferocious voice..
That is driving away all the evil forces from the human world..
And..
That voice..
That voice..
And that particular voice..
Was heard by Subbarao…
That time..
That voice gently said…
"Dear Subbarao"..
That's all..
A shocked Subbarao quickly opened his eyes and looked all around..
He didn't find anyone there..
He didn't understand who was calling him..Thinking that "it must be my illusion" he slowly closed his eyes and continued his meditation..
Poor Subbarao doesn't know at that moment that the divine voice he just heard actually dispels all the illusions,all the delusions and all the other psychosomatic disorders from our lives if we praise Him in the following fashion..
"..Om namo bhagawathe Rudraavathara roopaya..Vayu suthaya…Anjani Garbha sambhoothaaya.. Akhanda Brahmacharaya ..Vrutha palana Thathparaya
 Dawali krutha jagad trithayaya..Jwalad agni surya koti sama prabhaya..Prakata parakramaya… Aakrantha dig mandalaya..Vaso vithanaya.."
ॐ नमो हनुमते रुद्रावताराय, वायु-सुताय, अञ्जनी-गर्भ-सम्भूताय, अखण्ड-ब्रह्मचर्य-व्रत-पालन-तत्पराय, धवली-कृत-जगत्-त्रितयाय, ज्वलदग्नि-सूर्य-कोटि-समप्रभाय, प्रकट-पराक्रमाय, आक्रान्त-दिग्-मण्डलाय, यशोवितानाय
Unaware of all the great qualities hidden behind that male voice,Subbarao quietly closed his eyes and continued his meditation ..After a few more minutes of silent meditation,he again heard the same male voice that said..
"Dear Subbarao"..
Although the sound of that male voice was mild,Subbarao could clearly hear it because there was a lot of divinity in the voice that time..With every follicle of hair in his body rising,Subbarao,with his eyes wide open,looked around but again didn't find anyone there..
Observing Subbarao's bewilderment,the male voice gently smiled and said."Dear Subbarao..You are performing the parayan of my Sundara Kanda everyday and now you are unable to identify me..??.."
Going almost nuts,Subbarao prostrated before the large portrait of Sankata Vimochana Panchamukha Hanuman in his room and recited the following powerful sloka in His praise..
"..Panchaasyaachutha maneka vichitra veeryam…Sri sankha chakra ramaniya bhujagra desam.. Peethambaram makara kundala noopurangam…Dhyayethitham kapivaram hruthi bhvayami.."
As though He was pleased with the sloka,Lord Sri Hanuman gently smiled again and said..
"..Dear Subbarao..Why are you confused about the name of your house..You are very sincerely reciting the Sundara Kanda everyday..As a result there are many beautiful cosmic waves hovering around your house..
So give the name "Soundarya Lahari" (Waves of Beauty) to your house and display this name on the wall beside your main entrance.."
Saying so the voice of Hanuman disappeared..
(Some among you may say how can anything that has not appeared at all disappears or anything that's only heard but not seen disappear..Agree..Then to be grammatically right I will have to use the word "vanished"..But doesn't that look crude..??..Therefore am avoiding using it..)
Later,Subbarao not only named his house "Soundarya Lahari" but had also given the names "Amritha Lahari" and "Ananda Lahari" to his two beloved grand daughters..(Aparna's daughters)..Both these cute and extremely talented girls were born in U S and are now in Hyderabad..
Both these girls are doing exceedingly well in their academics..Particularly the 13 – year old eldest one, Amritha Lahari,is very creative and writes well in English..So,don't be surprised if you find an article or a story written by her appearing on tirumalesa.com,shortly..PERIOD
Thereafter,on one auspicious day..
Subbarao decided to enter his newly constructed house..After reverentially performing all the rituals he came out with a garland that was filled with 108 lemons..
Later,Subbarao along with his wife Venkata Lakshmi and daughter Aparna and with a few other relatives and friends walked up to the 10-feet tall Lord Hanuman statue that is there near their new house in China Musidiwada..
Using a wooden ladder,Subbaraothen slowly reached the broad shoulders of the giant Hanuman statue..
Then,after placing himself comfortably on the large left shoulder of Lord Hanuman,Subbarao carefully lifted the heavy lemon garland he was carrying with him and then placed it around the neck of Lord Hanuman..
Everyone of Subbarao's relatives,including Venkatal Lakshmi and Aparna,were watching him with bated breath,standing beneath the statue..
Then it happened..
The left shoulder of Lord Hanuman,on which Subbarao was at that time sitting,moved suddenly..
Just for a few seconds..
A shocked Subbarao had almost fallen down from the statue with that movement..
Fully surprised with the sudden movement,which he had clearly felt,Subbarao kept staring at the face of Lord Hanuman for a few moments..
Then there was another movement..
And another one..
With those continuous movements,Subbarao realized that Lord Sri Hanuman came alive in that statue and was blessing him..Boldly offering his pranams to the most powerful God of our universe,Subbarao then slowly came down the statue..
(This statue of Lord Hanuman is still there in the China Musidiwada area of Visakhapatnam today.. Please make sure you offer your prayers to this statue the next time you go to Visakhapatnam..But remember..The all powerful Lord Hanumman is staying alive in this statue)
PERIOD
While narrating this amazing incident to me over phone,a fully emotional Sri Subbarao,said,"Am really blessed to sit on the great shoulders of Hanuman that carried Lord Sri Ram and Lord Lakshmana.."
What should I say except that,"am blessed to write this story"..
NOW..
Offering my sincere thanks to each and every Hindu God and Goddess who are personally sitting beside me and watching me writing this life changing story,I shall conclude this part with the following beautiful sloka that tells us about "Sundara Kanda"..
Please note..Recitation of this sloka alone would give you all the benefits you shall otherwise get only by reciting the complete "Sundara Kanda"..
Sundara Kanda,let me finally say,tells us clearly that..
"If Goddess Sita Devi is 'Prakrithi' and Lord Sri Ram is 'Purusha' then Lord Hanuman is the cosmic force 'Buddhi' that struggled to bring them together.."
It is for this reason alone that Lord Hanuman is described as "Budhdhi Mathaam Varishtaha" in the popular "Mano Javam Marutha Tulya Vegam" sloka..
Now here's the beautiful sloka that aptly describes the beauty of "Sundara Kanda"..
"Sundare sundaro raamahaa..Sundare sundaree kathaa..Sundare sundaree seetah..Sundare sundaram vanam..Sundare sundaram kaavyam..Sundare sundaram kapihee..Sundare sundaram manthram.. Sundare kim na sundaram..??.."
"..సుందరే సుందరో రామః సుందరే సుందరీ కథా…సుందరే సుందరీ సీతా సుందరే సుందరం వనం …సుందరే సుందరం కావ్యం సుందరే సుందర: కపి:…సుందరే సుందరం మంత్రం సుందరే కిం న సుందరం..?? .."
Beautiful is Lord Rama…Beautiful is the story..Beautiful is Goddess Sita Devi..Beautiful is the garden.. Beautiful is the poetry…Beautiful is Lord Hanuman..Beautiful is the manthra..Then what is it that is not beautiful in Sundara Kanda…??.."
WARNING : All rights whatsoever concerned with this story belong solely and wholly to Narrenaditya Komaragiri – as it's writer and creator – and anyone violating the same,by trying to copy a part or full portion of this story for any other website,Facebook page, novel or  book,T V Serial, feature film or for some other commercial purposes,is liable to be prosecuted under criminal laws of Indian judiciary..
Please Click Here to read the "Shocking True Story Of A Mystic Brahmin Who Converses With Goddess Gayathri-Part Twenty Nine "
Love and regards
Narrenaditya Komaragiri
To know more about the author please click here