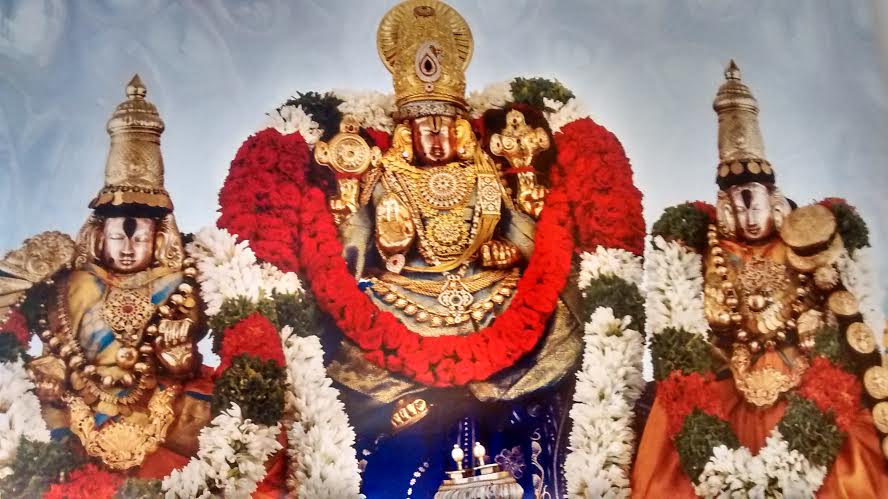 Am Presenting This Entire True Story
In four parts below, so, I request you to read every part carefully.. I understand your eagerness but I would advice you to enjoy reading this story just the way it is meant to be read and enjoyed.. Part by part.
Secondly, every part in this story is different from the other part but all the four parts are inadvertently connected to each other just the way all the sub plots in Akira Kurasowa's classic, 'Rashomon' are connected to each other.
Now, Here's The First Part
With the Divine Blessings of Bhagawan Sriram Sir, Praneeth – our Sriram Sir primary WhatsApp group member from Hyderabad and also an active EC member of all our Tirumalesa meetings – had married Deeksha, a software engineer from Bangalore, on the 12th of February, 2020.
Prior to this marriage, Praneeth had a wounded first marriage and was accorded Divorce in September, 2018.. For about three years before that Praneeth had gone through the most debilitating phase of his life filled with unbearable trauma and inexplicable despair.
He came into contact with me, for the first time, in November, 2017 when he had come all the way to Bangalore, although we both are from Hyderabad, just to meet me.. Thereafter, he took an active part, as member of Executive Committee, in the Tirumalesa – Bhagawan Sriram Sir Global Meet held in Bangalore on the 10th of March, 2018.
A day prior to that Bangalore meet, we – a few close members of our Bhagawan Sriram Sir WhatsApp Global Group – had a private Dinner with Sriram Sir at a Hotel in Yeshwanth Pur.. During that dinner, I introduced Praneeth to Sir.. Sir asked him, "where do you work".
Praneeth said, "am working in Microsoft at it's Hyderabad office".. Sir then asked, "did you read Satya Nadella's 'Hit Refresh' book.. If not, read it now".. Praneeth said "no, Sir, will read it now".
On reaching his table, Praneeth just broke down in front of the other group members.. Unable to understand "why", they worriedly asked Praneeth, "what happened".. In a choked voice, Praneeth started telling them his heart breaking story.
"I got married in 2013 but nothing till today had happened between me and my wife.. We just have been strangers to each other all these years.. She married me only for my money and is now harassing me demanding for a divorce saying, "I never had any love for you or an intention of marrying you".
Even her parents and sister are supporting her and are torturing me to the core.. My life is miserable today.. They are not just demanding a divorce from me but are also demanding huge amounts of money, including our properties.
My parents tried to convince her and also her parents, saying "we will give you whatever you want but please don't break this marriage.. Our son is very sensitive, he cannot take this".. Still they filed for a divorce because they want my money not me.
I have been going through hell, for the last three years, with this divorce case, with the unreasonable demands of the girl and also with the harassment of the police.
With this marriage almost broken now and with my future appearing completely dark, I came here today praying to Bhagawan Sriram Sir – the human form of my Lord Sri Venkateswara – to give me a hint about what decision should I take now.. Should I fight to save my marriage or should I let it go..??
In His answer to my prayers, Sir referred to our big boss, Satya Nadella's Hit Refresh book thus clearly indicating to me to hit the refresh button in my marriage page and move on in life.. I got my answer, I got my answer, I got my answer now".. Saying so, Praneeth broke down furthermore and inconsolably so..PERIOD
Later on in his life, Praneeth quickly decided to end his marriage and accepted the divorce that was finally granted to him in September, 2018.
The very next year,
On the 19th of January, 2019..
Our third Tirumalesa – Bhagawan Sriram Sir Global Meet was held in Chennai.. By this time, the innocent Praneeth had become the darling of our EC team whose other senior members would often tease him pulling his leg.
His Mother met me, a day before that meeting in Chennai in the Hotel lobby where we were all staying, and told me,
"Aditya garu, after the Divorce, Praneeth had turned completely silent.. He went into a great depression.. Didn't even go to his office for two months.. Smile on his face had disappeared long ago but he had even stopped talking to anyone not even with us.. Today, only two names bring a big smile on his face and make him talk.. One is Sriram Sir and two, Aditya sir.
Whenever we utter those two names, he comes out of his shell and opens his mouth.. An unstoppable flow of words then begin to come out of his mouth telling us a series of incidents involving you both.
Gradually, we realized that your names do magic on Praneeth.. Whenever I wish to see a smile on his face, I would ask him, "nanna, how is Sriram Sir or how is Aditya sir".. He begins to talk, not just talk but smile.
But, Aditya garu, how far will Praneeth travel this way.. Will there be any end to this painful phase.. Will he ever see the light of happiness again.. We are growing old and don't have any great future, but, we are more worried about his future.. It's time for God to interfere, at least now, and show him a way.
From Praneeth's words we came to know that Sriram Sir is Swayam Bhagawan so we have come all the way from Visakhapatnam to Chennai not just to see Sriram Sir but also to silently convey our pain to Him and also to pray to Him to show Praneeth a way".
Saying so, she stood silently in front of me waiting for my reply.. With a thought deep inside my mind telling me, "if reservoirs were filled with tears they would be like her eyes", I stood quiet, for a few silent moments, looking at her.. Then, I slowly shifted my looks towards her husband, who was thus far standing silently beside her listening to all our conversation.
While his withered face reminded me the face of an American soldier, in a Somalian battlefield, in Ridley Scott's 'Black Hawk Down'; his forehead, that was full of fine lines, reminded me an incomplete 8 – lane national highway; and his tired eyes, hidden behind his thick spectacles, reminding me two dried out wells in Summer.
Although he didn't utter a word, all through our conversation, his face was conveying all his pain to me and his tight lips were conveying all the suffering he had silently gone through in life for his son.
Feeling heavy in my heart, I looked at the hapless sexagenarian couple, more haplessly standing in front of me, for a few more silent seconds and then slowly composing myself, told them in a low tone,
"Honestly speaking, I have no words to console you.. In fact, am not able to talk.. All I can now say, with my near 20 years of association with Bhagawan Sriram Sir is, "all that happens in our life happens for good and happens for a cause".
Without keeping it's solution ready God will never give us a problem.. Sir is God and He must have certainly kept some solution for Praneeth, otherwise, there's no way Praneeth would have known Sir.. So, don't worry, Sir knows everything and would certainly show Praneeth a way at a right n ripe time".
Saying, "thank you very much Aditya garu", they both slowly turned away from me and started walking through the lonely corridors of the Hotel.. Standing still in the lobby area, I kept looking at the way they both were walking with their drooping shoulders.
"Life", I told myself but still stood there talking to myself, "can there ever be a right n ripe time in Praneeth's life.. Can there ever be any solution to his problem.. If so, what..??". Thinking so, I slowly walked towards the hotel elevator to go to my room.
Karmically so, neither I nor Praneeth's parents were aware that the most awaited right n ripe time in Praneeth's life was just a few hours away from Praneeth, that moment, cascading down from the Cosmos on the Divine Command of Bhagawan Sriram Sir in Whom Praneeth trusts the most.
As a result of that glorious shift of fortunes in the Cosmos,
Praneeth met his future wife, Deeksha, the very next day at the Park Hyatt Hotel in Chennai, where our memorably memorable 'Tirumalesa – Bhagawan Sriram Sir Global Meet' was held on Saturday the 19th of January, 2019.
Just like Praneeth, Deeksha too is a regular follower of all my writing on tirumalesa.com and had come to Chennai, from Bangalore, just to attend that meeting..
Thereafter, they both kept talking to each other and after almost an year of many such long and frequent conversations they have decided to marry in the holy Abode of Lord Sri Lakshmi Narasimha Swamy in Yadadri on the 12th of February, 2020.
A few days prior to that, we have performed the marriage of our elder daughter, Alekhya, with the Divine Blessings of Bhagawan Sriram Sir and also in His Divine Presence, on Sunday the 26th of January, 2020..
Nearly, two hundred of our tirumalesa readers – who are all active members in our Sriram Sir WhatsApp groups – have come from many parts of the world to attend this marriage.. A few of them have formed themselves as an Executive Committee, under the captaincy of Satish Kumar Kasi from Switzerland, and have supervised all the arrangements during the marriage saying,
"Aditya sir, you have given us God in the form of Sriram Sir.. Now, we got an opportunity to show our gratitude to you by serving you in this marriage of our large global family's beloved daughter, Alekhya.. Please don't say no".. Everyone did a fantastic job in the marriage, but, Praneeth was the highlight of them all.
As Satish rightly said, "Praneeth is the man of the match, sir".. Praneeth applied for leave for almost ten days prior to the marriage and had constantly assisted my wife.. My wife too treats Praneeth just the way she treats my two younger brothers.
Immensely pleased with Praneeth's great service during my daughter's marriage, I have decided to give him an unforgettable return gift.
After deciding so, I have sought personal time of Sriram Sir, which I never did before for anyone; met Him along with Praneeth and ten other group members, who have came from far off cities and countries to attend my daughter's marriage; and invited Sir to attend Praneeth's wedding.
However, Sir said He can't attend the marriage on 12th but would certainly attend the reception on 22nd February.. Praneeth planned that reception, exclusively for our WhatsApp group members, hence requested me to invite members of my choice on his behalf.
As requested by Praneeth, I have invited about fifty of our group members from Mumbai, Chennai, Bangalore and Hyderabad.. PAUSE
First part ends here
Now Begins The Second Part
On the evening of 2nd March, 2020..
Our entire home city of Hyderabad was frozen with shock and fear, when the news about a 24 year old software engineer – a resident of Mahendra Hills in the Secunderabad area of Hyderabad – testing positive to Corona Virus, had broken out.
Whole of Hyderabad watched the news with shock and surprise.. Everyone started discussing about how the young techie had acquired that deadly virus that's conquering the whole world today.
Here's how the young techie acquired Corona Virus.
He went to Dubai on some official work, some time during the first week of February, and returned to Hyderabad in the third week of February.. On his way back to Hyderabad, the Techie stopped in Bangalore, spent some time with his friends and traveled to Hyderabad in a private bus on the night of 21st February.
After about a week, he showed suspected symptoms of the dreaded Corona Virus and visited the famous Gandhi Hospital – a hundred year old govt. hospital in the twin cities of Hyderabad and Secunderabad – and got admitted there.
After multiple examinations, the Doctors in Gandhi have suspected Corona Virus, however, they have first sent the samples to the National Institute of Virology in Pune for confirmation.. After about 24 hours, on the afternoon of Monday the 2nd of March, 2020, the Pune Doctors have confirmed it as a positive case of Corona Virus.
That sent shock waves not just across the historic city of Hyderabad or the two Telugu speaking states of Andhra Pradesh and Telangana but across the whole of India. The govt. agencies, both at the centre and state, have swung into immediate action and issued press statements requesting people not to panic.
But panic had already begun by then, across the city of Hyderabad, with people buying surgical masks and shunning outdoors.. On a war footing, the Telangana govt. too had deployed all the medical forces into emergency services and took all the safety measures to arrest the spreading of virus.
The family of the Techie were also brought to the Gandhi hospital and were put under observation in an isolated ward.. The entire colony of Mahendra Hills was thoroughly cleaned and sanitized with officials of Greater Hyderabad Municipal Corporation personally monitoring all the cleansing operations.
The Telangana govt. had further conducted an immediate inquiry to find out where all the techie had traveled, in the two weeks prior to his admission in the Gandhi Hospital, and whom all he met during that period.
In all, they have identified about 90 people but have concluded that the "most susceptible" among them are those other 26 passengers who traveled along with the Techie to Hyderabad from Bangalore in the same private bus on the night of 21st February, 2020.
They came to this conclusion based on their proximity with the Techie during the fast incubation period of the last seven days saying,
"The total number of 26 passengers, who traveled to Hyderabad along with the Techie in the Bangalore bus on the night of 21st February, are the most susceptible to Corona Virus because that was a closed AC bus more so they were together with him at the time the Corona was already in his body or was progressing fast in his cells".
Without any further delay, both the Telangana health and police departments, along with their counterparts in Karnataka, have swung into immediate action to track those 26 gullible passengers of the ill fated Go Tour Travels bus that brought them all to Hyderabad on that eventful night.. PERIOD
End of part two.
Now, Begins The Third Part Of This Story
On Saturday..
The 22nd of February, 2020..
I, along with my family and Bhagawan Sriram Sir, have attended Praneeth and Deeksha's wedding reception at the Raddisson, Kondapur, Hyderabad. That was an enchanting evening of fun and food filled with Divinity and serenity all around with the presence of God in the midst of us.
Quite a few of our members have come from Mumbai, Chennai and Bangalore.. Aditya Kumar, Deva, Durga, Krishna, Nagesh, Rajagopal and Vinayaka Rao have come from Bangalore.. They all shook hands with Sir and also had a few minutes of personal interaction with Him.
Later on, Sir walked on to the floral dais and blessed the lovely couple of Praneeth and Deeksha and on my request had spoken briefly, for a couple of minutes, about the role of marriage in our life and also about how the relationship between a wife and a husband should be.
"If every wife and husband enjoy their similarities and honor their differences, all through their life, that marriage not just lasts forever but also lasts with happiness and peace".. These were some of the Golden words Sir had spoken during His brief speech, that evening.
After the reception, we all had a great time in the dining hall, teasing Praneeth and Deeksha and tasting a wide variety of South Indian foods (all vegetarian) served with all love by Praneeth's family.. Praneeth had made special arrangements for me and Sir to dine together.
While we were leaving, Praneeth's Mother and Father came to me, and with folded hands and with joyful tears in their eyes thanked me saying
"Thank you very much Aditya garu.. We are still not able to believe that such good time would come in our Praneeth's life so soon.. It's nothing but a sheer miracle of Sriram Sir – the Swayam Bhagawan – that Praneeth met Deeksha in your Chennai meeting.. It's all because of you.
Though you are younger to us we are offering our Namaskaram to you not only for showing a way to our son but also for showing us God.. Can we ever adequately repay you, Aditya garu".. Saying so, they both lifted their hands and offered me their humble Namaskaram.. I was touched to the core
Humbly accepting their Namaskaram, I shook their hands and told them, "I was pretty confident, sooner or later, this day would certainly come in Praneeth's life.. You call this a miracle but I call it His Design.. All His grace.. Who am I".. Saying so, I moved away..PAUSE
End of part three.
Now, Begins The Fourth Part Of This Story
On the 4th of March, 2020.
I posted the following content on my personal Facebook Timeline..
Read on..
"After a confirmed case of Corona Virus was reported in Hyderabad on Monday evening – of a 24 year old techie who had contacted with the deadly virus while on an official trip to Dubai, a couple of weeks ago – the entire city of Hyderabad woke up startled from their slumber, on Tuesday, and indulged in an anxious discussion all over.
Just like there was a discussion in every house in Hyderabad on Tuesday morning, in my house too there was a discussion between me, our recently married daughter, Alekhya, and my wife, Anu Radha.
We were all in the kitchen, that time, waiting for the lovely hot Coffee my wife would serve us every morning.. Alekhya was telling her Mom how the case was detected and how the Gandhi Hospital Doctors have cracked it.
I was standing with my mobile in my right hand and was giving my version to my wife, who was silently listening to both of us at a time, preparing our Coffee.. Suddenly turning to me, Alekhya – currently working as a Business Analyst in DuPont, Hyderabad – said,
"Dad, even in our office, they have put alerts everywhere.. All our foreign trips were canceled.. A week ago, our boss was almost quarantined in Singapore, for having cold, but was luckily spared after he was declared safe to go.. Everyone in the office is worried now.. No one is shaking hands with anyone.
High quality sanitizers have been placed everywhere with instructions asking us to wash our hands every hour.. What will now happen, Dad.. Am worried.. Should I go to office from tomorrow or you want me to take a break..??".
I smiled and said, "my dear, we all have been, every now and then, taking Arsenic Alb 200 for some of our minor problems like cold, cough, upset stomach or indigestion.. It's a great anti viral drug that makes us resistant.. Now again, let us all take this medicine, as a course, for about five or six weeks.. That makes us even more strong and resistant.
Arsenic Alb has the power and potency to battle any virus including Corona, so don't worry.. Secondly, my dear, never fear or worry about Corona.. Be strong and brave.. It cannot touch our family.. Even if it touches, it will be burnt alive.. Because, Bhagawan Sriram Sir is constantly watching us and protecting us.. So, be brave and fearless leaving everything to Sir".
I didn't even complete the last sentence, I heard a WhatsApp message notification sound on my mobile phone indicating me the arrival of a new message.. I casually opened my WhatsApp and remained dumb for a few seconds looking at the new message.. Then, had quietly shown it to my wife and daughter.
That was a message from the Omnipotent, Omnipresent and Omniscient Bhagawan Sriram Sir in which He had forwarded me an old photo of Him, sitting on the Tirumala Hills. Someone must have sent it to Sir and He had in turn sent it to me.
Believe me.. He rarely sends me any old photos except recent photos, that too pretty rarely, either about His visits to Tirumala or to U S.. Now, see the timing of the photo I received from Sir yesterday.. It came exactly at at a time when I was telling my daughter, "Sir is with us, be fearless".. Is this not another reassurance from Sir, telling me, "don't worry am there with you".
So, all my beloved Tirumalesa readers – who are following Sriram Sir ever since you have been reading my writings on Him – and also my Sir Groups' followers,"Stay strong, brave and fearless because Bhagawan Sriram Sir – the human form of Lord Sri Krishna/ Venkateswara – is assuring us that He's not just constantly watching us but is also more constantly protecting us.. So what is Corona Virus for us??".. PERIOD
In brief, that was what I have posted on Facebook On 4th March..
After seeing that post..
Durga Sriram (her original name was Durga Devi but after becoming an ardent devotee of Sriram Sir and after seeing many miracles of Sir in her life had changed her name to Durga Sriram.. So did Praneeth change his name from Praneeth to Sriram Praneeth) from Bangalore had called me.
Durga, as you may remember, was one of our WhatsApp group members who had come all the way from Bangalore to attend Praneeth's reception in Hyderabad on the 22nd of February..
With a great difficulty trying to compose herself and trying to stay as balanced as possible, here's what Durga had told me freezing me, rocking me, shocking me and knocking me beyond compare.
"Aditya sir, on the morning of 3rd March, a police officer from Telangana police had called me and Krishna on our mobiles.. He asked us how we are and what is our health condition.. I said I was having some cold and cough and slight fever but Krishna is normal.
He immediately disconnected the call and in about five minutes I received another call, this time, from a Doctor belonging to the Telangana health department.. He hurriedly asked me to explain my symptoms.. I told them the same that I told the Telangana Police.
Asking me to get immediately admitted in a hospital in Bangalore he gave me the details of the hospital.. In the afternoon, a Doctor from the Karnataka health department had called me and inquired about my symptoms.
While explaining him the symptoms, I told him that I easily catch cold and cough because in my company I work in a low temperature AC room so catching cold is a regular problem with me.. He still prescribed a few medicines and asked me to contact him if any further guidance is needed.
I told him I already consulted our family doctor and feeling much better now after using his prescription.. He said fine but contact me if there's any other problem.. Then, I asked him why is that so many people are calling me from Telangana and Karnataka govt. departments.
Shocking me, he said, "on the night of 21st of February you and your friend Krishna have traveled to Hyderabad, from Bangalore, on the same Go Tour Travels bus in which the 24 year Hyderabad software engineer, who was tested positive for Corona Virus, had traveled.
We are calling all the rest of the 26 passengers, who traveled along with him in that same bus that night, and inquiring about their condition.. You must now immediately alert whom all you met in Hyderabad and ask them to go for an immediate checkup if they too have any persistent cold or sneezing symptoms.
Do not move out of your house for the next fourteen days, it takes that much period for the Corona to clearly show it's symptoms in the body.. Whenever, you have any doubt call me immediately.. Good luck and God bless"
Aditya sir, I literally panicked and wept for a long time after that call.. Didn't know what to do, didn't even understand what to do, whom to talk and where to go.. I have immediately remembered you all.. You all appeared before my eyes.. Then, I remembered my Mother who is in her old age, at home, with her own set of problems.
However, I was some how feeling safe, deep inside me, because Bhagawan Sriram Sir was there in the reception that day and He will not allow the Corona even reach us.. That was the reason I didn't call you or anyone of our members.. I just don't want to panic you all.. I know Sir will protect all of us and shield us from any force in this world.
And your post on Corona Virus in the morning today was like a second string of assurance to me, from Sriram Sir, that He's with us and protecting us all the time.. Then, I thought I must call you at least now and tell you everything.. Not just about everything but about how and when I got the first assurance from Sir that He's with me.
Saying so, Durga nay Durga Sriram had explained me, freezing me furthermore, everything about how and when Bhagawan Sriram Sir had given her the first assurance saying that He's constantly with her protecting her all the time.. This is the final twist to this whole story.
End of part four..
Now, Here's The Final Twist To This Whole Story
After receiving that call from the Bangalore Doctor on Tuesday afternoon, Durga Sriram, understandably so, had panicked to the core, immediately left her office and reached her home.. Although she wanted to, she didn't tell her Mother anything either about her health or about the calls from the Doctors.
After restlessly passing through a few devastating hours, that afternoon and evening, Durga had finally lied down on her bed praying to Sriram Sir not just to protect her but also to protect all of us with whom she had spent and moved closely in Hyderabad during Praneeth's reception.
At about 4 a.m on the morning of 4th March, 2020, Bhagawan Sriram Sir had appeared in His ardent devotee Durga's dream and told her, "Don't worry, am there".. Durga quickly woke up and recollected the whole dream.. Here's the dream.
Sir came to our apartment in Hyderabad, for dinner, one evening and Durga was one among the invitees.. She saw me, my wife and all the other members, who had attended Praneeth's reception, in that dream.. Finally, she was going down with Sir in our elevator and suddenly looking at her, Sir smiled and said, "don't worry, Am there".
To her utter shock and surprise, the very next morning on 4th, I posted on Facebook about Corona Virus and Sir's assurance.. PERIOD
Do I still need to write more except,
"Srairama Charanam, Saranam Prapathye"
Love
Narrenaditya Komaragiri
narrenaditya@tirumalesa.com