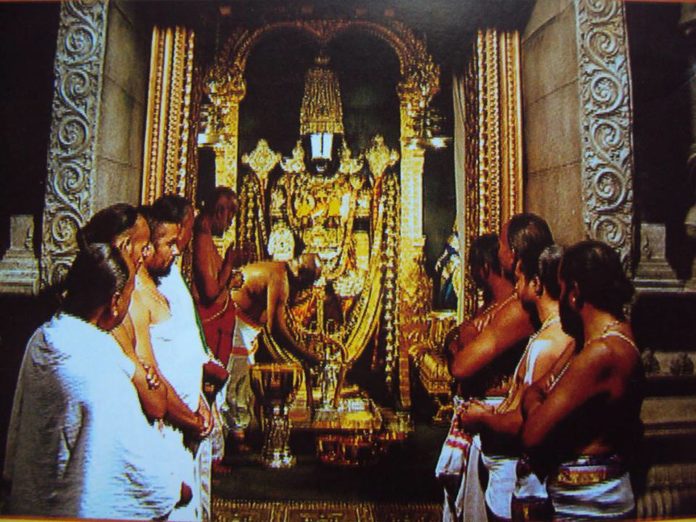 There's a popular belief among many creative people, working in the South Indian film industry today, that almost all the playback singers who are all very famous right at this moment in the film industry have in fact become famous only after singing this great devotional song on Lord Sri Venkateswara in the beginning days of their singing career ..
This amazing Sanskrit devotional, composed in Carnatic raag Sindhu Bhairavi, in praise of the holy Lord Sri Venkateswara, by Saint Composer Sri Purandhara Dasa is the most popular devotional song ever played on the holy Tirumala hills.
This devotional is not only played often by the Tirumala Tirupathi Devasthanams (TTD) audio visual department in a day but is also played several times.. Many Carnatic classical music exponents say,
"There's a great divine power and vibrant energy in this devotional song that will help singers in not only toning up their vocal range but also their singing career"
These music gurus further say,
"Rright from music queen M.S. Subbu Lakshmi to Unni Krishnan, many great preforming artistes and film playback singers have become popular only after rendering this super devotional song in the beginning days of their singing career".
Now,
Here's that amazing devotional song many of you must have heard many times before… Just in case you haven't yet, you must listen to it.. Now..
"..Venkatachala Nilayam Vaikunta Pura Vasam … Pankaja Netram Parama Pavitram. .  Sankha Chakra Dhara Chinmaya Rupam … Venkatachala Nilayam Vaikunta Pura Vasam .." –
Please Click Here to listen to the legendary Carnatic classical music singer Smt. M. L. Vasantha Kumari mellifluously rendering this awesome devotional..
Finally an important suggestion..
Those of you who are learning Carnatic music or preparing to become singers in your life please make it a point to practice this devotional song everyday .. Who knows what Lord Venkateswara has kept in store for you tomorrow .. ??
Love
Narrenaditya Komaragiri
narrenaditya@tirumalesa.com
To know more about the author please click here