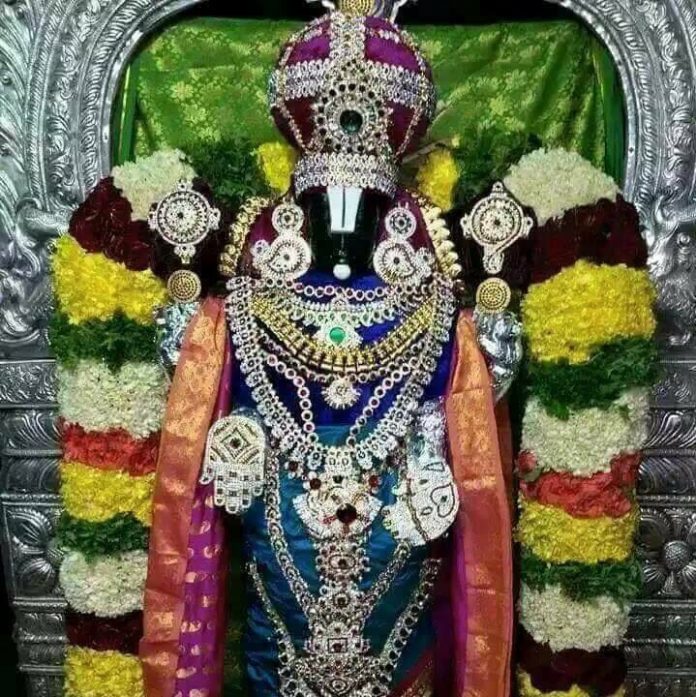 "Everything in our life happens for a reason; every incident in this world occurs for a cause; and every problem enters our house for a purpose.. The more we try to reject a problem the more will be our suffering and the more we try to accept a problem the more will be our happiness" – Yours Lovingly 
Karmically so, we may not be knowing these simple facts of life as long as we are enacting our roles in the inscrutable human drama scripted by God.. However, over a period of time, He would certainly help us know them; then lead us to a rightful path; and finally guide us towards that fascinating goal of everlasting enlightenment.
పాత్రధారులమై ఈ కళా క్షేత్రమందు అడుగు తడ బడకుండా మేమభినయింప.. సూత్రధారుడవై పైన జూచుచున్నఓ జగన్నాట్య సందర్శకా జయోస్తు..
Until then, unfortunately so, sorrow exists in this world.. Until then, tragically so, suffering exists in our life.. This is what is called 'Maya' and this is also what is called 'Delusion'.. PERIOD
"Guru charanaambuja nirbhara bhakatah.. Samsaaraa dachiraad bhava muktah..
Sendriya maanasa niyamaa devam.. Drakshyasi nija hridayastham devam"
"O Devotee, lying at the lotus feet of a knowing Master (Guru).. May you be free from the repeating traps of birth and death (Samsara).. May you, with the senses and the mind, controlling.. Come to experience the Lord, that is in you, indwelling" – His Holiness Jagadguru Adi Sankaracharya
Now, this was exactly the drama
That Lord Venkateswara had played in the life of a young Bengali lady from Kolkata called, Prothima Chowdhary.
Firstly, as part of His cosmic drama, the holy Lord had sent a suitable boy into the life of Protima.. Later, He made her fall in love with him.. And then He created a problem in their love life and had almost separated them forever.
However, he had at the same time, rescued Protima not only by making her read my articles on this site but also by inspiring her to contact me to find out a solution to her problem..
And it was at this crucial point of time that the Lord had shifted the whole drama from the love life of Protima Chowdhary into the serene life of yours lovingly.. I now think,
"If this twist hadn't taken place in the whole drama played by Him, I wouldn't have been able to invent the all powerful "Sri Venkateswara Maha Mantra Puja" that is changing thousands of lives all over the world, today".. BLESSED
Now, here's what had happened
One day, Protima had sent me a long mail telling me how her love story had begun and how the parents of the boy were not agreeing for their marriage.. She had concluded the mail saying, "Aditya sir, if I don't marry him I will die".
Worried about her, I gave her my number and asked her to call me.. She called.. And began the conversation with loud weeping.. Honestly, I didn't understand what to say and what is my role in her love story.
Suddenly she told me that she's regularly reciting the "powerful Sri Venkateswara sloka (mantra)" that I have written in an article..
Saying so, during those divine moments, Protima had inadvertently given me a hint that had inspired me to design this new 'Sri Venkateswara Maha Mantra Puja'.. May be I was ordained to do so by Him.
Later, for about five minutes, I have explained her about what to do and how to do this puja.. She did exactly the same and after about a month or so had messaged me saying,
"Aditya sir, the puja you recommended is extremely powerful and it really helped me a lot.. All issues on our side are now sorted out and we are very shortly getting married.. It all happened so suddenly due to His divine blessings and your sustained support.. Thank you very much sir"
Later, I have written a detailed article about my experience with Protima and about this puja and posted it on this site on the 19th of March, 2016..
I have given every little detail, in that article, as who should do this puja, when to start it, what procedure to follow, what simple restrictions to bear in mind, what are the conditions women should follow and what to do and what not to do during the puja period.
Many readers all over the world have performed this puja and have also shared with me their incredible experiences and have told me how this puja had helped them in solving many of their long standing problems.
Since it is impossible to share every reader'  s experience here am only presenting those readers' experiences that have really baffled me.. Please go through..
Incredible Experience Number One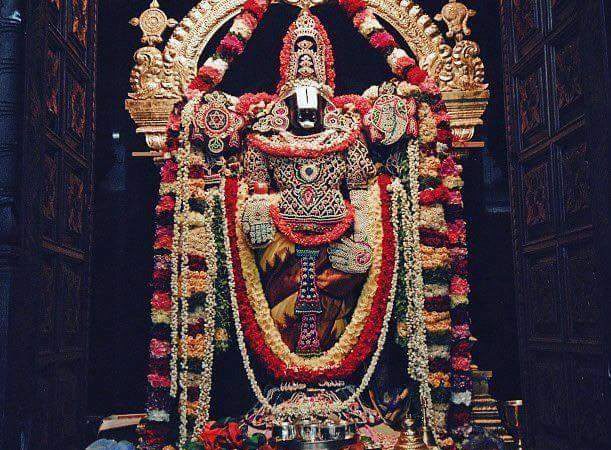 Since this is the first experience that came to my notice am presenting it here firstly in the order.. There may not be anything incredible in this experience but it certainly had helped the lady who had performed this puja.. At least that is what she thinks.
About a week after I have published the article on 'Sri Venakteswara Maha Mantra Puja', a Telugu speaking young lady from my Hyderabad city had mailed me and sought my mobile number saying, "Sir, am in a big crisis.. I desperately need to talk to you"..
I gave her my number and gave her time as well to call me.. She called me and said, "Sir, am a 29 – year old married woman with a one year old baby.. Am a topper in M.Tech but still jobless sir.. There's no effort I haven't put and no good job I haven't applied for..
However, sir, rejection is all am receiving from the companies despite being a topper in my M.Tech.. I didn't understand why so and where lies the problem.. Sir, am very badly in need of a job else it would be very difficult for me to manage our house with my husband's income alone.
Although my husband doesn't utter a word, his Mother and other relatives are hurting me badly with their sarcastic remarks Sir.. I have literally became a laughing stock to them just because am jobless..
Am so depressed and really feel like ending my life, sir, with the sarcastic attitude of our very own people.. But my baby is stopping me otherwise I would have ended my life long ago..
But sir, your article on the Bengali lady is now giving me a new hope.. I wish to do this puja strictly in accordance with the instructions given by you.. Please pray for me and wish me good luck sir"..
She concluded..
I told her, "This puja was designed by Him so seek His blessings and not mine.. Who am I.. I strongly believe this puja is meant for the well being of humanity and for the people who are groping in darkness searching for solutions to their long lasting unsolvable problems..
Please note.. The name of the problem may be different in our world but the pain is the same for all.. Hence, this puja, I believe, offers solution to every human problem that ethically and legally deserves to be solved.
This had helped Protima in marrying the boy of her choice and it may also help you in getting a well deserving job tomorrow.. Much later, it may help someone else in solving their some other problem.. Who knows..
So go ahead and do the puja following the instructions I have given in the article.. But please bear in mind.. Devotion in your heart and smile on your lips would please the holy Lord more than the rituals you perform and the procedure you follow during this puja.. All the best"..
After about a month and half, this young lady had called me again and with great joy in her tone told me, "Sir.. I got a very good job.. In fact a much better job than I have actually expected.. Am extremely thankful to you sir for recommending this puja.. It's all due to the divine grace of Lord Venkateswara.."
"Is this puja so powerful.. Really so effective..??..".. I wondered..
However, I felt so happy for the young lady who at a young age had gone through so much of humiliation in her life.. Since this lady wishes to remain incognito am not revealing her name here..
Later, I have received a few more mails from jobless readers who had gotten good jobs after performing this puja.. Now, I can confidently say, "this puja for sure is helping all those who are performing it in anticipation of jobs"..
Tell you why.. A job is the primary need of a grown up man and woman without which life becomes pretty uncomfortable.. And the merciful Lord wouldn't fail who seeks a job..
I have seen many uncomfortable years in my very own life struggling for even a meager hundred rupees.. But it's not that I didn't had a job.. I never wanted a job and had in fact left a lucrative bank job in pursuit of my dreams..
Unfortunately so, I didn't realize at that point of time that, "dreams appear beautiful only during our sleep and once we wake up it is not easy for us to convert them into reality".
As a result, I failed miserably in everything that I did in my life for many long years and had even found it difficult to pay my two daughters' school fees on time.. But my faith in my God had never faltered and He too had never disappointed me when I needed Him the most.. PERIOD
"Samastam Govindaarpanam"
Incredible Experience Number Two
I have received this message from a lady by name Ms. Aiswarya Venkatraman from Jammu and Kashmir.. She was a regular reader of this site and later became my Facebook friend.. Here's the message she had sent me on Facebook.
"Namaskaram sir ..I m Aishwarya Venkatraman from Tamilnadu currently in Jammu…I would like to thank you for introducing the powerful Sri Venakteswara Mahamantra Puja of Lord venkateswara..
I have read the procedure in your website sir and started the pooja.. Now I have completed 19 days of pooja.. We were trying to sell our house for one year.. After starting the puja it was sold now..
And also my Husband has some court issues in a property he bought long ago.. Now it is also nearly to an end.. I want to thank you so much Sir… We are just middle class family and his puja is very powerful and it worked to me…Thanks a lot"
Since she had clearly explained everything in her message, I don't need to write anything more about Ms. Aishwarya Venakatraman here..
Incredible Experience Number Three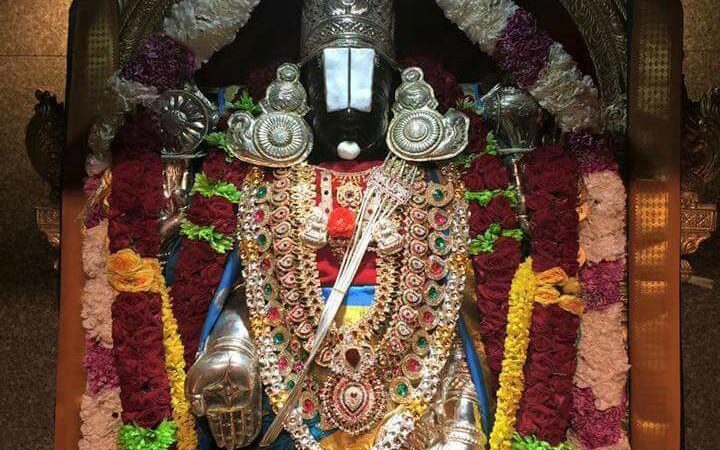 One reader by name Mr. Ramakrishna Sangineni had posted the following comments under the original article I have first written about the puja in March, 2016.. In fact, he had posted two comments .. Here's the first one which he posted on 21st January, 2017..
"Good evening sir, by the grace of lord venkateshwara i came to know this manthra through you thank you very much.. As i am undergoing great crisis this would be helpful to solve my problem..
I have started this vratam on friday, but please clarify me, while reciting you have mentioned silent, but i have recited out slowly with low voice, will it work?? or shall i start it again"
I said, "no problem".. Later on 5th March, 2017 he posted the following comment again under the same article.. Here it is..
"Yes dear friends, i have experienced some miracles.. My wife left with my kids due to conflict between us there was no communication till one month.. When i was on day 7 my wife sent a msg to meet me in the park with kids.. Of course she didnt spoke to me but i spent with my kids for an hour..
Later after 15 days i took my kids to movie and now i am able to speak to my kids over the phone daily, and i am expecting more development further, with the blessings of lord venkateshwara my family will reunion and also i need the blessings of everyone to my family"
Since Mr. Ramakrishna Sangineni had explained everything in detail, I don't need to write anything more.. Hare Srinivasa..
Incredible Experience Number Four
I have received this baffling Facebook message from Ms. Rosy Gurwara of Delhi who is a regular follower of my writing on this site, right from the beginning days, and who had also later became my Facebook friend..
She had sent this message on 4th December, 2016.. Here it is..
"Respected Narrenaditya Sir, Hardik Pranam.. How are you and your family? .. Sir I would like to share a divine experience with you . Sir from the last one and half month I was under a lot of stress, depression..
Sir on 2nd November 2016 Wednesday, at around 11:30 am I was having severe migraine headache but suddenly got a very relaxing sleep of hardly 5 min."during those 5 minutes nap I heard a divine voice of my dear lord .
He reminded me of the "Sri Venkateswara Maha Manthra Pooja ".. He told me that in the story there is a girl who is not getting any reply to her sms from her friend.. But after doing this miraculous pooja she got married with him..
Sir although I am a regular follower of your website but after hearing these words from my dear lord I suddenly got up from my bed and opened my tab to read the story again..There I also read Daivam Maanusha Rupena Sriram Sir's words
"Only those who are destined to benefit from this miraculous pooja , will know about it and those who are not shall never not."
On Friday morning ie from 4th of November, I started this maha mantra pooja and got miraculous result on 29th of November..
Narren Sir you are Messenger of God.. You are my bade bhaiya (big brother).Thank you , for sharing this Sri Venkateswara Maha Manthra Pooja with us .. Thank you so much Narren Sir , thank you very much Lord Venkateswara"
So concluded Ms. Rosy Gurwara from Delhi.. Do I still need to say anything more now.. ??
Incredible Experience Number Five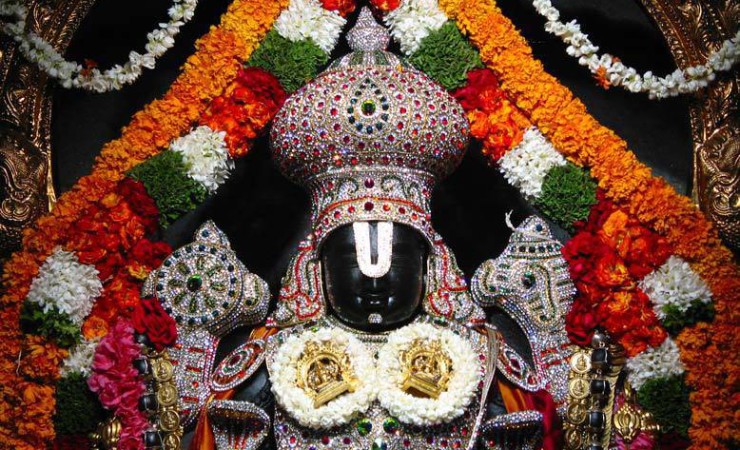 This is perhaps the most baffling message of all the messages I have so far received about the Powerful Mantra and also about the Sri Venkateswara Puja..
One day, about three months ago, I received a message from a Facebook friend by name Mr. Anoop Singhani.. Honestly, I do not know who he is but accepted his friend request coz I noticed he's a regular follower of my writing.
In his message he said, "Sir am desperately trying to buy your God On Call Book but not able to place the order on your site.. Please help me.. I want the book in my hands on this Ekadasi..
Even my son who is working as a software engineer in Bangalore is trying to place the order but our card is being rejected.. What to do.. Please help.."
In the initial two months we had some technical issues with our payment gateway and international customers were not able to place the orders although readers from India had no such problem..
I immediately messaged him asking, "which country you are currently residing in".. He replied saying, "Sir am also from your Hyderabad".. I was shocked and asked him to call me..
He called me and during the conversation, he left me speechless saying,"Sir, am a regular follower of your writing.. Ever since I have read your amazing article on the powerful Sri Venkateswara Mantra, I have started reciting it not just nine times in a day as recommended by you but as many times as possible..
Suddenly, one day, while I was reciting it during my morning puja I heard a voice in my sub conscious mind that told me, "this is a very powerful mantra that would please me the most.. To the best of your abilities print this mantra on a paper and distribute it on every Ekadasi to all the devotees who visit my Temple in Chilkur".
Later, he told me, he had told many of his friends and relatives about this Mantra and it's associated 'Maha Mantra Puja' and finally said, "they are all extremely happy after reciting this Mantra regularly, sir"..
Yesterday, when I called him to discuss in detail about his experiences of reciting this Mantra and the puja, he said, "Sir, now as am reciting this mantra am experiencing many more miracles and receiving instructions from Him about what should I do and to whom should I do..
The Lord is now not only showing me some faces in my sub conscious mind but is also telling me their names and giving me instructions about what I should be doing to them.. I cannot share all these amazing experiences with you over phone, sir..
I shall personally come to you this coming Tuesday, which is my weekly holiday, and tell you in detail about everything that is happening in my life ever since I have started reciting this powerful Sri Venkateswara Mantra..
Sir, am extremely thankful to you for introducing this powerful mantra and puja to this world.. Some how my sub conscious mind tells me that Bhagawan Sriram Sir, whom you introduced to all of us, is Lord Venkateswara in human form and it was He who revealed this Mantra to you"..
I smiled and disconnected the call..
So friends, please stay tuned for a full length article from me on the amazing experiences of Mr. Anup Singhani which he said he would personally share with me in our meeting..
And there are many more baffling experiences I wanted to share with you all today but due to lack of space am concluding here..
Now, here's the powerful Sri Venkateswara Mantra
"Om Namo Venkatesaaya Kaamitaartha Pradhaayine Pranatah Klesa Naasaaya Govindaaya Namo Namaha.. "..
".. ఒమ్ నమో వేంకటేశాయ కామితార్థ ప్రదాయినే.. ప్రణతః క్లేశ నాశాయ గోవిందాయ నమో నమః.." …  (Telugu)
"..ऊँ नमो वेङ्कटेशाय कामितार्थ प्रदायिने…प्रणतः क्लेशनाशाय गोविन्दाय नमो नमः .." (Hindi)
ಓಂ ನಮೋ ವೆಂಕಟೇಶಾಯ ಕಾಮಿತಾರ್ಥ ಪ್ರಧಾಯಿನೆ ಪ್ರಣತಃ ಕ್ಲೇಶ ನಾಶಾಯ ಗೋವಿಂದಾಯ ನಮೋ ನಮಃ. (Kannada)
Meaning Of The Mantra : "I pay my obeisance to You, O' Lord Venkateswara – the Bestower of success and prosperity; and offer my salutations to You, O' Govinda – the Destroyer of evils and sufferings"
Note : A daily recitation of this mantra nine times in a day during the morning after taking bath gives the chanter immense peace.. And I promise..
For Complete Details Of The Powerful Sri Venkateswara Maha Mantra Puja
As many of my articles and stories are stolen by unscrupulous personalities and websites like Speaking Tree, I have removed the Sri Venakteswara Maha Mantra Puja article from this website and published it in my recently released book, God On Call (English)..
Chapter Seven in this God On Call Book – which according to it's readers is one of the most powerful books ever written on Lord Sri Venkateswara in the history of Tirumala Temple – presents all the complete details related to this Sri Venkateswara Maha Mantra Puja.. You won't find the details of this puja anywhere else except in my God On Call Book..
In addition to this powerful puja, the God On Call Book also presents eleven spellbinding true stories based on real life miraculous incidents that occurred in the lives of Smt M.S. Subbulakshmi, Sri Rallapalli Ananta Krishna Sarma and Swamy Ranganthananda of Sri Ramakrishna Mission..
Please Click Here to buy the God On Call Book on tirumalesa.com's official eCommerce website, Prabhoota.
Please Click Here to buy it and also to read some amazing five star reviews given to the book on Amazon India.
Readers from USA, Canada and Mexico may Click Here to buy this book on Amazon North America.
I have rewritten the whole article of Sri Venkateswara Maha Mantra Puja and presented it in more detail in the book.. I have also provided answers to some of the doubts raised by readers, mainly women, about the hurdles they are facing while performing the puja and also about the exact procedure to follow while performing it.. Hare Srinivasa.
Please note.. 20% of all my earnings, not only from this God On Call Book but also from all the books that am going to release in future, am going to donate to charity.
"Naaham Vasaami Vaikunte.. Na Yogi Hridayena Cha.. Madh Bhakthaa Yathra Gaayanthi.. Tathra Thishtaami Naaradaa" – Lord Sri Venkateswara
Love
Narrenaditya Komaragiri
narrenaditya@tirumalesa.com
To know more about the author please click here