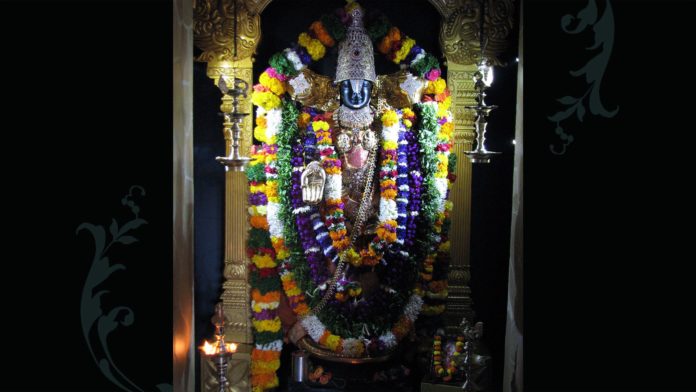 Whatever am thus far sharing with you all, through my writing, are simple lessons that I have learnt from my beloved parents, through their upbringing, from my own experiences, from my own learning,
From my sharp observation of circumstances, of people, their living styles, their cultures, their approach to a problem, their approach to life, their approach to those in need of help, and their vacillating devotion towards God.
However, there's one lesson – from among all the simple yet important lessons that I have learnt since my childhood – I strictly follow even today, despite being a strong believer in the theory of pre determinism, is the lesson that I have learnt from my Mother who had introduced Lord Venkateswara to me.
The Holy Lord was my Mother's life and with a classical tone she would all through the day sing many great Telugu devotionals on Lord Venkateswara that used to amaze me and also my entire family of five brothers and four sisters.. There's no need to tell here about my Dad and about his joy while listening to my Mother's singing.
These are some of the great Telugu film devotional songs she used to sing everyday until the last day of her departure from this world.
"Nadi reyi ye jhaaamu lo Swamy ninu chera digi vochchunu.. Tirumala sikharaalu digi vochchunu", "Yedukondala vaadaa.. Venkataa Ramannaa.. Saddu seyaka neevu nidura povayyaa",
"Seshasailaa vaasa Sri Venkatesa.. Sayaninchu maa ayya Sree chidvilaasa", "Tallivi neeve.. Tandrivi neeve.. Challaga karuninche daivamu neeve.. Nee paadaale maaku chaalu Venkata Ramanaa".
"Venkata chala nilayam.. Vaikunta pura vaasam.. Pankaja netram.. Parama pavitram"."Tela vaara demo Swamy.. Nee talapula munaka lo alasina deveri alamelu mangaku", "Neevunde daa konda pai naa swamy.. Nenunde dee nela pai..Ye leela sevinthuno.. Ye poola poojinthuno" (I know and can sing almost all these Telugu songs, fully).. BLESSED
Wherever you are Ammaa now, please rest in peace..
Now, here's how I begin my day
And I now advise you all to follow the same if that is okay with you.. By the way, it's not my intention here to tell you that by doing so everything will be fine in your day..
However, I can strongly say that by doing so you will not only be beginning your day on a positive note but will also draw enough divine energy from it to withstand any test you may have to face on any given day.. PERIOD
My flat is East facing and in our master bedroom I sleep with my head to South and face to North.. The moment I wake up in the morning, I slowly turn my head to my left, with my eyes still closed, and look at the small sticker of Lord Sri Venkateswara – which my wife had bought on Tirumala Hills and quite artistically pasted on our main Godrej almirah – and silently say,
"Seshadri sekhara vibho tava suprabhaatam.. Sri Venkateswaraya namaha.. Sri Venkateswaraya namaha.. Sri Venkateswaraya namaha".
Then still lying straight on the bed, I bring both my palms together in front of my eyes – as though reading a book – and looking at them, silently recite, "Karaagre vasathe Lakshmi.. Kara madhye Saraswathi.. Kara moole sthithey Gouri.. Prabhate kara darsanm".. (This procedure was taught to me by my beloved Mother)
Meaning of the above Sloka : I offer my salutations to Goddess Lakshmi who is residing on the top of my palms, to Goddess Saraswathi who is residing in the middle of my palms and to Goddess Gouri who is residing in the corner of my palms.. This Sloka is symbolically stating us that the three Holy Goddesses of Hinduism are residing in our palms.
Finally, I silently say, "Sriram Sir, I wholeheartedly thank you very much for solving so many of my problems and also sincerely thank you very much for not giving me so many problems the world and the people are facing today and also thank you very much for everything that you have been doing to me" (This practice was taught to me by Bhagawan Sriram Sir)
In the night
Before going to bed, I just stand quietly for a few seconds in front of the portrait of Lord Sri Venkateswara, in my pooja room, and recite the following two Slokas to forgive me for any mistakes that I may have knowingly or unknowingly committed during the day.
"Agnanina maya doshaa na seshan vihithaan Hare.. Kshama svathvam kshama svathvam Seshasaila sikhamane"
"Kaayena vaachaa.. Manase indriyairva.. Buddhyatma naava prakrithe swabhavaath.. Karomi ydyath sakalam parasmai.. Narayanayeti samarpa yaami"
Conclusion
I have been following these practices for more than two decades now and feel very energetic both at the beginning of my day and also at the end of it.I t is not important how my whole day went off or how bad or good it was, however, these two practices are helping me to overcome everything in life and begin my day on a positive note and end it on a divine note.. Stay blessed forever
You may now Click Here to buy my life changing book, God On Call – a powerful book on Lord Sri Venkateswara that not only presents the complete details of the Miraculous Sri Venkateswara Maha Mantra Pooja, that is changing thousands of lives all over the world today, but also eleven spellbinding stories based on real life miraculous incidents – on our eCommerce website.
Released on 24th March, 2017, this book is going all over the world today and is receiving amazing reviews on Amazon where it was recently listed.. You may Click Here to buy this book on Amazon and also to read the amazing reviews it is receiving from readers.
Love
Narrenaditya Komaragiri
narrenaditya@tirumalesa.com
To know more about the author please click here