Some time during 1982..
At about 11.30 in the morning..
When activity on the holy Tirumala Hill Shrine was just gaining momentum..
When all the seven Hills of Tirumala Temple were reverberating with the loud chanting of Govinda namam by the devotees of Lord Sri Venkateswara..
When all the Archakas in the Garbha Griha of the Tirumala Temple were busy in their daily services to Sri Varu..
A great Cosmic drama was silently unfolding in Nature which neither the Archakas nor the devotees were aware at that moment..
This drama later led to the birth of a very popular Arjitha Seva in the history of Tirumala Temple..
Today hundreds of thousands of devotees book tickets years in advance for this Arjitha Seva…
As part of this amazing cosmic drama that day..
A Muslim devotee by name Sheikh Mastan – a resident of the Guntur district of the undivided state of Andhra Pradesh – was walking up the seven sacred hills of the Tirumala Temple..
After entering Tirumala he went straight to the Maha Dwaram (main entrance) of the holy Tirumala Temple.. He then placed an unusual request before the priests on duty there..
The noble Temple priests, who were shocked with his request, hurriedly guided him to the top officials of the Tirumala Tirupati Devasthanams board, an independent trust that manages all the operations related to the holy Tirumala Temple.
The drama then shifted to the office of the Executive Officer (E O) of the TTD board..
Those days, Sri P V R K Prasad was the Executive Officer of the Tirumala Tirupati Devasthanams (TTD) board.. Around the same time and period the TTD board too was planning to commemorate it's Golden Jubilee year in a grand and befitting manner.
Despite several rounds of discussions earlier, the TTD board was still unable to decide about what is that they need to do to make their Golden Jubilee year a memorable one.
And it was exactly during one such crucial meeting – that was taking place inside the TTD board room – an office attender walked into the room and informed the Executive Officer, P V R K Prasad, about the Muslim devotee's intention to meet him.
Prasad asked the attender to send him straight into the board room so that he can quickly talk to him and send him off in a couple of minutes without wasting much of the TTD board's valuable meeting time.
But unfortunately neither Prasad nor his subordinates
Were aware at that moment that the Muslim devotee, whom they all are going to meet in a few minutes, was actually sent by the holy Lord Sri Venkateswara Himself and because of his unusual proposal, the TTD board is going to take a path breaking decision that would not only please the holy Lord immensely with a new Seva but would also make TTD's golden jubilee year a most memorable one..PERIOD
The attender then came out and asked the Muslim devotee, Sheikh Mastan, to go inside the board room and meet their EO.. Sheikh Mastan got up from the chair, he was thus far sitting in the waiting hall, and slowly walked into the board room.
With folded hands he first greeted everyone there in the board room…
Very casually acknowledging his regards, P V R K Prasad asked Sheikh Mastan,
"We are all here in an emergency meeting now.. Where are you from and why is that you wanted to see me in person..Is it so important..??.. If so please let me know what is that without wasting much of our time"
Then taking everyone there in the board room into a state of utter shock, this was what Sheikh Mastan, the great Muslim devotee of Holy Lord Sri Venkateswara had told Prasad, that day..
"Sir my name is Sheikh Mastan.. Am a small merchant from the Guntur district of Andhra Pradesh.. For over several generations now my family members have been great devotees of Sri Venkateswara Swamy..
As a rule my entire family stands every morning in front of Sri Varu, and recites Sri Venkateswara Suprabhatam.. Without any mistakes we also recite Sri Venkateswara Sthotram, Srinivasa Prapatti and Mangala Sasanam.. On my own I can even recite Srinivasa Gadyam fully..
Sir, for many generations now, it is a sacred tradition in our family to perform ashtottara sata nama puja (a prayer during which time 108 holy names of Lord Venkateswara are recited) to Sri Varu in our house every Tuesday.
We perform this pooja with different varieties of flowers we are personally growing in our back yard.. We also place one flower each at the holy feet of Sri Varu every time we recite one of His 108 names during this sacred pooja.
But sir, several decades ago my paternal grand father had made a vow to himself that he would place 108 Golden Lotus Flowers at the holy Lotus feet of our Sri Varu for using them during a similar seva at the Tirumala Temple.
Since our financial resources were not substantial enough those days, my grand father could only procure a few Golden Lotuses in his lifetime.. Later, my father had procured a few more and finally I could finish the final count with my earnings and procure all the 108 Golden Lotus flowers.
Sir, it was with great difficulty we could acquire all these Golden flowers.. Each one of these flowers weighs about 23 grams..
I now request you all, with folded hands, to please accept these Golden Lotuses as a gift from our poor family to Sri Varu and make good use of them by placing them at His Lotus feet during the ashtottara sata nama pooja or any other Seva you think they are worth using..
Sir, if you can please consider our family's request without rejection, our entire family would forever be thankful to you.. Even my grand father's soul shall now rest in peace at His holy feet.. That's all I have to convey you sir.. I now leave the decision entirely to you.."
Sheikh Mastan concluded..
SILENCE..
Holistic Silence..
Unusual Silence..
Uneasy Silence..
Emotional Silence..
Silence and Silence and Silence..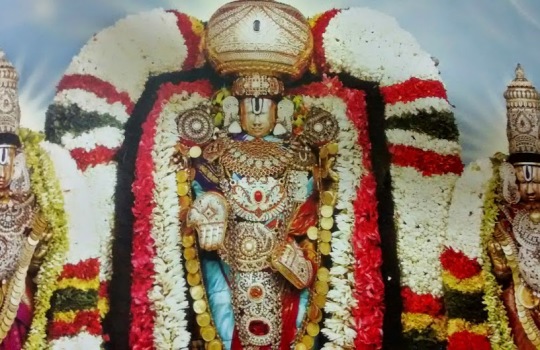 For a few moments in the TTD board room..
There was no other sound except the oscillating sound of the pedestal fans that were placed in all the corners of the room..
The Chairman, the Executive Officer, the Joint Executive Officer, the deputy Executive Officer and all the other members of the TTD board, who were there in that room that time, were stunned into deep silence..
They didn't know what to say and how to react to the noble claims of that great Muslim devotee who, at that moment, was standing right in front of them with folded hands..
Suddenly suspecting something mysterious and suddenly smelling the divine presence of the holy Lord Sri Venkateswara Himself, in the midst of them, it was P V R K Prasad who quickly came out from that frozen state and moved first.
With unstoppable tears rushing out of his eyes he quickly got up from his chair and rushed to the place where Sheikh Mastan was standing..
Offering his sincere apologies to him for making him stand for such a longer period of time in front of them, Prasad then made Sheikh Mastan sit comfortably in a chair beside him and assured him in a humble voice.
"Mastan garu, we are extremely delighted to have such a great devotee like you in the midst of us today.. We have seen many great devotees in our career for sure but we haven't seen one like you before"
"We shall unconditionally accept these invaluable Golden flowers from you.. I, however, cannot at this moment assure you that we shall certainly use them during a Seva.. It's a policy related matter Mastan garu and we too are just His servants.. Any decision of using them during a Seva doesn't entirely lie in my hands"
"I can nonetheless promise you on behalf of the TTD board that we shall still strive to do our best in fulfilling your family's desire in making good use of these Golden Lotus flowers during a Seva at the Temple.. But Please give us some more time for that and I shall certainly get back to you at the earliest"
Epilogue
Later things followed in quick succession.. After a couple of more meetings the TTD board had finally decided to introduce a new Arjita Seva to Sri Varu in Tirumala Temple..
During this Seva 108 sacred names of Lord Sri Venkateswara shall be recited.. During this recitation of Lord's names one Golden Lotus Flower each, gifted by the Sheikh Mastan family, would be placed at the holy Lotus feet of Lord Venkateswara.
TTD introduced this new Arjitha Seva in 1984.. Later, this new Seva not only made the Golden Jubilee year of TTD board the most memorable one but it also helped the great devotional family of Sheikh Mastan fulfill their generations old desire.
Performed every Tuesday at the holy Tirumala Temple this Arjitha Seva even today uses the same Golden Lotus Flowers gifted by the family of Shekh Mastan.. In course of time this new Arjitha Seva became a much sought after Seva in Tirumala Temple..
Although initialy called Ashtadala Swarna Padma Puja, this Seva is more popularly known today as the Ashtadala Paada Padmaradhana Seva..
Conclusion
Initially when I wrote this story and posted it,in the month of July, 2014 on my Facebook page Everything About Lord Sri Venkateswara And Holy Tirumala I wasn't sure who the Executive Officer of TTD at the time this incident occurred..
However, when I met Sri P V R K Prasad and told him about this story he confirmed to me that it was during his tenure as E O of TTD that this incident occurred on the Tirumala Hills..
"Sri Venkatesam Sirasaa Namaami"
Love
Narrenaditya Komaragiri
narrenaditya@tirumalesa.com
To know more about the author please click here
Please Click Here to read the Telugu version of this story