According To Smarta Tradition,
Lord Siva is one of the five primary forms of the Hindu God, (Siva, Vishnu, Shakti, Surya, and Ganesha—in the panchayatana puja, the five-shrines worship) who along with Lord Brahma and Lord Vishnu form the divine order of Trinity that controls this universe.
In the said divine order, while Lord Brahma is the Srishti Karaka – the Creator; Lord Vishnu is the Sthithi Karaka – the Mantainer or Preserver; and Lord Siva is the Laya Karaka – the Destroyer or the Transformer.
Goddess Kali – the destroyer of evil forces – is often considered the Sakthi form of Lord Siva, and is closely associated with Him in many sacred Puranas.. The word, "Kali" is derived from the Sanskrit term ,"Kala" and is therefore regarded as the divine representative of all the Time, Power, Creation, Preservation and Destruction in this universe.
Goddess Kali is also the first of the ten 'Maha Vidyas' or the manifestations of the great Goddess, Parvathi.. Any deity of Kali, anywhere in the world, is found in a standing position dancing on Her consort, Lord Siva.
Since Goddess Kali is highly regarded as the annihilator of all the evil forces in this Universe, many followers of the Tantric Vidya worship Her as the Divine Mother, Adi Sakthi or Adi Parasakthi.. It is strongly believed by many devotees Of Kali that, "evil forces fear to enter any place where Kali is being worshiped".
Although Goddess Kali has many Temples in the world, here's one Indian Temple which is undoubtedly the most powerful of all the Kali Temples, because Goddess Kali is residing in Her own real divine form in this Temple.
The Baffling Story Behind This Temple
Some time during the year 1847, when the whole of India was reeling under the British Rule, an aristocratic lady by name Rani Roshmoni, belonging to a Zamindari family of the North 24 Paragnas district in West Bengal, decided to go on a pilgrimage, along with her family members, relatives and friends in about twenty four boats, to the holy city of Kasi (Banaras)..
Just a night before the day of the beginning of the pilgrimage, Rani Roshmoni had a Vision, in which the Divine Mother appeared in the form of Goddess Kali and told her,
"..There is no need to go to Banaras.. Instead, install my deity in a temple on the banks of a River and arrange for my worship everyday there… Then I shall manifest myself in the deity and accept worship at that place..".
Amazed by her vision of the divine Mother, Rani Roshmoni immediately purchased a twenty acred land from a British official and commenced the construction of the Kali temple in that land in 1847 and completed it in 1855, after spending about nine hundred thousand Indian rupees on construction.
Finally, On 31st May, 1855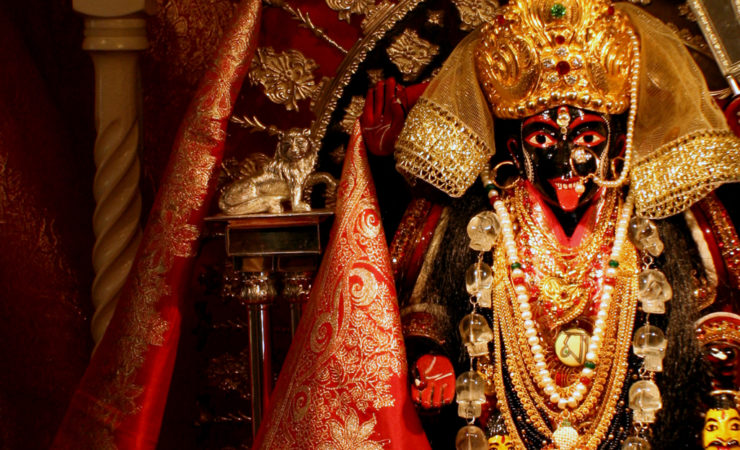 On the most auspicious day of the Snana Yatra, Sri Sri Sri Jagadeeswari Maha Kali Temple, built by Rani Roshmoni, was inaugurated amidst chanting of Vedic Hymns by one hundred thousand Brahmins who specially came to that Temple from many parts of India, on the invitation of Rani Roshmoni.
On the same day, Rani Roshmoni appointed the scholarly Ramkumar Chhattopadhyay as the head priest of the Temple.. After about a few days, Ramkumar's brother by name Gadai and his nephew by name Hriday joined him, to assist him in performing the daily rituals at the Temple.
Unfortunately, after about an year, in 1856, Ramkumar left this world and in his place his brother Gadai became the head priest of the Jagadeeswari Temple and remained in that position for thirty long years until he too left this world in 1886.
Gadai and his wife were great devotees of Goddess Kali and would lead a humble life staying in a small room in that Temple.. During his thirty years of tenure as the head priest, Gadai developed the Jadeeswari Temple in a big way.. He had not only expanded the Temple but had also made it immensely popular among the devotees of Bengal.. PAUSE
If this is what is to be said about this Temple, then there's no need for you to come this far reading about it and no need for me to write this length about it, which thus far is as normal a story as of any other Indian Temple.. But
Here's The Actual Baffling Story Behind This Temple
After commencing the construction of this Temple, Rani Roshmoni had assigned the all important task of carving the statue of the main deity, Kali, to a famous sculptor of those days by name, Navin Pal.. Although a great sculptor, Navin Pal, was also a great devotee who would follow many austerity measures while sculpting any deity..
Sculpting was like performing penance for him, and when he was assigned with the job of sculpting the deity for Jagadeeswari Temple, it was more than performing a penance for him.
Ever since the day he commenced the sculpting of Kali statue for Jagadeeswari Temple, Navin Pal followed many strict measures one of which was to eat only one meals a day at 3 pm, everyday
Other than that, he would never touch anything else and used to spend many hours in the day in sculpting, carving and designing Goddess Kali's statue.. Impressed with Her child's devotion towards Her and the dedication to his work, Goddess Kali slowly started infusing Her own life into the statue being sculpted by Navin Pal.
After that beautiful statue, sculpted by Navin Pal, was ready and installed in the Sanctum Sanctorum of the Jagadeeshawari Temple, following many sacred procedures instilling drops of life (Praana Pratishata) into that deity; and after Gadai became the head priest of the Temple, many amazing changes have started taking place in that Temple.
While performing daily rituals to the Goddess's Kali's statue, everyday in that Temple, the head priest Gadai would often find subtle movements in the deity.. Gadai was not sure whether it was just his feeling or were there really any movements in the deity.
However, Gadai had a strong feeling that Goddess Kali is residing in that deity in Her own real form as She told Rani Roshmoni when She appeared in her vision.
Just to make sure whether it was only his doubt or was there really life in that deity, Gadai, on one fine day, took a piece of Cotton in his hand and placed it in front of the nostrils of the holy Goddess Kali's deity.
SHOCKING.. Gadai was shocked when he found a subtle movement in the Cotton piece in his hand, that he had held very closely to the nostrils of the deity of Kali, as though caused by the exhaling and inhaling of air by the holy Goddess.
Gadai immediately told everyone associated with Sri Jagadeeshawari Temple that, "Goddess Kali is alive in the deity and receiving prayers from us everyday.."..
Conclusion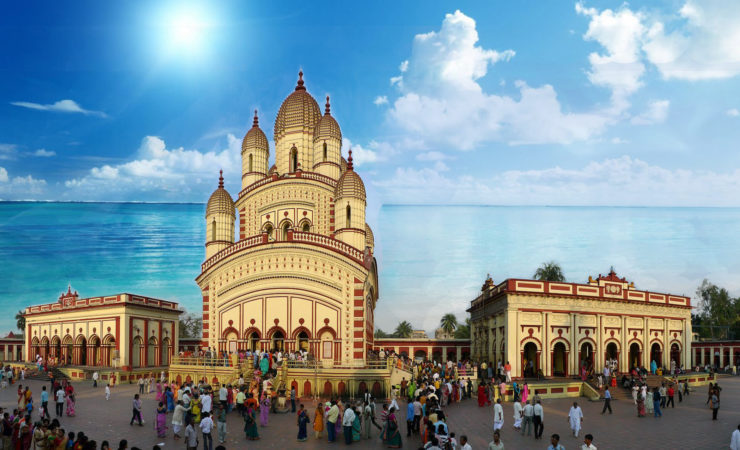 While Goddess Kali, residing in this Temple in Her real divine form, is worshiped as Bhavatarini (the one Who liberates Her devotees from the ocean of existence or samsara) today; the then Sri Jagadeeshawari Temple is more popularly known today as the famous 'Dakhineswar Temple', located on the Eastern bank of River Hooghly, near the historic city of Kolkata.
Later, Gadai, the head priest of this Jagadeeshwari Temple, went on to become a globally renowned Hindu Saint who is more popularly known to the world today as, 'Sri Ramakrishna Paramahamsa'.
DISCLAIMER : This entire article is based on a news item that I have recently read in a newspaper and all that I did is to present it before the world in my own style and narration.. Hence, please do not find any fault with me on the authenticity aspects of this article.
Secondly, to be very honest with you, I do not know anything about this Temple nor visited it anytime in my life although I have heard much about it.. However, after writing this article I have certainly decided to visit it once with my family, at the earliest.
"Annapurne Sadaapurne Sankara Praana Vallabhe.. Gnaana Vairaagya Siddhyartham Bikshaam Deheecha Paaravathee"
Love
Narrenaditya Komaragiri
narrenaditya@tirumalesa.com
To know more about the author please click here