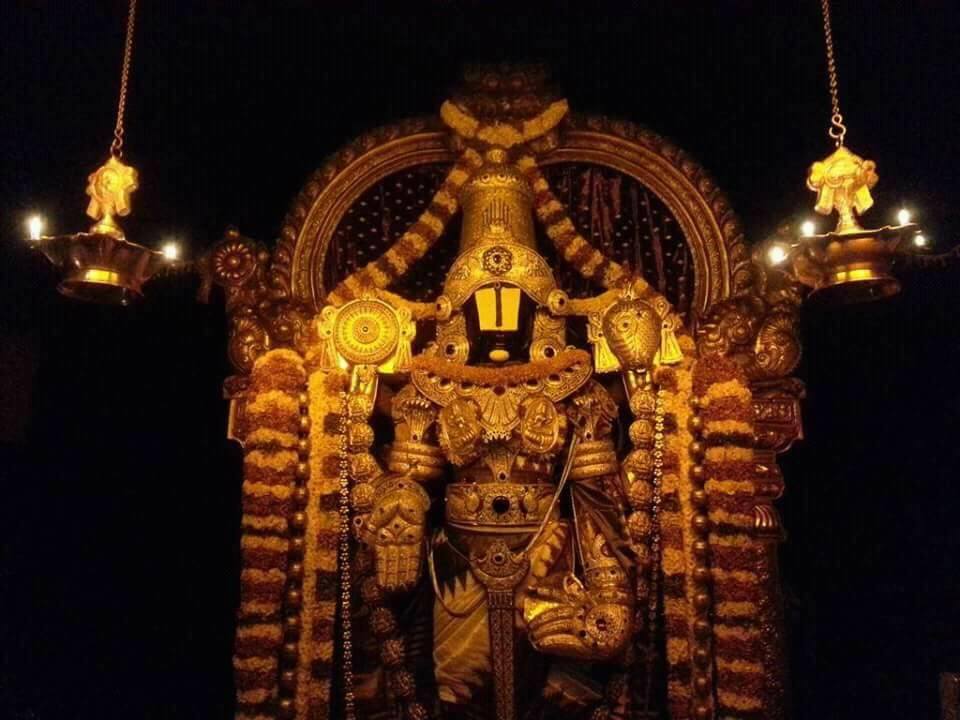 You and me dream for years about going on a pilgrimage to Tirumala Tirupati Temple; plan for months before we embark on the visit; struggle for days to reach atop the seven hills of Tirumala;
Battle for hours in the Q line to reach the Garbha Griha of the Temple; and then stay for a few seconds in the Sanctum Sanctorum to view the Divya Mangala Roopa of divine Lord Sri Venkateswara, the Supreme Commander of all the Cosmic forces ruling our lives.
Then… ???.. Then what.. ??.. We are back to our routine life which is full of many whims and vagaries that keep sending silly incoherent questions to our minds, one after the other.. Right ..??
But quite surprisingly rather quite paradoxically, there's one noble man living on the other side of our world who spends almost all his time in rendering services (nithya kainkaryas) to the holy Lord Sri Venkateswara in the Tirumala Temple..
This man has been doing this service to the Lord, not for days, weeks, months or years but for decades and to be more precise for four decades.. F…o…u…r … l…o…n…g.. decades..
But how is it possible.. Is he any super human being.. Or is he specially blessed by the Holy Lord Himself.. No.. Not at all..
He's a simple human being like you and me but yeah is certainly chosen by the Lord Himself to offer daily services to Him in the Tirumala Temple.. The name of this noble man is Dr. Ramana Deekshithulu, currently the Head Priest of Tirumala Sri Vari Temple..
But Why Only Dr. Ramana Deekshithulu..??
Well.. Let us listen directly from the head priest, in his own words, what he has to say about why only he's made the head priest of the Tirumala Temple and also about his perception and understanding of holy Lord Sri Venkateswara.. Please go through..
"I was born and brought up in the Temple town of Tirumala Tirupati.. My father is Sri Venkatapathi Deekshithulu and Mother Smt. Sowbhagya Lakshmi.. My father was the head priest of Sri Vari Temple
In those days of 60's, Tirupati was a pretty small town.. There were just two movie theaters in the town and two cars and four scooters.. That's all.. That was the scenario in Tirupati when I was a child..
Am the only child to my parents and I studied at the Municipal High School of Tirupati; did my graduation at the S V arts college; and my Post Graduation and PhD at the prestigious S.V (Sri Venkateswara) university..
For many generations, members of our family are hereditary priests of Tirumala Temple.. I was aware, right from my childhood, that as part of our family tradition, I would one day become the priest of Tirumala Temple..
Therefore, keeping our family's noble duty towards the holy Lord in view, my parents too have taught me strict discipline right from my kindergarten days.. I too followed the same strict discipline not only in my education but also in all my habits more particularly in my food habits..
Even today, I just eat boiled vegetables and never eat our staple food, Rice.. Unfortunately, my beloved father left for Lord Vishnu's holy abode when I was in my Post Graduation.. Left with no other option, I have paused my education and then entered the noble services of Sri Varu in Tirumala Temple.
However, I continued my education and did my PhD in Molecular Biology.. After my PhD, I have received an invitation from the South Carolina University, U S A, to do my further research on Human Cancer..
As part of the Vaikhanasa Agama Sutras, any Trumala Temple priest who travels across the Sea becomes ineligible for life to perform his duties again towards Sri Varu in the Temple.. Bearing that tradition in mind, I have refused to accept the American University offer..
For me, performing my duties towards Lord Sri Venkateswara in Tirumala Temple is more important than all the education that I wish to pursue in this world.. However, I still have that inherent desire in me to continue my research and spend a little time in the lab..
It Is Completely Wrong
To believe that spirituality and science are poles apart.. Great Scientists like Albert Einstein and great intellectuals like Aristotle had always believed in the existence of a super power that is much beyond our human imagination..
Substantiating this claim of the Scientists, there are many chapters in our holy Vedas that are wholly dedicated to complicated topics like Politics, Medicine, Weapons, War strategies, Ayurveda, and Surgery..
Modern world Scientists still wonder how Indian Sages could attain so much of advancement, so long ago, in so many modern world topics.. It is for this reason alone that many brilliant modern day Scientists today are viewing spirituality as a way of living for Science and are also believing strongly in the existence of God..
In fact, the Science I have learnt had helped me in understanding the essence of Vedas and also assisted me in analyzing the Agama Sutras and many other micro topics of Vedas, in a Scientific way..
By any chance if I failed to analyze or understand any topic in the Vedas, then I used to sit in Dhyana (meditation) and would get answers directly from my beloved Lord Venkateswara.. The holy Lord is always kind to me and would provide me answers whenever there's a doubt in my mind..
However, just because am offering Him services everyday doesn't mean that am in any way special than you nor in any way closer to Him.. Am just one among the millions of His devotees like you.. That's all..
My First Experience With Lord Venkateswara In Tirumala Temple
For the first in my life, I entered the Garbha Griha of Tirumala Temple in the year 1967 and was allowed to touch the 'Tiru Menu' (holy body) of Lord Venkateswara.. It was an unforgettable experience for me..
That was part of a divine procedure called 'Paada Seva' without performing which no priest is allowed to take part in the daily rituals (Nithya Kainkaryas) of Sri Vari Temple.. After that procedure, that day, I sat at the holy Lotus feet of Sri Varu and from there tried to view the nine and half feet Divya Swaroopa of the Lord..
Believe me.. My whole body shuddered with fear.. The giant Lord appeared to me as big as the Sky.. Then I had quickly closed my eyes.. Later in 1974, I entered into the full services of Sri Vari Temple after wearing a 'Raksha Bandhan' during the annual Bramotsavms of that year..
After that, it took two years for me to understand the rituals to be followed in the temple.. One big doubt I always had in my mind those days was, "why should we perform so many rituals to Sri Varu..??.." ..
I consulted many elders and priests to provide a proper answer to my question.. I have also browsed through many great books and scholarly works, however, none of them could offer me any convincing answer..
Quite miraculously one day, while I was sitting in front of Him in Dhyana (meditation) the holy Lord Venkateswara Himself provided me the most appropriate answer that cleared all my doubts about the rituals in the Temple.
Now, Here Are The Secrets Of Tirumala Temple
Many devotees have many doubts in their minds about the principal deity of the Tirumala Temple.. However, according to the Agama Sutras, the Moola Virat Lord Sri Venkateswara appears in three different forms during the day..
In the morning, He appears to the devotees like a child; in the afternoon like a man in adolescence; and in the evening like a man in old age.
While the devotees who view Him in the morning are blessed with good education and long life; the devotees who view Him in the afternoon are blessed with robust body, great glow and immense wealth; and those who view Him in the evening are blessed with immense knowledge and finally with Moksha (salvation).
Many Devotees Always Have One Big Doubt In Their Mind..
"We come to Tirumala Temple with a big list of desires in our mind.. However, we forget to place them before the Lord when we are actually in front of Him.. Why like that..??.."
Let me explain.. The Garbha Griha of Sri Vari Temple is a 'Sakthi Nilaya' (abode of power).. There are many holy Saints, Sages and Maha yogis constantly performing Tapas (penance) inside the Sanctum area of the Temple and in front of Sri Varu.. They are always in an invisible mode and will not be visible to the human eye..
The immaculate power of their 'Tapas' creates an atmosphere of complete desirelessness inside the Tirumala Temple arena.. This power of the Yogis takes the human mind into it's control and makes it, at least momentarily, desire less..
It is for this reason even we, as priests, and you, as devotees, are unable to place our wishes in front of Him.. But the message here from the Lord, in whom we trust the most, is loud and clear..
"Surrender yourself completely to Me and I shall take care of all your desires.. There's no need to read them out to me.. I can as well read them for Myself. "..
About Decoration To Lord Venkateswara In Tirumala Temple
"To be very honest with you all devotees, I will have to confess a fact here.. We do not have any role to play in the daily decoration of Sri Varu.. We only decorate Him the way He wants us to decorate.. He chooses the decoration and we have no choice.. That's all..
Another surprising fact here is, once we finish the decoration and come out of the Garbha Griha of the Temple, the image of Sri Varu, that was thus far imprinted on our minds, gets automatically erased..
This is also the case with millions of devotees who view Him for a few seconds and V I Ps who view Him for an hour, during the Abhishekam Seva, and so is with us who view Him for many hours in a day..
The image of the Lord automatically gets erased once we all walk out of the Garbha Griha of the Tirumala Temple.. Explaining this rare phenomenon the, Agama Sutras describe the deity of Lord Venkateswara as "Atrupthi Roopayaa", that means, " a Deity by viewing which no devotee is ever contented".
Some Myths About Moola Virat Sri Venkateswara Of Tirumala Temple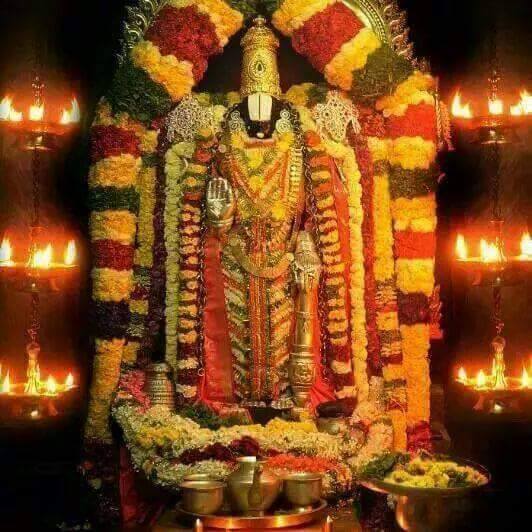 There are many stories circulating on the web about the qualities and appearance of Lord Sri Venkateswara.. A few among them say that He has the same physical body a human being has and we the priests feel the same when we touch Him..
The stories further say that nails also grow on His hands and feet and that He has long curly hair that constantly keeps growing behind His head.. All these are completely baseless stories and there's absolutely no truth in them.
Most importantly, all the above mentioned qualities are the physical qualities of a perishable human body and not the divine qualities of a celestial body.. The devotees should clearly understand this difference in the qualities of man and God and should never view Lord Sri Venkateswara as just a nine and half feet stone deity..
Instead, He should always be viewed as "Akhilaanda Koti Brahmanda Nayaka", the gigantic Lord of the Lords, with an Anantha Roopa that is spread over fourteen worlds of this vast universe..
Now Here's The Biggest Secret Of The Tirumala Temple
"There's a small but a very sacred place pretty close to the Principal deity or the Moola Virat Lord Venkateswara of Tirumala Temple which is about ten feet in diameter and at a ten feet distance from the main Deity.. This small place in the Temple is the most sacred place on the seven hills of Tirumala..
Whenever any Heads Of Nations, big industrialists or earth's most influential personalities come to Tirumala and stand in that place in front of Sri Varu, many great ideas enter their minds that will not only provide solutions to some of the most unsolved problems in their life but would also do a great deal of good to the people of their country..
As I understand, many path breaking decisions taken by many heads of states were actually taken when they were standing on that piece of sacred place in the Temple and when they were in the divine presence of Sri Varu..
However, this is a divine secret and as per the sacred norms of the Tirumala Temple and also as per the Agama Sutras, am not empowered to reveal where exactly is this place located in the Temple."..
That was what Dr. Ramana Deekshithulu had said about holy Lord Sri Venkateswara and His Tirumala Temple..
Now, as far as I understand, the sacred place Sri Deekshithulu is referring to in Tirumala Temple is located to the left side of the Moola Virat, just a couple of feet away from the Maha Dwaram of the Garbha Griha.. It's only my opinion and should not be considered a fact.. PERIOD
Now,
Do You Want To Perform The New Powerful Sri Venkateswara Maha Mantra Puja
That is bringing miraculous changes in the lives of thousands of people across the world.
I have presented all the details of this powerful new Puja; the miraculous story of the Bengali lady behind it's birth; who should perform this Puja; and how to perform it, in my God On Call (English) Book, that I have released in March, 2017..
Many readers around the world, who have performed this Puja after reading the book, have found amazing solutions even to their long lasting problems like love marriage, marriage, unemployment, court cases and child birth among others.
In addition to this Puja, this Divine Book also presents eleven spellbinding true stories based on real life miraculous incidents that occurred in the lives of some ordinary people and some extraordinary personalities.
Chapter Seven in God On Call book tells in detail about the Sri Venkateswara Maha Mantra Puja..
Please Click Here to buy the God On Call Book on tirumalesa.com's official eCommerce website, Prabhoota.
Please Click Here to buy it and also read some amazing five star reviews given to the book on Amazon India.
Readers from USA, Canada and Mexico may Click Here to buy this book on Amazon North America.
Conclusion
The above article is based on the interviews Dr Ramana Deekhithulu had given on various occasions both to the print media and electronic media and I don't have any say on them.. I humbly surrender myself to holy Lord Sri Venkateswara and reverentially dedicate all the contents of this article to His holy Lotus feet.
"Samastham Govindaarpanam"
Love
Narrenaditya Komaragiri
narrenaditya@tirumalesa.com
To know more about the author please click here