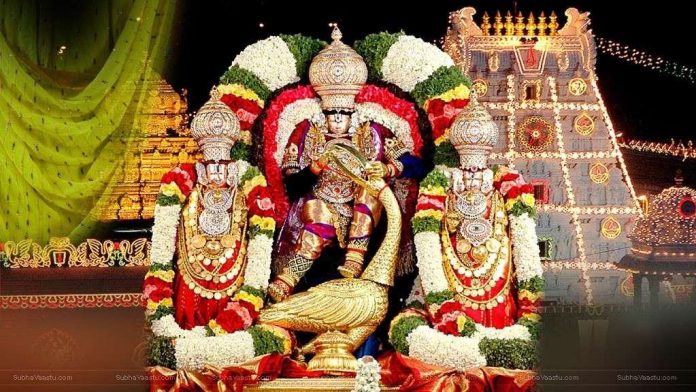 "Paradoxically so, whom the God curses the most, gets everything in life in abundance; and whom the God loves the most, gets everything in required quantity.
It is so, because, the one who gets everything in abundance in life, leads life with depression and loses interest in the morrow; and the one who gets everything in required quantity, lives life with curiosity and strives for a better tomorrow.  
While the former sees darkness in light, the later sees light in darkness; while the former despises God, the later loves God; while the former sickens the Nation, the later builds it" – Yours Lovingly
DISCLAIMER : This is not a true story but a heart touching human story based on a real life incident that I have heard from a great man in a spiritual meeting in Hyderabad.
Please Click Here to read the previous parts of this story.. Now, please continue reading this part.
It Was Then,
Both Joginder and that man have at a time noticed something far at a distance..
Far at that distance, there were some green hills..
However, Joginder and that man were not looking at those green hills but at those dark movements, above those green hills, that were frightening them the most..
And those movements were coming racing towards them.
Seeing them so ferociously coming towards them, that man had almost screamed..
Joginder too, with great fear gripping his mind, had quickly stopped the car..
Sitting inside the Car unmoved, both Joginder and that man have just kept looking at those fiery movements.
Those Fiery Movements
Were thick black clouds, almost in the size of an Elephant, coming racing towards them, as though they want to crush their car.. However, what was frightening them the most, at that moment, was not the size of those clouds but the speed at which they were coming towards them.
Before Joginder and that man could even realize what was happening to them, those huge dark clouds have occupied the whole sky around them and have started pouring down heavily in that area.
"As though Goddess Ganga – the River Ganges,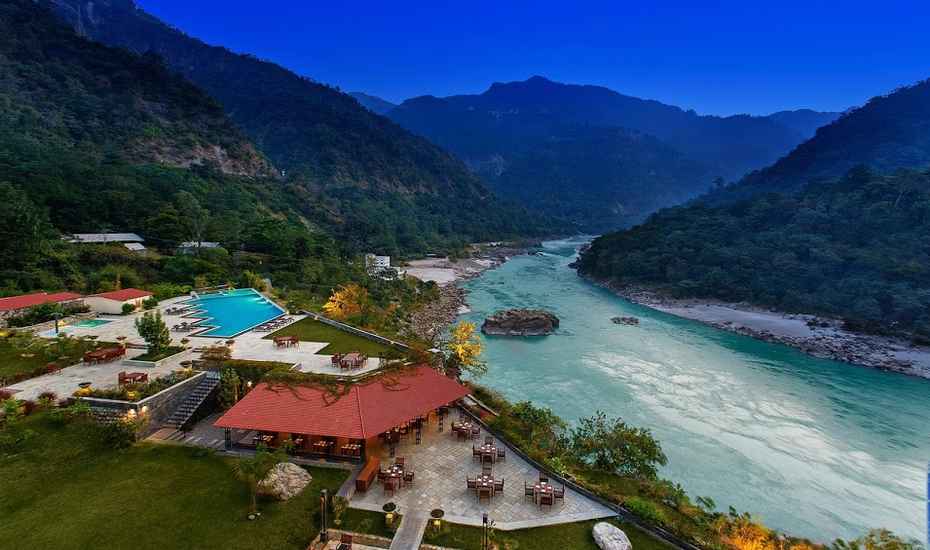 After the 'Tapas' of Bhagiratha, was cascading down the skies on to Lord Siva's head; from Lord Siva's head, on to the top of Mount Kailash in Himalayas; and from the top of Mount Kailash in Himalayas, on to the Earth; and from there on Earth, to that narrow road of Devgaon where that man and Joginder were stuck that moment"..
"కైలాస గిరి నుండి కాశికై.. కాశికాపురి నుండి దాసికై.. దాసికై నీ దక్ష వాటికై.. దయ చేసినావయా హర హరా హర హరా..  హర హరా హర హరా.. విరిసి జాబిలి మల్లె రేఖగా.. కురిసి తేనియల మువ్వాకగా.. దరిసి నీ దయ నిండు గోదావరీ నదీ.. ఝరులాయెరా హరా.. హర హరా హర హరా.. హర హరా హర హరా"
Suddenly, everything there in front of that man and Joginder, on that narrow road, had turned black, with visibility falling down to almost zero level.
Unable to know what was happening in front of them and what to do next, the 40 – year old Joginder, who had never seen such a heavy downpour of rain in his life, had quickly switched on the headlights of the car.
To his relief, there appeared some brightness in front of the car.. That increased visibility to about three feet distance.. Otherwise, at that moment, everything in front of them; beside them; and behind them was ferociously dark.
In addition to that darkness, the thick downpour of rain, that was combined with heavy winds, was fearfully shaking their Car.. With that sudden twist in Nature, while Joginder had gone completely thoughtless, that man had gone completely mad.
Hurriedly looking back, Joginder said, "Saab.. Bahuth buri tarah se phas gaye hain hum (Sir, we are stuck very badly here).. The road ahead is not only invisible but is also unknown to us.. So, we can't go forward.. At the same time, we cannot go back either..
if we go back, I have to keep driving the car completely in reverse direction, because, there's no enough space here for us to take a U turn.. Going in reverse direction, for nearly three long kilometers, with almost zero visibility, would be stupidity.
But saab, how long can we stay here without moving.. It's not safe to remain static at this place.. So, we must do something right away and move, saab.. The rain is getting heavier and doesn't seem to subside for at least another one hour.
More over, saab, such heavy downpour may soften the land beneath and the earth may as well sink in.. The only option left for us, now, is to move forward.. No other way.. Kya karen saab.. Tell me quickly".. Joginder paused..
"Move on.. Go forward.. Don't need to stop anywhere until you are stopped by some other obstruction.. Start the car.. Go.. Gooo", said, not that man, but that strong inner voice from deep inside him.
Shocked with that command, that man had hurriedly told the same to Joginder.. Saying. "Wahe Guroooooo", Joginder too quickly started the car and moved ahead.. To his utter surprise, he had noticed a sudden improvement in visibility.
Thanking the Invisible, Joginder slightly increased the speed of the car.. Although, the car was still going slow, it was going at a steady speed.. Joginder's intention was to cross that narrow road at the earliest and enter the main road to Ahmedabad.
Sitting in the rear seat of the car, that man, without uttering a word, was anxiously looking at both the sides of the road, however, he was not looking at the road but at the heavy rain that was thumping the road.
Suddenly, his wife's words have reverberated in his ears.
"There's a Divinity that shapes our life.. Otherwise, why are your so called great Scientists of the Western world, who could even send a Dog on to the Moon, are unable to prevent an unwanted rain drop from reaching the ground.
Why is that America and Russia or so many other so called developed nations of your so called modern world today are unable to protect their Nations from the wrath of Nature.
That means, my beloved hubby, there's something beyond our human imagination and some force that we humans are unable to control or comprehend.. And that force, you and your modern world Scientists need to know a lot about, is the Omnipotent, Omnipresent and Omniscient Supreme Cosmic Force called, GOD.
And it is that force and it's associated Divinity, whether or not you agree with me my dear hubby, is what is shaping our lives and designing our destiny, today.
Who cares what people like you – the so called protagonists of this so called modern world – say about this Divine Cosmic Force.. It hardly matters for us.. God exists and would exist forever.. Please note this point, my beloved".
Laughing silently, here, that man thought,
"Sheer nonsense.. My wife speaks sheer nonsense, sometimes.. What does she know about the many great efforts scientists around the world are putting up today to bring Nature under their control.. If not today, they shall certainly achieve it tomorrow.
Just because we are not able to control Nature today doesn't mean we cannot ever control it.. Doesn't mean we are good for nothing people and also doesn't mean God alone is doing everything.. Who is God.. Where is He.. Does He reallyyyyy and realllyyy".
That man did not even complete this thought,
And it happened.
And happened right in front of his eyes.
And right at that moment.
Here's What Had Happened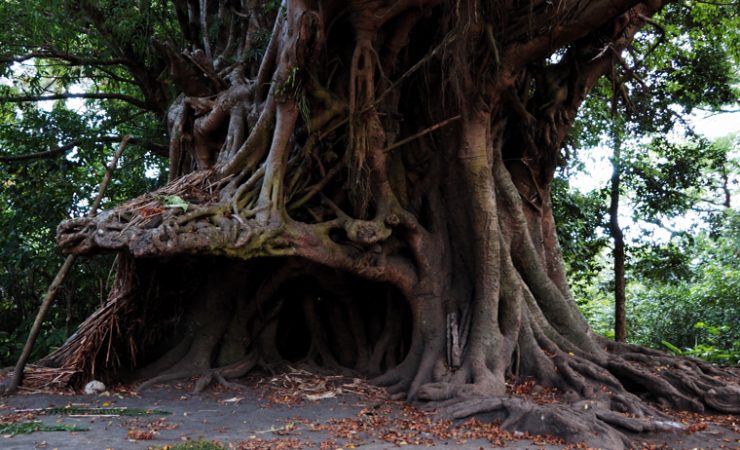 A large two hundred year old banyan tree, that was there on one side of the road ahead of them, got ferociously uprooted from the earth, making a thunderous noise, and had fallen dangerously in front of their car, on that narrow road, blocking it completely.
Fortunately for that man, although Joginder too was terrifyingly shocked, he became quickly alert; swiftly acted; promptly applied brakes; and instantly stopped the car with a jerk and a creaking noise.
To their utter shock, they have noticed that their car had just stopped a few inches away from that crashed Banyan tree.
An inch forward, if only that car had traveled, the heavy Banyan tree would have crashed directly on their car and the two sitting inside it would have gone down crushing into the earth and got deeply buried down there.. PERIOD
However, before they could even recover from that deadly shock, another shock had struck them, with more ferocity and more intensity.
The soft earth behind their car, unable to bear with the intensity of that heavy rain, had started sinking in dangerously, more dangerously, most dangerously and was going down, deep down and down and downnnnn.
Both Joginder and that man just kept looking at everything, that was happening behind their car, in deep shock as the earth had started rapidly sinking in.. In just a few seconds, a mini crater had appeared right behind their car.
The car at that moment was dangerously placed between that Earth crater and the crashed Banyan tree.. If only it moved an inch forward, it would hit the tree; an inch backward would fall into the crater and disappear.
Screaming from the bottom of his heart, Joginder quickly alerted that man saying, "saab, get down, we have to run'.
And screaming so, he quickly came out of the car; opened the rear door; and in one go, had pulled out that man from the car; and taking him along, started running towards the rightward direction.
After running so, non stop, for about fifty meters, Joginder – holding that man's hand all through the running – had paused.
Then, slowly gasping for breath, turned back and looked at the car.
To his utter shock, he noticed that the car was locked, like a clubbed sandwich, between the crashed tree and the mini crater.
It was a terrifying devil and the deep sea situation not only for the car but also for both Joginder and that man.
Slowly, turning his head,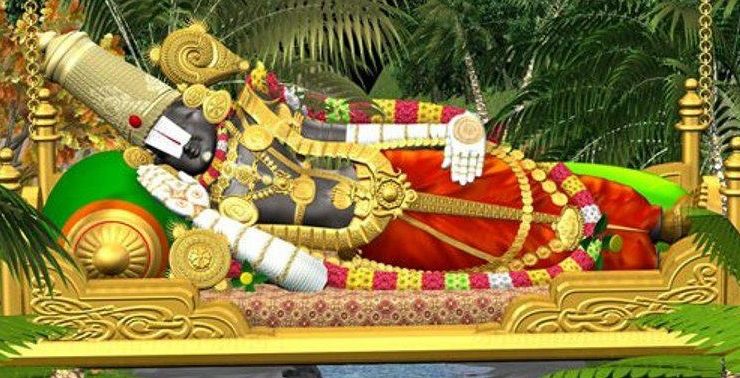 Joginder looked at his boss.
"Bhoo loka punyam.. Bhuvanaika ganyam"
Standing in a frozen state, that man, with his head lifted up, was looking at the concrete arch that was built on that road.. However, that man was not looking at the arch nor at those English letters, 'Welcome To Devgaon – God's Own Village' written in it's middle but at that
"Gloriously Mesmerizing Colorful Statue Of Akhilanda Koti Brahmanda Nayaka Bhagawan Sri Sri Sri Venkateswara Swamy Varu" neatly embedded into the middle of the arch, above those English letters.
With every follicle of hair in his body rising, that man, standing frozen where he was, just kept looking at that extraordinary deity, filled with extreme Divinity.. Unable to understand what's wrong with his boss, Joginder started explaining him about that Divine deity,
"Bhogeendra chakram.. Bhava roga vaidyam"
"Saab, He is Tirupati Balaji.. Very powerful God, saab.. My grand mother would often go to Tirupati, to have His darsan, and would tell us many stories about Him in our childhood.
In fact, it was she who had told me that people of this village, Devgaon, are great devotees of Tirupati Balaji and are living in complete communion with Him.. She even would say, these villagers strongly believe that their life belongs to Him and He is shaping their destiny.
Saab, there's also a strong belief around this place that the people of this village were all Tirupati Balaji's servants and priests in their past lives.. According to my grand Mother, it is further believed that some of these villagers even remember their past lives and also tell clearly what they were in that life and how they have served Balaji in Tirupati Temple in that life.
Saab, everyone in this village is a great devotee of Balaji.. They submit all their problems to Him and believe, it is He Who had given them this life and it is He Who would shape their destiny".
"Bhaaswath kireetam.. Bahu bhaagya vantham"
Coming out of that frozen state..
That man, slowly turned his head towards Joginder..
And asked..
"Then why did we come here, Joginder"..
After quietly staring into the eyes of his boss..
For a few silent seconds..
Joginder slowly raised his right hand..
And pointing it towards Bhagawan Sri Venkateswara on the arch,
Said,
"No saab"..
"We didn't come here"..
"He brought us here"..
"Sree venkatesam.. Sirasaa namami"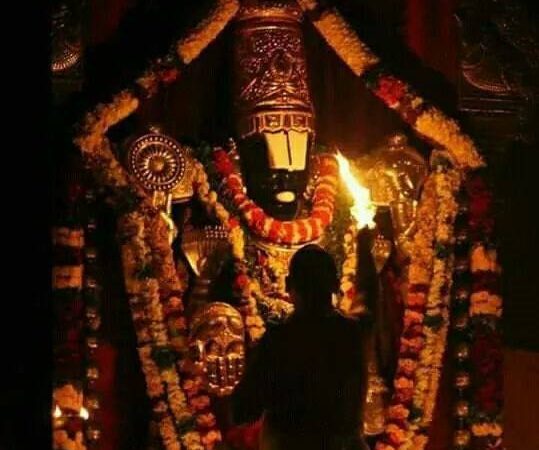 Please Click Here to read the next part of the story
Love
Narrenaditya Komaragiri
narrenaditya@tirumalesa.com
To know more about the author please click here