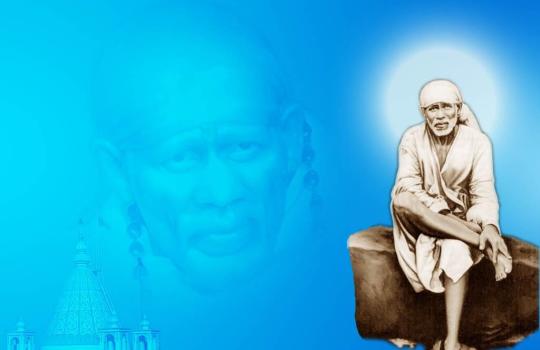 His Holiness Sri Sai Baba Of Shirdi is a spiritual phenomenon and is an embodiment of divinity..In the whole of India's glorious spiritual history there's never been another great divine soul like Him nor someone who could come close to Him..Sri Sai Baba neither wrote any critique of the Bhagawad Gita nor of the Vedas or of Upanishads or for that matter of any other holy work..
However,Sri Baba still had complete command over all the scriptures related to both the Hindu and Islamic religions and would often quote from them with utmost ease..It may be for this reason alone Sri Sai Baba,still after almost a century of His departure from this world, has an equal number of ardent disciples in both these religions..
Sri Sai Baba also performed many great miracles during His stay in this world but they were in no manner performed to please others or to prove to someone else but were performed in a judicious manner – in line with Nature – to help the humanity and it's well being..
One
Although there's still a lot of discussion going on among many ardent devotees of Sri Sai Baba about His place of birth, there are however some strong claims – based on many elaborate studies – that very emphatically tell us that Sri Sai Baba was born some time between 1838 AD and 1842 AD at a place called Pathri in the Marathwada region of those days Nizam's dominion..
It is also claimed by those studies that Sri Sai Baba left His home at a tender age of eight, some time between 1846 AD and 1850 AD, along with a Sufi fakir whose details, quite strangely, are still not known to the world..
Two
At about the age of eight, Sri Sai Baba moved to the Paithan and Aurangabad terrain.. Staying in Aurangabad, Sri Baba moved all around the Marathwada region and also around it's neighboring places until he attained the age of twenty five or thirty years..
During His stay in Aurangabad, Sri Sai Baba instructed a Fakir by name Sade Baba.. Later this Sade Baba came to be known, also as, Fakir Baba and Fakir Peer Mohammed Yasinmiyan..
Three
Sri Sai Baba set His holy foot – for the first time – on Shirdi sometime between 1868 and 1872 A D.. HE came there along with Chand Patil of Dhupkhed who at that time came to Shirdi to attend the marriage of his sister with Hamid, son of Amin bhai of Shirdi..
During His stay in Shirdi, Sri Sai Baba stayed as a guest of Amin Bhai.. After a few days of stay, Sri Sai Baba and Chand Patil left for Aurangabad.. However after two or three months period Sri Sai Baba came all alone to Shirdi and settled there forever..
Four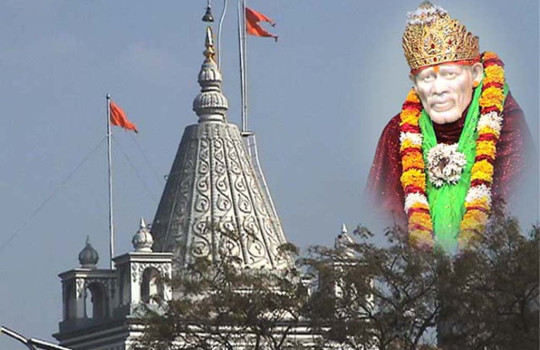 When Sri Sai Baba first came to Shirdi between 1868 and 1872 A D, His initial thought was to stay in Rahata, a place that lies to the West of Shirdi..
He, however,asked Chandrabhan Seth, who at that time was having some business interests in the Marathwada region, to advice Him about a suitable place for Him to stay..
Seth offered Him Pawarwada, a place in those days owned by the Sanad family but Sri Sai Baba has finally decided in favor of Shirdi, a holy place that later became His abode forever..
Five
Although Sri Sai Baba had finally decided to stay in Shirdi He had, however,stayed, for almost twenty two years, in the Bulbul forest that's there on the outskirts of Shirdi..
Even before moving to His final destination – the dilapidated holy Masjid in Shirdi – Sri Sai Baba stayed alone, under a Neem tree, for almost five years..
During this lonely period Sri Sai Baba survived without food except for a little sustenance He received from a Noble Marathi lady called Bayajibai, who was the Mother of one Tatya Kote Patil and wife of Narayan Teli..
Six
The first instance of someone talking about the nobility and holiness of Sri Sai Baba took place sometime between 1873 and 1875 A D..
A renowned holy personality – belonging to the Vaishnava Sect – by name Gangagir Bua of Puntambe, who would often visit Shirdi those days, told Nanasaheb Dengle of Nimgaon (a village East of Shirdi) that Sri Sai Baba is an amazing CHINTAMANI (A rare gem from His celestial abode that grants everything a devotee prays for) to whom a true devotee should offer prayers…
Surprised with what the Vaishnava Saint said, Nanasaheb Dengle proceeded straight to Bulbul forest, where Baba was staying that time, and prostrated before His holy feet..
Seven
After His arrival in Shirdi, Sri Sai Baba would often go for alms, every morning, to the houses of Bayajibai Kote Patil, Patilbua Gondkar, Nandaram Savairam, Appaji Kote and Narayan Teli.. All these residents too, with their unconditional love for Baba, offered food to Him..
One of the ardent disciples of Akkalkot Swami, by name Bidkar Maharaj, came to visit Sri Sai Baba, sometime during 1873, and later stayed with Him forever
By the year 1878 many renowned personalities from many areas in and around Shirdi, namely Mahalsapati, Appa Kulkarni, Jagle and Nanasahen Dengle have accepted Sri Sai Baba not only as their Mentor but also as their Sadguru..
All these famous personalities later went on to become great devotees Of Sri Sai Baba and are now part of Indian devotional history…
Eight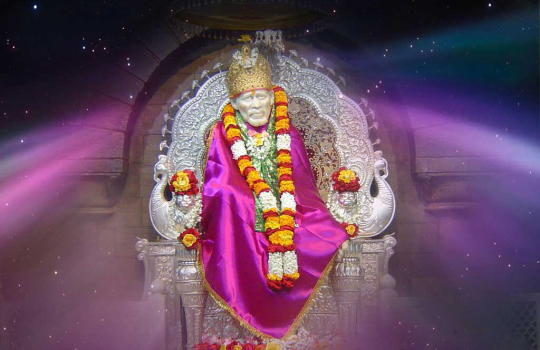 By about 1878 A D many people in and around Shirdi village started accepting Sri Sai Baba as a Maha Gnani and Samartha Sadguru..
In 1885, one of the ardent devotees of Sri Akkalkot Swami by name Anandnath Maharaj visited Sri Sai Baba and during that visit he told the people of Shirdi that "Sri Sai Baba is a genuine Diamond lying on a dung heap"
During the same period,in 1885,Sri Baba went into a transcendental trance for three full days..
Nine
Although some prominent personalities in and around Shirdi village, those days, have accepted Sri Sai Baba as Maha Gnani and Sadguru, the villagers of Shirdi however would just consider Him a Mad Fakir..
Nevertheless,they would still visit Baba often for treatment for their health problems which Baba in the initial days of His stay in the Mosque would cure with natural herbs…
But much later Baba started curing the villagers' ailments with only Udi He would take out from His Dhuni in the mosque and apply on the forehead of the sufferer after which miracle application the sufferer would find a quick relief..
After such miraculous cures the word that "..The Fakir in the Mosque can cure any disease.." spread all over the places in and around Shirdi and people in large numbers started visiting Shirdi..
Ten
In 1894, a group of Muslims led by a Kazi of Sangamannore opposed the worshiping of Sri Sai Baba in the Mosque..
In 1896 – 97 it was decided to hold an annual Urs fair in Shirdi on Sri Ram Navami day..
In 1908 Rao Bahadur Hari Vinayak Sathe had built the first Wada in Shirdi, known as Sathewada, for the convenience of devotees going to Shirdi to visit Sri Sai Baba..
Eleven
The congregational worship of Sri Sai Baba began in the historical Mosque of Shirdi in 1909
As the number of visitors to the holy Mosque too began growing, Sri Sai Baba – who would earlier speak in a simple common man's language – began speaking in parables from 1910..
The foundation stone for the famous Dikshitwada in Shirdi was laid on the 10th of February,1910 and it's construction was completed in April,1911..
Twelve
The famous night Arati to Sri Sai Baba also called the Shej Arati began on the 10th of February, 1911.. Initially, those days, Shej Arati was performed every alternate day..
Govind Raghunath also known as Annasaheb Dabholkar, author of the famous Shri Sai Satcharitra met Sri Baba for the first time in Shirdi Mosque in 1910..
Ganesh Shri Krishna also known as Dadasaheb Khaparde, author of the other famous work Shirdi Diary met Sri Baba for the first time on the 5th of December, 1910.. Khaparde was also the Member of the Central Legislative Assembly,those days..
Thirteen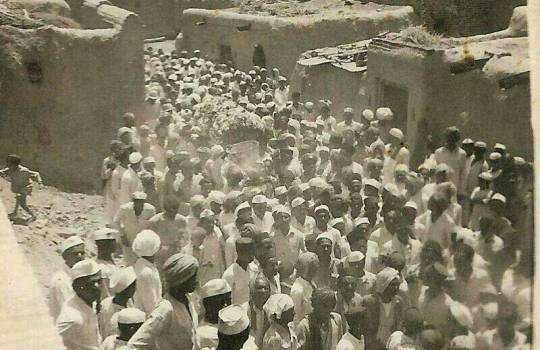 Vaman Prangovind Patel who later more popularly came to be known as Swami Sai Sharan Anand met Sri Sai Baba in Shirdi, for the first time, on December 11,1911
Renowned freedom fighter and by and large one of the most famous Maharashtrian personalities, Lokmanya Bal Gangadhar Tilak came on an exclusive visit to Shirdi on the 17th of May,1917 to see Sri Baba
Finally,leaving behind a legacy of divine philosophy and universal brotherhood and leaving everyone of His devotee in an emotional sea of tears and melancholy…
His Holiness Sri Sai Baba of Shirdi left this human world and traveled to His holy abode and entered the MAHASAMADHI on the 15th of October,1918..
Love
Narrenaditya Komaragiri
narrenaditya@tirumalesa.com
To know more about the author please click here