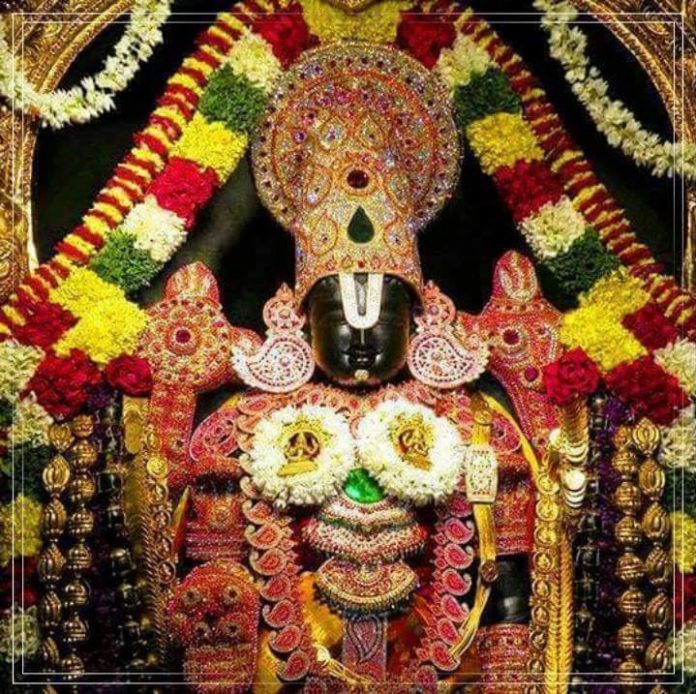 Right from the day,
It was launched on a Vijaya Dasami,
On the 3rd of October, 2014,
My website tirumalesa.com
Has been thankfully transforming hundreds of thousands of lives across the globe with many thought provoking articles and stories written by me, mainly on Lord Venkateswara and Tirumala Temple; secondly on many Hindu Gods and Goddesses; and finally on the omnipotent, omnipresent and omniscient Bhagawan Sriram Sir, the human form of Lord Venkateswara.
Above all, the following Sri Venkateswara Maha Mantra, which I have revealed to the world through a casually written article about three years ago, has brought many big changes in many lives.
"Om Namo Venkatesaaya Kaamitaartha Pradhaayine Pranatah Klesa Naasaaya Govindaaya Namo Namaha.. "..
".. ఒమ్ నమో వేంకటేశాయ కామితార్థ ప్రదాయినే.. ప్రణతః క్లేశ నాశాయ గోవిందాయ నమో నమః.." …  (Telugu)
"ஓம் நமோ வேங்கடேசாய காமிதார்த்த ப்ரதாயிநே ப்ரணத க்லேச நாசாய கோவிந்தாய நமோ நமஹா" ( Tamil)
ಓಂ ನಮೋ ವೆಂಕಟೇಶಾಯ ಕಾಮಿತಾರ್ಥ ಪ್ರಧಾಯಿನೆ ಪ್ರಣತಃ ಕ್ಲೇಶ ನಾಶಾಯ ಗೋವಿಂದಾಯ ನಮೋ ನಮಃ. (Kannada)
"..ऊँ नमो वेङ्कटेशाय कामितार्थ प्रदायिने…प्रणतः क्लेशनाशाय गोविन्दाय नमो नमः .." (Hindi)
Meaning Of The Mantra : "I pay my obeisance to You, O' Lord Venkateswara – the Bestower of success and prosperity; and offer my salutations to You, O' Govinda – the Destroyer of evils and sufferings"
Ever since that article was written by me,
This powerful Maha Mantra alone is transforming hundreds of thousands of lives across the world with the tremendous divine energy hidden deep inside it.
On the advice given by me in this article, many readers have started reciting this Mantra, nine times a day, and have been experiencing enormous peace in their life in many amazing ways.
From the number of surprising experiences readers from all over the world are sharing with me today, am thoroughly convinced that there's a great divine power in this Maha Mantra and that power in turn is offering the blessings of Lord Sri Venkateswara directly to it's chanters while they are chanting it.
If that is true, then "a regular patanam of this Maha Mantra is punyam; mananam maha punyam; sravanam divyam; darsanam maha divyam".. Om Tath Sath.
With this intention, that is there at the back of my mind for more than two years now, I have finally decided to present a state of the art H D quality video on this powerful Maha Mantra to the world..
More importantly, many readers too have been asking me, through various mails and forums, to clearly explain them, through a video, a proper recitation of this Mantra.. And finally this decision to present this video was taken.
Now,
Here Are The Details Of The Video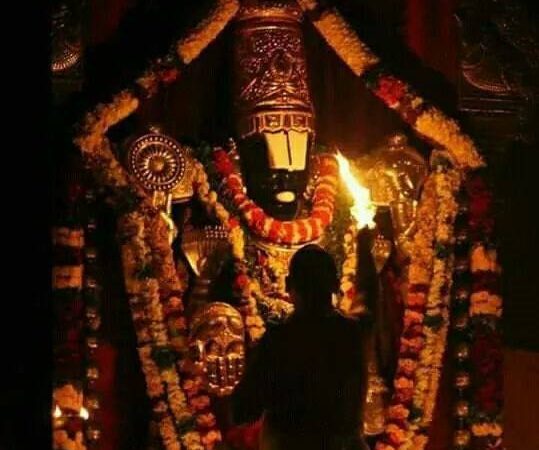 This video will be shot in nine prominent Lord Venkateswara Temples located in different parts of India.. In this video, the Maha Mantra will be phonetically recited by nine amazing Vedic scholars associated at various levels with the Tirumala Tirupathi Devasthanams (TTD) Temples.
These scholars will be reciting the same Maha Mantra in nine different tones and nine different variations.. Each variation is depicted through an appropriate visual of a seva being performed to the holy Lord on different timings at different Temples.
For example, when the scholars are reciting the first variation of the Mantra, you will be seeing a visual of the Suprabhata Seva, the first seva performed to the holy Lord in a day, being performed to the Lord in a particular Temple.
When the second variation of the Mantra is being recited by the scholars, you will be watching the visual of Abhishekam being performed to the Lord in a particular Temple.. So on, you will be watching all the different sevas in different Temples during the recitation in all the nine variations.
Finally, when the recitation of the Maha Mantra reaches its crescendo in the ninth variation, you will be spellbindingly watching a grand Aarati being performed to the holy Lord in a particular Temple.. This entire recitation in the video will be accompanied by the sounds of Temple bell, blowing of Conch and beating of the trumpet.
The main idea here's to take the viewer or listener into an out of the world divine state of extreme transcendental ecstasy while listening or viewing this spellbinding video..
Now, just close your eyes and imagine where will you be when so many Vedic scholars in a chorus are reciting the same powerful Maha Mantra in nine different tones, starting from the lowest to the highest, and in nine different variations accompanied by the vibrating sounds of the Temple bell, Conch and Trumpet.
Already having goosebumps..??..
That's what I want..
Here Are Some Key Points
A daily recitation of this powerful Sri Venkateswara Maha Mantra is any how very useful to it's chanter.. Additionally, a daily playing of this video in your home, am sure, shall not only drive away all the negative energies, if any, from the home but shall also draw great divine energies into your home.
Once ready, in about three to four months time, this entire video will be uploaded to You Tube for your daily viewing and listening pleasure.. Many elders at home who cannot recite the Maha Mantra will get immense peace just by listening or viewing this video..
That would be the power of this amazing Mantra when chanted with correct pronunciation by Vedic scholars.
As you may know, am an award winning Creative Director and Writer, so, designed the concept of this amazing video and would be directing it as well by personally travelling to nine different temples across India.
By the way, if you know any Temple that you think would be good for our video, you may suggest that Temple to me by sending a mail explaining the brief history and importance of the Temple.. If I like the Temple, I shall involve you in the shooting of this video as well.
Please send me your mail with the subject column "Temple For Video" to my mail id narrenaditya@tirumalesa.com
Now, If You So Wish, 
You can be one of the honorable sponsors to this extremely divine yet an extremely expensive video that is bound to reach many corners of the world.
If interested, please send a mail to my mail id narrenaditya@tirumalesa.com with the subject "Sponsor for the video" and I shall get back to you, at the earliest, with all the relevant details.
Now, here's
A Small Divine Coincidence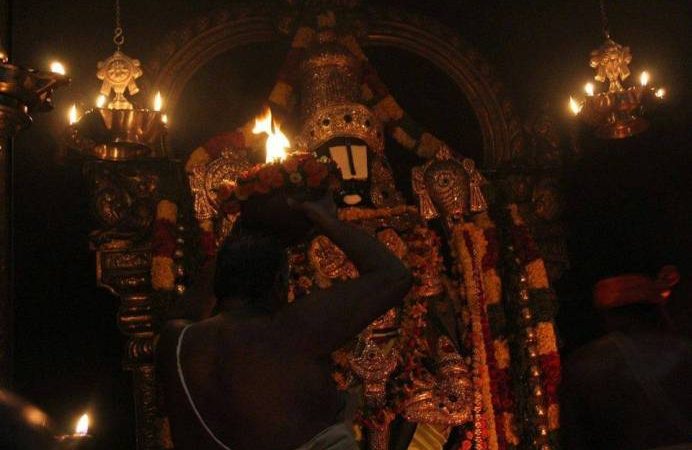 I have been planning to present this article for almost two to three weeks now but was not able to do it for various reasons.. Time being the main problem..
Suddenly, in the morning today, I got up from my office room chair, as though some invisible voice had ordered me to do so, and sat right in front of my Desktop to prepare this article.
While readying the article, I went back for some info and searched for the first article, A Powerful Sloka That Helps Us During Our Problems And Gives Us Inner Peace, on this site, which I have written long ago..
When I finally landed on that article page, I was amused to see the date I posted it.. I have presented it exactly on this same day of 3rd November, 2014 am posting this video article today.. How is that possible..??.. I asked myself.. I may not have got any answer
But I still smiled and looked at this small coincidence as an approval from my holy Lord Venkateswara Himself to this amazing video.. Now, please tell me.. Is this really just a coincidence or something ordained by Him.. Who knows..??
Now,
For eleven amazingly
Spell binding true stories based on real life miraculous incidents that occurred in the lives of some ordinary people and some extraordinary personalities and also to know about the powerful New Sri Venkateswara Maha Mantra Pooja that is bringing many amazing changes in the lives of thousands of people across the world,
Please read my recently released God On Call Book (English) on Lord Venkateswara, which according to many readers is one of the most powerful books ever written in the history of Tirumala Temple.
Please Click Here to buy the God On Call Book on tirumalesa.com's official eCommerce website, Prabhoota.
Please Click Here to buy it and also read some amazing five star reviews given to the book on Amazon India.
Readers from USA, Canada and Mexico may Click Here to buy this book on Amazon North America.
"Sarvavayava soundarya sampadaa sarva chethasaam.. Sada sammohanaa yasthu Venkatesaya mangalam"
Love
Narrenaditya Komaragiri
narrenaditya@tirumalesa.com
To know more about the author please click here