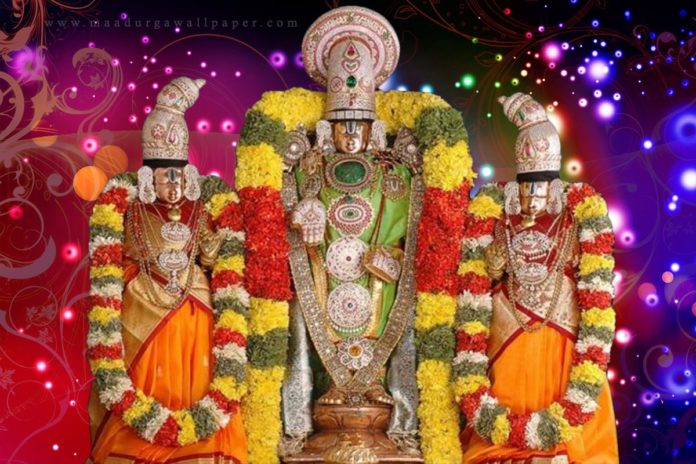 As you all may know,
The day on sacred Tirumala hills begins with the Suprabhatha seva, wherein all the Vedic scholars, all the Brahmins, Archakas, Purohiths and Jeeyangars belonging to the Tirumala Tirupati Devasthanam (TTD),
Stand at the main entrance of the Garbha Griha (sanctum sanctorum) of Lord Sri Venkateswara temple on Tirumala hills, at 3 a m every day, and recite Sri Venkateswara Suprabhatam, in chorus, to wake up the holy Lord.
However, there are many unknown facts the devotees need to know about Sri Venkateswara Suprabhatam and also about the hidden messages of the verses or the slokas or the stanzas – presented in this great work of poetic art – are conveying.
Fact Number One
Sri Venkateswara Suprabhatham was written by Prativada Bhayankara Sri Anantacharya, who is also known as Anangaracharyar and P.B.Annan, in the year 1430 A.D.. He was an ardent disciple of Sri Manavala Mamuni, who had, earlier in his life, written another great work of poetic art, Sri Ranganatha Suprabhatham.
The deities of Sridevi Bhudevi sameta Sri Padamnabha Swamy, Sri Lakshmi Narayana Swamy and twelve other Divya Salagrama Silas, that were worshiped daily by Sri Ananthacharya in his everyday pooja, are now being worshiped everyday in the Divya Salagrama Kshetra of Vijayawada, Andhra Pradesh.
Fact Number Two
In all, Sri Venkateswara Suprabhatham consists of four parts totaling a number of 70 Slokas..
1). Suprabhatham means, "Auspicious Morning" and consists of 29 Slokas.. The divine process of waking up the holy Lord everyday begins with the recitation of these 29 Slokas.
2). Sthotram means an "Entreaty" and consists of 11 stanzas. These stanzas are recited to praise the glory of Lord Venkateswara requesting Him to offer us protection from all the evil forces of this inhuman world.
3). Prapatthi consists of 16 verses and are recited by the devotees offering their complete surrender to His holy Lotus feet.
4). Mangalaa Saasanam consists of fourteen Slokas that are recited in praise of His noble qualities of glory and auspiciousness.
Fact Number Three
The first Sloka or stanza in Sri Venkateswaar Suprabhatham is dedicated to Lord Sriram, the noble son of Kausalya. The second stanza is dedicated to Govinda, here in this case Lord Krishna, the cowherd who protected many Cows from the hail storm caused by Lord Indra.
A part of the second stanza of Suprabhatham is dedicated to Kamalapathi, a poetic reference to Lord Vishnu, the divine husband of Goddess Sri Maha Lakshmi.
By referring to both Rama and Krishna in his, "Sri Venkateswara Suprabhatham" the poet, Prativada Bhayankara Sri Anantacharya, also known as the Acharya Of Kanchipuram, is concluding that "Lord Venkateswara is the divine form of Lord Vishnu".
Fact Number Four
The third and the fourth stanzas of "Sri Venkateswara Suprabhatham" are dedicated to Goddess Sri Maha Lakshmi, invoked as the Consort of Sri Venkateswara, the Lord of Vrisha Saila or Vrishabhadri, one of the seven sacred hills of Tirumala hill shrine.
Fact Number Five
Next 24 Slokas in Sri Venkateswara Suprabhatham are dedicated to Lord Sri Venkateswara, addressing Him as Seshadri Sekhara Vibho, Venkataa Chalapathi, Venkata Pathi, and Vrisha Saila Pathi, greeting Him on that auspicious morning in His avatar as Venkateswara in Bhu Loka.
The last and the 29th Sloka solemnly states that, "the reciters developed intellect will conduce towards "Paramartha,", the highest desired state of "Moksha", the beatitude.
Fact Number Six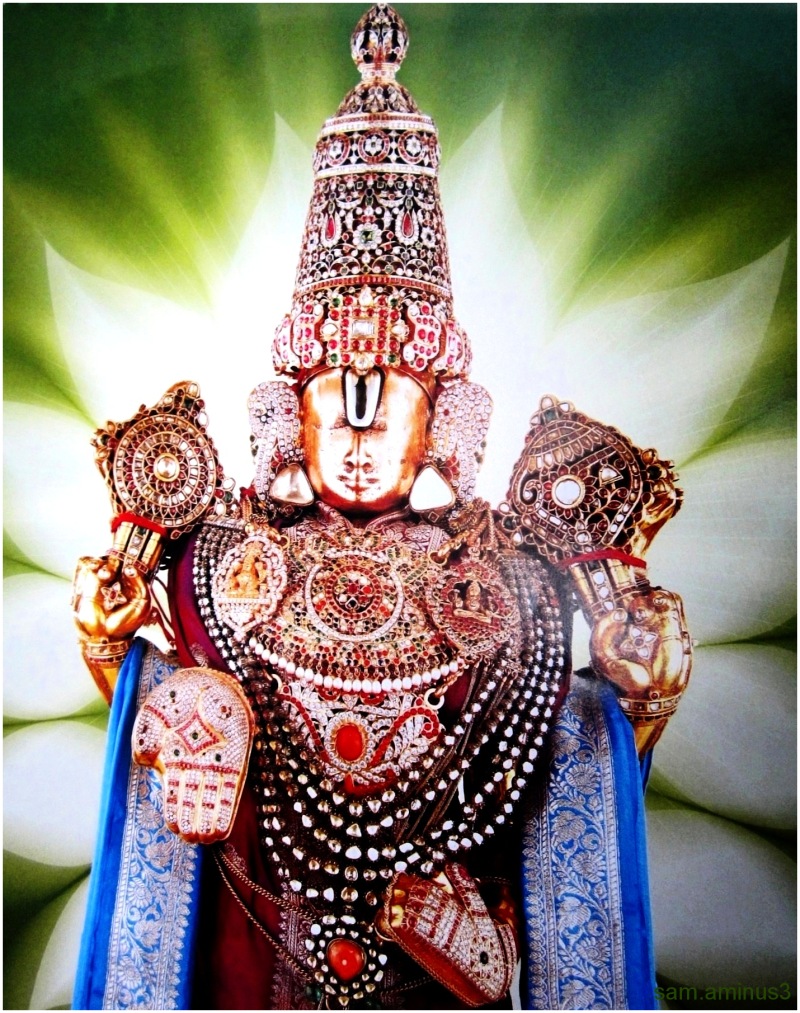 In the "Sthotram", the devotee is submitting to Lord Sri Venkateswara, that he earnestly adores only Him and not inclined to worship any other God.
The poet further supplicates in the tenth Sloka that he, having come from a long distance to worship His feet, might be favored for his occasional visits with the same fruit as accrues from his daily worship.
Fact Number Seven
In the first Sloka in "Prapatthi", the poet offers salutations to Goddess Sri Lakshmi, the eternal resident on the chest of Sri Maha Vishnu (Lord Venkateswara), who is identical to Venkataa Chalapati; augmenter of His quality; holder of Lotuses in Her two hands resembling tender leaves; sitter in the posture of Padmasana;
Shiner with affection for sons and other amiable and magnanimous qualities; and worshipful Goddess (Bhagavathi) and then pays his obeisance to Her.. In the next fifteen stanzas, the poet surrenders himself to the holy lotus feet of Lord Venkateswara.
Fact Number Eight
In the tenth stanza in "Prapatthi", the poet announces that, "as the Rig Veda declares that Lord Vishnu's feet are the most exalted state of attainment and are a fountain of Honey and enjoyable, they are here again pointed to by Sri Venkateswara's palm as a similar spring of Honey, so he is surrendering himself at His feet.
In the eleventh stanza, the poet further states that,"at the Lotus feet which He, as Partha Sarathi, showed Arjuna for his unreserved submission, is once again pointing at them for his surrender.
Fact Number Nine
The Eighth stanza of Mangalaa Sasanam proclaims that "always till the end of time, people having Sri Venkateswara Darsanam in the Tirumala Temple, will feel in-satiate gazing at His nectarine form for once or for a short time or for any number of times.
(It is for this reason alone, the devotees visiting Tirumala Temple just stand in front of His Moola Virat, trying to look at His Divya Mangala Roopa for as much time as people..
Even while leaving the Garbha Griha area, all these devotees just keep turning back and walk slowly looking at Him.. That is the divine power of the principal deity of Lord Venkateswara of Tirumal Temple)
In the ninth stanza of "Mangalaa Sasanam", the poet Sri Ananthacharya pronounces Mangalam to Sri Venkateswara, who is indicating with His hand that His feet alone are the sole refuge to human beings in this Kali Yuga.
Conclusion
All these sacred Slokas of Sri Venkateswara Suprabhatham are more or less stating that, "Lord Sri Venkateswara, the Supreme Savior of this sin filled Kali Yuga, shall certainly save all the devotees who unconditionally surrender themselves and all their problems to His holy Lotus feet".
"Kandarpa darpa hara sundara divya murthe.. Kanta kucham buruha kudmala lola dhrishte.. Kalyana nirmala gunakara divya kirthe.. Sri Venkataa chalapathe tava suprabhatam."
Love
Narrenaditya Komaragiri
narrenaditya@tirumalesa.com
To know more about the author please click here